When being asked the question, which piece of equipment is most closely tied to a player's performance on the field, I always undoubtedly pick lacrosse head. 
Compared to other gears and equipment, your lacrosse head directly impacts your passing, catching, shooting and nearly every movement and contact with the ball. Which is why choosing the best lacrosse head is paramount. 
However, choosing the best attack and middie lacrosse heads can be difficult for both beginner and seasoned players. With a wide range of selections available on the market, finding that most suitable lacrosse head for yourself could be challenging. 
To save you the time and energy of researching every lacrosse head there is, I have done the work for you! In this post, I created and outlined the best attack and middie lacrosse heads in 2022 currently on the market. 
Additionally, I also included a list of elements to look for when buying the best lacrosse head for your playing style.
Need some affordable options? Click to see the best affordable attack and middie heads
At a glance, here are the best options you'd consider.
| Product Image | Lacrosse Head Name | Recommendation | Check Price |
| --- | --- | --- | --- |
| | STX Surgeon 900 | Best Attack Head | Check Price |
| | StringKing Mark 2A | Best Well-rounded Attack Head | Check Price |
| | Warrior EVO QX-O | Best Durable Attack Head | Check Price |
| | Maverik Optik 3.0 | Best Versatile Attack Head | Check Price |
Best Attack and Middie Lacrosse Heads Reviews
In order to make this list as exhaustive and helpful as possible for readers, I scoured customer reviews, lacrosse forums, YouTube videos and even called up some high school coaches to get their insights. 
With that said, here are the top 7 lacrosse heads for attack and middie.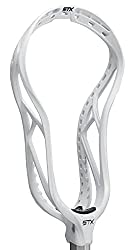 STX Surgeon 900
Improved precision
Great ball retention
Good stiffness
Easier and faster scoop
Extremely light
Once used to the lightweight, hard to go back to other heavier alternatives
A most recent upgrade from Surgeon 700, STX Surgeon 900 has proven to be one of the best lacrosse heads for elite offensive players. Its super lightweight design, weighing in 4.4 oz and around 125 grams, is made for utmost speed and control. 
It features several proprietary technologies that definitely offer more precision and gripping control for an attackman
Tight face shape that is great for attacking and ball retention. InnerLock™ provides more flexibility with stringing by narrowing the channel for nicer hold
Speed Scoop™ design makes sure you can pick up groundball quicker and easier from any angle of attack 
Unlike the previous version, Surgeon 900 is made of EnduraForm™, which allows it to hold good and consistent stiffness, strength and durability while being super lightweight.
After chatting with several college lacrosse players, STX Surgeon 900 appears to be the newest winner of attackman's choice. This is my pick for 2022.
StringKing Mark 2A
Low offset perfect for one-handed cradling
Very light
Great durability
Nice scoop
The wider face shape could take some time to get used to
Right off the bat, Mark 2A really stands out from other attack heads with a wider face shape design, which gives attackmen a better and wider catchability of the pocket. 
Its large offset has that nice low sloped profile that is very crucial when attackmen often need to cradle using one hand and keep the ball away from long-stick defenders. 
Next, let's talk about weight. Although Mark 2A isn't as light as Surgeon 900, it's still extremely light coming in at 4.5 oz or 128 grams. That truly makes Mark 2A another lightweight offensive powerhouse. 
Per usual good stiffness, durability and nice flat scoop as you can expect from StringKing. 
Overall StringKing Mark 2A is well designed to provide the perfect balance of performance, durability and weight.
This is a choice you can't really go wrong.
Warrior EVO QX-O
Pretty light
Durable and stiff
Pinched down face shape
Sidewall holes are cut downward
Sidewall holes end early
The newest upgrade in the Warrior Evo line from Warrior Evo 5 that was released 5 years ago, Evo QX-O largely resembles its predecessor in terms of visual and design 
One noticeable difference is the weight. Evo QX-O weighs in 4.9 oz or 139 grams, compared to the bulkier Evo 5 weighing in around 5.5 oz or 156 grams. As you can tell by now, attack heads are becoming lighter and lighter in order to maximize the power and control of shooting. 
Replicated the more pinched down throat design, Evo QX-O is as stiff, if not stiffer, as the Evo 5 with a more durable and high heat resistant Therma-Loc resin plastic material.
Since QX-O is very similar to its older versions, its sidewall holes are cut down into the head and the holes end early as well, potentially making it hard to string. For people who aren't used to the Evo line, this should be a feature to be aware of. 
If you are used to the Evo line, Evo QX-O is a worthy upgrade to consider.
Maverik Optik 3.0
Pretty light
More sidewall holes for stringing options
Shorter throat delivers better control
Not much of a signficant upgrade from already top-notched Optik 2.0
Optik 3.0, the newest update released in 2021, incorporated some exciting changes based on feedback from players and customers. 
Similar to how much Optik 2.0 weighs, Maverik Optik 3.0 weighs in just about 4.8 oz or 136 grams. 
One noticeable change from 2.0 to 3.0 is the shorter throat that gives you more top hand control and grip while cradling as an attackman. Additionally, with a new change to 20 sidewall holes on each side, Optik 3.0 definitely gives you more stringing options to find and personalize your perfect pocket. 
Another important change to highlight is the scoop. Unlike the pointy scoop used on Optik 2.0, Optik 3.0 adapted a new round uninterrupted face for ground balls in the middle. That has effectively made scooping easier. 
All in all, Optik 3.0 is a solid and great continuation of the Optik line with nice improvements from version 2.0.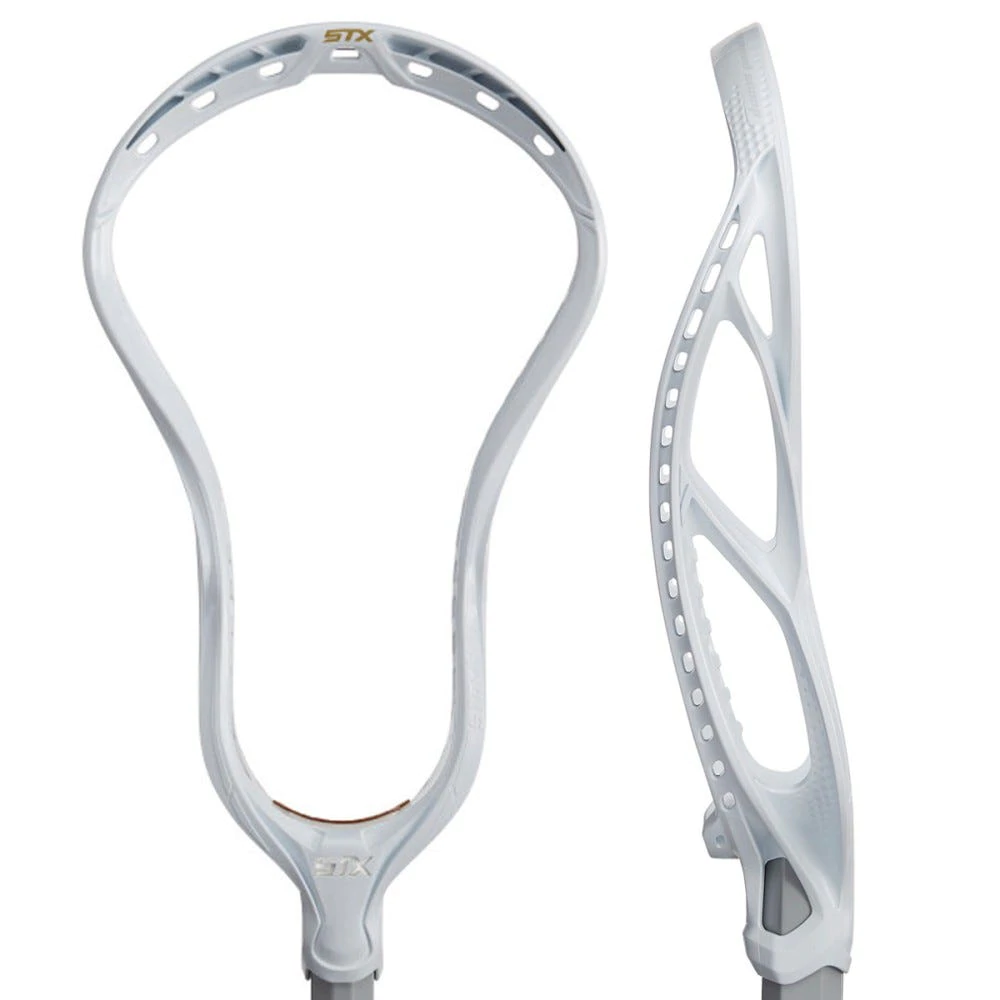 STX Stallion Omega
Stiff and durable
Speed Scoop Technolog
Nice face shape
If you wonder whether there's a head designed specifically for middie, STX Stallion Omega is your answer. 
This premium quality middie head features proprietary Omega™ polymer material that gives you that perfect balance of stiffness and flexibility. Weighing in at 4.9 oz or 139 grams, Stallion Omega has the best stiffness-to-weight ratio of any STX head by far. 
Given its expensive price point, you could also expect it to last much longer than most other budgeted heads. 
Popular and widely loved Speed Scoop™ makes it a breeze for ground ball pickup and release, regardless of the angle of attack. Stallion Omega also offers the deepest legal offset, which drastically increases ball retention and hold. 
To summarize, this is a top all-around middie head without any obvious flaws besides its expensive cost.
ECD Rebel Offense
Great scoop for ground balls
Great stiffness
Good face shape
Not great for low pockets
If you are looking for a more budgeted middie head, ECD Rebel Offense is well worth considering. 
Having that first-grade stiffness, Rebel Offense is perfectly designed for 2 way midfielder player that requires a complete package of functionalities, such as passing, shooting and picking up ground balls. 
Face shape wise, it has a relatively narrower pinch down toward the throat and flaring starts a little lower than most heads as well. The purpose behind the design is really to make it an all-around and versatile face shape for both attackman and midfielder. 
Another great redesign to highlight is the scoop for ground balls. A nice rounded shape makes it easy to pick up ground balls from all angles for players to run both sides of the field. 
All in all, this is a popular choice by many midfield players for its durability and quality.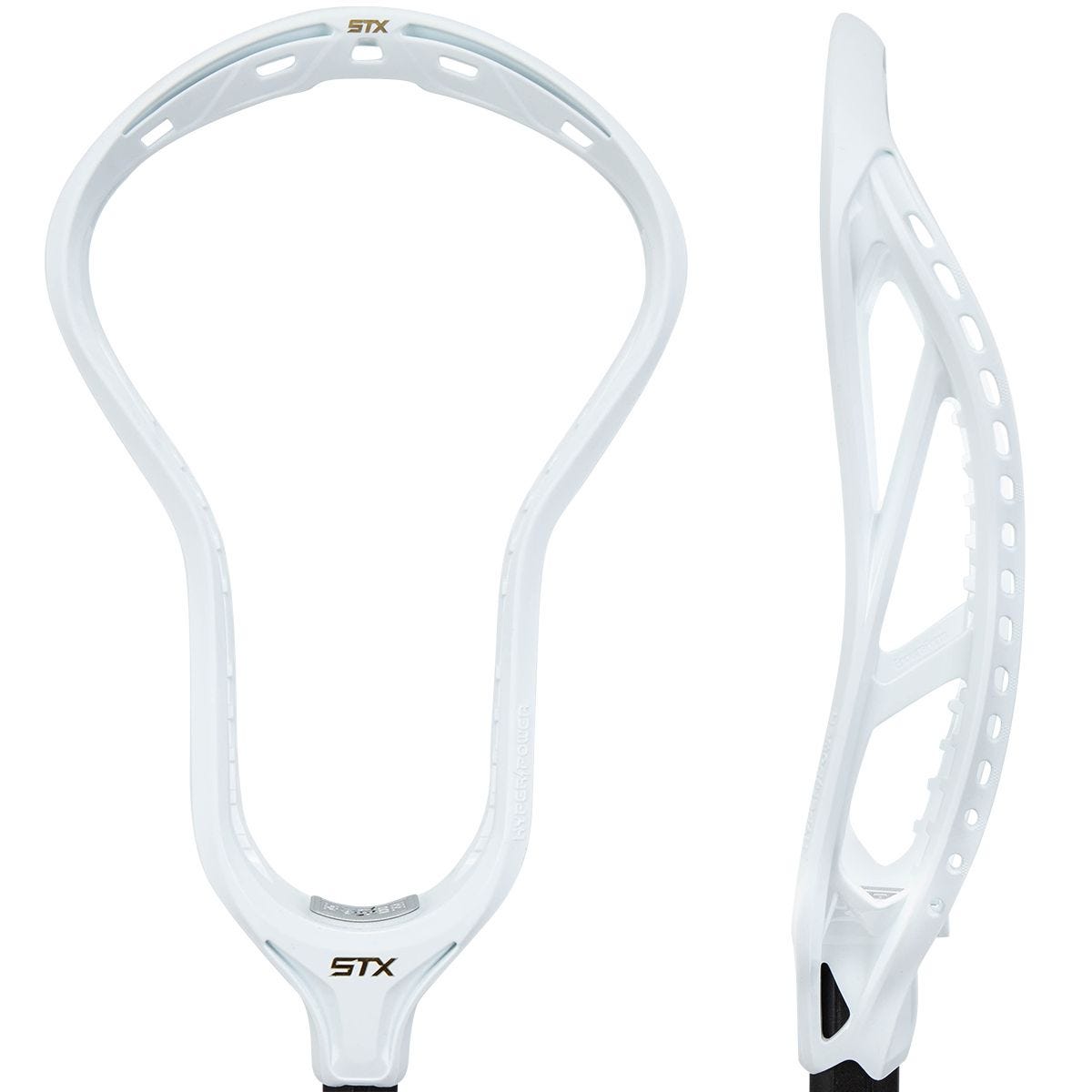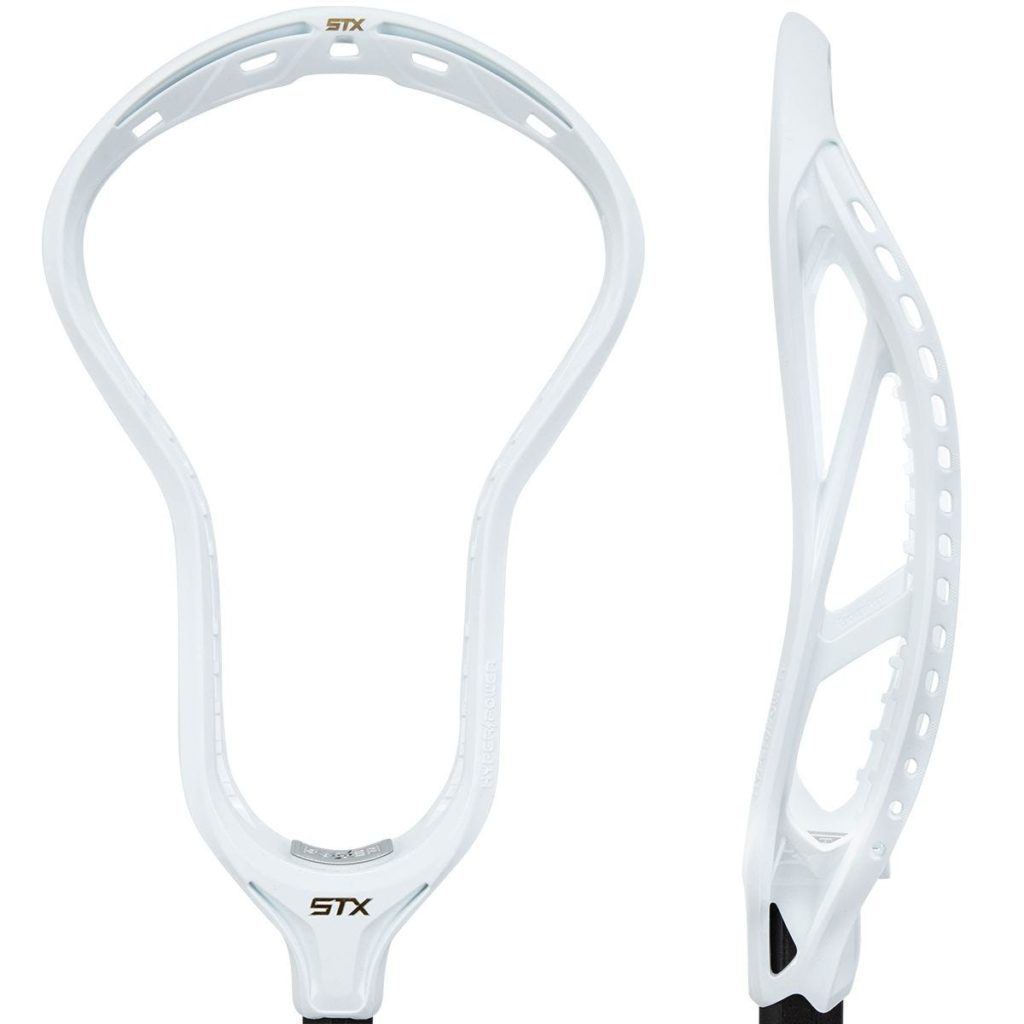 STX Hyper Power
Power Ramp improves ball velocity and accuracy
Great stiffness
Tighter face shape for ball retention
STX Hyper Power, a new release from the Power line, hit the market in the latter part of 2021.  Having some similarities to the previous version, Ultra Power, STX Hyper Power added some new improvements. 
One obvious change is the more subtle and lighter Power Ramp angle towards the bottom rail. By creating a more natural whip, Hyper Power enhances accuracy and speed by retaining the ball in the pocket longer during the shooting motion.  
It also has a tighter face shape to help increase ball retention and hold during offense. Don't forget about signature speed scoop technology as always for STX heads. 
Overall, Hyper Power is a nice and powerful upgrade from the iconic Power series.
How To Choose A Midfielder/Attackman Lacrosse Head
Choosing the best head for yourself is a highly subjective task as it largely depends on your playing style and preference. Thus, reviews of the most popular heads can only go so far as simple guidance. 
What's more important is to know what factors to consider when choosing a lacrosse head, therefore I included these 6 key factors pro-players often look for when choosing a lacrosse head.
Head Shape
Depending on the position you play and your level of skills, the choice of your head shape will have some nuances. 
As a beginner, you want to choose a wider head as it helps with catching, interception and channeling the ball. The downside is having less control and accuracy.
As your level of skills improves, you should start experimenting with tighter heads to ensure optimal control and accuracy. Yet, a more pinched-down structure also makes catching harder. 
Generally, a tight head is great for attackmen as well as offensive middies for better ball control and more accurate passing. Additionally, a flat scoop design for easy scooping is something middie needs to consider also. 
Strung v.s. Unstrung Head
Most lacrosse heads give you the option of strung or unstrung version. 
Preferably, if you know how to string it yourself, you should choose an unstrung head to string your own pocket; plus, it's usually cheaper. 
Strung heads are pre-strung in factories, meaning that all pockets will be similar in position and style. Such heads aren't bad as they are made to ensure good enough catching and passing qualities. Note, ECD and StringKing offer pocket customization based on your preference. 
Another key factor to consider when picking strung heads is the pocket position. For an attackman, a mid/low to low pocket is preferred for cradling and shooting. For a midfielder, the selection range is wide varying from a mid/high to a mid/low pocket. It really depends on your position and function as a midfielder.
Mesh/Strings Type
If you went for an unstrung head, the next thing to do is pick the right type of mesh and strings.
Currently, most meshes are made of fibers that are durable and weather resistant so that you can play consistently regardless of the weather. 
Depending on your individual need, you can choose between a soft and a hard mesh. A soft mesh is easy to string and is game-ready without any break-in time. It gives you better control. However, it tends to lose shape over time and the mesh can also get filled with rain making the stick harder to throw. 
A hard mesh usually rattles less and is more durable. The shape of the pocket holds better and the hard mesh can also be used longer. However, it is harder to string and needs break-in time. It also offers less ball feel.
Both meshes are widely used by players. Based on the pros and cons, choose the mesh that meets your criteria the most.
>> Check out our detailed mesh buying guide
Weight
The best lacrosse head for an attack or middie should be small, lighter and narrow. These help to provide power shots at a high speed.
It should be slightly offset to provide the best feeds, shots, and passes in games.
The headpiece should be thinner than those of defenders. The distance between the lip and pocket should be longer while providing excellent control.
Since they are lightweight, they offer better control of the ball, inside the pocket.
Go through the manufacturer's instructions to determine if the headpiece is arched or pinched.
Flexibility vs. Stiffness
When choosing a lacrosse head, weight and stiffness often go hand in hand. Normally, a bulkier head is stiffer and clunkier whereas a lighter head is more flexible and agile. 
Attackmen and middies prefer the right amount of stiffness and flexibility as they need good velocity and durability. 
And ever since STX Surgeon 900 came out, the conversation has shifted toward using advanced materials to increase stiffness while decreasing weight. 
It has been exciting to see how new advancements in technology could bring up stiffness further for attack and middie heads.
Colors
According to the new NFHS rules, you need a contrasting color between the head, shaft and the top glove. Meaning you want the head to be the same color as the shaft, and the glove to be a different color. 
Thus, remember to buy a color that also matches your shaft.
>> Check out our detailed shaft buying guide
Bottom Line
The best lacrosse head for an attackman and middie should be light and yet stiff, narrow and has good scoops. The max offset should be located towards the bottom a.k.a throat of the head for a low pocket. All of which help with power shots to propel ball traveling at a fast velocity. 
How To Become A Great Attacker/Midfielder
How Do I Become A Better Lacrosse Midfielder?
In contrast to what the conventional wisdom suggests that you have to be the fastest or strongest, being deceptive and unpredictable in front of defenders is the secret to becoming a great attackman. 
Listen to this interview with Ryder Garnsey who puts creativity as one key component.
To become a good midfielder, you have to prioritize training dodges. Great dodging skills give midfielders a leg up as you can control the ball and keep it away from defenders. In lacrosse, who has the ball wins the game. 
As said by Paul Rabil, one of the best midfielders to ever take the field, dodging is absolutely no.1 key to becoming a great midfielder. 
Conclusion
I hope this guide has served you with helpful tips and reviews with respect to learning the best heads on the market and how to choose and determine a good head yourself. 
I strongly suggest you first ask yourself what lacrosse head you are using right now and what are some improvements you would like to have in the next purchase. Make a list of things you are looking for; then, choose from one of the above options that match.
Drop a comment on which head you ended up buying. Also, feel free to let me know what other options you wish to see on this list. 
| Product Image | Lacrosse Head Name | Recommendation | Check Price |
| --- | --- | --- | --- |
| | STX Surgeon 900 | Best Attack Head | Check Price |
| | StringKing Mark 2A | Best Well-rounded Attack Head | Check Price |
| | Warrior EVO QX-O | Best Durable Attack Head | Check Price |
| | Maverik Optik 3.0 | Best Versatile Attack Head | Check Price |
Check out more additional head buying guides below: