When it comes to lacrosse shafts, one topic has risen to the top of many players in mind, should I buy a carbon lacrosse shaft? If so what are the best carbon lacrosse shaft options? 
Luckily, as carbon shafts became so popular, there are so many choices to compare and contrast. In this post, we will take a look at the highest quality carbon shafts you don't want to miss in 2022.
In summary, the biggest advantage of carbon shafts is it doesn't dent or wear over time like alloy shafts. It also lets you add more controlled flex in the shaft. And some carbon shafts are proven to be significantly stronger than metal shafts without adding more weight.
With that said, let's now walk through the products and find out why they are worth the considerations in 2022 and onward.
Find out the overall best lacrosse shafts in 2022 
Find out the cheapest lacrosse shafts in 2022
Jump to a section clicking here:
Best Carbon Lacrosse Shafts For Offense
Carbon shaft is the most popular among offensive players due to its better strength and durability. Most major lacrosse brands have ventured into carbon shafts and in fact, some carbon lines are outcompeting their metal lines. If you are an offensive player looking for a shaft with more flex and durability, don't miss out on these shafts.
Maverik Hyperlite Attack Shaft
If you are a metal shaft user and are thinking of switching to a carbon fiber shaft, then the best entry option will be flagship Maverik Hyperlite as it offers a zero-flex design. Like the name suggests, this shaft is as light as a carbon fiber shaft can get, weighing in at just under 5 oz or 138 grams. 
Esthetically, this shaft is definitely one of the coolest-looking shafts. It offers two color options, black and white with a checkered pattern on parts of the shaft and a futuristic blue Hyperlite font. On top of that, Hyperlite comes with a smooth matte finish with a concave shape. 
If you are concerned about how stiff it is as a carbon fiber shaft, you will be pleasantly surprised by how durable and tough this shaft is. It is designed to provide the best strength to weight ratio. 
Also with an adjustable butt end, Hyperlite is built and designed for elite attackers in mind. A solid option!
Maverik Hypercore Attack Shaft
Hypercore is a more beginner-friendly and affordable carbon option for young attackers and midfielders. As lightweight and strong as Hyperlite, Hypercore provides the best performance at the lowest price. 
The Hypercore shaft features I-Beam Carbon Core technology, with zero flex when making quick and powerful shots that provides optimal accuracy and speed. I-Beam is threaded through the middle of the shaft, giving this shaft an unmatched level of durability and lightweight at this price point. 
Lastly, it also comes with an adjustable butt-end, providing players with plenty of room to find the ideal shaft length. Overall, I highly recommend this shaft for beginner and intermediate players that are offensive minded.
Warrior EVO QX Attack Shaft
Continuing the discussion of the best carbon fiber shafts, EVO QX Attack is one of the newest carbon fiber shafts offered by Warrior for the 2022 season. Despite the fact that this is a hollow shaft, it is still very durable and stiff and offers no flexes. In fact, the EVO QX shaft outcompetes many other carbon shafts when it comes to stiffness and durability.
To win the title of being the lightest Warrior shaft at only 4.59 oz or 130 grams, EVO QX went for a hollow shaft design as attackers and middies are always on the hunt for the best lightweight yet durable option. 
This shaft also offers a tactical grip that improves hand control and grip as well as reduces wear and tear on your gloves. 
Apart from its great quality and performance, Warrior also put a lot of focus on creating a clean and sleek-looking design to make it the overall best shaft available right now.
ECD Carbon Pro 3.0
The newest and exciting release of ECD's most popular shaft line in October 2021, Carbon 3 offers a lightweight yet a sturdy option that is ideal for attackers and middies. A simple and sleek design features a light sandpaper grip that allows players to comfortably roll in their fingers. The gripping is a great continuation from Carbon 2.0 that players really loved about. 
It comes in three different colors, black, white and darker grey with a new sliding end cap. If you are planning to get a super durable carbon fiber shaft that flexes, Carbon 3 is possibly the best option in the league right now.
Epoch Dragonfly Elite 2
A brand new release at the end of 2021, Epoch Dragonfly Elite II is a great attack/mid option for skilled and professional lacrosse players. Combining every innovative technology Epoch has ever implemented, Elite is an option you can't go wrong with. The two biggest improvements come from the all-new Reactive Technology that optimizes energy transfer while maintaining power and reactivity and Dual Micro Grip that provides a smooth matte finish. 
Chosen by Tom Schreiber, Matt Rambo and many other professional laxers, Dragonfly Elite II is designed for the highest performance and the greatest competition. I am also a big fan of their shaft design that is subtle with cool touches.
Furthermore, a 1-year warranty really speaks volumes about the quality of their shafts, so if you want a great quality shaft, Dragonfly Elite is worth the price tag.
STX Fiber X Attack Shaft
When one of the best lacrosse companies started to make carbon shafts, you know it has officially taken the market by storm. Similar to the Sc-Ti series, Fiber composite shafts also come in different shapes, X & O.
Made of lightweight Nano Weave Carbon, this shaft provides superior durability and performance. X-grip profile is a very popular option as it optimizes finger and thumb placement for optimal handle control and feel. 
One thing I really like about this shaft is its durability. Many attackers love its ability to hold up against heavy checks and slashes. This shaft could very much last over multiple seasons. It also comes with a decent amount of flex for shooters who are looking for some flex in their shots.
Best Carbon Lacrosse Shafts For Defense
For defenders, carbon shafts have to be very stiff and durable. They are responsible for interception, blocking and throwing checks, so best defense carbon shafts have to hold up to the elite defensive standard.
Warrior EVO QX Defense Shaft
Brand new release in 2021, EVO QX defense shaft strikes a perfect balance between durability and weight. Being one of the lightest carbon shafts made by Warrior, EVO QX is a hollow carbon shaft that doesn't weigh defenders down. 
It also offers the best stiffness with zero flex profile to drive the fastest and most accurate releases. One prominent feature that comes with Warrior EVO QX is the tactical grip. It's located in areas that need the most gripping and control when throwing checks and scooping groundballs. When holding this shaft, you can feel the premium quality and matte finish. 
All in all, I am a fan of this great defense shaft that promotes speed and accuracy.
ECD Carbon Pro 3.0
This is the shaft I have used for a while now since it came out in 2021. Because I personally prefer a carbon shaft for its flex profile, ECD Carbon 3.0 has been my daily driver. Right off the bat, the quality of the materials is very top notched. 
Despite being lightweight, you can be very confident doing checking and any aggressive defensive moves with this shaft. It holds up really well. One unique and nice feature of the Carbon 3.0 is the sliding end caps. Without needing to buy an additional end cap, you will receive a sliding end cap along with the shaft. 
At a pretty affordable price, you can't really go wrong with this lightweight and clean-looking option.
Warrior Burn XP Defense Shaft
Another quality option from Warrior, Burn XP is a great carbon shaft that comes with increased flex to generate unparalleled shooting power. If you are a defender or LSM, you can't go wrong with Burn XP. 
Placing a lot of emphasis on stiffness, Burn XP is designed to withstand heavy impacts and provide optimal strength when checking. I particularly like the clean white design with light grey accents. In fact, not only the design, the dot matrix gripping also makes the shaft super comfortable to grip and hold. Because it doesn't tear up your gloves, buying this shaft also saves you time and energy to tape it down. 
For defensive players who like the flex in their shafts, be sure to check out Burn XP carbon shaft.
StringKing Composite Pro Defense
Since carbon fiber blew up onto the scene, we should definitely include some great and lightweight carbon shafts for players who prefer them over the metal ones. StringKing Composite Pro has one of the best and the lightest carbon shafts in the game.
As I mentioned earlier, defense shafts put a lot more emphasis on being the strongest and stiffest to enable you with more consistent and powerful checks. Composite Pro does it by using the smart taper technology that redistributes and balances materials throughout the shaft for optimal performance. In addition, it comes with a 6 month warranty should anything break. 
Overall, this is a great defense shaft for defense players looking for something not too heavy but durable.
Best Carbon Lacrosse Shafts For Goalie
Unlike defenders, goalies are looking for the lightest carbon shafts on the market. A light shaft goes a long way in terms of quick hands to save and block. Since carbon shafts are also the strongest, goalies who want to further improve their games should consider one of the following shafts.
Maverik Hyperlite Goalie Shaft
Ever since Maverik released their Hyperlite shaft line, it has become the no.1 go-to option for players looking for the lightest option. Hyperlite Goalie shaft is not an exception. 
Because Hyperlite shafts are designed with zero flex, this is a great entry shaft for goalies who are used to metal shafts but are open to trying out a carbon fiber shaft. It also delivers velocity and precision through an optimal strength-to-weight ratio. 
This cool looking shaft has a popular concave shape and a matte finish for a great hand feel. It also comes with its patented adjustable butt-end with a non-slip silicone liner. For elite goalies, the ability to personalize makes a difference in performance.
All in all, the fact that many collegiate and professional lacrosse players are using this shaft validates its quality and popularity.
TRUE Composite Goalie Shaft
TRUE Temper Lacrosse has been one of the pioneers consistently making and improving its carbon shafts. Released in 2019, TRUE Composite goalie shaft offers the best performance a goalie can expect from a carbon material.
This goalie shaft is packed with TRUE's most advanced technologies. By combining smartply and smartflex, the SF 4.0 finds the perfect balance between strength, weight and flex. Specifically, smartply fiber angles are covered with 25 layers of carbon fiber materials in the shaft wall so that it's made of the best durability and flexibility. Smartflex provides a moderate amount of flex for goalies looking for additional energy when throwing clearing passes. 
The SF 4.0 is lighter than most alloy metal shafts on the market today with a soft grip handle. So if you are a goalie with a preference for flexibility and consistency, this shaft is a great option.
StringKing Composite Pro Goalie
To meet a popular demand for carbon fiber shafts, StringKing Composite Pro Goalie shaft is for goalies who prefer carbon fiber over metal. This goalie shaft comes with a decent amount of flex. 
You could also expect top-of-the-line quality that is super stiff and impact resistant. Featuring an advanced taper design, this shaft doesn't create a single breaking point as it distributes the weight and material evenly throughout.
Same weight as Metal Pro 3, it's a little over 5 oz, allowing you to make quick saves and deliver faster outlets.
How To Choose The Best Carbon Lacrosse Shafts
Similar to selecting any great lacrosse shaft, there are a few things you want to consider. Once you understand why they are important, be sure to take into account these qualities when making a purchase next time.
Preference
Most important thing is to understand if a carbon shaft is what you want. As I briefly mentioned at the beginning of the post, carbon shafts and metal shafts are both great options but they are different in some ways.
Carbon shafts are lighter than metal shafts. Due to the characteristics of carbon fiber materials, carbon shafts hold up longer than metal shafts as they don't get dents. That said, once a carbon shaft breaks or splinters, you can't use it anymore. 
Another big difference is the added flex in the shots. Especially for offensive players, this is something you want to experiment with to see which one you prefer. Flex translates to more power on your shots and passes, so it allows faster shooting speed. 
To end, consider the pros and the cons holistically. One thing to note is that don't dismiss a carbon shaft immediately if you didn't like it at first. It takes some time to adjust and get used to when you switch from a metal shaft.
Durability
Without a doubt, a strong and durable shaft is the no.1 most important quality. This is also where the high quality and the low quality differ. A durable carbon shaft can last at least multiple seasons and are not prone to breaking. 
In my opinion, it saves you more money to get a great quality shaft that lasts longer than a cheap shaft that breaks very often. I took a trip to a local sporting store and contrasted expensive and cheap shafts. It's safe to say expensive shafts feel much more durable and stiff than cheap ones.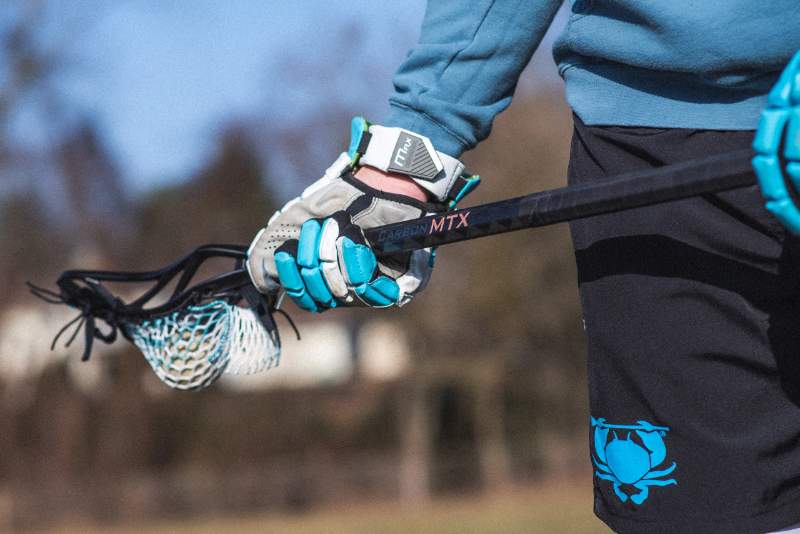 Weight
Having the strongest and most durable shaft isn't the whole story. It also needs to be lightweight. That's also where carbon shafts have become more popular as they are naturally lighter than metal shafts.
If you notice, many brands are now using the jargon "strength to weight" ratio to represent the fact that their shafts have a perfect balance between durability and weight. I tend to like those shafts the most. 
Use your current shaft as a baseline and see if you want to purchase a lighter or similar weight shaft. Although lightweight is a great benefit, you want to make sure that's what you are most comfortable with.
Conclusion
I hope you have found this buying guide very helpful and informative in helping you make an informed decision. 3 years ago, I bought my first carbon shaft and never looked back. It has been a great decision since I like a very lightweight and stiff shaft to perform well. 
If you are also someone who is attempting to try out a carbon shaft, the ones I highlighted above are the best options right now on the market. 
As always, if you have any questions or product suggestions, feel free to drop me a comment below.
Other lacrosse shafts/heads review you'd be interested in: