Let's admit it, lacrosse heads can be very expensive, especially the newest models. If you clicked on this article, you are probably looking for some cheap yet high quality alternatives. 
After all, in all the gear and equipment players use, a lacrosse head is the most important piece of it all. It helps to pick, catch, and cradle before making a defining pass or successful score.
If you read my best head buying guide, the fact that the current lacrosse market is filled with numerous designs and options also applies to the affordable market. So, in order to pick the best one, you will want to understand how factors like width, weight, and endurance of the head affect your choice. 
Hence, in this guide, my goal is to find you the most affordable at the same time the best cheap lacrosse heads in 2022: 
Best Cheap Lacrosse Heads
Since there are four positions in lacrosse: attacker, midfielder, defenseman, and goalie and each position requires a slightly different function and standard, selections are categorized based on positions. A general rule of thumb to find affordable deals is to either look for older models or buy used ones.
Best Cheap Lacrosse Heads for Attack/Middie:
As the first line of offensive, the attacker's role is to make scores. For them, the lacrosse heads and the sidewalls should be tapered with low (or mid) pockets to allow maximum performance.
Likewise for midfielders, as they are involved in both sides of the gameplay, midfielders should also have light-weighted and durable lacrosse heads with rounded scoops.
Maverik Lacrosse Tactik Head
Meets the NCAA and NFHS requirements
Stringing holes for custom pockets
Made with durable materials
Great for all levels of players
A slightly wider face shape than other attack heads
Maverik Tactik lacrosse head is a must-have for professional attackers and midfielders. It comes with a Tactik head that ensures good consistency and control while passing the ball. The release point of the Tactik is like a godsend for swift moves in the field. Besides, the level 3 bottom rails for mid-pockets add an extra boost to the Tactik efficiency.
It's also secured with X-Rail technology for a lighter yet stiffer Tactik. The technology is useful for maintaining tension on the opposite rails. So it wouldn't be hard to handle while playing. Also, the product is pretty durable and cheap, so you won't be spending a fortune to learn and grow.
Brine RP3 II Lacrosse Head
Lightweight and versatile
Promotes good accuracy and control
Simple and durable design
A 2016 model with room for improvements
Prone to wear and tear after intense and prolonged use
If you liked the first generation of Brine RP3, there are high chances that you will like the second version even better. That's because it shares the traits of the earlier version with additional (and better) technologies. The second version has a brand new scoop design. It's also stiffened by patented vari-flex technology that helps the head to flex in a range of various playing styles & conditions.
The lacrosse head is bound with strategic core-tech that reduces excessive heaviness and stiffness. Thus, it's very light and nimble to play with. To ensure strong performance, the head has mid or low pockets on the bottom rail. Alongside the decent features, most importantly, it comes with a compelling price point.
STX Surgeon 700
EnduraForm material for durability
Lightweight and stringer friendly
Great scoop design for groundballs
A 2018 model without new STX tech incorporated
Doesn't fit with some shaft options
It's rare to come across a cheap STX product, once in a while STX will put older versions of their popular products at a discount that makes it more accessible for players. To this day, Surgeon 700 is considered one of the stiffest and toughest heads in the category. 
For an elite attacker, you look for accuracy and easy hand control. Surgeon 700 is designed to deliver these tasks seamlessly and smoothly. It is crafted with two sidewall rails and 20 sidewalls for pocket control. The channel lock technology provides customizable stringing options based on your preference. 
Also, the iconic speed scoop ensures an effortless pick-up of ground balls. This means no unnecessary drags or interruptions during the game. One thing to keep in mind is that the throat plug doesn't work with carbon fiber shafts.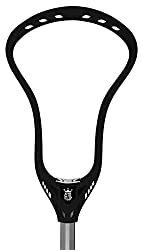 Brine King – X Spec Head
Pinched face shape
New throat design that improves stability
Good quality and durability
A good selection of colors
A 2015 model that needs room for improvement
Heavier than most other attack heads
For someone who's looking for a classic lacrosse head, Brine King-X unstrung head makes a great choice as it's one of Brine's long running lines! It comes with the perfect channel for better ball control and accuracy. The scoop is flat and round which retains the maximum tension on the mesh top. So, it provides a good consistency for catching and throwing the ball.
Perfect sidewall designs for offensive players to string different low and mid pockets for ball retention. 
To minimize wobble of the head, King-X Spec added a lock throat that is more narrow to ensure the ball is safely secured while cradling. Besides the conventional black, the product also comes in red, blue and silver.
>> Click here to learn more about the best offensive heads
Best Cheap Lacrosse Heads for Defense:
The goal of defensive players is to prevent an opponent from scoring a goal. For them, the lacrosse heads must be tough and durable enough to withstand heavy checks and poking in the game. Here's a list of the best cheap lacrosse heads for defense players:
Maverik Tank Lacrosse Head
New 4-strust design for maximum rail support
Extra stiffness to withstand checks and abuse
Popular option chosen by many players and coaches
Could still warp after prolonged use
When it comes to affordable defense heads, 80% of the time players and coaches recommend this head for good reasons. It's a sheer example of a powerful and premium lacrosse head for defensive players. Like a real tank, it withstands checks better than most defense heads. It also comes with a 4-strut design that ensures adequate rail support.
A wide defensive face shape ensures more leverage to disrupt offensive players in their passings, which gives you more confidence and mental strength to detect opportunities. Besides withstanding aggressive checks, it's designed with a versatile scoop to pick groundballs easily. It also has 17 stringing holes on either side, along with two screw holes.
The best part? All these benefits and features come at a reasonable cost.
STX X10
Perfect sidewall designs for mid to high pockets
Durable and stiff
Great face shape for interceptions
A 2012 model that doesn't incorporate new STX updates and tech
It's proven that STX can dominate both the best and most affordable categories without problems. STX X10 is a cheap defensive lacrosse head that you can't go wrong with. Super durable materials allow heavy and hard checks. A large defensive surface area with sidewalls designed for mid-high pockets helps defenders deliver best offensive play and transitions. 
Also, the scoops are perfectly designed to pick the ball smoothly. So, it's not going to be easy for the opponents to face your defense. For a desirable stringing modification, it has got multiple stringing holes. And of course, it meets the NCAA and NFHS rules! So, you can stay assured of any penalties.
Warrior Evolution 2.0 Lacrosse Head
Lightweight design
Improved sidewall design for durability
Well-designed scoops
Not ideal for college and professional players
Doesn't work well for high pockets
If you ever used the previous version of Warrior evolution head, you will be pleasantly surprised with the updated version Evolution 2! Keeping all the good features, Evolution 2 implemented more advanced tech and designs, which makes this head more feature-rich and prime-quality. The product is all about offering good head speed and ball control.
Also, the perfect angle of scoop ensures that you are able to pick the ball easily while running. The wide face shape with a mid pocket also acts as an extra perk for high schoolers who haven't mastered the catching and passing skills. One drawback is that the head doesn't really work well with a high pocket as it bags down low which can become illegal because the ball can get stuck at the throat.
>> Click here to learn more about the best defensive heads
Best Cheap Lacrosse Heads for Goalies:
Goalies block shots by swinging the stick as fast as possible. Thus, the lacrosse heads have to be wide with deep pockets as well as maintain lightweight. Some of the best cheap lacrosse heads for goalie include:
Warrior Nemesis 3 Goalie Head
Improved sidewall design for durability
Well-designed scoops
Wide face shape for maximum coverage
Could be prone to wear and tear
Not compliant with women's lacrosse rules
The Warrior Nemesis lacrosse head is one of the best-selling lacrosse heads for goalies. If you are looking for a lightweight but premium quality head, Warrior Nemesis won't disappoint. Featuring Warrior's Sym-Rail Twist technology, this head strikes a perfect balance between weight and quality. The ultra-stiff sidewall design is built for long-term durability.
It also has a tapered V throat grip to ensure narrowness near the throat end and also added more tapered stringing holes. Overall this is a goalie head that gives goalies confidence in saving and passing outlets.
Brine Eraser 2 Goalie Lacrosse Head
Brine's popular goalie line
Stiff and rigid materials
Offset sidewall for an accurate outlet pass
Heavier than many other goalie head options
An update for Brin's popular Easer goalie head, Eraser 2 is 20% lighter than the previous version. Additionally, one of the best features of this goalie lacrosse head is that it provides adequate stiffness and strength without being too heavy, so you get the best of both worlds. 
When goalie lacrosse heads are lighter, it's likely to cut through the air and work smoothly. All this can contribute to a successful goal save. It also comes with an offset sidewall which maintains efficient ball control as well as retaining accuracy.
>> Click here to learn more about the best goalies heads
How To Choose A Cheap Lacrosse Head
Choosing a cheap lacrosse head is challenging since every year there are countless options that are put on sale. Whether you are buying a used or a discounted head, it's very important to get educated with the knowledge needed to navigate through the market and find the best affordable head that is most suitable for you. 
Here are the distinct factors to consider when selecting a cheap lacrosse head:
Stiffness and Versatility
As per the player position, you want to decide whether you need a stiff or versatile head. For example, stiffer lacrosse heads are desirable for defensive players. Thus, defense heads will be heavier in order to hold up against constant checks and abuse. 
In contrast, versatile and flexible lacrosse heads are good for midfielders and attackers as they are less involved with checking opponents. A versatile head promotes better hand control and extra cushion for ground balls.
Face Shape
Again the shape of the head varies depending on your position on the field. For example, the player who is playing in defense should have a stick with a wider lacrosse head as it becomes easier to stop the pass. Likewise, for goalies, a wide face shape helps to prevent any goals from the opposing team. In contrast, for attackers, the lacrosse heads are more pinched. This helps them to control the ball and score goals.
Stringing Holes
Evaluating stringing holes isn't only applied to premium heads, but also good affordable ones as stringing holes directly impact the customization of your pocket. Ideally, you want to look for more stringing holes for flexibility and stringing options.
Sidewall designs are also important if you like to create extra torque and power.
Customer Reviews
When in doubt, read customer reviews. I can't stress enough the importance of reading through customer reviews for a product. Especially on Amazon, many options mentioned above have reviews from players over the years, which provide you with a lot of context and background. 
Equally important, when doing your own research, treat extreme positive and negative reviews with a grain of salt. Place more weight on reviews that have more constructive feedback.
Lacrosse Head Rules & Regulations
In order to stay compliant and avoid any potential penalties, let's review the rules and regulations you need to know depending on your game level. 
This includes:
NCAA Lacrosse Heads (Applicable for college players):
The heads should be minimum of three inches wide near the throat and six to ten inches wide at the widest point of the head.The length should be at least 10 inches from the top of the head to the throat (exclusive of ball stop). The lacrosse head midpoint should be at least 3.5 inches. Note that the ball stop is required only if you use a wooden head (maximum ¼ inches thick).
NFHS Lacrosse Heads (Applicable for high school players):
The lacrosse head should be at least 3 inches wide near the throat. Similarly, the widest point should be at least 6 inches, with midpoints lying within the 3.5 to 4 inches range. The length from scoop top to throat should be around 10 inches.
Universal Lacrosse Heads (applicable for all lacrosse players):
The rule for universal lacrosse heads is similar to NFHS measurements.
A lacrosse stick is considered illegal if it does not meet the head measurements. If, before a game, any official finds out your stick is illegal, you wouldn't be allowed to use it for playing. This will result in a penalty for both the team and the player.
Conclusion
I hope this guide has provided you with the most helpful information and resources you needed to cop the best cheap lacrosse head in 2022 for you. 
As always, feel free to write a comment below to share which shaft you ended up buying or send me a question on anything that's unclear. 
Additional buying guides:
Check out my 2022 best lacrosse heads roundup
Need a cheap quality shaft option? Best cheap lacrosse shafts in 2022
Simply the best lacrosse shafts: Best lacrosse shafts in 2022
Don't forget to buy some mesh to string your head with best mesh buying guide in 2022