Unlike men's lacrosse, if you watch or play women's lacrosse, you will notice the only gear women wear is a pair of goggles. Which means this piece of equipment is the only protection you have during a fast-paced and intense lacrosse game; therefore, it's very important to find a good quality pair of goggles to withstand any potential impact. 
The good news is in order to help you find the best and most comfortable goggles for your daughter or yourself, I have included all the great options you should consider today. After product reviews, I will also walk you through my process of determining a good pair of goggles. 
Update: As of January 1st, 2020, every women's lacrosse league in the US requires eyewear to be certified by the SEI and meets the ASTM Standard F3077-2017. To reflect this change, I have only included legible goggles that meet these standards and are safe to wear.
For all the best women's lacrosse equipment, head to this page.
Best Women's and Youth's Lacrosse Goggles
After doing extensive research by looking up online, going through different product pages and going to local stores, I was very glad to see there are many solid lacrosse goggles for both women and youth players to consider.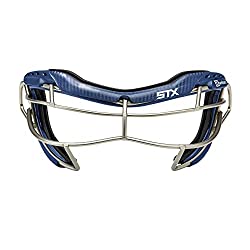 STX Focus-S Ti Goggle
| | |
| --- | --- |
| #1 Best 2022 Option | Colors: Black, Navy, Red |
| Release date: 2022 | Ratings: |
| Meets ASTM Standard: ✅ | ⭐⭐⭐⭐⭐ |
STX Focus-S Ti is my choice of 2022 for women's lacrosse goggles as it's proven to be the most popular goggle option among advanced and elite women players.
What makes Focus-S Ti so successful is its usability, comfort and lightweight (30% weight reduction from the 4Sight Focus goggle). No flashy design, this goggle is made of titanium, a better quality material than steel in terms of both durability and weight. Many players quickly find how strong and light these goggles are. 
The minimalistic double bar design promotes the best visibility without blocking any side views. Suitable for all positions Focus-S Ti is a no-brainer choice for elite players. 
STX 4Sight +S Lacrosse Goggles
| | |
| --- | --- |
| #1 Most Oval Shaped Option | Colors: Blue, Black, Red, Grey |
| Release date: 2018 | Ratings: |
| Meets ASTM Standard: ✅ | ⭐⭐⭐⭐ |
Are you worried about getting hit on your eyes while playing your favorite game of lacrosse?
You can consider the oval-shaped STX 4Sight +S goggles designed to fit the shape of your head.
This elegant product has a unique design that offers you the maximum comfort when wearing them. The inner material consists of silicone padding that's gentle on your skin. The entire frame consists of silicone, and snugs fit on your face. Additionally, it's lightweight, adding to your comfort. 
If you sweat a lot during games, 4Sight +S helps in absorbing sweat and moisture, thus eliminating the risk of an acne flare-up. Also, the goggles are easy to clean since you can easily detach the cover for a quick clean-up.
Although the frame is not adjustable, this goggle comes with a head strap that you can fasten or loosen depending on your comfort level. That said, there are many comments suggesting the fit is too narrow and small for players.
STX Lacrosse Focus-S Goggle
| | |
| --- | --- |
| #1 Best Budget Option | Colors: Black, Blue, Red |
| Release date: 2019 | Ratings: |
| Meets ASTM Standard: ✅ | ⭐⭐⭐⭐ |
Focus-S is for girls who want a pair of stylish and affordable goggles for the up-and-coming season. And you probably can tell now, STX brand is the industry leader in designing high-quality women's lacrosse goggles.
It is designed towards offering superior protection, comfort, and visibility to an intermediary player.
Several features enable you to have a clear view when playing your favorite game. Lacrosse is a heavy impact sport, and you might break a sweat which may cause skin acne. That shouldn't be a problem since this goggle has a moisture-resistant padded silicone that keeps you dry.
We love its minimal and simple design that doesn't overcrowd your face, thereby giving you a clear view and maximum visibility. It's also very lightweight that offers a comfortable fit on your face.
Focus-S consists of a sturdy cage made of steel that boosts strength and protects against any impact. Also, titanium bars are scratch-resistant and don't obstruct your view.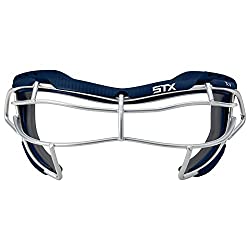 STX Focus XV-S Goggle
| | |
| --- | --- |
| #2 Best 2022 Option | Colors: Blue, Red |
| Release date: 2022 | Ratings: |
| Meets ASTM Standard: ✅ | ⭐⭐⭐⭐ |
Alongside Focus-S Ti, Focus XV-S goggles are the highest quality women's goggles currently made by STX.
This shape adapts to the shape of your head and offers superior visibility.
These goggles have perfect vision due to their simple bar designs and excellent padding that doesn't absorb any sweat to stay dry and clean throughout the game. Also. given the fact that the padding is made of silicone material, there is a low risk of skin infections such as acne.
Another important criterion is safety. 
That's why it's necessary to consider a product that meets standards for quality and safety assurance. This product is SEI certified and meets ASTM requirements. 
Therefore, this raises your confidence level and gives you a maximum gameplay experience. That said because the bar is made of steel rather than titanium, Focus XV-S is cheaper than Focus-S Ti at the same time isn't as durable as Focus-S Ti.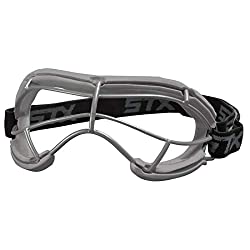 STX Lacrosse 4Sight+ S Youth Goggles
| | |
| --- | --- |
| #1 Best 2022 Youth Option | Colors: Grey |
| Release date: 2019 | Ratings: |
| Meets ASTM Standard: ✅ | ⭐⭐⭐⭐ |
The youth version of STX 4Sight+ S goggles, it's a perfect product for young women players under 12. It also has an oval wire design enabling great visibility as it's very important for beginner players to have full visibility of the field. 
Because this goggle is made for youth players, it's not made with the highest quality steel materials but still comes with silicone padding, which doesn't absorb sweat and moisture.
Overall, this is a very popular and great youth goggle option for its track record and good customer feedback.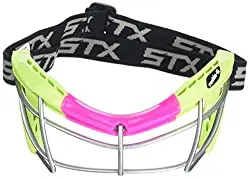 STX Rookie S LAX/FH Goggles
| | |
| --- | --- |
| #2 Best 2022 Youth Option | Colors: Pink, Blue/Lime |
| Release date: 2019 | Ratings: |
| Meets ASTM Standard: ✅ | ⭐⭐⭐⭐ |
If you are looking for affordable yet great quality goggles for your young player, STX Rookie S LAX/FH is the best option that provides both comfort and protection.
These are only for women players under 12 as it has the smallest cage design of all STX goggles. The front face has an oval design with a flatter angle compared to other adult goggles. The color is very distinct with the lime and pink combination.
An important note is since these goggles tend to run small, so as soon as these goggles start to feel tight for your child, I recommend starting to look for adult size goggles because a misfit goggle can negatively impact her performance even worse could cause minor headaches.
Girls Lacrosse Goggles Accessories (straps)
That was my round-up of the best 2022 women lacrosse goggles. I hope you have found a pair that you like. Before we move on, there's one more useful accessory that people also buy together with the goggles, which are replaceable straps.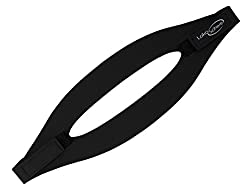 LokoSphere Women's Lacrosse Goggle Strap
| | |
| --- | --- |
| Colors: 20 Different Colors | Ratings: |
| Size: Women's | ⭐⭐⭐⭐⭐ |
The LokoSphere is a great quality, comfortable and stylish strap.
It's designed for girls and women who wish to have their goggles secured throughout the game and also want to add some flair to the game while playing lacrosse.
Your daughter will love these straps and will blend perfectly with their sense of fashion.
The straps are adjustable and interchangeable. Further, the strap is highly recommended since its lightweight and fits securely on your head. They consist of high-quality material for added durability. 
A well-liked product by many customers with great reviews, it also provides a wide variety of color combinations. 
I definitely recommend these straps as they last a long time and give you the best value for money.
Why Do Women Lacrosse Players Wear Goggles?
During a lacrosse game, it's essential to protect yourself and other players.
The face is the most vulnerable to injuries resulting from a stray ball or lacrosse stick. And eyes are the most delicate.
Despite strict rules of a game, accidents may occur in tournaments and so precautions are necessary to prevent injuries or fatalities.
That's why although female lacrosse doesn't allow physical contact, they are required to wear goggles designed to protect the eyes.
Injuries take place when the ball is thrown to the opponent's goal, it accidentally lands on a player's eye. Or a player who's aiming at a ball may also cause unforeseen injury to another with her lacrosse stick.
Features to Consider When Buying Lacrosse Goggles
At this point, you probably have a good understanding of what to look for when buying lacrosse goggles, premium protection and comfortability. 
Here are the features to consider before making a perfect selection to suit your needs.
Safety Measure
In every pair of glasses or goggles, what you care the most about is the durability and safety level of the material. When it comes to goggles, there are typically two types of materials, titanium and steel. Both are great and titanium goggles are typically more durable. 
The material also determines the comfort, quality, and need for maintenance. Most of the frames consist of silicon, plastic, or polymer, which is easy to clean. 
The frame could also comprise one material or a mixture of both. For instance, hard plastic on the outer side is suitable for protection. On the other hand, silicone on the inner side is suitable for comfort and fitness.
Materials
The quality of the goggles depends on the cage material. The metal cage is more durable due to its strength and doesn't break easily.
You may like the outward appearance of the goggles, but your safety should come first.
Plastic breaks easily, and the speed of the ball can shutter it and injure your eyes. A more experienced player may go for plastic goggles.
The reason is, she can make a swift maneuver and avoid a stray ball or keep a safe distance from other players' sticks.
The major factor here is the lightness. A cage without a bottom bar enables the goggles to lie flatly on the face, thereby enabling clear visibility.
For a young player without experience, your requirement may differ, especially when controlling the ball and the stick.
You'll need a cage with more bars so that it can protect your eyes and the nose bridge. In addition, the lacrosse goggles should be thicker between the cages.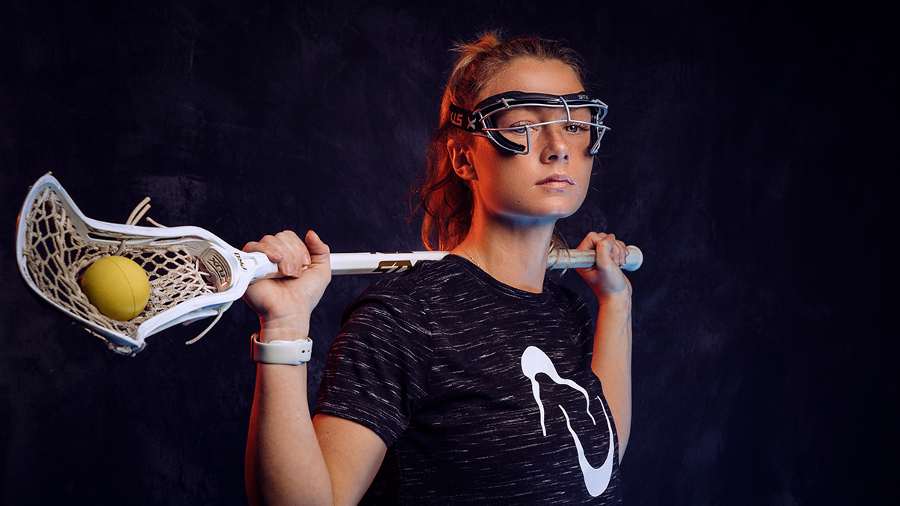 Adjustability
When fitting your goggles, ensure it rests properly on your cheekbone. It shouldn't move when you're walking, jumping, or running around in the field.
Usually, muscles contract when it's cold and seems to relax during hot weather. When this happens, the goggles may slide due to sweat.
Consider buying an adjustable pair so that you can set your ideal fitting.
When it tightens, you can loosen it while ensuring the strap doesn't leave indentations or marks around your eyes. 
An adjustment strap will come in very handy as the child grows up, and she might need to upgrade to a bigger pair of goggles.
Weight
Weight goes hand in hand with how comfortable the goggles are on your face. If they are too heavy, your speed and performance can be negatively impacted. 
In particular, goggles are worn around your head, a delicate part of your body, so you want to find lightweight goggles that don't weigh you down on the field.
Customer View
When I was writing the product reviews for each goggle, I found customer reviews to be the best and most reliable source of information. That's why I always preach to my readers how important customer views are.
What you want to look for is the recurring downside multiple customers complained about. For example, if many customers complained about sizing being too small and tight this could be a telltale sign that this product runs small and if you have a bigger head probably want to look for other options. 
The best practice is simply to read through multiple customer reviews to find any pattern you can recognize and see how much of it affects you personally.
FAQ About Best Girls Lacrosse Goggles
Can You Wear Glasses Under Lacrosse Goggles?
Depends on the product. Be sure to check the product or Amazon page to find more details. 
If you want to wear glasses under lacrosse goggles, you need to make sure your vision isn't compromised in any way. 
Select the best model which you can wear over your glasses without interfering with your normal eyesight.
How Are Lacrosse Goggles Supposed to Fit?
Lacrosse goggles should fit properly on your cheekbone comfortably.
Try the pair before purchasing as the shape of the face determines what style to wear.
The goggle should remain on the surface of the face without moving. However, it shouldn't be too tight but a snug fit.
Adjust the strap to ensure comfortability.
How Do Girls Wear Lacrosse Goggles?
Girls or women should wear the lacrosse goggles comfortably against the face.
It shouldn't be tight in a manner to make you uncomfortable.
Pull the goggles down your eyes and ensure they're a comfortable fit.
Adjust using the straps so that it doesn't move when jumping, running or walking.
See the illustration of the video.
How To Reduce Acne Breakouts From Your Lax Goggles
Most people who wear glasses wash their face but rarely clean the frame of the glasses or goggles.
Dirt and sweat are likely to accumulate on the frames and may cause acne around the area.
Gently clean your goggles with water and mild soap or detergent.
Wash your face too before you wear the goggles since the acne could be a result of dirt or oils which clog your pores.
Dead skin can also block the pores, and your frames make it worse by covering, pressing, and sealing them.
Identify the specific area where the acne is prevalent and adjust the frame to loosen them.
If none of these works, you may consider visiting a dermatologist to establish the cause of the allergic reaction.
Conclusion
Lacrosse goggles are vital in protecting your eyes and the surrounding area from heavy impact during an intense lacrosse game. 
Depending on your preference for comfort, protection and style, I wish this post has offered you a great pair of goggles you find that suits you the most. Again, when looking for the best girls' lacrosse, consider style, safety, and durability to get the real value of the product.
Feel free to drop me a comment if you have any questions or simply want to let me know which pair of goggles you ended up buying.
Additional Resources