Unlike attackmen, middies and defenders, goalies have the biggest impact on a game as they are the last ones standing in between a goal and a save. Which means goalies rely on their gears to put themselves in the most critical situations and deliver the best performances they can.  
As we went over in this post, for every position, a great quality head is the most important piece of equipment that makes or breaks a player's season. For this reason, they need a goalie head that is reliable, nimble and consistent. 
Fortunately, today there are great brands that are making top-of-the-shelf goalie heads for young, up-and-running goalies and professionals. In this post, we will explore the best goalie heads you should consider in 2022 and help you get smarter with how to determine what the best fit is for you.
Best Goalie Heads In 2022 Buying Guide
After several hours of research online and doing some actual testing in the store, I am delighted to present to you the 8 best goalie heads on the market today
STX Eclipse 2
Most popular goalie head option currently
Great face shape for a big clearing area
Very comfortable to hold
Lightweight
Might not be the stiffest head, but is above average
Pretty pricey
STX Eclipse line has an undoubted reputation when it comes to goalie heads. This is currently the best goalie head recommended by pros and coaches alike.  
If we roll back the history, the original STX Eclipse actually came out over a decade ago and it has since become the option for many goalies despite being an old product.  
Due to its continuing popularity, the second version was launched in 2017. It is definitely an upgrade on the former design. Salient features include a secure and comfortable grip around the throat and stiffer and more durable rails to withstand power shots and prevent the head from folding backward. In addition, the design comes with double the amount of string holes to increase stringing customization. 
Eclipse 2 has revamped the scoop design, incorporating STX's signature speed scoop technology to make it quick and easy to work with ground balls. Likewise, the offset design allows it to throw clean and quick outlet passes.
This is certainly a successful continuation of their Eclipse 1 by both maintaining the overall face shape and implementing improvements to make an even better goalie head. It deserves to be named the no.1 goalie head currently on the market.
Be sure to check out STX's Stringing tutorial here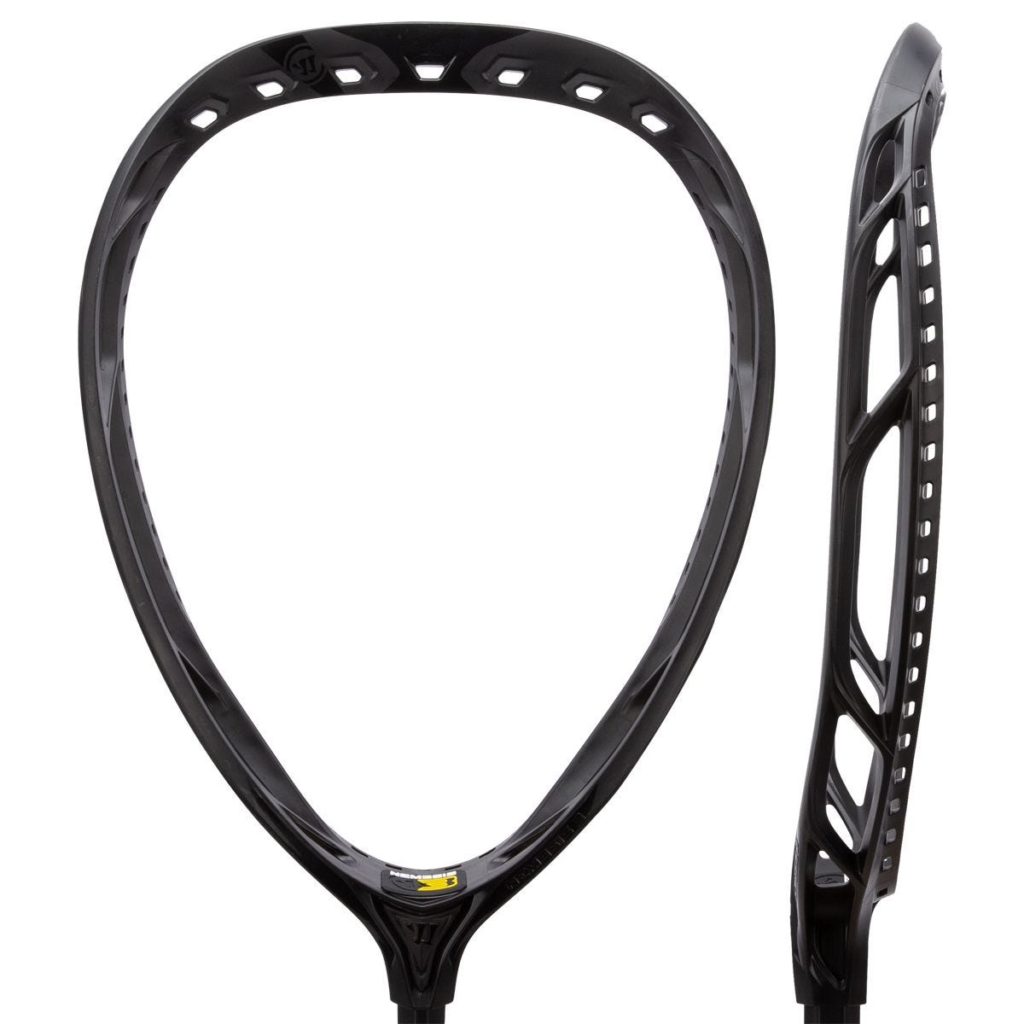 Warrior Nemesis 3
One of the lightest heads available
Very good quality and stiff materials
Plenty stringing holes
Might need to take some time to adjust the different face shape
There are two golden children that most goalies choose and rave about, one is the STX Eclipse line, the other is the Warrior Nemesis line. 
A decent upgrade from Nemi 2, Nemesis 3 is lighter and stiffer with a more game friendly design. In fact, it's one of the lightest goalie heads available right now. Unlike Eclipse's oval face shape, Nemesis adopts a rounder face shape that offers a more balanced feel in the hand and a larger saving area for goalies during games. 
It comes in medium weight and standard throat design and provides a great amount of stringing holes on the sides. In addition, many players will find the struts on the sidewall more than adequate. By striking that perfect balance between weight, price and durability, Warrior Nemesis 3 is an ideal purchase for both young and professional goalies. 
A relatively new release in 2019, Warrior Nemesis 3 is a must-have to consider.
StringKing Mark 2G
Plenty stringing holes
Wide face shape for clearing
Great customer support
Super lightweight
Shortened throat could lead to less gripping
As one of the reputable and popular brands in lacrosse, StringKing continues to deliver satisfying and good quality gear for laxers of all ages and skills. 
After STX Ecplise 2 came out, a few different brands have decided to follow suit, which has greatly expanded the options for players. 
Mark 2G was launched in 2020 and it has quickly become one of the most popular heads among goalies. It is crowned to be the lightest goalie head currently on the market, under 11 oz.
Without sacrificing quality and durability, Mark 2G has good stiffness and a large surface area with plenty of sidewall holes to work with. It's a perfect head for players who want different pockets and stringing customizations. 
If you are familiar with StringKing attack, faceoff and defense heads, you will be very comfortable with this head design as it strikes a lot of similarities to the other heads. 
It has a low profile, shortened throat that might be an issue for goalies who like to use one hand to grip the throat as it doesn't leave much space. 
Overall, Mark 2G is a great and high-quality goalie head that comes with a six-month warranty.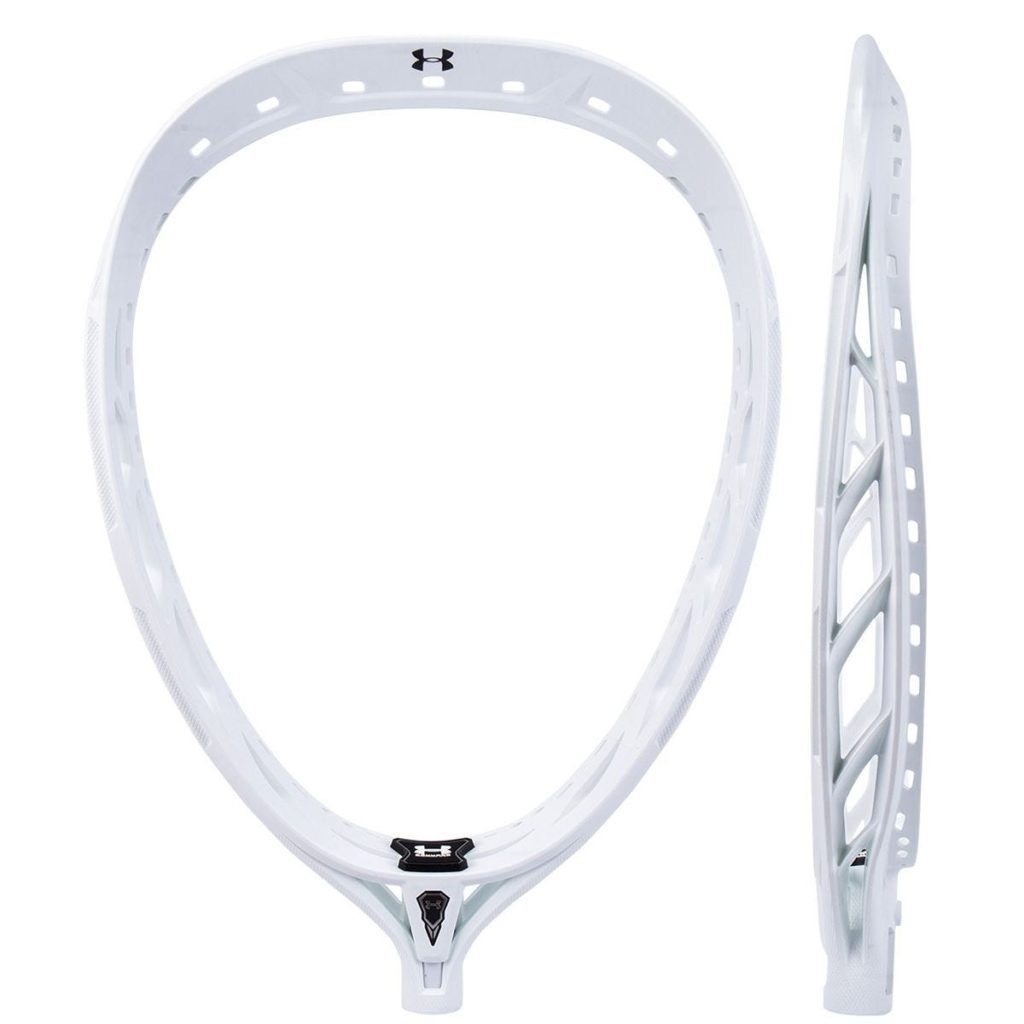 Under Armour Command Goalie
Adopted many great design features from Eclipse
Great stiffness
Best value for money option
A little heavier than many other options
Fewer stringing holes
As we mentioned earlier because Eclipse is such an iconic goalie head many brands look at Eclipse as the model to study and aspire to be. One of those brands is Under Armour and its own version, Command Goalie launched in 2019, has adopted many great features from Eclipse. Since then, it has gained many favorable reviews from players. 
Right off the bat, you notice Command has a very similar face shape design as Eclipse. Because of that, it also shares many awesome features like the Eclipse in durability, handling and ball control. This head can withstand all kinds of weather conditions. 
The tradeoff of having a more durable head is that it weighs about 11.8 ounces which makes it heavier than most competitor products.
Another thing to note is that Command goalie has fewer stringing holes compared to other products in the market. This could be a downside for goalies who like to string different types of pockets.
Bottom line, at a reasonable price point, Under Armour Command Goalie head is a great option for goalies who are looking for a product that could last multiple seasons.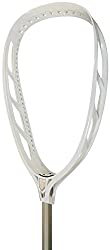 Brine Eraser 2
Optimal design for players of all ages and skills
Good stiffness and quality
Plenty stringing holes
Super lightweight
Shorter throat provides less gripping
Brine Eraser 2 is a compact yet lightweight goalie head that can withstand heavy wear and tear. An upgrade from Eraser 1, Eraser 2 established itself to be one of the most popular goalie heads out there. 
One major improvement is Brine's signature core tech technology that optimizes the structure of the head so that it not only reduces weight but also maintains a great level of stiffness and durability. So when the ball hits the rail, it doesn't bend backward to miss the save. 
Eraser 2 is super lightweight and has an evenly distributed design in weights. It definitely allows goalies to have a balanced feel in their hands. In terms of face shape, Brine Eraser 2 features an oval face shape that maximizes the surface area for saving. 
Lastly, the top of the scoop has multiple string holes that allow you to string various customized pockets whether it's 12 or 15 diamonds mesh based on your preference.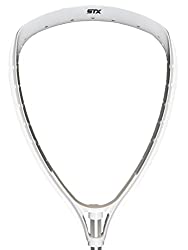 STX Shield 100 Goalie Head
Great alternative to Eclipse 2
Very affordable price
Premium stiffness
Pocket customization
Heavier than most other products
If you look for an alternative to the flagship product of the STX Eclipse line, STX Shield 100 is something worth taking a look at and testing out yourself. The Shield has many great qualities and design features goalies look for. For instance, this head also has a great number of stringing holes, a nice face shape and a stiff material. 
The core technology STX Shield features is the C-Channel technology. It bumps up the stiffness and durability which in turn allows goalies to deliver consistent and good quality saves and outlet passes. 
However, unlike Eclipse 2 which is pretty lightweight, Shield 100 is a little heavier than most goalie heads on the market today since it was a relatively older release compared to Eclipse 2 and other more recent goalie heads. 
For players who prefer lighter and more nimble heads, Shield 100 might be not the most ideal option.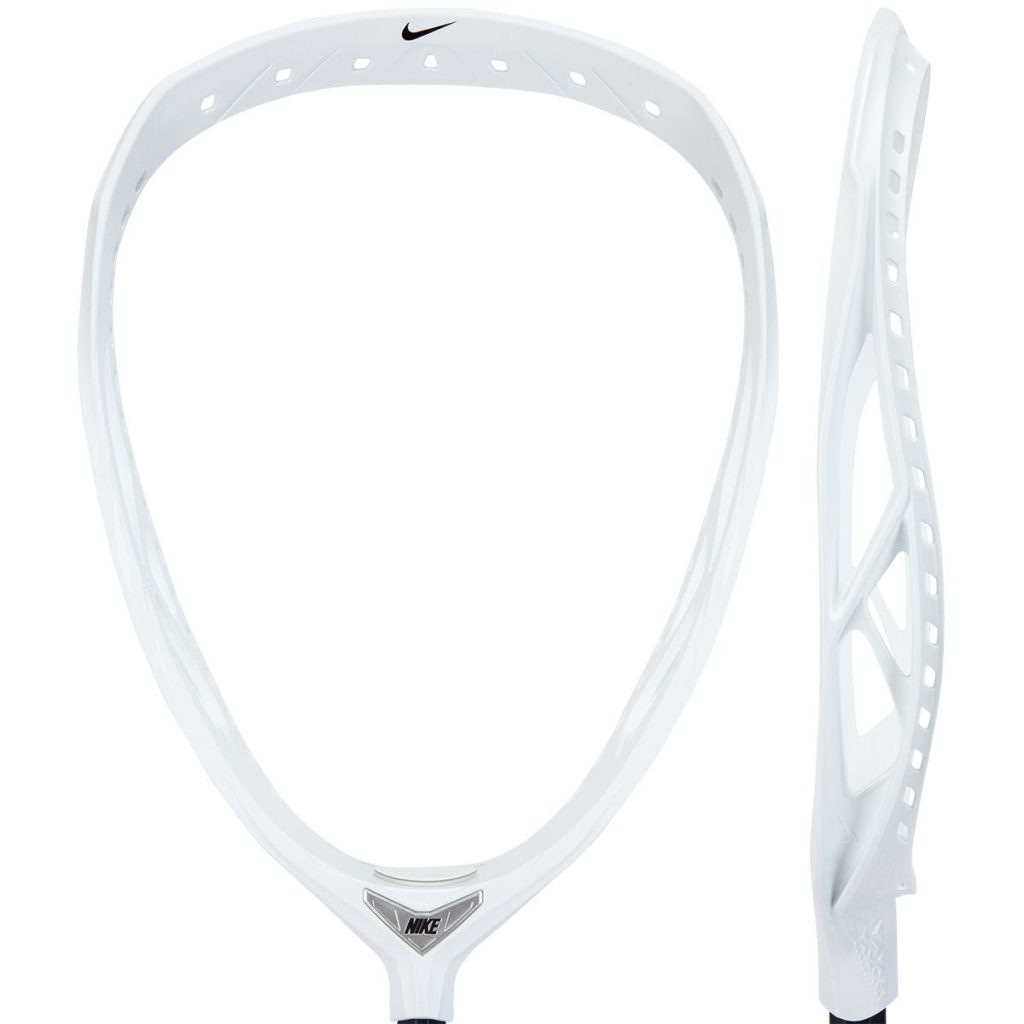 Nike Prime Elite
Inspired by STX Eclipse line
Great balance in weight
Plenty stringing holes
More expensive than most other options
Nike Prime Elite is yet another goalie head that is heavily inspired and influenced by STX Eclipse line, which makes it an ideal and optimal head for players looking for a good head at a more reasonable price point. 
It has an ergonomic design, especially around the throat area, which allows players to get a comfortable handgrip. And many players like this head for the balanced and good hand control and easy saves.  
In terms of the face shape, it's very similar to Eclipse 2. It maximizes a large saving area and works really well for different pockets depending on your preference. The durable material of this head makes it rigid enough to retain shape at all times and block shots without a problem. 
Lastly, Prime Elite has enough stringing holes on the rails to give you a variety of stringing options. 
All in all, Prime Elite is a solid option without any significant downsides.
How To Choose A Goalie Head
After reading the detailed reviews, you might pick up some commonly shared characteristics these goalie heads have.
In this section, I will consolidate them into a few key factors that make a great goalie head. So next time, you can confidently pick the best goalie head for yourself.
Lightweight
The most important factor goalies look for is the weight of a head. It has to be lightweight enough for goalies to make saves easily and quickly. While I was doing my research for this guide, I called up a buddy who used to play goalie. He right away said the best goalie head has to be light because even 0.5 oz is significant enough to make a big difference in making a block or not. 
Luckily, the heads that made it to this list all have premium materials that make the weight not a concern.
Stiffness
Yet only having lightweight with a flimsy material is still a no-no. The best head should have a well balanced strength-to-weight ratio. To achieve this, you want to look for premium materials. Pay close attention to the section where they talk about what material and technology are applied to the head on the product page. 
A good goalie head shouldn't bend back when making a save. The scoop should be stiff enough to withstand power shots as well as round and flat enough to snag ground balls easily.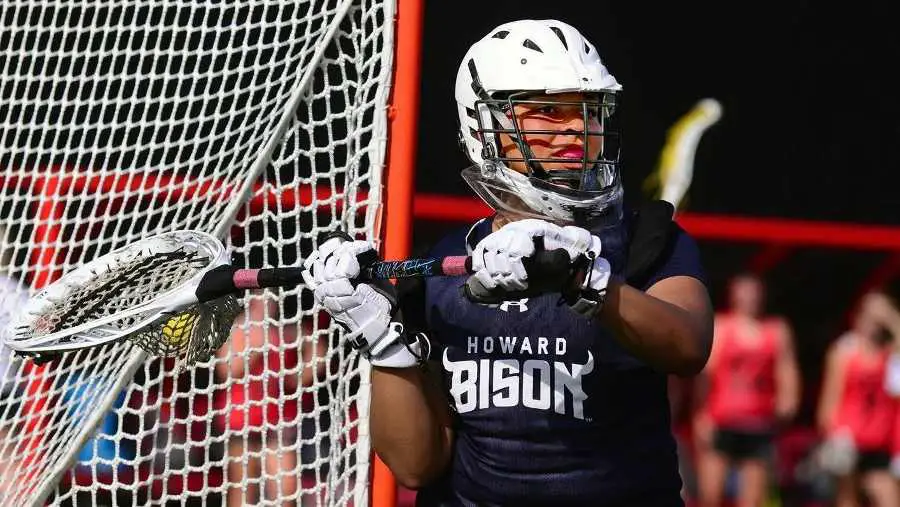 Coverage Area
Goalies use goalie heads to make savings, so naturally it must have a big and wide coverage area. A round or a teardrop face shape is the most popular option many goalie heads adopt.
Throat Design
This is another aspect that is crucial to consider when making a goalie head purchase. With an ergonomic throat design, your hands comfortably and naturally hold the throat in the right place. Hence, be sure to check product descriptions and customer reviews that mention what kind of throat design is used.
Stringing Holes
To string the perfect pockets, you need not only great quality mesh but also plenty of stringing holes to work with. Hence, an ideal goalie head allows goalies to customize their pockets based on their preferences.
Have to give a shoutout to StringKing Mark 2G as it has the most stringing holes (42) out of all the goalie heads on the market. If you love playing around with different pockets, mark 2G is certainly a solid option.
Bottom Line
You want to combine these elements and evaluate them with a holistic view to make sure you get the best overall head for yourself. There are always minor issues with every product here and there, which is why customer reviews are always very helpful. 
As brands enter the fray with new releases more frequently than not, you now have a bigger basket of options to choose from, so keep an open mind to new products even if the head you are using right now is functional because you never know if a newer technology can elevate your gameplay to the next level. 
What Are Goalie Shooting Strings?
Before we end, I would also take a moment to explain what shooting strings are and why you need them. Even though shooting strings often appear to be an afterthought, to give you a leg up, we should talk about them in advance so you can string a perfect pocket. 
In addition to stringing the head, using shoot strings in your pocket is equally important. It's meant to solve the most common problem young and inexperienced goalies run into, when you are throwing the ball, it often hits the top lip of the rail before releasing. It's called "clicking off" the plastic.
It causes the passes to be very inaccurate and hinders the distance it could supposedly travel. Therefore, to tighten the top part of the mesh so that the ball doesn't travel all the way to the lip and simply zip out of the pocket, you will want to use shooting strings. 
Here is another great STX video showcasing how to do shooters: (shooting string tutorial starts @ 15:23)
If you don't yet have shooting strings, check out Performall Sports Sail
Conclusion 
I hope this guide has done a great job covering everything you need to know about goalie heads. One thing I realize is that since high quality goalie heads can be pricey, considering buying a used goalie head could be a great idea. If you don't mind the minor wear and tear, be sure to check out sidelineswap to snag a great deal. 
Leave me a comment about your favorite goalie head and why you like it. 
Additional Resources
~ What are some best lacrosse heads in 2022? Check out the best lacrosse heads roundup of 2022
~ Time to string up your head? Check out my best mesh buying guide or choose the no.1 goalie mesh: StringKing Grizzly 2 – Goalie Mesh
~ What are the best goalie shafts? Find out here: Best Goalie Shafts
~ Not sure what else you need? Keep this handy lacrosse goalie checklist handy