When I was playing lacrosse in college, the most exciting part of every season was to show off the new gears we got, especially for attackers we compared and tested each other's shaft. The truth is for an attacker, shaft is an extension of your mind and body that directly translates your skill, read of the game and strength to your performance. 
Therefore, to obtain an edge or advantage in a fast-paced and competitive situation, you will need the best lacrosse shaft that enhances your gameplay. 
If we take a look at the market, you will probably feel overwhelmed by the abundant options with different designs and qualities that are available. Your feeling is heard and well received! 
That's why I created this buying guide that helps you navigate and select the best lacrosse shaft with confidence based on your playing style and preference. 
Without further ado, here are the best lacrosse attack/middie shafts in 2022.
Best Lacrosse Attack/Middie Shafts
Compared to the shafts I used in college, the best shafts today are lighter and more durable with better designs. I read through product pages, gathered customer reviews and personally tested a few in my hands to curate this ultimate list of best lacrosse shafts for attackers/middies. 
Hope this review will help you decide which one will be your favorite.
STX Sc-Ti
Sc-Ti is probably the best shaft series out on the market currently. Speaking about the maximum customization, this choice of many professional players comes in with five different profiles and weights: X+, O, X, R, S. The goal is simple, to make an Sc-Ti shaft perfect for every lacrosse player. 
They weigh 190 grams, 170 grams, 140 grams, 150 grams and 160 grams respectively. Made of STX proprietary Sc-Ti alloy, they are not only lightweight but also super durable and strong. 
By further enhancing the feel of this stick, it's built with a mild sandblast grip finish that gives a nice firm grip with or without gloves. A great grip allows players to play in all weather conditions without compromising their speed and ball control.
ECD Carbon 3.0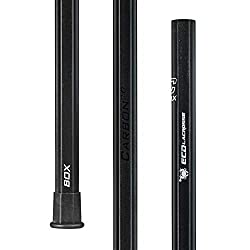 Check Price On Lacrosse Monkey
The newest and exciting release of ECD's most popular shaft line in October 2021, Carbon 3 offers a lightweight yet a sturdy option that is ideal for attackers and middies. A simple and sleek design features a light sandpaper grip that allows players to comfortably roll in their fingers. The gripping is a great continuation from Carbon 2.0 that players really loved about. 
It comes in three different colors, black, white and darker grey with a new sliding end cap. If you are planning to get a super durable carbon fiber shaft that flexes, Carbon 3 is possibly the best option in the league right now.
StringKing Metal 3 Pro
Check Price On Lacrosse Monkey
As the name suggests, StringKing Metal 3 Pro is currently one of the most popular metal shafts on the market. Super durable and high-quality material helps you deliver great and consistent performance. When holding the shaft, you definitely feel the nice and tough metal with a concave shape gripping for optimal hand control.
Another thing I really like about Metal 3 is the options it offers. It not only comes in with two different colors, silver and black but also lets you pick the best option depending on your skill level with four different weights 135 grams, 155 grams, 175 grams and 195 grams.
Epoch Dragonfly Elite II
A brand new release at the end of 2021, Epoch Dragonfly Elite II is a great attack/mid option for skilled and professional lacrosse players. Combining every innovative technology Epoch has ever implemented, Elite is an option you can't go wrong with. The two biggest improvements come from the all-new Reactive Technology that optimizes energy transfer while maintaining power and reactivity and Dual Micro Grip that provides a smooth matte finish. 
Chosen by Tom Schreiber, Matt Rambo and many other professional laxers, Dragonfly Elite II is designed for the highest performance and the greatest competition. I am also a big fan of their shaft design that is subtle with cool touches.
Furthermore, a 1-year warranty really speaks volumes about the quality of their shafts, so if you want a great quality shaft, Dragonfly Elite is worth the price tag.
Maverik Caliber
Check Price On Lacrosse Monkey
Featuring military-grade strength, Maverik Caliber is the most durable and strongest shaft Maverik ever created. Featuring Dual Wall Taper technology, Caliber has a great strength to weight ratio. If you are an aggressive offensive player, consider buying a Caliber that allows you to make power shots and throw hard checks with confidence. 
The shaft also features an adjustable butt-end together with a silicone liner that adds stability for more accurate shooting and passing and a bead blasted finish for a nice hand grip.
Maverik Hyperlite
Check Price On Universal Lacrosse
If you are a metal shaft user and are thinking of switching to a carbon fiber shaft, then the best entry option will be flagship Maverik Hyperlite as it offers a zero-flex design. Like the name suggests, this shaft is as light as a carbon fiber shaft can get, weighing in at just under 5 oz or 138 grams. 
Esthetically, this shaft is definitely one of the coolest-looking shafts. It offers two color options, black and white with a checkered pattern on parts of the shaft and a futuristic blue Hyperlite font. On top of that, Hyperlite comes with a smooth matte finish with a concave shape. 
If you are concerned about how stiff it is as a carbon fiber shaft, you will be pleasantly surprised by how durable and tough this shaft is. It is designed to provide the best strength to weight ratio. 
Also with an adjustable butt end, Hyperlite is built and designed for elite attackers in mind. A solid option! 
Warrior EVO QX Attack
Continuing the discussion of the best carbon fiber shafts, EVO QX Attack is one of the newest carbon fiber shafts offered by Warrior for the 2022 season. Despite the fact that this is a hollow shaft, it is still very durable and stiff and offers no flexes. In fact, the EVO QX shaft outcompetes many other carbon shafts when it comes to stiffness and durability.
To win the title of being the lightest Warrior shaft at only 4.59 oz or 130 grams, EVO QX went for a hollow shaft design as attackers and middies are always on the hunt for the best lightweight yet durable option. 
This shaft also offers a tactical grip that improves hand control and grip as well as reduces wear and tear on your gloves. 
Apart from its great quality and performance, Warrior also put a lot of focus on creating a clean and sleek-looking design to make it the overall best shaft available right now.
Epoch Dragonfly iD Attack
Epoch Dragonfly iD is a popular offense shaft for both professional and young laxers. What makes this shaft unique is by altering the orientation of the carbon fiber material, this shaft is able to achieve the best flex point, meaning it bends to help generate torque on your shots but still stays firm for control and consistency. 
It also features compact and lighter carbon materials to enhance durability and increase impact resistance without adding extra weight. Additionally, this shaft offers a gritty grip that provides maximum control, consistent gripping and freehand motion in all conditions. 
All in all, this is an ideal and versatile carbon fiber shaft for players looking for optimal passing and shooting speed.
Maverik Apollo
Across all Maverik's shafts, Apollo is one of the lightest shafts ever created. It is made of military grade Scandium Titanium alloy blend that makes this shaft very lightweight yet very strong and durable, which is a perfect combination that every attacker and midfielder needs. 
A release in 2015, Maverick Apollo has stood the test of time with its dynamic wall taper technology along with the speed shape grip for great hand control and feel. 
This shaft also provides the feature of an adjustable butt end, enabling the player to adjust the shaft accordingly to the desired length. Chosen by an all-star PLL player, Joey Sankey, Maverik Apollo is a choice that you can't really go wrong with.
Nike Vandal
Check Price On Lacrosse Monkey
If you are looking for a budgeted option, Nike Vandal lacrosse shaft is the best affordable option for both attackers and midfielders. It's made of lightweight and durable alloy materials that ensure optimal shooting and passing speed and quick stick movements. 
Featuring a special Vandal graphic design, this shaft adds a cool personality and elevates your overall gear esthetic. 
In addition, it features a textured surface grip that offers an amazing hand feel. By comparing all the shafts together, this is a great choice at a great price for many players as this shaft offers superior strength to weight ratio. 
Overall, Nike Vandal shaft is good for players of all skill levels and ages.
How To Choose A Great Attack Shaft
Now we have explored the best lacrosse shafts for attackers and midfielders. You might still feel troubled with what qualities and features that actually make these options better than the others.
Moreover, although I am trying to be as subject as possible when it comes to "the best", the goal is to give you a list of great products, so you can pick the best shaft for yourself.
Weight
On a scale of 1-10, being lightweight is a 9 or 10, a.k.a the most important heuristic offense player like yourself looks for. If you have been using a heavy shaft that is heavier than 6 oz and feeling short on your shots, it's time to invest in a lightweight shaft. 
As offensive shafts continuously evolved, brands are making lighter and lighter shafts as attackers' ability to make faster shots and ability to do quick offensive movements are getting better. 
Any shafts mentioned above are well under 6 oz and some are even a touch lighter than 4.5 oz. Although it's common to go for the lightest shaft possible, you want to consider its durability and stiffness at the same time. It's always about finding that happy medium.
Durability
Speaking of durability, it's the next important quality you want to evaluate. A lightweight shaft without a tough and impact resistance feature only meets 50% of the standard. 
One most common concern for an attacker of a midfielder is how strong is the shaft or how easily does it get bent. Some players are even willing to choose a slightly heavier shaft for the sake of having a better stiffness. Again, it comes down to your preference and your offensive style. 
Most shafts in the previous section have a 6 or 12-month warranty, which is a positive sign that the manufacturers are confident in the quality. Conversely, if you don't see any warranty mentioned on the product page of a shaft, it's safe to say it's probably not that durable. So if you are ever in doubt, checking the warranty is definitely a smart move.
Personalizations
Attackers have different needs and playing styles so similar to buying heads and shafts seperately, elite players are always looking for personalizations that allow them to play to their strengths. 
Because of that, the best attack shafts often provide a variety of options in shapes and in flexes. Most popular shapes are the concave octagon and striaght sides octagon. 
Depending on whether you are a speed attacker or power middie, a higher flex point allows for quick releases whereas a lower flex point is great for power shots.
Length
If you are an attacker or a middie, then you are required to have a shaft that is no shorter than 30". Most attack shafts come in 30'', but some could be a little longer than that. So if you are a player looking for easier ball control and more nimble movements, you could also consider cutting the shaft a tiny bit off to maximize your performance. 
One important note: you can only cut metal shafts, not carbon shafts.
Material
We touched on the material used in every product simply because it's very important to know what alloy or carbon they use. To learn more about metal alloy vs. carbon fiber, I wrote a in-depth comparison between metal vs. carbon fiber in this post. 
Here is a high-level summary:
Not until recently, we started seeing more carbon fiber shafts available on the market as carbon fiber improves flex and maintains durability while reducing weight. People who are used to metal shafts, also continue to choose metal shafts as they are stronger and are better at absorbing impacts. Metal shafts are more easily to be dent but last longer than carbon fiber shafts.  
Bottom Line
If you are a frequent reader here, you know I am a fan of customer reviews. There is no better and more reliable source of information than learning what real customers think about the products. 
So if you aren't used to reading reviews yet, definitely recommend checking out multiple reviews before deciding your pick.
Difference Between Attack/Middie And Defense Shafts
If I am an attacker, does that mean I can't use a defense shaft, or what exactly are the differences between an attack and defense shaft?
Right off the bat, we know d-poles are longer, coming in anywhere between 52'' to 72''. Inevitably, d-poles are heavier due to the added length to make them strong and stiff enough for checks. 
Long pole midfielders will generally have shorter and lighter sticks than defenders as they are more responsible for possession and clearing. Therefore, long pole midfielders tend to choose a similar type of shafts offensive players choose for quick hand and ball movements. 
If you want to recycle your old d-pole shaft, try to cut it down to an attack size since a d-pole is often 60'' long so that you can get two attack shafts.
Conclusion
Wrapping up our discussion, we can conclude that choosing the best lacrosse attack/middie shaft requires both a level of understanding of what is available currently on the market and what you need from a shaft.  
To complement this list of the best shafts for 2022, you should also keep in mind all the features and factors we went over so next time you can choose the best shaft for yourself with ease and confidence. 
Hope you are now in a better position to make a smart purchase for exactly what you need in 2022. As always, leave a comment to let me know what your pick is for this season and if there are any other options that I didn't get to include.