For young players who have just begun to learn the ropes of the game, shooting is an important area to improve upon as an offensive player. 
And the best way to hone your shooting skill is to buy a lacrosse goal and start practicing in the backyard. But before you get all excited, there is one more thing that will save both your time and energy, a lacrosse backstop net. 
It gets frustrating and tedious when you have to chase down all the misses as well as worry about not breaking anything accidentally when shooting on the goal.
That's why a backstop net is very handy and helpful. 
In this guide, we will go over the best lacrosse backstop nets you can buy right now.
Best Lacrosse Backstop Nets To Buy
With many options, I was able to pick and choose the 8 best backstop nets that check the most boxes in terms of size, durability, net quality, customer reviews and price.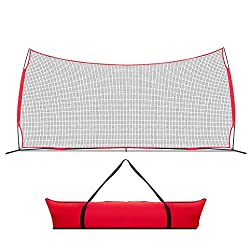 Lacrosse Scoop Backstop
| | |
| --- | --- |
| Size: 20′ x 10′ | Collapsibility: 100% |
| Frame Material: Steel | Ratings: |
| Type: Standalone Backstop | ⭐⭐⭐⭐⭐ |
Without ever needing to worry about stopping misses, Lacrosse Scoop offers its customers peace of mind. 
This backstop takes the trophy when it comes to large size. Its 200 square feet of coverage is one of the largest backstops currently available that should stop most of your misses. It offers a lot of convenience and flexibility when shooting. 
However, its large coverage size doesn't hinder its portability and collapsibility as it folds nicely to a small size.
Additionally, the package includes a carry case that you can use to transport. The assemble and dissemble process is super easy without taking more than 5 minutes to do. 
In terms of durability, the frame and the net can hold up to a lot of power and abuse. What's even better is that Lacrosse Scoop has the best customer service and a lifetime warranty, so if you aren't satisfied with the product in any way, they will happily do an exchange for you.
PowerNet Sports Barrier Net
| | |
| --- | --- |
| Size: 16′ x 10′ | Collapsibility: 100% |
| Frame Material: Steel | Ratings: |
| Type: Standalone Backstop | ⭐⭐⭐⭐ |
Time to save your fence and that of your neighbor from errant balls by picking this backstop net from Power Net.
This barrier has an overall coverage of 160 Sqft and is suitable for any game. It features a curvy frame that secures the net and offers a large hitting area for the balls.
The frame is made of sturdy steel construction, whereas the bow pole consists of fiberglass. The net is also strengthened with an additional coating.
Inside the package, you'll find stakes that are used to boost stability. 
All of these features guarantee this backstop net can handle a wide range of power shots.
The set-up is easy and will take only a few minutes without using any tools. It also collapses easily for storage and transportation.
Lastly, the package comes with a duffle bag for travel.
ACELETIQS Lacrosse Net
| | |
| --- | --- |
| Size: 20′ x 10′ | Collapsibility: 100% |
| Frame Material: Steel | Ratings: |
| Type: Standalone Backstop | ⭐⭐⭐⭐ |
A new product release in 2021, ACELETIQS's premium backstop net is very sturdy and durable. If your backyard is right next to your neighbor's, there's no better backstop net that can save you the stress and worry.
It's very easy to set up without any tools needed. If you don't want to take it down and put it back up every time, its high quality material is built for prolonged use in all weather conditions. 
Since this net is purposed for many sports, it can withstand different sorts of power shots and hold up all season long. This is something many customers have highlighted as what they love the most about this lacrosse net. 
The package comes with a travel bag and 4 u-shaped stakes.
Smart Backstop (GEN 4)
| | |
| --- | --- |
| Size: 58′ x 10′ | Foldability: 100% |
| Frame Material: Plastic | Ratings: |
| Type: Attached Backstop | ⭐⭐⭐⭐⭐ |
Are you looking for a backstop net to stop all your misses without running around to pick them up?
After all, nobody likes chasing balls all over.
Unlike most other backstops that are separated from the goal, Smart Backstop lacrosse net directly connects to the frame leaving no gap for balls to pass through.
This net comes in a simple design yet provides great coverage to minimize shagging so that you can get more reps in every practice.
The installation is pure bliss, with no hardware needed to set it up. It's also sturdy enough to withstand even the wildest hit and holds steadily on the goal. As you start to use it regularly, the premium quality begins to shine.  
Whether the goal has round corners, square corners, or comes with bars, this advanced backstop net is your ultimate choice. Also, the company continues to evolve and update the product ever since GEN 1, which alone has gone through 16 product changes. 
Lastly, this lightweight net is very easy for storage and transport.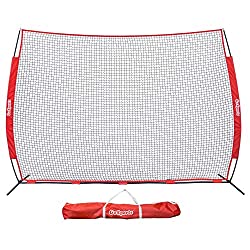 GoSports Barrier Net
| | |
| --- | --- |
| Size: 12′ x 9′ | Collapsibility: 100% |
| Frame Material: Polyester | Ratings: |
| Type: Standalone Backstop | ⭐⭐⭐⭐ |
The GoSports is a budgeted backstop net with an overall dimension of 12' x 9' to offer the best cover for balls.
Due to its large size, this net is suitable for all major sports whose balls diameter exceeds 2.5 inches, namely baseball, softball, lacrosse and basketball. 
This barrier net offers fantastic quality with a metal base design that helps solve the problems of losing balls that escape beyond your backyard. The material is sturdy and will hold steady from all sorts of blows and abuse. 
Additionally, this backstop features a lightweight design and folds down neatly to save space.
Also, it's easy to set it up without the need of an extra hand or tools with the parts locking well into place by just snapping.
Their customer service is top notched. Becoming a customer of GoSports Barrier Net means it comes with a lifetime warranty. Should you have any problem with the product, they will resolve the issue promptly for you. 
Rukket Barricade Backstop Net
| | |
| --- | --- |
| Size: 12′ x 9′ | Collapsibility: 100% |
| Frame Material: Steel | Ratings: |
| Type: Standalone Backstop | ⭐⭐⭐⭐ |
Save your backyard and that of your neighbors from sports balls by buying this backstop net from Rukket.
This medium size net is suitable for most indoor and outdoor games such as basketball, softball, hockey, lacrosse, and soccer. The net consists of high-quality construction, strong frames that will withstand hard hits.
The net is made of 7-ply material that adds to its thickness and durability.
Likewise, the piles are made of flexible fiberglass to withstand a rigorous training session.
It covers a wide area around the goal, with an overall measurement of 12 x 9 ft. It's easy to assemble and doesn't take much of your time.
Furthermore, you can easily fold it into a neat small size and tuck it away for storage or transport, which is what the company recommends customers to do versus leaving it outside in order to extend the useful life. 
The package includes a carry bag and ground stakes.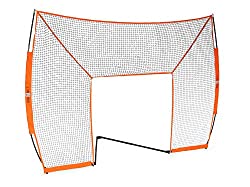 Bownet Halo Backstop
| | |
| --- | --- |
| Size: 12′ x 9′ | Collapsibility: 100% |
| Frame Material: Polyester | Ratings: |
| Type: Standalone Backstop | ⭐⭐⭐⭐ |
Keep the balls in the pitch by picking the Bownet Lacrosse backstop net.
It's 12 ft high, offering the best coverage so that you can improve your skills and elevate your lacrosse game this spring season without worrying about balls flying over to your neighbor's backyard and chasing balls after missed shots.
Its sturdy poles can hold up a large net steadily. The hooks hold the base to the ground so that it remains stable even when there's a strong wind, which is a big reason why we like this backstop. 
It's a blend of quality, sturdiness, and flexibility.
The package comes with stakes and a carrying bag for ease of assembly and disassembly.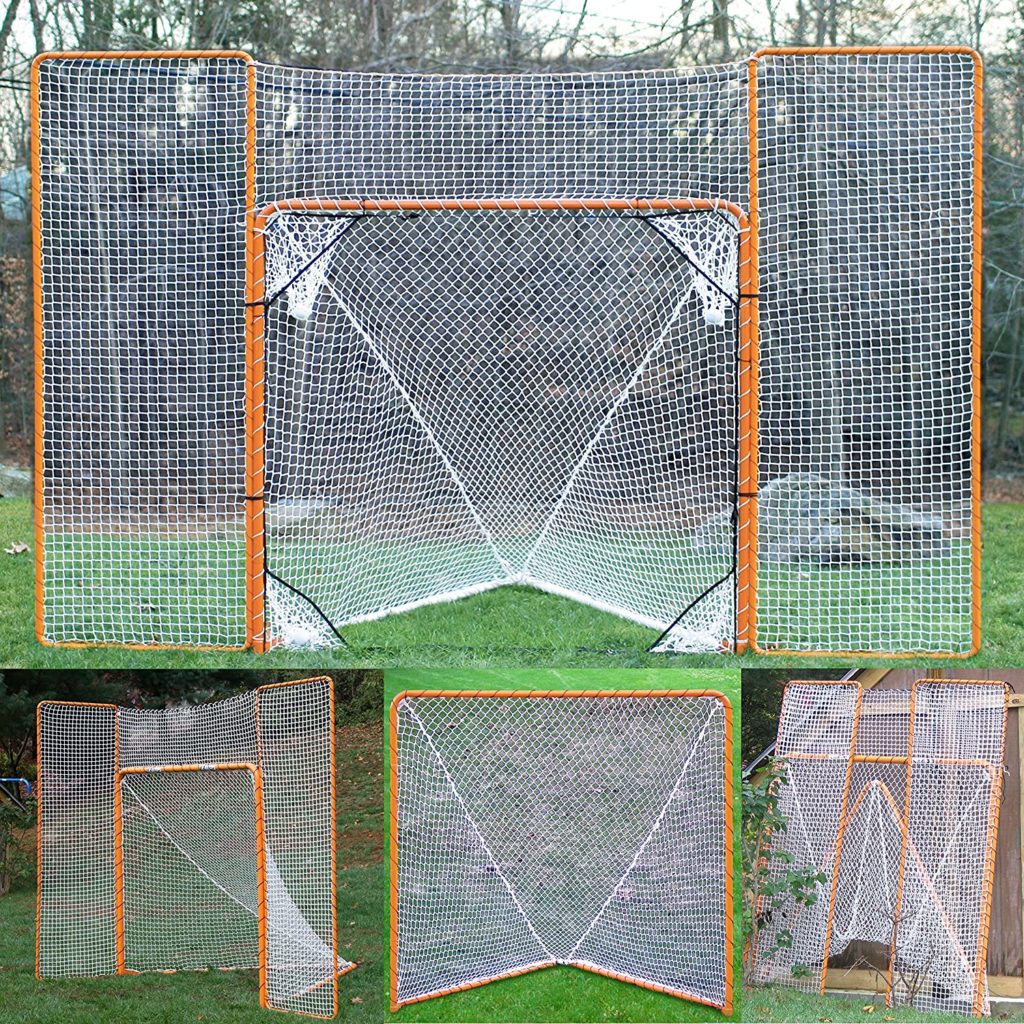 EZGoal Monster Backstop Net
| | |
| --- | --- |
| Size: 11′ x 8′ | Foldability: 100% |
| Frame Material: Steel | Ratings: |
| Type: Attached Backstop | ⭐⭐⭐⭐ |
EZGoal Monster net comes in a unique design with adjustable side pieces, which allows you to make hard angle shots without the fear of shooting over. The side panels also have a slight rebound effect. 
The frame is very sturdy and strong that can hold up for a long and steady time consisting of spring rebounders and a steel frame with a special coating. 
This makes it an ideal choice for many sports. You can attach it to goals for other games such as soccer, hockey, and football.
This net comes in with a size of 11' x 4', which can be attached to any 6' x 6' goals and Goal pro 4' x 8' rebounders.
One major downside to note is that stringing could be cumbersome. It can take a while, especially the first time doing it. If you have some concerns about what the stringing process looks like, check out the customer reviews on the product page. Many helpful answers can help you attach the net more efficiently.
Different Lacrosse Backstop Nets
Most of the backstop nets out on the market differ in terms of frame size, attachability vs. standalone and coverage size.
The first thing to consider when picking a backstop is what type of lacrosse goal you have, which is necessary for determining the configuration of the backstop you need. 
Depending on the measurements of the goal, outdoor lacrosse goals being 6' (height) x 6' (width) and indoor lacrosse goals being 4′ (height) x 4′ (width), you would need the right net to properly fit your lacrosse goal. 
Next, you want to consider buying either an attached backstop or a standalone backstop. An attached backstop is typically only made for lacrosse whereas a standalone backstop could be used for multiple sports. 
There's no significant price discrepancy between the two options; rather, it's more of a preference pick.
Most of the selected backstops in the previous section are at least 11 ft tall and some could go to 20 ft tall which will stop 90% of your lacrosse shots. Depending on what type of shooter you are and what type of shooting drill you are doing, choose a bigger or smaller backstop accordingly. (Note: 10 feet wide backstop net will only extend 2 ft on each side with a 6 ft wide lacrosse goal)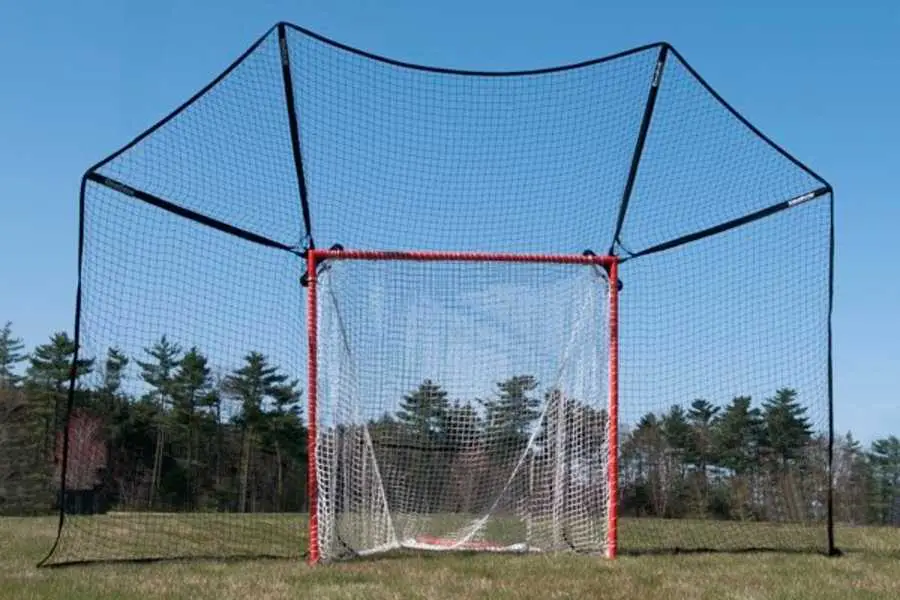 How to Find The Best Lacrosse Backstop Nets
The purpose of having a backstop net is to eliminate the risk of damage to other people's properties like glass windows and improve the efficiency of your practice as much as possible.
Below, we will take a look at the key factors to consider when picking a backstop:
Durability 
Durability depends on the quality of material, thickness of the netting, and sturdiness of the frame. High quality and durably backstop requires a less frequent exchange and maintenance. This is why I prioritize durability as the no.1 factor. 
Since people often prefer fixing the net to the goal without the need to unstring it after every practice, you will want to buy a net with a specific coating for additional durability.
Especially if you are a hard hitter, a goal that doesn't stick to the ground steadily enough will shake and wobble. 
Read through the customer review sections to make sure the durability is top-notched without red flags.
Collapsibility  
The net should be easy to assemble and disassemble. A foldable option is efficient and can fit in tiny spaces for storage. It's also easy to carry around.
As attaching the net to the goal could waste a lot of time, look for backstop nets that don't have to unstring the net every time.
Portability
Notice many listed backstops on the list come with a carrying bag to help you transport them easily.
If you are planning to move around the backstop with your lacrosse goal, definitely choose the one that highlights its convenience in setting up, breaking down and great portability.
Conclusion
Without the constant worry of balls flying over to the neighbor and chasing balls all over the place, a backstop net is a secret weapon to improve your shooting skills and become a better player. 
As always let me know in the comments if you found this guide helpful. Feel free to post any questions related to backstop nets.
Before I let you go, don't forget to check out these great products to further elevate your backyard practice:
Lacrosse Goal: Find out my 2022 top picks for best lacrosse goals
>> Best lacrosse goals in 2022
Rebounder: A great piece of equipment to improve your shooting and passing skills. Also, way more versatile and convenient than a wall since it's also portable.
>> Best lacrosse rounders in 2022
Shooting Targets: What's a better way to improve your shooting accuracy than having a visual focus attached to your goal. Designed to give players maximum shooting reps, these shooting targets are a must have for training.
>> SKLZ Univsal Corner Shooting Targets
Soft training ball: Perfect training ball for beginners. It's softer than a regular lacrosse ball but still the same weight and size.