Lacrosse is a sport that requires agility, speed and good footwork. A great pair of cleats gives you the foundation and traction to dodge, cut and defend on the field. They also provide necessary ankle support for your body to maintain a high level of competition throughout the game.   
Therefore, don't overlook the importance of having quality and fitting cleats. Because you will be involved in high-intensity competition and movements, your cleats must feel comfortable, secure and durable. Additionally, there are a few other features and qualities you need to consider when selecting lacrosse cleats that will be covered in this guide as well. 
While I was doing background research, it was exciting to see more lacrosse specific cleats that are available now for laxers to fulfill their needs in the field. 
So the goal of this comprehensive guide is to arm you with the best knowledge and help you find the right pair of cleats for men, women as well as youth players.
Note: Many lacrosse retailers are experiencing supply chain issues, so if the options below aren't currently available, go to these websites to see more options:
Jump to the section you are looking for:
Best Lacrosse Cleats To Buy (Men's)
Cleats come in different varieties. For each style, I have included one or two popular options for you to choose depending on your experience, preference and fitting. 
Here are the best men's cleats for field lacrosse:
Nike Alpha Huarache 8 Lacrosse Cleats
| | |
| --- | --- |
| Release date: 2022 | Cut: High/Low |
| Color: White | Ratings: |
| Size: Men's | ⭐⭐⭐⭐⭐ |
Brand new Huarache release, Nike Alpha Huarache 8 Pro is a widely popular and great quality lacrosse cleats for players. 
Right off the bat, I really like the clean and sleek white design that Nike has adopted in the new edition. As 8 Pro is designed for lacrosse players, the construction and fitting are built for extra support and comfort.  
They come with flexible TPU plates and X fit system at the back of the heel that creates a lock-in feel for the high-cuffing version of the cleats. The cleats are also made with breathable and lightweight materials that go easy on your feet. 
There are both high cuff and low cut versions available so you can select based on your preference and need.
New Balance Men's Freeze LX 3.0
| | |
| --- | --- |
| Release date: 2020 | Cut: High |
| Colors: Black, Grey, White | Ratings: |
| Size: Men's | ⭐⭐⭐⭐⭐ |
As a reputable shoe brand, New Balance released Freeze LX 3.0 in 2020 that aimed to elevate lacrosse players' gameplay experience to the next level. 
Freeze LX 3.0 provides amazing traction that allows you to make sharp cuts with confidence. With Quixrail outer lugs, these cleats give you quick lateral cuts on top of added underfoot traction. 
The breathable synthetic material, soft and lightweight mesh construction are designed to support your sprinting up and down the field. 
In addition, mid-cut cleats provide solid support for the ankle and feet. For enhanced comfort, you can choose to replace the removable insole with a more comfortable insole or even an orthotic one.
UA Command Pro MC Cleats
| | |
| --- | --- |
| Release date: 2021 | Cut: Low |
| Colors: White/Silver | Ratings: |
| Size: Men's | ⭐⭐⭐⭐ |
As a sporting goods powerhouse, Under Armour creates some of the best lacrosse cleats, namely the command line. The low-cut and stock-like ankle collar cleats are an upgrade from UA Command MC which came out in 2019.
One feature that UA puts more emphasis on is the more comfortable fit around players' feet. Built in EVA sockliner reduces cleat pressure that allows the footbed to form nicely around the feet thus guaranteeing ultimate comfort and freedom.
The more advanced footbed in conjunction with the synthetic upper material is perhaps a big contributor to the costly price tag of the cleats. At the same time though, the two features go a long way in providing enhanced protection and amazing comfort.
New Balance Burn X3 Cleats
| | |
| --- | --- |
| Release date: 2021 | Cut: Mid |
| Color: Red, Black, Blue | Ratings: |
| Size: Unisex | ⭐⭐⭐⭐ |
New Balance's Burn line is the most popular and long-running cleats on the market. The cleats come with a sleek look and durable quality that are suitable for long and consistent use. Its lacrosse specific design gives rise to reinforced stability and traction as well as guaranteeing the longevity of the cleats.
Burn X3 is made of thermoplastic polyurethane which results in premium fit and optimal flexibility for defensive players to take aggressive cuts and movements. The TPU molded cleat outsole supports any traction.
The Kinetic Stitch Technology coupled with BurnX speed plate propels you to reach the best performance speed during the game without feeling sore or tired from your heels or ankles. If you have been rocking Burn X2 and think it's time for an upgrade, Burn X3 will satisfy every quality you are looking for and more. A solid cleat option worth considering.
UA Command MC Cleats
| | |
| --- | --- |
| Release date: 2019 | Cut: Low |
| Colors: Steel, White | Ratings: |
| Size: Men's | ⭐⭐⭐⭐ |
One thing you will love about this shoe is the practicality and protection it provides. The molded TPU cleat plate allows extra cushion and stability when players make sharp and hard cuts. At the same time, it has amazing breathability while at the same time improving the fit of the shoe and helping prevent blisters.
The internal fit system combined with a built-in support cage ensures the cleats give a comfortable custom fit for every player.
These low-cut cleats are great for players who prefer good mobility and lighter cleats.
ASICS Men's GEL-Provost Lacrosse Cleat
| | |
| --- | --- |
| Release date: 2011 | Cut: Low |
| Colors: Black, White | Ratings: |
| Size: Men's | ⭐⭐⭐ |
Lastly, this is a great affordable option. ASICS has always made great running shoes. It is, therefore, no surprise that their lacrosse cleats are just as superior in quality. This mid-cut turf shoe has been thoughtfully constructed to eliminate the chances of foot strain and pains.
This is made possible through the use of a generously cushioned tongue and collar, and reinforcement at the toes to guard against abrasion and impact. Besides that, there is gel cushioning at the heel meant for shock absorption. The multifunctional cleat plate also features feather light Solyte® Polymer meant to keep the overall weight of the shoe at a minimum.
Best Lacrosse Cleats To Buy (Youth)
I know how hard it can be to find a good lacrosse cleat for your kid. That's why I wanted to talk to you about two youth lacrosse cleats that I think to be the best. It's the Warrior Vex Junior and Under Armour Junior.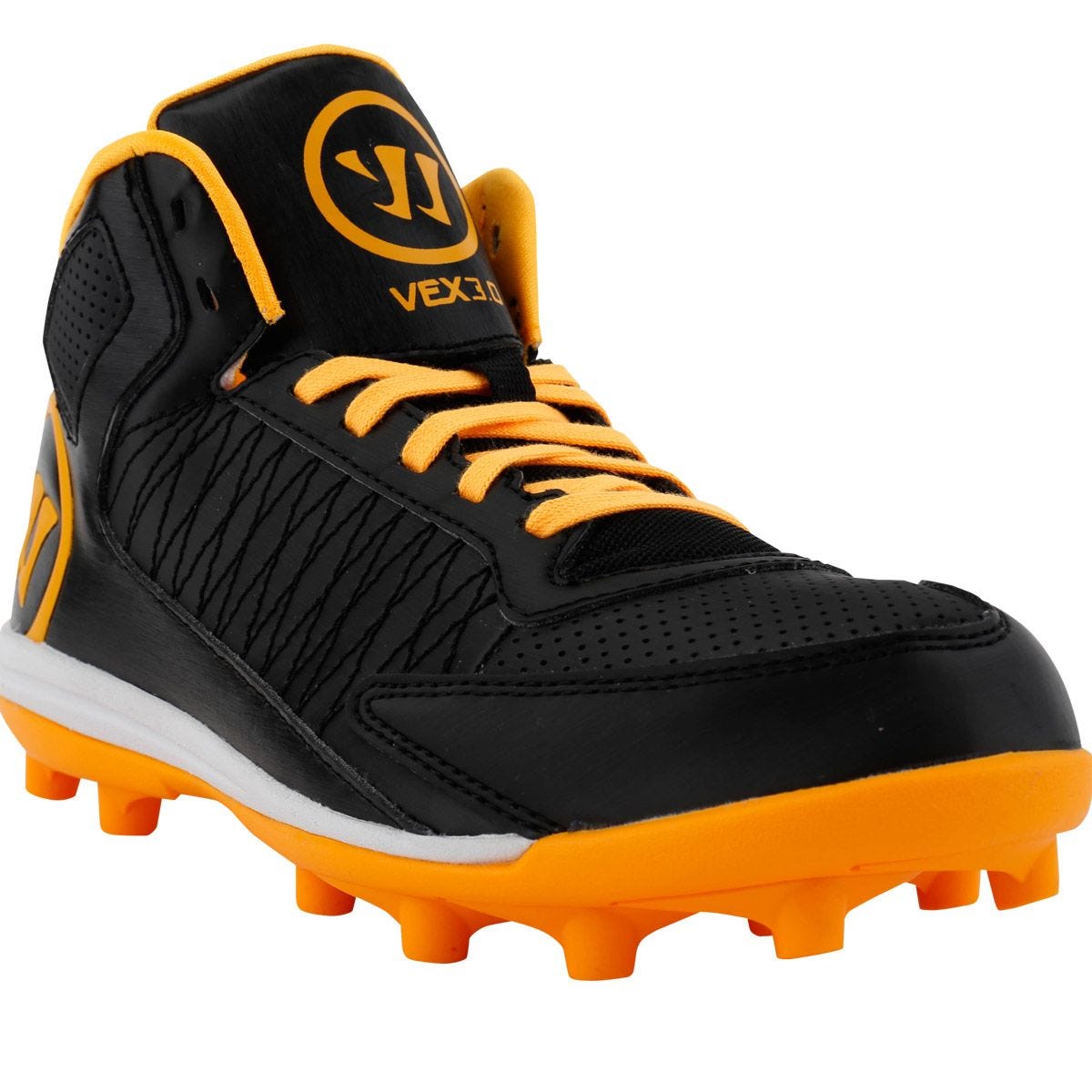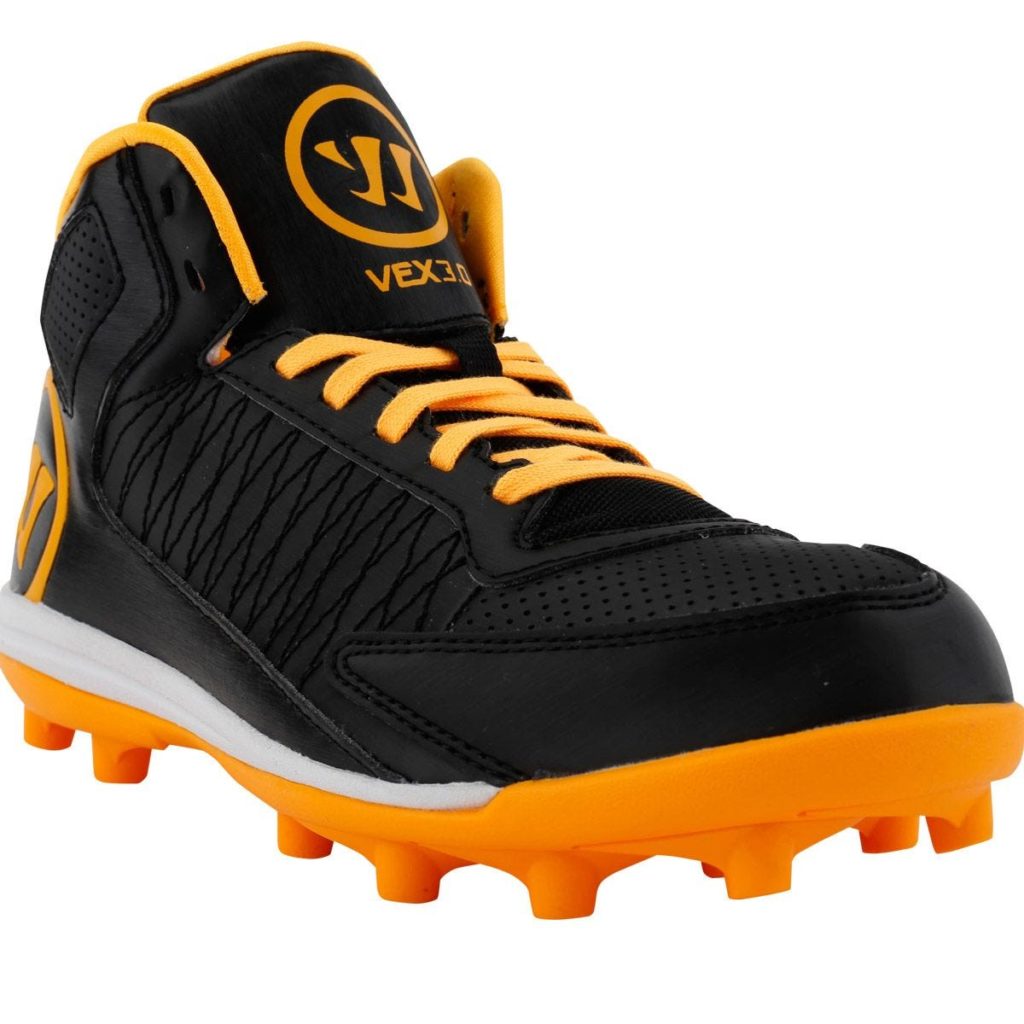 Warrior Vex Junior Lacrosse Cleat
| | |
| --- | --- |
| Release date: 2020 | Cut: High |
| Color: Black/Orange | Ratings: |
| Size: Youth's (Currently Out of stock) | ⭐⭐⭐⭐ |
Warrior Vex cleats offer a nice pop of orange color making them look stylish enough to appeal to the younger lacrosse players. This is probably why the shoes are among the best lacrosse cleats for kids.
These full grain premium leather mid-cut cleats are designed for durability, also enhanced by the high-grade performance rubber used for the outsole.
The tongue and midfoot on the other hand are made of mesh thus offering increased flexibility and breathability.
Still, on interior construction, the cleats have a heel counter which enhances rear motion control, and the EVA midsole eliminates cleat pressure. All these features allow young players to enjoy and learn lacrosse with optimized comfort and performance, minimal injuries and foot strain.
Under Armour Kids Jr. Lacrosse Cleat
| | |
| --- | --- |
| Release date: 2018 | Cut: High |
| Colors: White | Ratings: |
| Size: Youth's | ⭐⭐⭐⭐ |
This high-cut cleat is perfect for kids. Besides offering ample ankle support and protecting it from shots, this cleat also features sophisticated construction guaranteeing durability.
The durable rubber outsole features molded cleats providing sufficient traction on every ground regardless of its nature.
The lightly padded tongue and collar, the inner lining of the cleat featuring a breathable mesh and the lace-up closure all result in a nice snug fit providing the young athlete with ultimate comfort.
Best Lacrosse Cleats To Buy (Women's)
Unlike men's lacrosse, women's lacrosse has different needs and requirements. Therefore, women's cleats are also built differently than those used by men. To help you select the most suitable women's lacrosse cleats, I am happy to provide you with detailed reviews on some options.
I chose four lacrosse cleats which I believe to be the best options in the market today.
UA Highlight MC Lacrosse Cleat
| | |
| --- | --- |
| Release date: 2018 | Cut: High |
| Colors: Black, Gold, Red, White | Ratings: |
| Size: Women's | ⭐⭐⭐⭐ |
One thing you are sure to love about this cleat is that it is ridiculously lightweight.
This is an important factor in lacrosse cleats seeing as the more lightweight the shoe, the better the player's maneuverability and footwork.
Besides improved footwork, the athlete can also play with enhanced confidence knowing that this high-cut cleat is sufficiently protecting the ankle.
The ClutchFit™ feature results in an amazing feel guaranteeing that the athlete remains comfortable all through the duration of the game.
Overall, Highlight Mc has been my go-to women's lacrosse cleats. Also, Mc lacrosse cleats come in four different colors, Navy, White, Red and Gold.
UA Women's Finisher MC Lacrosse Cleats
| | |
| --- | --- |
| Release date: 2018 | Cut: Low |
| Color: White | Ratings: |
| Size: Women's (Currently out of stock) | ⭐⭐⭐⭐ |
This lightweight cleat with bladed studs is perfect for lacrosse players who are normally required to perform quick cuts and accelerated motion as they move around the pitch.
The mid-cut shoe might not offer as much ankle support as compared to a high-cut, but it still provided sufficient ankle coverage.
The CompFit™ sleeve around the ankles results in an incredible snug feel ideal for giving the athlete that extra boost in agility.
This, along with the die-cut sock liner give comfort and breathability.
New Balance Burn X2 Lacrosse Cleats
| | |
| --- | --- |
| Release date: 2019 | Cut: Mid |
| Colors: Black, White, Grey | Ratings: |
| Size: Women's | ⭐⭐⭐⭐ |
New Balance's brand new Burn X2 lacrosse cleats are specifically built for women lacrosse players. Constructions and designs in these cleats focus on speed, agility and comfort. 
A few worth mentioning features include a revolutionary new plate that is engineered for downhill acceleration. The FantomFit construction keeps the cleats lightweight at the same time offers more security in the feet. To add more premium comfort, the mesh collar around the ankles gives more support and stability. 
Lastly, the traction on these shoes is also amazing, guaranteeing great athlete performance even when playing in the muddiest conditions.
Reebok Whippet Low at III Lacrosse Shoe
| | |
| --- | --- |
| Release date: 2009 | Cut: Low |
| Colors: White | Ratings: |
| Size: Women's | ⭐⭐⭐ |
The upper part of this cleat is made of performance synthetic as well.
This gives the shoe various advantages such as being breathable, lightweight and requiring very little break-in time.
Breathability is further enhanced by the use of a mesh collar liner integrated with PlayDry™ technology, as well as the dual-density antimicrobial footbed with EVA.
The tongue and collar are made from soft foam thus giving ample foot protection and comfort.
How to Choose a Good Lacrosse Cleat
After going through various great options, let's turn our focus to the things that you should pay attention to when looking for a pair of cleats for your lacrosse games.
Typically, a good lacrosse cleat should have four studs at the heel area and at least six at the area around the toes and ball of the foot. The latter could have up to 8 studs but never go for a cleat with less than 6.
This spike pattern is meant to provide maximum traction and stability while using the cleat in any field condition.
Turf cleats should be used exclusively on turf. These feature numerous slightly-protruding in-built spikes which aren't meant to cut into the ground. For this reason, turf cleats should never be used on grass because they will not provide any traction.
For natural grass, we have molded cleats which also happen to be the most popular type of cleats.
This is because these have longer studs which adequately dig into the ground providing sturdiness and stability. Besides natural grass though, these cleats can still be used on other surfaces.
Lastly, there are the detachable cleats which can conveniently be screwed on or off the sole of the shoe.
This versatility gives the player a wider range of options regarding surfaces on which the cleats can be used. Detachable cleats are more expensive, but then again, it's still cheaper than buying two pairs of cleats instead.
Cleat Style: Low, Mid or High Cut
Low-cut cleats are the lightest in weight and provide maximum maneuverability as well as enhanced footwork.
For this reason, they are preferred by players who make running cuts and thus need high speeds. The downside is that this style provides very little or no ankle support.
High-cut cleats, on the other hand, provide maximum ankle support making them the safest cleat. For this reason, they are ideal for bigger players or those prone to ankle injuries.
Lastly, we have the mid-cut cleats which are a perfect balance between the low-cut and the high-cut cleats. This versatility gives them better ankle support than a low-cut while at the same time providing more flexibility than a high-cut cleat.
The commonly used material in great quality cleats is TPU, thermoplastic polyurethane. Many options included above are made of TPU, which has become the industry standard. 
Those cleats are often more durable, lightweight than other cleats built with cheaper materials.
On the exterior, synthetic leather has the highest quality that allows better breathability to keep players' feet dry and cool at all times. The material also provides sock-like comfort, especially around the ankle. 
Besides that, they also offer better traction and maneuverability as well as providing better foot support.
When it comes to buying shoes, comfortability is one of the must consider factors. Misfit cleats are more likely to cause blisters and pain on your feet that can drastically slow you down both in speed and performance.  
Comfort starts with a foam insole which is now featured in most lacrosse cleats. So be sure to check if the cleats offer foam insoles. 
The way to make sure the cleats will fit properly is to carefully read the product's sizing chart, gather any customer reviews and if possible, go to a local store to test out the sizing. Personally, if I like a shoe brand and know really well which size fits me the most, I will often stick to the same brand for lacrosse cleats as well.
Before placing an order online, also be sure to check if they offer an exchange as insurance.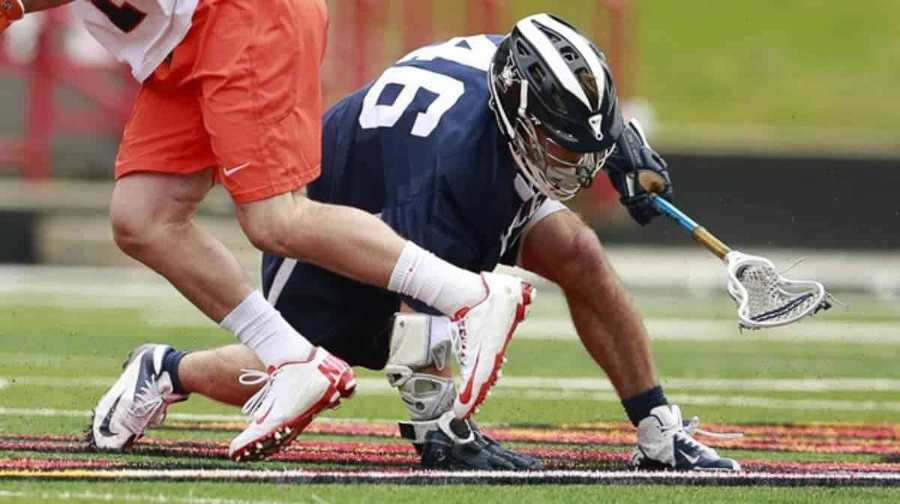 Difference Between Women's Lacrosse Cleats and Men's Lacrosse Cleats
As was alluded to earlier, men's lacrosse game rules are different than women's lacrosse rules. As a result, we see that the equipment regulations of each game are different. And the cleats are no exception.
Because of the difference in physique, men's lacrosse cleats are designed differently from women's lacrosse cleats. This is done so as to ensure both sets of athletes get maximum support and comfort suitable for their different body types.
You will find that women's lacrosse cleats are wider in the toe area and forefoot region and narrower around the heel. Besides that, men's shoes are sized larger and are generally wider.
To further achieve this variation in comfort, size and fit, shoes will have different heel support and midsole materials.
Another reason why designers use different midsole materials for men's and women's cleats is because of pronation.
Having wider hips, women are naturally more likely to pronate more which requires extra support in the shoe, particularly in a sport that involves a lot of quick movements.
Conclusion
I know that this is a big decision for you. It's totally fine to hesitate at the beginning since you have so many options in front of you.
Choose a similar shoe brand and carefully read the product description to make sure the cleats are what you are most comfortable with. Also don't forget to apply the key features I talked about in the previous section. The goal of this guide is to help men, women and youth players find their most suitable lacrosse cleats at any budget.
If you have any more questions about any of the cleats I mentioned in this guide, please don't hesitate to reach out to me either by posting a comment below. Also feel free to share with the community which cleats you ended up buying.
Additional Resources