Many lacrosse players would probably agree that faceoff is the most important part of the game. It's so important that many lacrosse players are solely responsible for faceoff on the field a.k.a FOGO (Face Off, Get Off) and coaches often look for skilled players who are good at faceoff.
Which then begs the question, what makes a good faceoff player? To a large degree, faceoff heads play an important role. Which means players with the best lacrosse faceoff heads tend to have an extra advantage over their opponents. 
To be able to increase your chances of winning a faceoff, you'll need the best and most suitable faceoff head specifically for you. And finding that exact head isn't an easy thing to do.
So, I decided to create this ultimate 2022 faceoff head buying guide as a reference.
Update note:
In light of the recent NCAA rules changes regarding faceoff, I made some updates to the ultimate buying guide that aims to provide you with the most recent and reliable tips and info when buying a faceoff head in 2022. In summary, going forward on any tournament that follows NCAA rules, faceoff will be conducted in standing neutral grip (SNG) fashion. Therefore, it's very important to select the best SNG faceoff heads in 2022 and onward. 
With that said, below you'll find the best lacrosse faceoff heads in the market that are loved and used by many professional players.
Click here to learn the best lacrosse heads in 2022
Click heere to learn the best attack and middie shafts in 2022
Best Lacrosse Faceoff Heads To Buy
Now, let's dive into the details and talk about the 6 best lacrosse faceoff heads you can buy right now. We will talk about the major pros and cons as well as general specifications of these great faceoff heads such as stiffness, durability and preference for FOSO or FOGO.
STX Duel 3 (Suitable for FOSO and FOGO)
Better durability
Quality material
A straight throat for hand placement
Great scoop
A worthy purchase mostly for people who used Duel line in the past
The newest release of the STX Duel line in 2021, STX Duel 3 is worth the hype. It adopted many favorable designs from the last iteration Duel 2 and made further solid improvements, such as more durable Reflex plastic and a straight throat. So if you have been using Duel 2 and Reflex, Duel 3 is an ideal upgrade. 
Reflex™ technology offers better warp resistance and durability. After twisting, it will reflex quickly and snap back to shape. Great shape retention is key for FOSO players as they need that consistent performance from the head after a faceoff. 
Additionally, it features the popular Speed Scoop™ for groundballs. 
All in all, this is a great Duel product with many spot-on upgrades, especially if you are a fan of the Duel line. I definitely think this is one of the best faceoff heads you should consider in 2022.
StringKing Mark 2F (Suitable for FOSO and FOGO)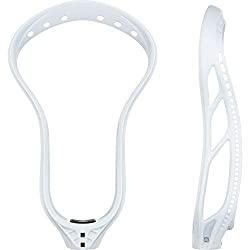 Nice warp resistance
Nice scoop
A nice short throat
Good SNG head
The reason why I put StringKing Mark 2F next is the fact that it largely resembles the STX Duel line. Specifically, its face shape and sidewall holes are very similar to a Duel. 
One great improvement they did is the scoop. A more angled and powerful scoop makes it easy to pick up ground balls from all angles. 
It has a short throat that is perfect for a faceoff and a straight down sidewall design for ball retention. 
The no.1 factor we look for in a faceoff head is its material. Whether it has great warp resistance, great durability and flex. With new hybrid plastic, Mark 2F has nailed those features. 
No matter how much pressure you apply to twist the head, it snaps back to its original shape. This new material definitely is a game changer which gives this head a great balance of flex and stiffness. 
One minor downside to highlight is that it does take some time to break in as the material is known for its shape retention. 
Overall, this is a great option as an SNG faceoff head. Recommend!
Nike CEO 2 (Suitable for FOGO)
Great face flex
Great flexibility
A nice short throat
Not the best warp resistance faceoff head
Ever since Nike CEO became a popular head for faceoff due to its nice face flexes, the CEO line is chosen by more faceoff players than middies (originally targeted position). Took that lesson, Nike released CEO 2 which is designed for FOGOs only. 
How faceoff players became a fan of CEO is because of its face flex. The sidewall structure creates big open spaces that allow the head to condense down on itself when facing off. 
Similar to CEO, CEO 2 replicates most of the original design adding just a few modifications specific for faceoff. 
A couple of modifications to highlight: a shorter throat, a more rounded scoop and a stiffer material
Since CEO 2 specializes in FOGOs only, you shouldn't expect high durability and warp resistance from this head, which means you will likely need to replace this head more often than other options.
Warrior Burn FO (Suitable for FOSO and FOGO)
Nice durability
Great flexibility
Best face flex
Asymmetrical design for power faceoff
Will not be a great option for oblique or traditional flex
As a 2019 release, Warrior Burn FO partnered with Trevor Baptiste to create this widely popular faceoff head chosen by many players. 
Because Trevor used Nike CEO during his entire collegiate career, the design of Warrior Burn FO is heavily influenced by CEO. Putting them side by side, you will notice Warrior Burn FO adopts CEO's unique strut pattern which gives players that nice face flexes.
What differs them is that the Warrior Burn FO has an asymmetrical sidewall design to gain more flexibility and strength. The flexible left sidewall gives you more advantage to gain position and control in 50/50s. 
If you are a face flex FOSO person, Warrior Burn FO could be your best SNG faceoff option.
Brine Dictator ST (Suitable for FOSO and FOGO)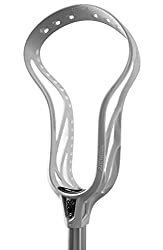 Good durability
Good stiffness
Inexpensive
A long throat that doesn't give you as much control and leverage as a short throat
This ST version of the Brine Dictator is a stiffer version of the standard Dictator. With that stiffness and core strength, Brine Dictator ST is a solid faceoff head option to consider. It gives you a nice edge over your opponent when pushing downward and clamping the ball at the X.
The stiffer material has great warp resistance, nice durability and a good amount of stringing holes. 
Minimal offset and longer straight bottom rail allow your hands to get closer to the ball. The scoop design is also great for groundballs. 
What I don't like about this head is the long throat, which sacrifices some control over the head and the ball. 
All in all, Brine Dictator ST is a good faceoff head. It might not be my top choice; however, it's a lot cheaper than most other options on the market right now. Great budgeted option. 
Maverik Lock (Suitable for FOSO and FOGO)
A nice short throat for leverage
Great sidewall designs for powerful clamping
Great scoop
First product is never perfect. A standard normal plastic without many unique touches
Maverik's first faceoff release, Maverik Lock delivers on expectations. If you have been using Maverik's other products, the design and styling of this head will be pretty familiar. 
There are a few things to highlight specifically for faceoff features:
It has a nice short throat to enable more hand control and leverage.
FlexRail technology used on the sidewalls provides a powerful and responsive flex when clamping the ball. 
It comes with a good stiffness for warp resistance and durability, making it a good faceoff option for FOSO as well. 
Lastly, you can't overlook how well they redesigned the scoop to be more rounded, which is perfect for scooping up groundballs. 
Because this is Maverik's first faceoff head, there will be room for improvements and gaps to fill in later iterations.
Click here to learn the best attack and middie heads in 2022
Click here to check out the best mesh for your faceoff head
How To Choose A Faceoff Lacrosse Head?
You might notice there are many commonalities good faceoff heads share collectively, such as warp resistance, short throat, nice scoop, etc. To help you get a good sense of what makes a good faceoff head, these are the elements you want to consider: 
Because you bend the head so much while doing faceoff, having a high quality and durable material is crucial. The heads I listed above have great, probably some of the best, durability and warp resistance out on the market right now. 
What I also wanted to point out is that stiffness can be another important factor depending on your faceoff style. 
If you are a power clamper you will want a stiff head; whereas, if you are a clamp and box out person, you will want a flexible head. 
It has now become the standard of a good faceoff head to have a short throat. The shorter the throat, the closer your hand is to the head, the more powerful and controlled your clamping will be.
Depending on whether you are a FOSO or FOGO, a nice scoop for groundballs shouldn't be overlooked. 
A flat and rounded scoop allows you to pick up ground balls with ease as you continue playing on the field after facing off.
Look for struts that have good spacing and gaps in between. Which means when you pinch the ball, the head flexes nicely. Sidewall designs will be different between face flexing and traditional flexing heads. 
If you prefer face flex, choose Nike CEO 2 and Warrior Burn FO. If not, a traditional flexing head is a way to go.
Remember to look for these 4 criteria when buying a faceoff head. After purchase, you will want to start breaking in your head as it will take some time to flex and bend the way you want it to. 
Start flexing and doing reps with it. You definitely want to get comfortable with your new head before a real game, so the more reps you go through the softer it becomes.
How To Become Great At Facing Off?
Ever since the NCAA face off rule changed, SNG has become the only accepted griping you can use doing a face off. So it's important to learn from the best SNG face off experts like Greg Gurenlian to master your craft. 
In this video, Greg goes through the 6 layers of offensive moves you should master in SNG Faceoffs. 
Highly recommend checking out Greg's YouTube channel where he reviews equipment, demonstrates techniques and shares tips on all things faceoff. 
Conclusion
I hope this guide has served you with helpful tips and reviews with respect to learning some best faceoff heads on the market and how to determine a good faceoff head.
As always, I will make sure to keep updating this guide to make it as recent and relevant as possible. 
In the meantime, drop a comment about which head you ended up buying. Also feel free to let me know what other options you wish to see on the list. 
Now you have gotten your faceoff head, don't forget to check out these faceoff specific shafts as well:
StringKing Pro Faceoff Lacrosse Shaft