If you just wanted to get started on practicing basic stick skills, there's only two pieces of equipment you need at the bare minimum, a great complete stick and a pair of great lacrosse gloves. 
The reason why gloves are important is because they protect your hands and wrists from heavy slashes and checks; they also give you a strong grip on the shaft for control. Their purpose cannot be overlooked. 
Therefore, if you had trouble finding the right gloves for you, then this guide will help you find the best pair of gloves for you out of all the options on the market today.
Whether you are looking for gloves with extra protection, better flexibility or optimal comfort, the list is a comprehensive selection of gloves that meet different needs and preferences. 
I have also included women's lacrosse gloves for cold weather. 
If you are familiar with the structure of my buying guides, after the product review, you will also get to learn how to identify a great pair of gloves. 
So with that out of the way, let's begin.
Jump to a section:
Best Men's Lacrosse Gloves
This first part will be dedicated to reviewing men's lacrosse gloves.
We'll start by reviewing the best lax gloves for field players that you can get in 2022. As you'll see, most of the gloves below can be used by attackers, middies and defense players interchangeably.
STX Lacrosse Surgeon 700
| | |
| --- | --- |
| Best Gloves For All Positions | Ratings: |
| Colors: Grey, Red, Blue, Navy | ⭐⭐⭐⭐⭐ |
STX is famed for its production of gloves which offer excellent against impact. The STX Lacrosse Surgeon 700 does not disappoint since it is specially designed for the elite precision player looking to endure high impact during checking.
Featuring the groundbreaking and patent-pending 2nd SKIN, it has fewer stitch lines for next-generation tactile response and guarantees effortless 360-degree thumb rotation when playing.
This is in addition to the carbon fiber reinforcements insert and compression pads which provide unparalleled thumb protection. The glove also contains Axe suede as its principal palm material thereby boosting comfort and durability.
Designed for elite attackers in mind, the Surgeon 700 gloves are my top recommendation of 2022 for people who want nothing but the best.
STX Surgeon RZR
| | |
| --- | --- |
| Best Gloves For Flexibility | Ratings: |
| Colors: White, Black, Navy | ⭐⭐⭐⭐⭐ |
Next up, we have another popular and revolutionary pair of lacrosse gloves from STX, STX Surgeon RZR. Every year STX manages to release a new piece of equipment with exciting technology or advancement. 
STX Surgeon RZR's biggest design breakthrough is its one continuous piece design on the back of the hand. This aims to provide players with unmatched flexibility, lightweight and control over the traditional multiple parts of padding design. 
It is also made with ultra durability and protection thanks to the DFLKT shields on the thumb and back of the hand. Surgeon RZR has been my go-to gloves for the game and wearing them definitely gives you a feeling of confidence for how comfortable and protective they are. 
Since it's from STX, the price will be more expensive than most other options on the market today.
Maverik Rome Gloves
| | |
| --- | --- |
| Best Gloves For Protection | Ratings: |
| Colors: White, Black | ⭐⭐⭐⭐ |
Another premium pair of gloves that are very popular among elite players is the Maverick RX3. Rome line is Maverik's highest rated gloves. Rome glove is a combination of maximum protection, breathability and optimal comfort. 
First, the high-density Poron XRD foam inside the gloves is very soft and lightweight around the hands yet provides a strong resistance to impact. 
Second, Rome is designed using anatomical speed fit technology that enhances both comforts and guarantees a natural feel over the lacrosse stick. Comfort is further enhanced by the FlowCool backhand ventilation system as well as a liner system which speeds up the evaporation of sweat.
One downside to these gloves is it takes time to break in. The first few times wearing them will feel tight, especially around the back of your hand.
Epoch Integra Elite
| | |
| --- | --- |
| Best Gloves For Stick Feel | Ratings: |
| Colors: White, Black | ⭐⭐⭐⭐ |
Although Epoch is not a powerhouse like STX and Maverik, it certainly found its stride in producing some of the best lacrosse gloves currently on the market. Integra Elite stands for protection, comfort and performance. 
These gloves place an emphasis on keeping a natural tone and practical design for mobility and protection. It features its brand new Tri-Layer Dual Density Foam Stacks and ARIAPRENE technology inside key slash zones that provide you with maximum protection on the field.  
What I really like about these gloves is the Player Core Control that keeps hands cool and odor-free throughout the game. If you ever had smelly equipment, you would know how important it is to have equipment that could have odor protection.
Maverik M5 Gloves
| | |
| --- | --- |
| Best Gloves For Comfort | Ratings: |
| Colors: Grey, White, Black | ⭐⭐⭐⭐ |
M5 is the newest update on Maveri's most popular and best selling predecessor, the M4. It kept all the great features players love about the M4, such as the classic fit and quick-dry liner for fast evaporation of heat and sweat from within. 
Compared to the M4, M5 redesigned the cuff to be adjustable for better fit based on preferences. You can have either a tighter fit for more protection or a loose fit for more mobility, although some players find the sizing to be tighter than most other gloves on the market. 
All in all, just like the M4, M5 is lightweight, soft and comfortable to wear. At a more affordable price, M5 is a great option.
Brine King Superlight 2
| | |
| --- | --- |
| Best Gloves For Affordability | Ratings: |
| Colors: Maroon, Orange, Red | ⭐⭐⭐ |
Brine is at it again with the super amazing Brine King Superlight 2 which looks like a follow-up for the superlight from two years ago.
Featuring different brilliant colors from blue, orange, maroon to forest green, these gloves are sure to satisfy every aesthetic taste and preference you might have.
These gloves come with upgrades from the previous version such as a new palm design as well as Truvent technology backhand venting. This ensures the gloves offer a much more cooling effect while playing.
The gloves also feature a floating cuff that enables players to scoop ground balls much more easily. Overall, these gloves can be a good option for people who have a limited budget. They offer excellent value for the money you're paying. However, I wouldn't recommend them for more advanced players.
Best Women's Lacrosse Gloves For Cold Season (Winter)
Now we have looked at some great men's lacrosse gloves; it's time to turn our attention to some good women's lacrosse gloves. Although the rule doesn't require women to wear gloves, they can be a nice addition, especially under cold weather.
Brine Dynasty Women's Gloves
| | |
| --- | --- |
| Best Gloves For Protection | Ratings: |
| Colors: Black, Blue, Pink | ⭐⭐⭐⭐ |
These great gloves from Brine are specially made to maintain peak performance for women lacrosse players during a cold season. Right off the bat, the reviews on these gloves are very positive. 
With features ranging from a fleece-lined palm and backhand for adequate warmth.
A compressed molded foam on the outer hand to provide maximum protection from impact as well as an Ax suede feel palm for that natural feel on the stick.
The bottom line, this is a wonderful pair of gloves that will help you boost your performance in lacrosse games during the winter without having to worry about cold weather. I totally recommend them.
STX Strike Women's Gloves
| | |
| --- | --- |
| Best Gloves For Comfort | Ratings: |
| Colors: Black | ⭐⭐⭐⭐ |
If you need a pair of high-quality warm gloves to beat the cold, you can always be sure to rely on the STX Strike women's lacrosse gloves. 
This glove is one of the kinds that is specifically designed for women players. The gloves interior is lined with a fleece interior that is sure to keep you warm even in the coldest conditions. 
Even for women players who aren't used to wearing gloves, these are very comfortable and provide targeted grip zones to ensure good stick handling and control.
Overall, this is a very low-profile, practical and lightweight pair of gloves you'd fall in love with.
Best Women's Lacrosse Gloves For Hot Season (Summer)
As you probably experienced yourself, hands sweat a lot when playing lacrosse during the summer. This can cause you to be distracted from the game and lower your performance.
That's why you need to get yourself a good pair of gloves made for hot weather. Below are my top recommendations for women's gloves for summertime.
Brine Fire Lacrosse Gloves
| | |
| --- | --- |
| Best Gloves For Value | Ratings: |
| Colors: Pink, Scarlet | ⭐⭐⭐⭐ |
The Brine Fire is designed with a great understanding of the dynamics of warm weather on a lacrosse player's hand.
The gloves strike a delicate balance between providing comfort, ventilation and adequate protection.
Mesh vents on the backhand allow for maximum ventilation and consequently comfort while on the go.
Protection from violent checking is on the other hand guaranteed by the dual-density compressed foam layer that covers the knuckles and back of the hand.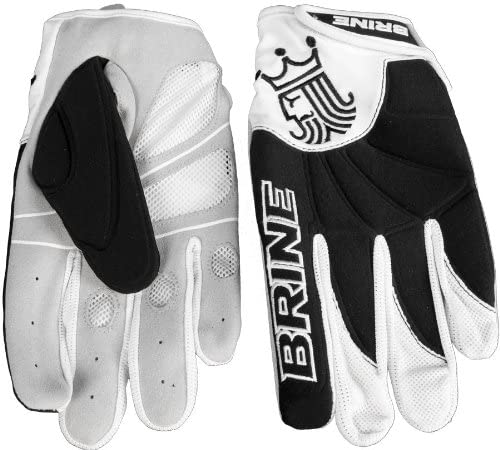 Brine Silhouette Lacrosse Glove
| | |
| --- | --- |
| Best Gloves For Quality | Ratings: |
| Colors: Black, Scarlet | ⭐⭐⭐⭐ |
If what you need is a lightweight glove that offers great protection as well as nice ventilation, then the Brine silhouette is just designed for you.
The glove comes with adequate venting on the palm area as well as on the backhand to enhance air circulation on a hot day.
This combined with a dual-density foam positioned on the backhand to protect it from violent impact make it a strong contender for top honors in our best glove category.
Best Lacrosse Gloves For Youth Players
It's important to find your youth players a pair of good gloves to not only learn the proper stick skills but also ensure the best safety and protection.
Warrior Burn Next Youth Gloves
| | |
| --- | --- |
| Best Gloves For Protection | Ratings: |
| Colors: Black | ⭐⭐⭐⭐ |
Warrior Burn Next is specifically designed for youth players who have smaller hands. Less complex and heavy, these youth gloves promote better mobility and fit. The best thing about these gloves is the hand and wrist protection, featuring dual-density foam construction. 
Good protection doesn't mean it loses ventilation. The gloves are designed with TruVents that allow constant airflow through the gloves so that players' hands don't get sweaty during the game.
Epoch iD Jr. Youth Gloves
| | |
| --- | --- |
| Best Gloves For Stick Feel | Ratings: |
| Colors: White | ⭐⭐⭐⭐ |
Epoch iD Jr. youth gloves have lots of hype around the product. After reading some customer reviews and feeling them with my own hands, I can attest to it as truth. 
Right off the bat, the design is very similar to the adult's version less the frills and unnecessary high technologies. They are very compact and comfortable to wear. The materials are very durable and have no problem lasting for one season or two. 
It's often tricky to find a great youth glove, but it seems like many parents have found these to be the best gloves for the right youth fit.
STX Stallion 75 Gloves
| | |
| --- | --- |
| Best Gloves For Quality | Ratings: |
| Colors: Black | ⭐⭐⭐⭐ |
The Stallion 75 gloves are the ideal field gloves for young players looking to learn the ropes of the game.
The gloves provide players with a good mix of protection, ventilation, flexibility and lightweight construction making it one of the most formidable gloves out there for youth players looking to begin in the sport.
It comes with ventilated palm area as well as a finger gusset which sets the stage for adequate air circulation on a really hot day on the field. The glove is constructed using strong polyester shell material that is both impact-resistant and lightweight in nature.
How To Choose Best Lacrosse Gloves
In a sport like lacrosse where hands are used to handle the stick, gloves are easily one of the most important equipment.
Therefore, it's essential to pay extra attention when choosing your lacrosse glove.
The following are some of the considerations to look out for before selecting a pair of lacrosse gloves that fit you the best.
Protection and Flexibility:
Since gloves are made for protection, it has to be the first thing to consider.
Most lacrosse gloves feature contoured and segmented creases throughout their design. This design feature offers maximum protection as well as flexibility without sacrificing mobility. Best protection has layers of foam padding on the back of your hand to withstand any hard checks and heavy physical impacts. 
Pay special attention to wrist protection as well. They should extend their gloves to the wrists with extra cuff length as they are exposed to high risk from checks. 
A great way to test flexibility is to check the palm materials. Great gloves have minimal stitching and a thin layer of membrane between your palm and the stick. In addition, the special designs around the fingers are a plus since great gloves also enable the fingers to move independently and freely of each other.
Materials:
Next, protections are very much predicated on the materials used. So, it is important to check out the kind of material that it's constructed with.
Most gloves will have a combination of different materials for the fingers, palm, and liners for maximum efficiency. Finger material is mostly plastic or carbon composites, palms mostly come with Axe suede, Nash or mesh while liners will commonly feature Nylon material.
Glove materials ought to be durable and offer maximum protection.
Grip:
For excellent stick handling, gloves should have a superb grip. Additional materials such as rubberized inserts are being used nowadays to increase the grip of gloves by manufacturers. Make sure to read product pages and customer reviews to ensure they provide a good grip on the stick in fast hand motions.
Ventilation:
No players like to get their hands all sweaty and overheated inside the gloves. That's why lacrosse companies put a lot of focus on implementing the most advanced moisture-wicking technology inside the gloves. 
The majority of lacrosse gloves will feature vents at the back of the hand but the best ones should also come with vents located on the front side of the palm. A good rule of thumb is simply to read their product page and identify any ventilation technology they use. 
In addition, ventilation can be more important after the game once you take them off and put them inside your lacrosse bag. The great ones will maintain odor free but the rest will likely make you regret buying a pair without ventilation.
Thumb protection and Rotation:
One injury players suffer from is broken thumbs, which is due to inadequate protection around the thumbs.
Gloves with adequate thumb protection offer additional reinforcement and padding to counter the initial impact caused by stick checks.
Much more segmentation is also incorporated to boost the thumb's flexibility and rotation. Always test for thumb rotation to ensure it can move as freely as possible.
Glove size:
Needless to say, if you can't find the right size, it doesn't matter if the gloves are the best of the best. Check the sizing chart as well as customer reviews on the retailer website you are buying from. 
One way to ensure the right fit is to wear the glove and stretch your fingers fully.
A small glove will be evidenced by the top of the gusset passing the padding which makes fingers prone to breaking. The bottom of the palm should also be covered completely by the palm material and not exposed.
If you aren't totally confident with the sizing, make a trip to your local store and test them out.
How To Choose Best Lacrosse Gloves (Women's)
Here are the most important things to consider when buying women's lacrosse gloves:
Protection:
Most hand accidents in the women's game occur as a result of inadvertent checking as well as hits from the ball. You want to find gloves that offer you adequate protection from such injuries.
Grip:
Gloves offer additional grip on the lacrosse stick thereby improving performance on the field. If you feel a little fidgety on the stick always go for gloves with textured fingers and palms at the point of contact.
Warmth:
This is the most important thing. Playing in cold weather such as in winter has been known to cause frostbite on exposed or poorly insulated fingers.
This is the reason why you should always go for gloves with the right insulation that keeps you warm in cold conditions. In summer, you should wear gloves that offer good ventilation.
Difference Between Women and Men's Lacrosse Gloves
If you ever wonder what makes women's and men's lacrosse gloves different, in this section we will explore everything you need to know. 
For women, lacrosse gloves are allowed but are not mandatory, this is in stark contrast to men's lacrosse where gloves are mandatory. It's because women's lacrosse is a non-contact sport while men's lacrosse has physical contact quite often.
To summarize, women's gloves differ from men's in the following ways:
Women's gloves are much more lightweight when compared to those worn by men. This can be attributed to the choice of material used in construction.
Gloves for women feature lightweight and thin padding as compared to men's gloves that have increased padding as well as hard plates along with the thumb and back of the hand.
This is because it is less likely to have the hand getting injured in women's lacrosse as checking and slashing is illegal.
Women's gloves are smaller in size as compared to men's gloves, which can be attributed to the fact that most women have smaller hands than men.
Conclusion
To wrap up the discussion here, I hope this guide has provided you with the option and information you needed to make a great purchase.  
I definitely enjoyed the learning and researching process so that this guide could be as comprehensive as possible.
As always, if anything is unclear, drop me a comment below and I will get back to you.