As the last line of defense between a save and a score, goalies are often put in a precarious position. Hence to prevent anything catastrophic, goalies are required to wear different sorts of protective gear in a real match. 
Beginning in January 2021, to further improve safety protocols and promote a fair and legal playing environment, the lacrosse rules committee enacted a new rule that incorporates the NOCSAE ND200 standard and an SEI certification mark for all legal chest protectors.  
In summary, the new rule requires chest protectors to contain the reinforced chest plate and protection that helps reduce the chance of commotio cordis. 
Therefore, in this guide, we will highlight the best lacrosse goalie chest protectors that meet the standard in 2022. 
To make it as comprehensive as possible, I have done the diligence to help you save time and energy by curating a complete list of chest protectors for men, women and youth players.
Read also: Best Lacrosse Goalie Pants in 2022
Best Lacrosse Goalie Chest Protectors For Men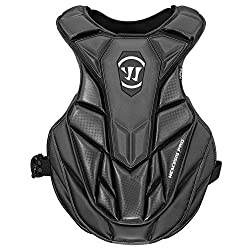 Warrior Nemesis Pro Chest Pad
| | |
| --- | --- |
| Release date: 2019 | Ratings: |
| New NOSCAE Performance Standard: ✅ | ⭐⭐⭐⭐ |
| Size: Men's | |
Warrior Nemesis is a great chest pad for beginner and elite goalies alike. It is designed for goalies looking for a good range of mobility and motions.
The shoulder pads feature Warrior's new bone system that is a compact plastic on top of a soft leather material which makes it smooth on the skin, but also tough enough to protect you.
It offers great protection by covering the entire frontal area of the goalie in a very comfortable way. The three-piece construction not only offers more protection but also keeps the chest pad from rising up when you bend for low saves.
The chest protector is cut wide enough at the neck to allow the helmet to swivel evenly without tampering with your chin guard. The pad covers around your torso pretty nicely by absorbing shots and minimizing damage. That said, one downside is the protector runs small for larger players with longer torsos. 
It might also feel a little heavier than many other chest pads as it is designed for the best protection and shield.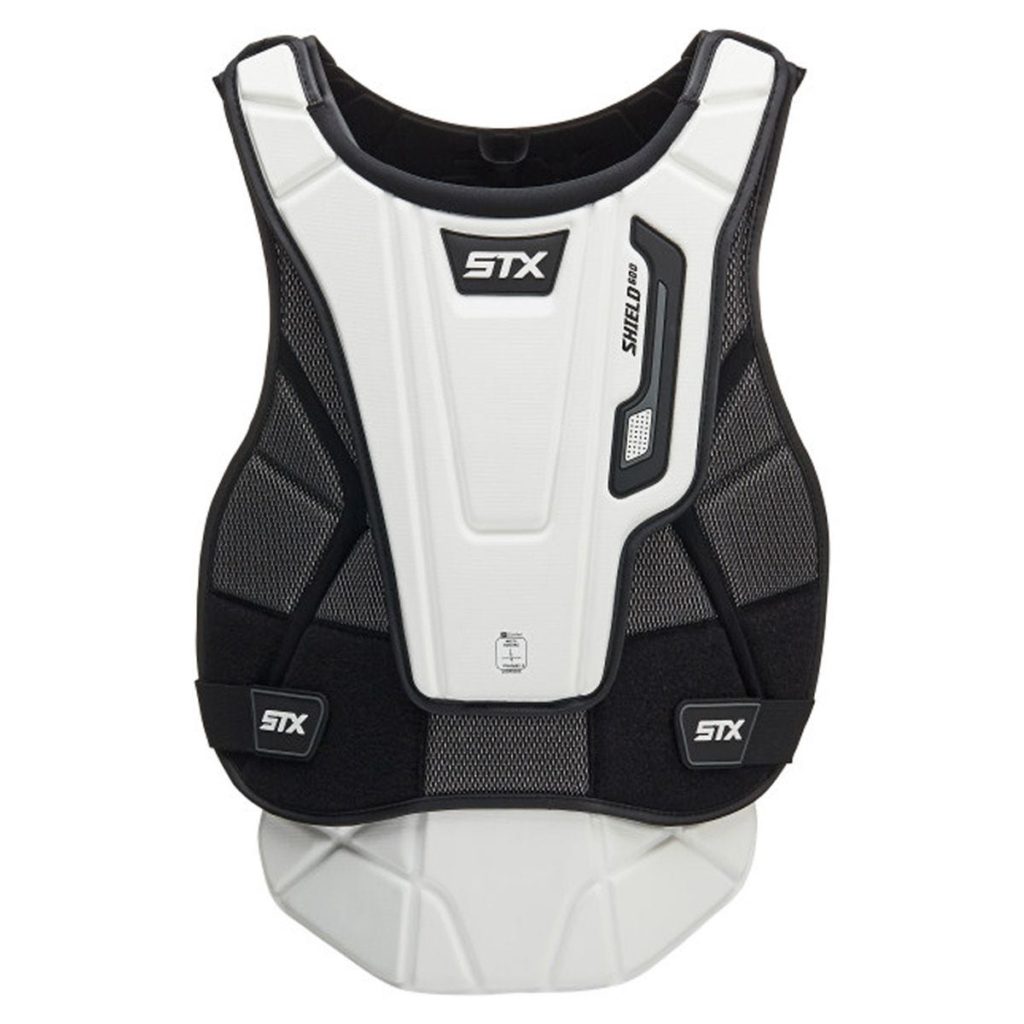 STX Shield 600 Chest Protector
| | |
| --- | --- |
| Release date: 2020 | Ratings: |
| New NOSCAE Performance Standard: ✅ | ⭐⭐⭐⭐⭐ |
| Size: Men's | |
STX lacrosse shield 600 chest protector is a perfect choice for those players looking for maximum mobility without compromising protection.
The neck fits perfectly with shoulder saddles and allows one to adjust the size up properly for more advanced players. This makes it an excellent chest protector when it comes to padding and fitting.
The first cardiac silhouette offers top-notch protection to the chest, especially the heart. The neck straps provide full mobility; the full-bodied chest plate provides you with top-notched protection that lets you perform at your highest level possible. 
The stomach padding together with the shoulder caps is also removable for your convenience. The chest pad is secured on the sides and the stretch zones are strategically placed for effortless adjustability.
All in all, I have always placed great trust and confidence in STX's products. Time has proven STX doesn't disappoint. This is a great compact chest protector that lasts for a long time and is super comfortable to wear.
STX Shield 400 Chest Protector
| | |
| --- | --- |
| Release date: 2019 | Ratings: |
| New NOSCAE Performance Standard: ✅ | ⭐⭐⭐⭐ |
| Size: Men's | |
If you want to get an STX chest protector but a less expensive version, consider the Shield 400. 
An older model of the Shield line, Shield 400 is largely similar to Shield 600 in terms of its design, protection and mobility. First of all, Shield 400 also features regulatory approved foam protection that gives you the highest protection needed to absorb the impact of shots. 
Additionally, it gives you the freedom to customize your padding to best fit your gameplay with maximum comfort. 
However, one apparent downside to the chest protector is the top snaps aren't very sturdy. They don't stay snapped throughout the game which could be intrusive and annoying. 
Note, Shield 400 is also suitable for women with a more comfortable and lightweight design.
Maverik EKG Max Chest Pad
| | |
| --- | --- |
| Release date: 2019 | Ratings: |
| New NOSCAE Performance Standard: ✅ | ⭐⭐⭐⭐ |
| Size: Men's | |
When it comes to chest protectors, Maverik has become the industry standard with its EKG line. 
This chest protector has excellent protection, great durability and comfort. Its segmented design allows for a perfect drape while the spilled chest panel enables maximum movement without bunching. 
The ANAFORM chest plates manage impact forces while allowing for free movement. The 4- way stretch mesh back straps and COMFORTFIT arch provide personalization options for players depending on their gameplay and style. 
The chest pad features brand new and regulatory approved, External Kardiac Guard (EKG)  PORON XRD foam that is smooth and soft on touch but hard on impact for utmost protection to the central vital areas.
Best Lacrosse Goalie Chest Protectors For Women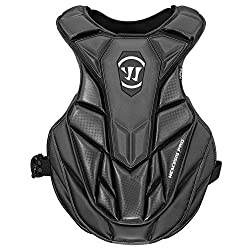 STX Shield 200 Chest Protector
| | |
| --- | --- |
| Release date: 2019 | Ratings: |
| New NOSCAE Performance Standard: ✅ | ⭐⭐⭐⭐ |
| Size: Unisex | |
This STX chest protector is designed for female goalies. The pad's stretch zones in the chest, shoulders and stomach provide a better sizing for women than the ordinary traditional chest protectors.
The removable belly pad and shoulder caps allow for easier customization. Shield 200 allows you to play for hours without worrying about sweat and heat, thanks to its microbe shield that protects against odor and bacteria build-up.
The chest protector comes with a reinforced chest plate that meets the new NOSCAE standard for premium protection. Additionally, it is cut wider in the arm region and shoulder area to allow more arm movement.
It has a contoured design that allows it to fit perfectly onto the torso of any player. The snug fit gives female goalies the mobility they need.
Similar to STX 400, this is also an advanced and recommended chest protector for female players.
Best Lacrosse Goalie Chest Protectors For Youth Players
Brine King Superlight Chest Pad
| | |
| --- | --- |
| Release date: 2014 | Ratings: |
| New NOSCAE Performance Standard: ✅ | ⭐⭐⭐⭐ |
| Size: Women's | Currently Sold Out |
Brine King superlight is one of the most perfectly- fitting chest protectors for the youth today. You will love the breaks on the shoulder and added back mesh fitting system.
The pad may seem too firm but it has the correct amount of spacing to help distribute the power of fast shots. 
The sternum and the stomach area have extra pad breaks to allow the softer pads to wrap around evenly. The dual-density construction with ICS sternum also allows for utmost protection and the double Velcro strap system keeps you in place, so you do not have to worry about your safety during the high and low movements.
This is undoubtedly the best youth chest protector on the market today; it provides maximum protection without restricting your movement one bit. Brine King's super-light goalie protector is for goalies who need to maintain their mobility at all costs.
Read also: Best Lacrosse Goalie Gloves in 2022
How To Choose a Goalie Chest Protector
The products are here to serve as a guide to what's currently on the market. In this section, I want to walk you through some important qualities and features to look for when it comes to selecting the best goalie chest protector.
To be more specific, it has to meet the new NOSCAE standard in terms of coverage area and padding. Additional reinforced protection around the vital areas is a must. 
You might notice many good chest protectors market the foams they use on their product page to show the quality of their materials. The same goes for how big is their coverage area. Great chest protectors often tell you how wide and how long the area covers. Especially if you are a larger player, try to find relevant information or simply go to the store to try it out and see if it does cover your center chest area. 
Similar to the shoulder pads, you definitely want to make sure your movement isn't restricted in any way possible. The purpose of a chest protector is to protect your vital points meanwhile staying out of your way. 
To do that, chest protectors are designed to have adjustable straps at multiple points to customize the fit in the best way possible to your preference. However, you should also check if the straps are reliable enough to stay on throughout the game.
Lastly, the center padding shouldn't be intrusive to your movements and motions. I have seen reviews of customers buying a misfit chest protector that ends up bunching a lot during saves. All of this goes to show you that a great fit is very important and it directly impacts your performance and gameplay. 
I always consider myself a "quality over brand" guy, which means I don't patronize one product over another just based on the brands. 
However, in this post, I want to make an exception. Let me explain: chest protectors are extremely important as they shield your central core area against potential blows. This means you want to give yourself the best protection possible, and if you look at the best chest protectors above, most of them are made by reputable brands. 
They already have a proven track record of manufacturing high quality products for many years. This definitely gives potential buyers a layer of confidence and insurance. Plus, these popular products often have more reviews for you to judge whether it's good or not. 
Especially if you have a well-known brand vs. a small brand, you should first consider the well-known brand.
Conclusion
Chest protectors are definitely important, so you should take the time to carefully read through my reviews. And before pulling the trigger, make sure you have a full understanding of what exactly you are looking for. 
It's worth taking the time as chest protectors are quite expensive so make sure you get the best deal for yourself. 
As always, let me know what option you ended up buying! Drop a comment or ask any question you might have in regards to chest protectors.
If you also what else you need as a goalie, head to this page where I included all the best goalie gear.