It takes a lot of courage to become a goalie. Due to their unique position, injuries are often inevitable. To be able to stand against a barrage of missiles, goalies have to protect themselves with different pieces of equipment.
A durable helmet and a solid chest protector are a must. But don't forget about your hands and fingers. One of the most common goalie injuries is a broken finger since you use your hands to save. Thus, today, we will take a look at the best lacrosse goalie gloves to ensure you have a safe and sound season in 2022. 
I will include the best options for both women and men goalies. After that, you will also learn the key elements to take note of when making a purchase.
Jump to a section by clicking here;
Best Men's Lacrosse Goalie Gloves
Since I never played goalie in my career, I called up a friend who played goalie throughout college for suggestions. On top of that, I went to a local store and test out the options included below to give you a first-hand unbiased description.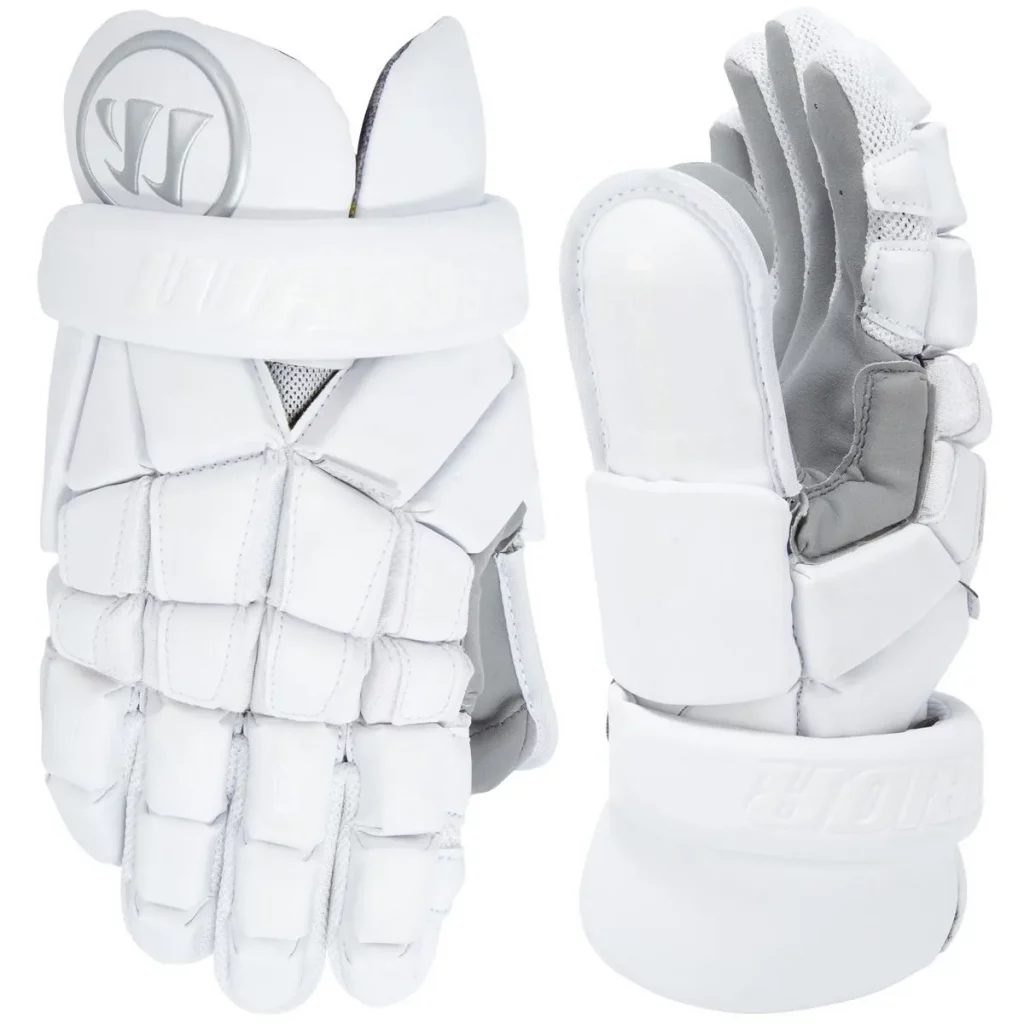 Warrior Nemesis Pro Goalie Gloves
| | |
| --- | --- |
| Features: Lock-thumb, D30 foam, Authentic Pro Palm+ | Ratings: |
| Colors: White, Black | ⭐⭐⭐⭐⭐ |
My no.1 choice for goalie gloves goes to the Warrior's most popular and famous Nemesis line. This elite product is designed for the best quality protection and comfort any goalie desires. 
The Nemesis Pro features Impax Foam, an HD built-in foam along the high risk contact areas inside the gloves. For the thumb, it has a newly designed Thumb Lock+ that provides both flexibility and protection for goalies to comfortably grip the stick. 
The first look at these gloves might give you a heavy look, but they are super lightweight and after putting them on, you have nearly zero restrictions on your hands. The simplified cuff design is my favorite feature as it promotes my range of motion without bunching in the wrist area.
Overall, I found these goalies very compact, durable and comfortable to wear. Without any apparent downside, I think these are up for the task in any game situation.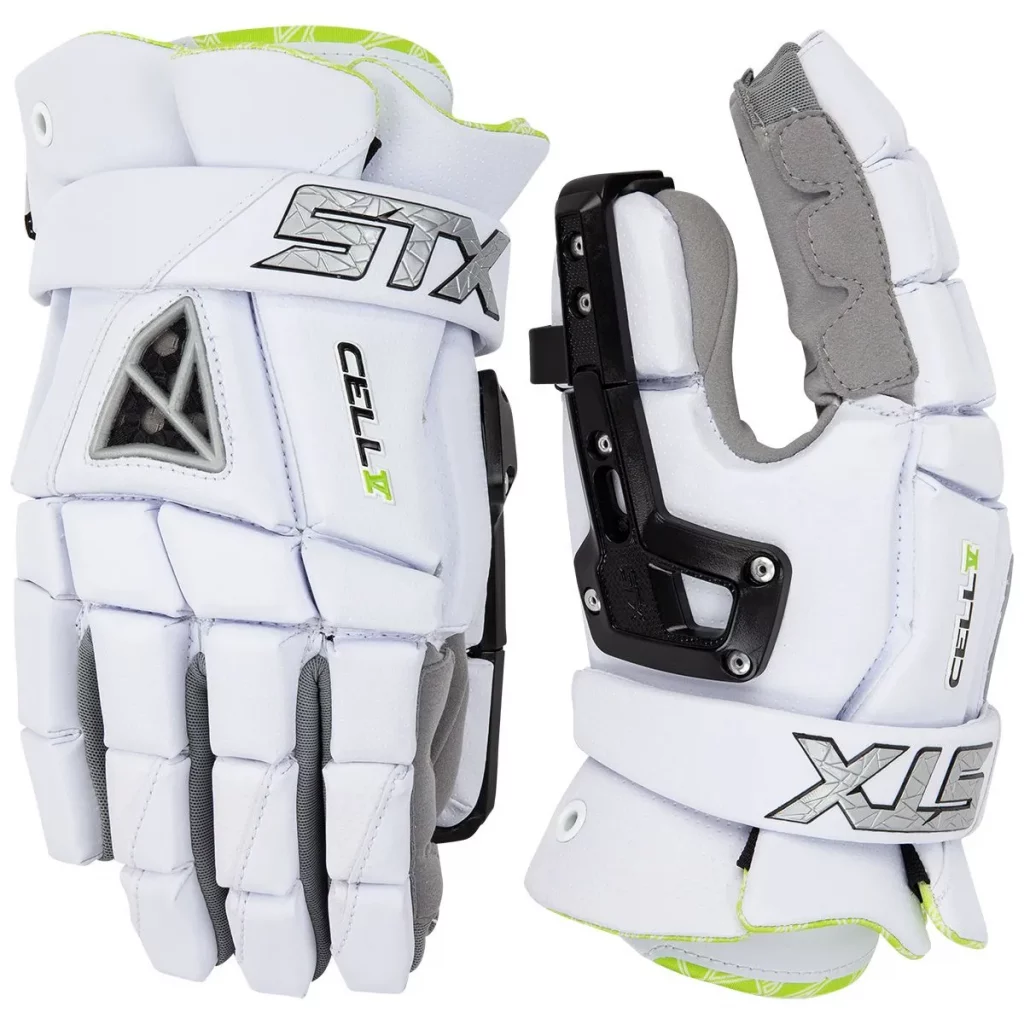 STX Cell 5 Lacrosse Goalie Gloves
| | |
| --- | --- |
| Features: GeoFlex II & Plastic thumb guard, AX Suede palm | Ratings: |
| Colors: White | ⭐⭐⭐⭐⭐ |
When it comes to the best lacrosse protective gear, STX never fails to enter the competition. Cell 5 glove is a very popular option among college and professional players. 
From the look of it, you immediately feel the protection and durability these gloves manage to offer. Adding an external plastic thumb guard, Cell 5 goalie gloves feature GeoFlex II flexible protector for power goalies. 
When you wear them, the Power Fit Profile really stands out as it's designed to offer more space and flexibility in the back of your hands for freedom of movement. Underneath the thick padding, your hands won't get sweaty or overheated thanks to the ventilated palm design. 
This is definitely a great option for goalies who love STX products and prefer their premium quality.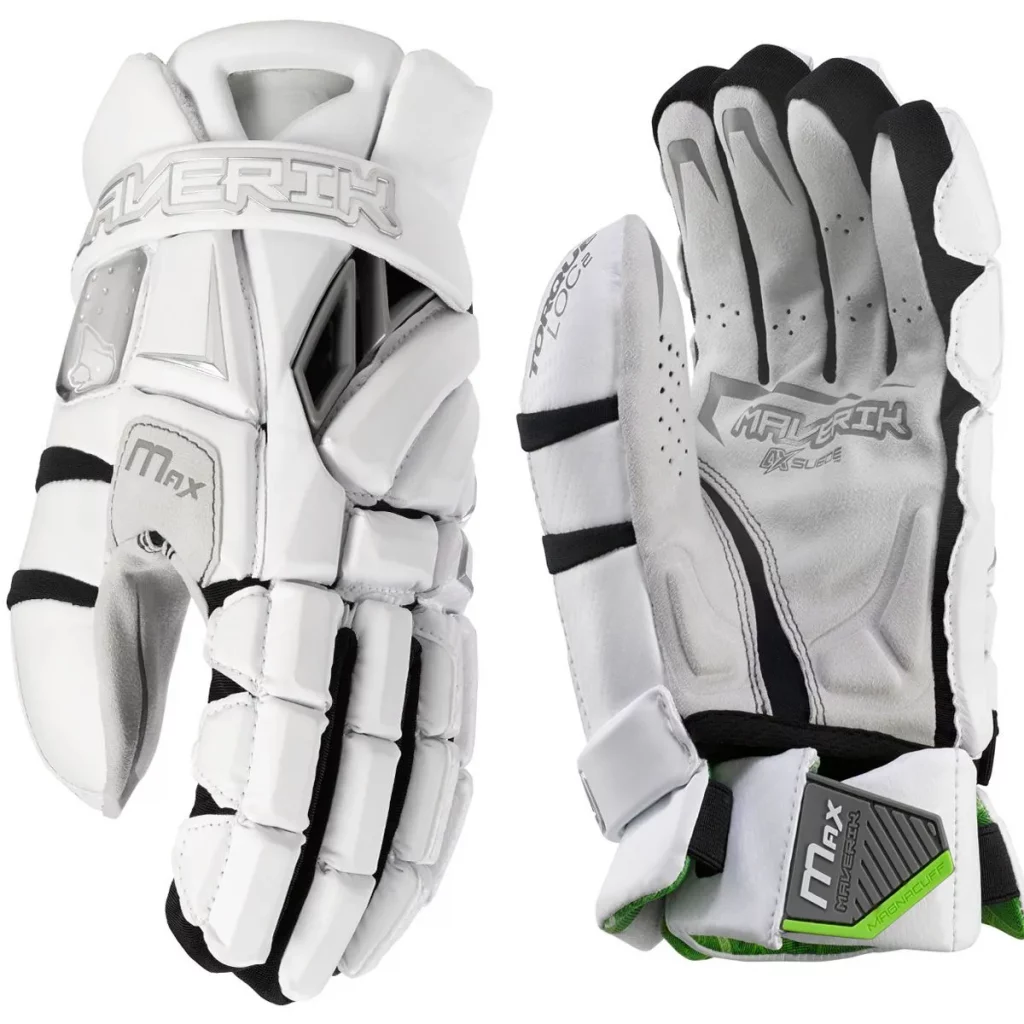 Maverik Max Goalie Gloves
| | |
| --- | --- |
| Features: DuraStretch panels, TorqueLoc2 design, Shark Gel | Ratings: |
| Colors: White, Black | ⭐⭐⭐⭐⭐ |
Maverik Max is the OG goalie gloves that have been many goalies' favorite. This 2020 model has implemented many new exciting updates and tech. They are made for professional goalies looking for a combination of comfort, protection and high tech.
Triple density foam and rigid inserts manage impacts in key zones across the thumb and back of the hand. These vulnerable points are reinforced with additional protection such as Sharkgel inserts and DuraStretch panels. 
If you worry the high tech features and padding will slow you down, the synthetic sues palm provides a soft and flexible feel for unmatched control and consistency. 
To combine every piece of the technology into a pair of gloves is not an easy task. Therefore, Maverik Max is more expensive than other alternatives. If you are looking for the best quality gloves regardless of the price, I will recommend Maverik Max. If not, it's better to look at other options.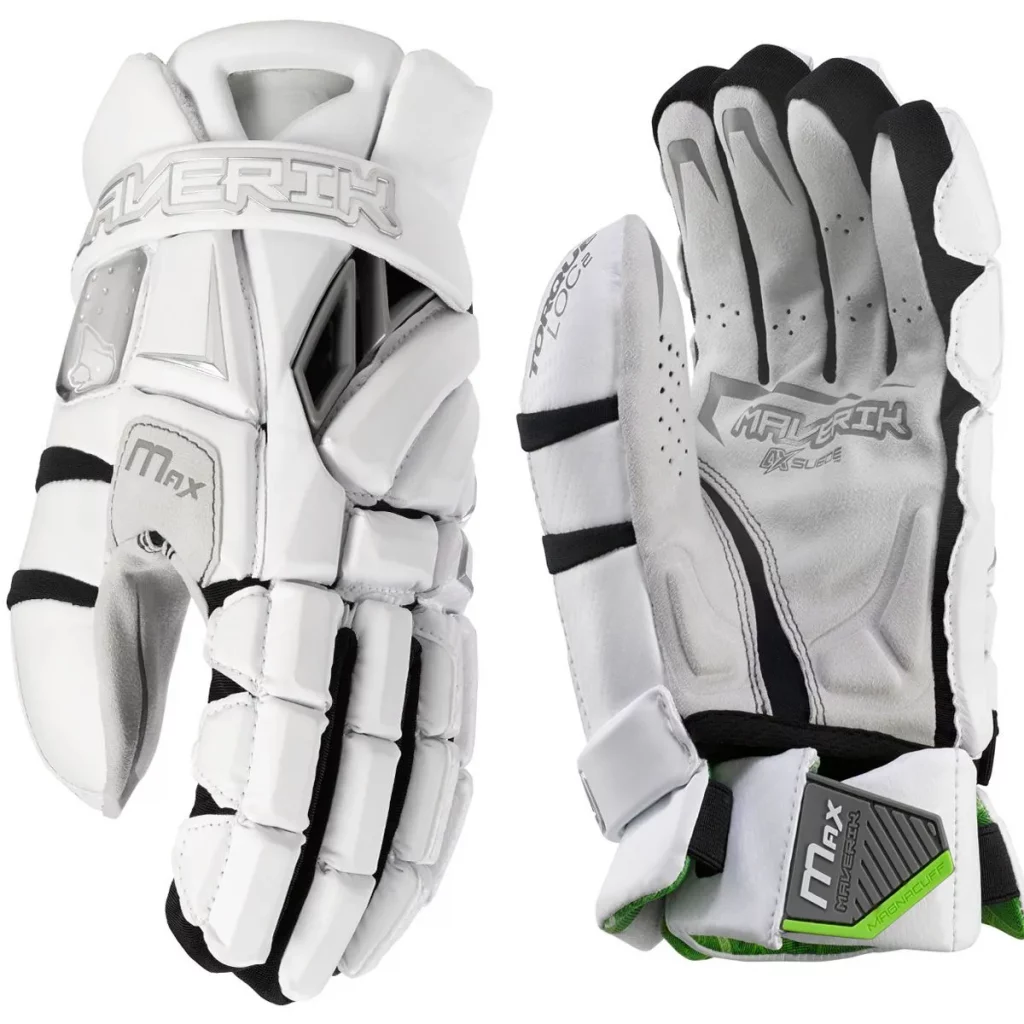 Epoch Integra Elite Goalie Gloves
| | |
| --- | --- |
| Features: Player Core Control, Tri-Layer Dual Density Foam | Ratings: |
| Colors: White, Black | ⭐⭐⭐⭐ |
I have always been a fan of Epoch's gloves, so I was excited to find the goalie version of the Epoch Integra line. These are premium gloves made for the best lacrosse goalies with protection and comfort. 
Unlike other lacrosse companies, Epoch uses its unique and non-rigid stabilized composite material as the embedded layer that is very flexible and lightweight. Featuring Ariaprene a performance foam, this glove provides freedom of motion and optimal protection when making fast movements. 
All in all, you can't go wrong with these gloves. They will make your hands stay cool, dry and odor free throughout.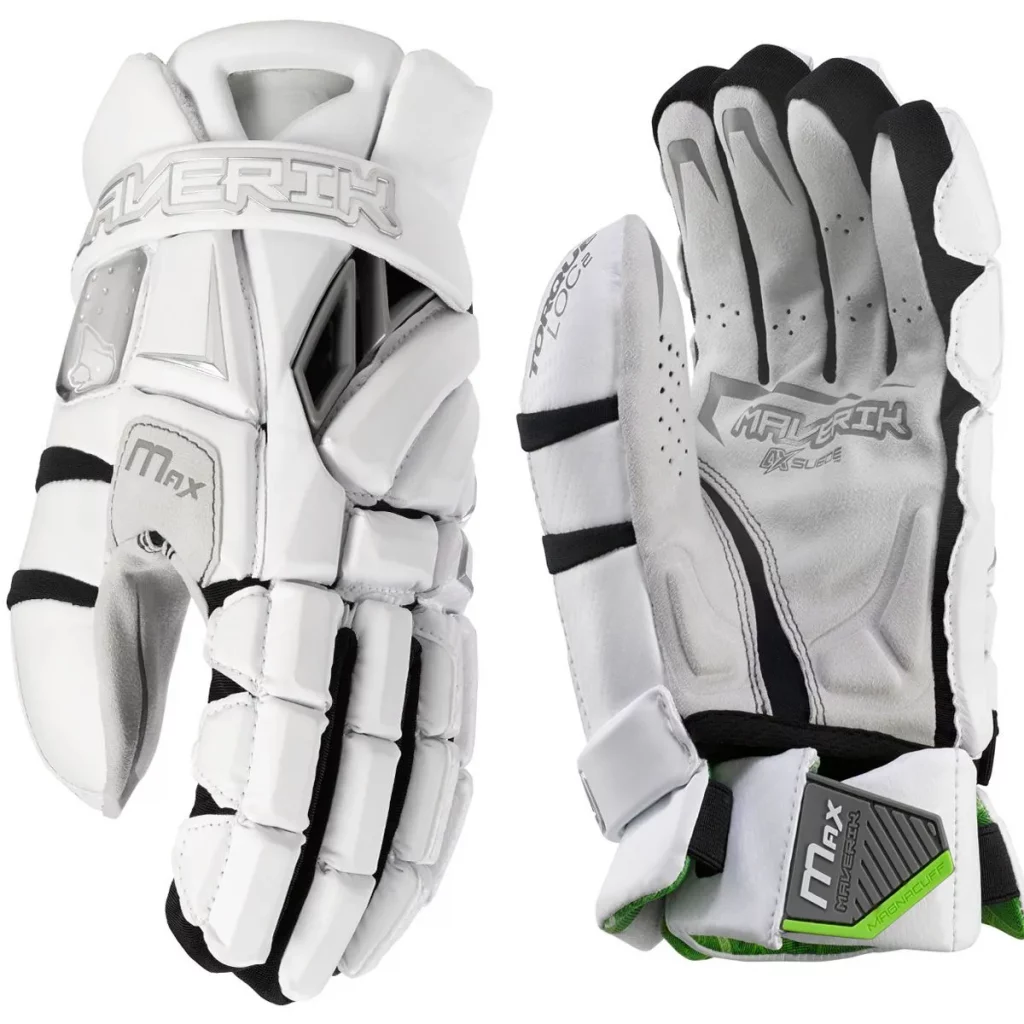 Maverik M5 Goalie Gloves
| | |
| --- | --- |
| Features: TorqueLoc 2, Ax Suede palm, Adjustable cuff | Ratings: |
| Colors: White, Gray, Black | ⭐⭐⭐⭐ |
As the household name for making the best gloves, Maverik M5 is the newest upgrade of its classic M4. Keeping most of the classic features and popular functionalities, M5 added more functionalities and advanced tech. 
Due to some complaints about M4 not having enough breathability, M5 is designed with Quickdry Liner for better evaporation and ventilation. Its AX Suede and inhaler mesh palm proved to provide the best hand feel for gripping, which then has become the industry standard. 
I was able to get my hands on these gloves and everything about them is on point and made to perfection. Definitely worth consideration for goalies at all levels.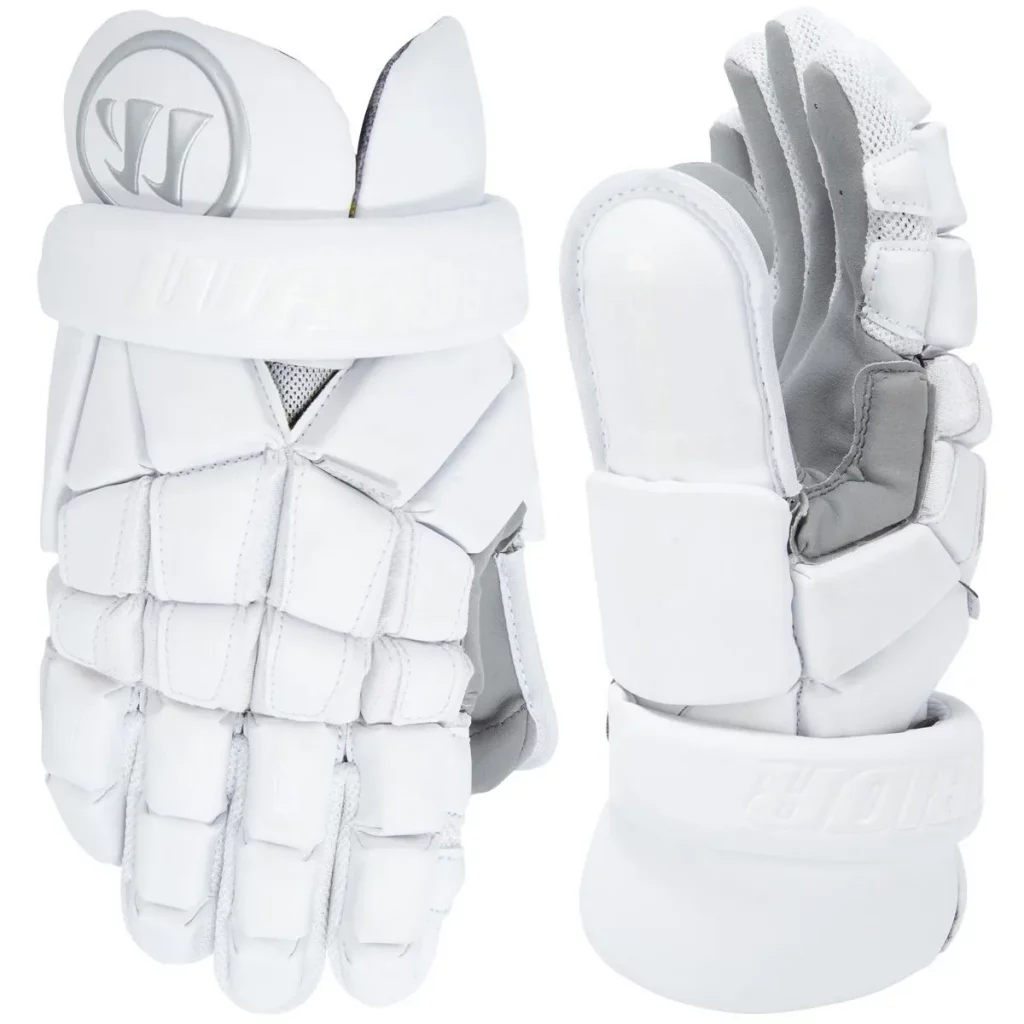 Warrior Nemesis Goalie Gloves
| | |
| --- | --- |
| Features: Bone System Impact, simplified cuff | Ratings: |
| Colors: White, Black | ⭐⭐⭐⭐ |
If the options above are above your budget, I also included two affordable options for your consideration. You get what you pay for. The cheaper options might not offer the best quality but especially for young players, these options are great entry products. 
The more affordable version of the Warrior Nemesis goalie gloves provides the best value for goalies without breaking a bank. 
They are made of very durable and flexible padding throughout the back of the hand. By having a more simplistic and stripped-down design, Warrior Nemesis is very flexible and lightweight. 
For aspiring young goalies, I recommend these gloves.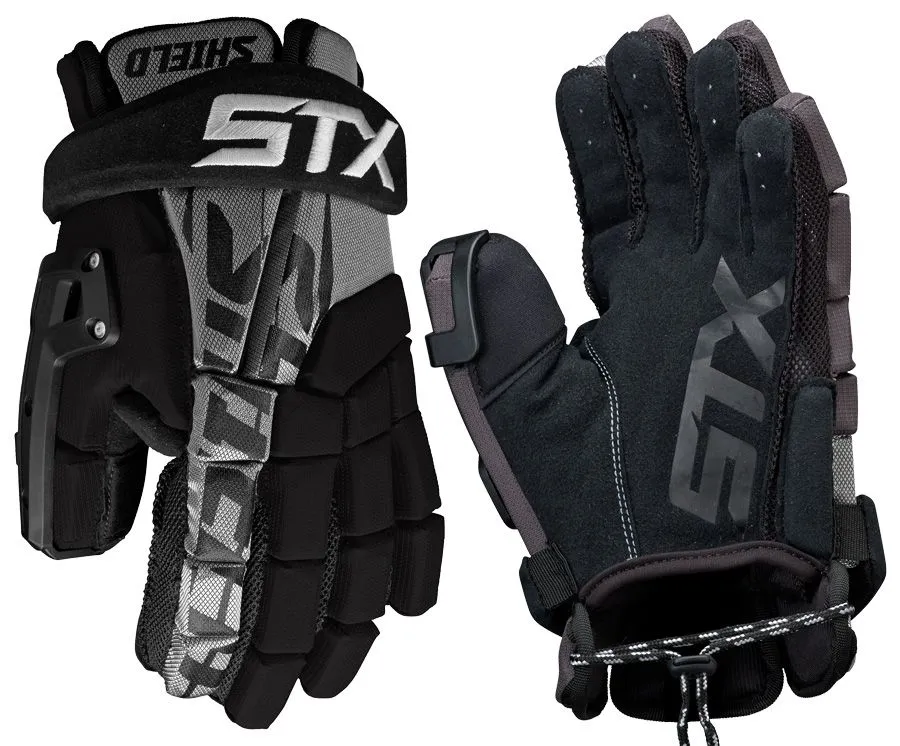 STX Shield Goalie Gloves
| | |
| --- | --- |
| Features: Fixed thumb guard, Extra protection on key areas | Ratings: |
| Colors: Navy, Red, Black | ⭐⭐⭐ |
These gloves are specifically made for beginner goalies with less experience. It features a reinforced padding on the back of the hand for more protection. With a fixed thumb guard, STX Shield allows young goalies to play with confidence. 
One thing I like about these gloves is the flexibility it provides. Suer lightweight without the feeling of weighing you down. As an entry product, STX Shield checks all the boxes you need.
Best Women's Lacrosse Goalie Gloves
For women's lacrosse goalies, there are a few options that you can consider. That said, there's a limited amount of gloves that are made specifically for women players, what many do is to select the smaller size men's gloves. 
Some gloves are in fact unisex so as long as you double check the sizing chart, you should be able to find a suitable pair.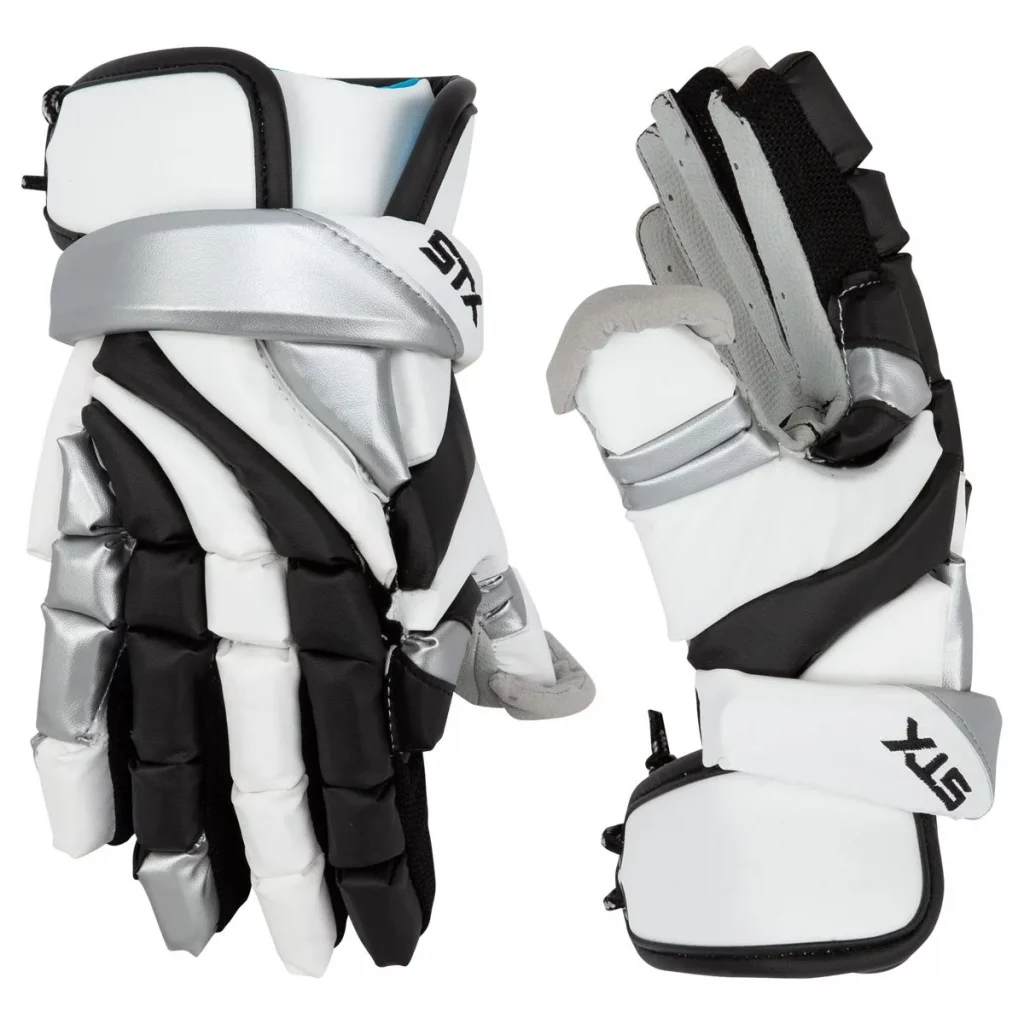 STX Sultra Women's Goalie Gloves
| | |
| --- | --- |
| Features: Padding on the thumb, women's fit | Ratings: |
| Colors: Black | ⭐⭐⭐⭐ |
STX is known for its comprehensive pool of products for men and women players. As one of the few goalie gloves specifically made for women, I found these Sultra gloves very durable and consistent. 
The design nicely contours women's hands with thinner fingers and palms. They are very comfortable and lightweight to wear. There is also extra padding on the thumb for more protection so that you can feel safe and secure on the field.
As a goalie, the ability to move swiftly is a must. These gloves allow you to make quick movements to save those challenging shots to the top corner. For women goalies looking for smaller gloves, consider these as one of the best options.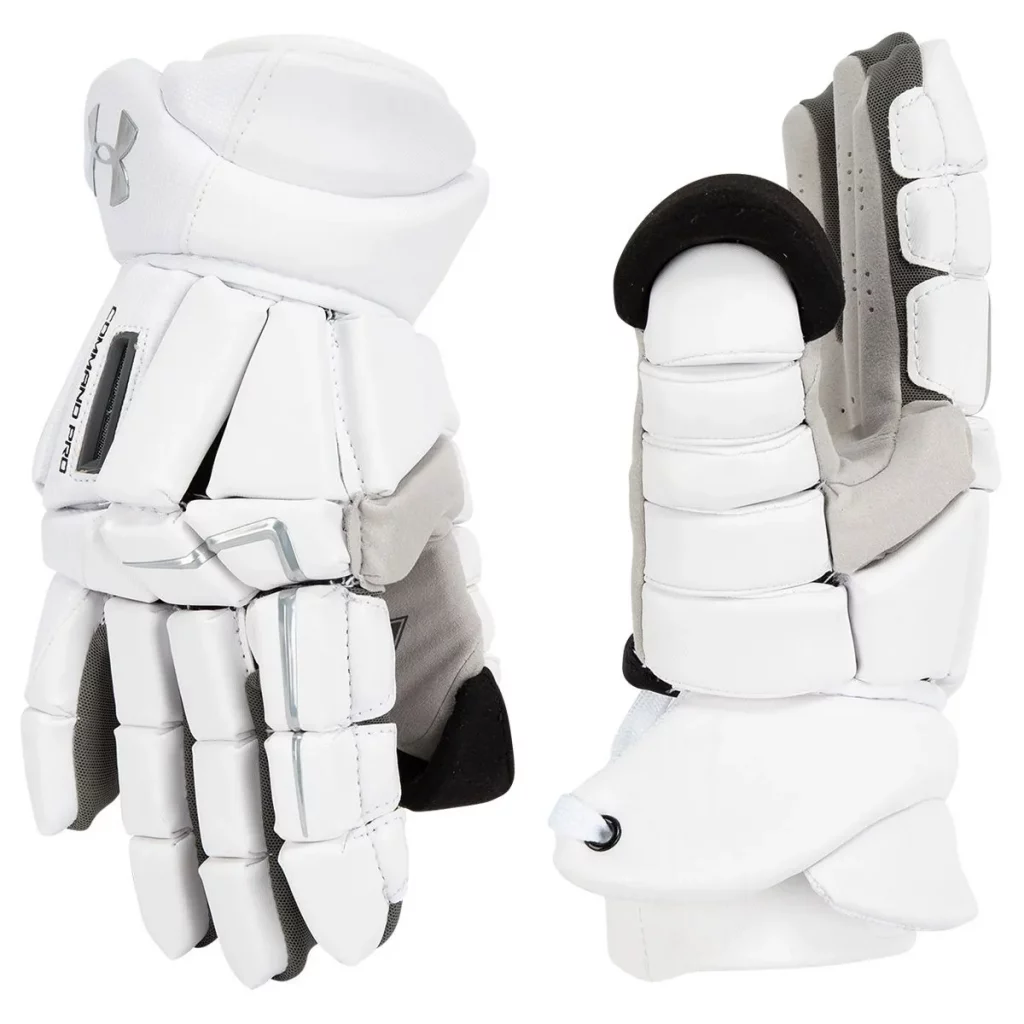 UA Command Pro 3 Goalie Gloves
| | |
| --- | --- |
| Features: SuspensionPad, Floating Armour | Ratings: |
| Colors: White, Black | ⭐⭐⭐⭐ |
Command Pro 3 is a unisex goalie glove for players from beginner to intermediate levels. Women goalies can perfectly fit the small size gloves. 
Command Pro 3 features patented "suspension pad" that allows gloves to contain their shape perfectly when hands are bent in various shapes. There is also extra padding on top of the thumb to prevent any bone injuries.
Featuring the standard AX suede palm materials, these gloves meet the premium quality standard to maximize your performance.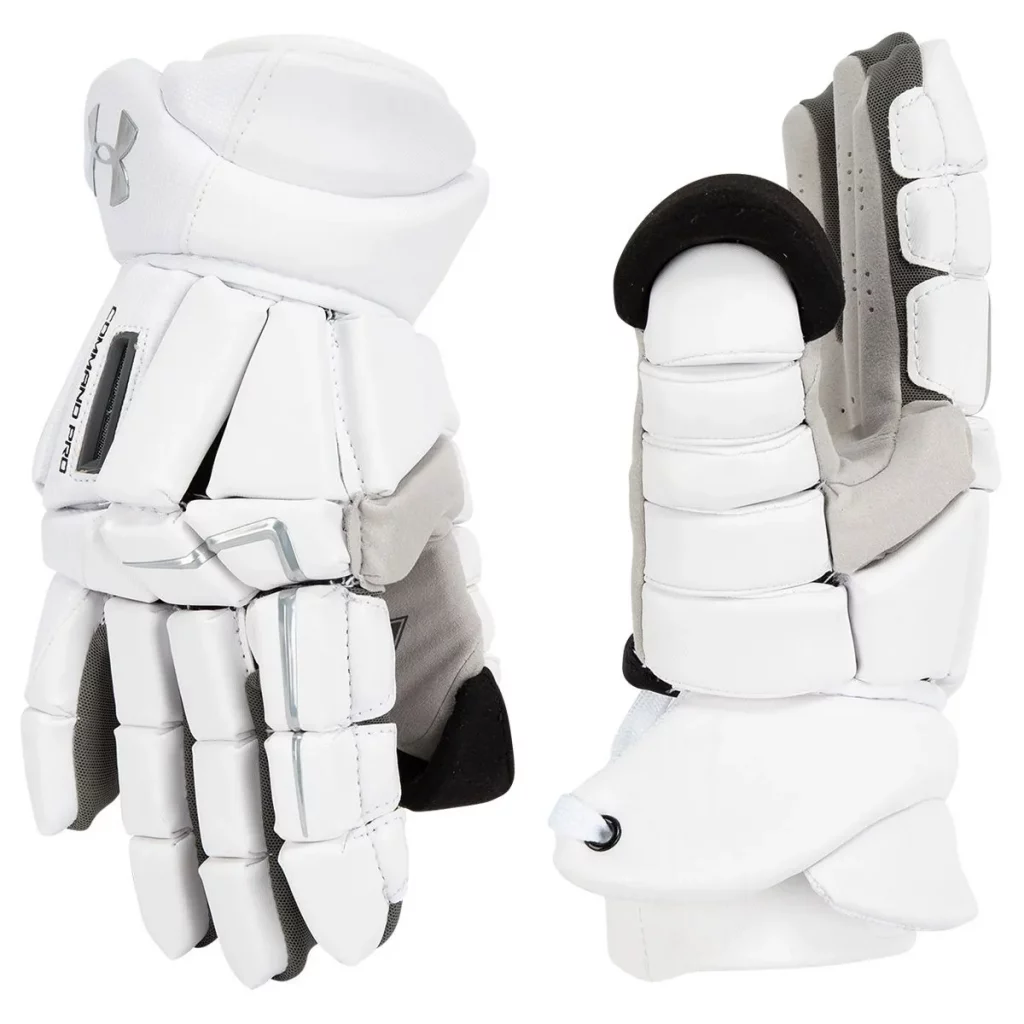 UA Engage 2 Goalie Gloves
| | |
| --- | --- |
| Features: Dual Padding, Floating Armour | Ratings: |
| Colors: White, Black | ⭐⭐⭐⭐ |
Another Under Armour product, Engage 2 has a similar design as Command Pro 3 and with more added flexibilities. In women's lacrosse, players put more emphasis on accuracy and angle when shooting, so flexible and durable goalie gloves are more prominent.
Featuring triple density floating padding, Engage 2 tops most other glove alternatives when it comes to protection. Double check the sizing. For a medium size women goalie, a size small "X" likely provides the best fit.
How To Choose The Best Goalie Gloves
Now we have gone over all the best goalie gloves. You probably wonder how I was able to select them out of all the other options available on the market. There are a few key criteria that I look for when deciding whether they are top quality or not.
Durability/Protection
The no.1 purpose of goalie gloves is to provide good protection. Best goalie gloves must have top tier protection and durability. Apart from having a good warmup, nothing can be more effective than wearing the best protective gear to avoid injuries.
If you pay attention, you see the best goalie gloves have an additional molded plastic around the thumb. This is a fantastic feature to prevent thumb injuries. I always recommend goalies get a pair of gloves with a thumb guard.
Also pay attention to what type of materials and technology is embedded inside the gloves to reinforce protection. Best gloves take pride in using the best and patent protected technologies to differentiate themselves. 
Comfortability/Lightweight
If protection is great, the next thing to evaluate is its comfortability. Best goalie gloves are comfortable and soft. Since your hands and wrists are delicate; materials around your hands must be flexible and gentle on the skin. 
Taking a close look at the product pictures, you want to see adjustable cuffs in these gloves for freedom of motion. A snug fit is also made possible when you can adjust how they wrap around your hands.
Next, great lacrosse gloves are lightweight. Most foam padding nowadays strikes a perfect balance between being light and being secure. If possible, take a trip to your local stores and try them on to get a feel. 
Since some products are quite new, there will be a lack of available customer reviews. So better to rely on your own judgment. 
Watch this clip that explains how to properly fit a lacrosse glove:
Brands
Some people might not take into account the brand factor, but I am a believer in choosing from popular products with a good track record. 
When it comes to purchasing goalie gloves online, the most reliable indicator is to read customer reviews. Established brands like STX, Maverik have products that are on market for many years so if there are any obvious downsides to the product, it's very easy to take note of them. And if they are good, you likely heard of them through word of mouth.
This is not to say smaller niche brands don't make great products, but I tend to be extra careful when buying protective equipment. No players want to be exposed to injuries so we should put every dollar into finding the best value product to maximize our performance. 
Price
The best gloves come with a hefty price. Needless to say, gloves can be expensive. This doesn't mean you have to buy the most expensive gloves. The more important question to ask is what price budget do you feel most comfortable with. 
Not all options I included above are the most expensive. Especially for beginner goalies, it's best to opt for a more affordable option or consider buying a used pair online. There will be tradeoffs but if you are not expecting to use them for a long time, affordable options are worth considering.
If you are a serious goalie, I strongly suggest you buy a premium pair because with good care, they could last a long time. Continue reading and find out how to properly take care of your gloves.
Lacrosse Goalie Glove Sizing Chart
Make sure to take a look at the sizing chart before making a purchase. Buying gloves that are either too small or too big poses a serious risk to your hands and fingers. 
If there's a brand you are currently using, better to stick to it for getting the best fit. If not, why not take a trip to a nearby local store and spend some time trying out different gloves. Once you identify a good size, compare the retail price with the online price to find the best deal.
| | | | |
| --- | --- | --- | --- |
| Size | Glove Length (inches) | Hand Length (inches) | Weight (lbs) |
| XS | 8" | 6" | Under 50 |
| S | 10" | 6.5" | 50-60 |
| M | 12" | 7" | 90-120 |
| L | 13" | 7.5" | 130-190 |
| XL | 14" | 7.75" | 190+ |
How To Take Care of Your Goalie Gloves
Premium gloves are expensive so you want to take care of them regularly to maintain their consistency and quality. By doing proper maintenance, your goalie gloves could last for multiple seasons, potentially your entire goalie career. 
Essentially there are three key points to remember when taking care of your goalie gloves:
Don't leave wet, sweaty gear in your lacrosse bag overnight. Once you are at home, take out your gloves and leave them in the open. By doing this will prevent bacteria and odor from finding their way into the gloves. 
Only use lacrosse bag to transport equipment; never use it as storage space. 
Don't forget to spray the gloves with sanitizing spray
To keep the gloves in good shape and condition, it's not a bad idea to use the sanitizing spray on them before every game. There are different kinds of spray. I recommend Vapor Fresh Natural Deodorizing Spray for cleaning and klling bad odor. 
This is a good practice to ensure they are always fresh and clean.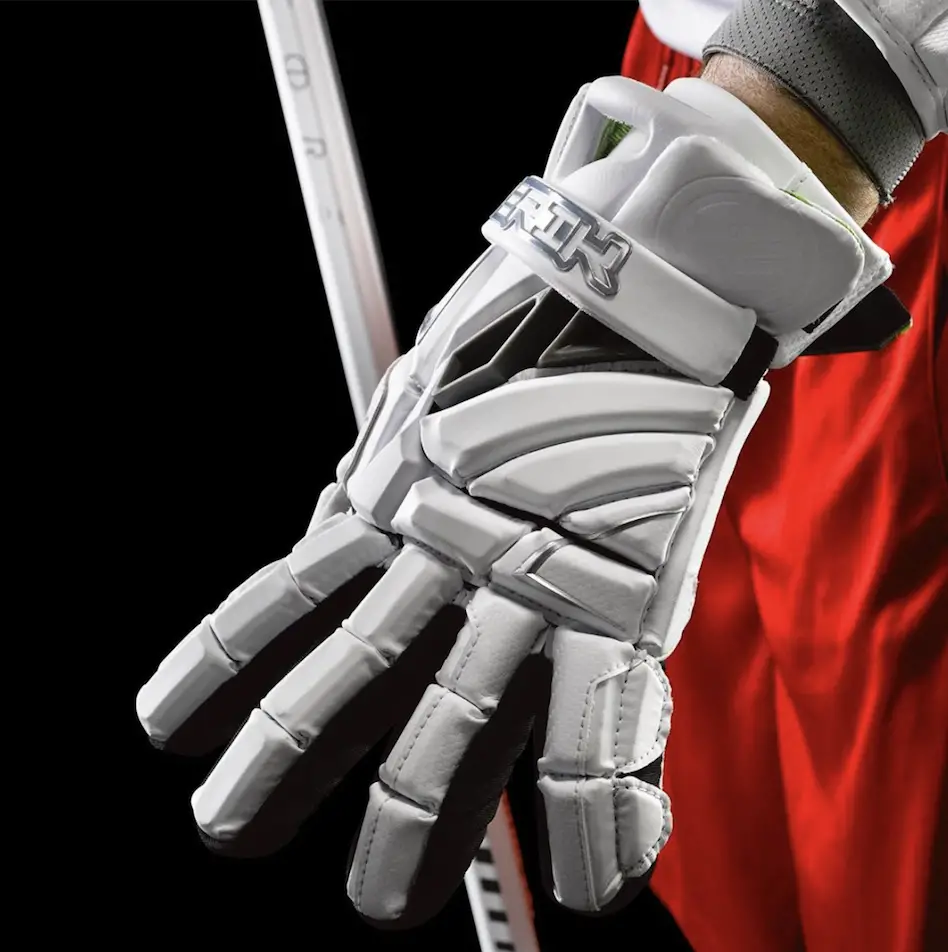 Put them in the washer once or twice every season
To do a deep clean, you should put the gloves in the washer every once a while. As long as you use quality detergent, gloves will hold their shapes and remove any dirt, gunk that are hidden inside. 
Washing them every week could potentially damage the leather, so once or twice every season is more enough. At this point, gloves are fresh and dry, so make sure to store them in an open space to ensure air flow. 
If not yet, start to follow these good practices. By doing so will not only make your gloves last longer but also allow you to have a pair of fresh and clean gloves to use before every game. And that could heighten your mood and energy right off the bat. After all, no one wants to put on a pair of smelly gloves.
Conclusion
There you have it. I hope this guide did a great job educating you to make an informed purchase decision. From choosing the best gloves to maintaining them, I want to make sure you are able to buy the best pair of goalie gloves that fits you. 
Take your time to consider different options. During the process should any questions or concerns come up, feel free to contact me.
Other goalie buying guides: