Protection is one of the most important qualities customers seek from equipment, especially for goalies. Since they are more vulnerable and subject to direct impacts from shots, equipping themselves with proper protection needs to stay on top of the mind. 
Although goalie pants aren't required for men, male goalies should consider wearing them nonetheless as it provides great protection around the thighs and hips. In contrast, women players at the high school level and below are required to wear goalie pants. These pants not only give you additional protection but also act as an assurance of feeling extra protected. 
Thus, in this post, I will show you the best lacrosse goalie pants options so that you don't have to compromise your movements while keeping yourself safely protected.
Best Lacrosse Goalie Pants Reviews
Most lacrosse goalie pants available today are anatomically designed which means they can be worn under team uniforms. So you need not worry about fitting them under your uniform.
Brine Triumph Goalie Pants
| | |
| --- | --- |
| Type: Goalie Pants | Colors: Black |
| Size: Men | Ratings: |
| Underneath shorts: ✅ | ⭐⭐⭐⭐ |
The Brine goalie pants have a flexible construction with multiple protection sockets at all sections of their size. The exterior layer is soft and cushioned. It can absorb the maximum impact of shocks and vibrations.
All the critical joints of the Brine pants are reinforced with protective inner seams and external pads. The multiple layered cushioning designs keep the waist, hips, and thighs comfortable.
The fabric can absorb sweat and moisture to protect your skin from allergens and irritating elements. The bottom hem has extra elastic padding for perfect fitment around the upper thighs.
You can even slide it up or down to match your thigh size. Enhanced protection over the scrotum protects the sensitive organ from shocks and vibrations.
The frontal design has sufficient space for accommodating protective cups if required. The waistband may look slightly relaxed in design. In fact, it is the flexibility factor that provides the most comfortable fitment.
It is also tight enough to stay over the waist without slipping up or down. The tightness factor allows free circulation and reduces allergic reactions.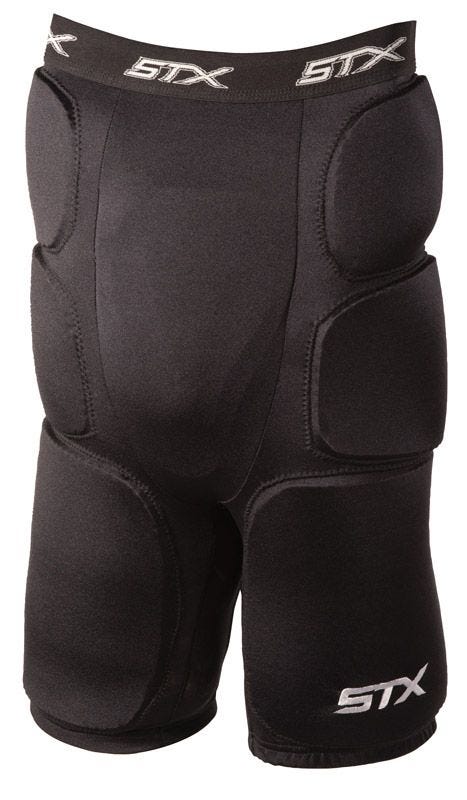 STX Breaker Goalie Pants
| | |
| --- | --- |
| Type: Goalie Pants | Colors: Black |
| Size: Unisex | Ratings: |
| Underneath shorts: ✅ | ⭐⭐⭐⭐ |
STX Lacrosse Breaker is good quality and nice fit goalie pants for young men and women goalies. The form-fitting, low profile spandex with redesigned pad configuration really creates that flexibility and freedom when doing move aggressive saves and body movements. This is the best thing I like about these goalie pants, which is the perfect balance between too tight and too loose. 
The padding is also specifically designed for goalies by absorbing and distributing shots evenly throughout. It's also pretty lightweight so players can wear it for a long duration without feeling tired and restricted. To increase comfort, the goalie pants also include an elastic waistband that allows adjustment and promotes flexibility. 
Overall, this is a great choice for young players at high school levels.
STX Deluxe Goalie Pants
| | |
| --- | --- |
| Type: Goalie Pants | Colors: Black |
| Size: Unisex | Ratings: |
| Underneath shorts: ✅ | ⭐⭐⭐ |
One very popular and good-quality lacrosse goalie pants available today is the STX Deluxe lacrosse pants. It features a multi-zoned, full mesh body design with moisture-wicking materials. 
One feature goalie pants have improved a lot from the old models is the moisture-transport system that keeps the pants from soaking in sweats and bogging down players' movements. In order to help players stay dry and cool, the moisture-wicking materials remove the sweat from the inner layer to the out layer which then gets evaporated. 
The padding is comfortable so they don't feel intrusive to your movements. After reading a couple of customer reviews, I found these goalie pants didn't have the best and most durable materials. They tend to rip after a few games.
Warrior Burn Lacrosse Leg Pads
| | |
| --- | --- |
| Type: Goalie Pants | Colors: Black |
| Size: Unisex | Ratings: |
| Underneath shorts: ✅ | ⭐⭐⭐ |
Warrior Burn leg pads are an elite product that helps goalies maximize their performance. By trying them on, you will immediately feel the all-around protection and lightweight construction.
The aerated pads on the exteriors of both thighs are meant to reduce the impact of fall, the ball, and the lacrosse stick. They can also protect you from direct body collision with opponent players.
Crotch and scrotum protection pads appear distinctly unique in construction. It matches perfectly with the physiological parts of the body parts in that section. Hence the protective factor increases multiple times. The entire fabric of the Warrior leg pad is protected with an inner cushion layer apart from the padding. This layer is elastic, yet firm. It allows you to move agilely all over the field without any dragging forces. You can stretch and rotate your thighs freely while bending, running and defending your goal. Lastly, the waistband is also aerated to allow free air circulation.
Shock Doctor Lax Relaxed Fit Impact Short
| | |
| --- | --- |
| Type: Impact Short | Colors: Black |
| Size: Unisex | Ratings: |
| Underneath shorts: ✅ | ⭐⭐⭐ |
Shockskin pants are designed and constructed with the latest high-tech features for absolute shock protection. It has four large protective pads on the thigh sides. They protect your hip joints, exterior thighs at the upper and lower sections. The scrotum protection pad has a high-density shock absorption pad that wraps around the genitals and the sensual organ.
It can endure the high impact of falling, ball collision, abrasion, and other damaging factors during the game. The most impressive factor of the Shockskin is the integrated cup-locking mechanism with an inbuilt carbon flex cup.
It can absorb all the external shocks and vibrations to keep the sensitive parts of your body injury-free. The waistband of Shockskin is large, firm and flexible.
Soft and skin-friendly inner layer fits onto the hips with the most comfortable level of tightness. Bottom hems over the thighs provide perfect fitment with free movement and rotation.
The overall construction of the Shockskin can boost your agility, speed, and reflex actions considerably. You can play your natural game without the fear of potential injuries.
STX Youth Lacrosse Goalie Pant
| | |
| --- | --- |
| Type: Goalie Pants | Colors: Black |
| Size: Youth | Ratings: |
| Underneath shorts: ✅ | ⭐⭐⭐ |
STX goalie pants look more like a protective shield for professional motorcycle racers. The perfectly stretchable and breathable fabric makes wearing comfortable. Protective pads are embedded onto every part to safeguard your thighs, scrotum and sensitive parts of the body.
The length of the STX pants stretches from the hips onto the kneecaps. Adjustable threads over the bottom hem can make it fit onto any size thighs with ease and comfort. The flexible synthetic mesh fabric can expand or compress to your specific body size.
Three-layered elastic bands at the waist and an adjustable hem at the bottom keep the pants perfectly tight and comfortable. Now you can jump, run, and cover the entire goal without worrying about injury risks.
Free airflow through the meshed design keeps your skin free from sweat and germs. You don't get the feeling of irritation and allergic reactions even when you wear the STX goalie pants for long practice or game.
Overall, these are great youth goalie pants for young players. One thing I would note based on the customer reviews is the sizing runs a little big so make sure to go a size smaller for a perfect fit. 
How to choose lacrosse goalie pants?
With many options to choose from, you want to make sure what to look for exactly in order to find the best lacrosse goalie pants for yourself.
In short, flexibility, safety, stability, fit, and comfortable experience are the main parameters you should consider in lacrosse goalie pants.
Seams: The internal seams of the pants protect the structural stability and stretchable features. You should be able to run, bend, jump, and stretch your legs comfortably. Read customer reviews to see if the seams are strong enough without ripping after a duration of game use. 
Fabric: Synthetic blended fabric is the recommended material for the pants. The machine woven construction will have highly dense constriction with a high stretch ratio. It is resistant to water, heat, humidity, dirt, and allergens. It is hand and machine washable. The fabric needs to have water/sweat resistance profile. Thankfully, all the options included above are moisture wicking so they won't be soaked in sweat during games. 
Construction: Protective foam pads with shockproof layers should be stitched over the exterior thighs, scrotum, pelvis, and quadriceps. These pads can protect the sensitive parts from external impact due to falls and collisions. The frontal protective layer should have sufficient space for the shielding cup at the scrotum area. 
Waistband: The waistband should have a highly elastic construction that can fit on comfortably and tightly. It should allow free circulation and movement of muscles.
Size: The lacrosse goalie pants are generally compact in size and extend from the hips to the upper thighs.
Conclusion
Now we have reached the end of this buying guide. I hope this guide has helped you find the best goalie pants you need. If not, feel free to write a comment below or contact me with any questions.
Learn more about my review of the best lacrosse goalie chest protectors.
Learn more about my review of the best lacrosse helmets in 2022.
Don't forget to check out the complete lacrosse goalie checklist to make sure you got all you need.