I noticed many beginner goalies tend to put less emphasis on their shafts as they do in their heads, granted with the fact that goalies have a rather unique job, preventing and catching balls from going into the net. 
What they don't realize is that this unique job still requires a unique shaft in order to have a good grip for game-changing goal saves. Goalie shafts are designed to help goalies get the ball out of the danger zone with precision and speed and are built for durability to withstand powerful shots. 
If you are on the market for the best lacrosse goalie shafts, here are some of the best options you can find in 2022.
Best Lacrosse Goalie Shafts Reviews
Maverik A1 Goalie Shaft
| | |
| --- | --- |
| Material: Scandium alloy | Ratings: |
| Length: 40" | ⭐⭐⭐⭐ |
| Color: Black, Silver, White | |
Every year Maverik releases a new model of their A1 goalie shaft, which means every year they get to refine their previous model against a higher standard. Although the differences aren't groundbreaking year over year, the subtle improvements do make a difference in lacrosse as a goalie. 
2022 Model is lighter, faster and stronger. It is one of the best goalie shafts on the market right now for higher-level, competitive gameplay. This shaft is made of a blend of scandium and titanium for the lightweight durability needed for quick saves and deflecting hard shots.
Featuring Maverik's patented GritGrip technology, A1 provides a solid gripping in all weather conditions so that you can always perform at your highest level possible.
If you are looking for a more budgeted option, check out A1 2019 model. 
StringKing Metal 3 Pro
| | |
| --- | --- |
| Material: Metal alloy | Ratings: |
| Length: 36" | ⭐⭐⭐⭐⭐ |
| Color: Black, Silver | |
If you read my best lacrosse shafts buying guide, you know StringKing Metal 3 Pro is a regular and familiar contender. The goalie version is definitely one of my favorite goalie products currently to ramp up your game. 
This shaft comes in two different weights: a lightweight 142 grams for young players 15 & under and a heavier 162 grams for older players. Although it's made of metal, it is super compact and lightweight. 
The concave shape gives you a good grip, as well as promotes quick and nimble hand movements. As of spring 2022, Metal 3 Pro for age 16 & Up is out of stock in most stores.
STX Outlet Goalie
| | |
| --- | --- |
| Material: 7075 Alloy | Ratings: |
| Length: 34" | ⭐⭐⭐⭐ |
| Color: Black, Platinum | |
This shaft is the perfect mix between a standard goalie shaft and a standard attack shaft length, coming in at 34 inches long. It is the perfect length shaft in order to transition from an attack length shaft to a full-length goalie shaft and is perfect for younger players who are looking to transition. Even better, STX Outlet is a classic affordable option without breaking the bank. 
It also features a unique teardrop shape and a textured grip that allow you to get a better grip on the handle, preventing ball twists from ruining the head of your stick and providing perfect control for speed and accuracy.
This is a great lightweight yet durable goalie shaft you don't want to miss.
ECD Carbon Pro 2.0
| | |
| --- | --- |
| Material: Carbon Fiber | Ratings: |
| Length: 36" | ⭐⭐⭐⭐ |
| Color: Black, White | |
Time to give some love to the great folks at ECD. ECD Carbon Pro 2.0 Goalie is a composite shaft that maintains durability while being lightweight. It is built to withstand some of the hardest shots that you can be faced with and allows for a goalie to have no worries when going in for the block. Pairing with their Kick Point Technology, this goalie shaft is built for making perfect savings and passes. Although in our best lacrosse shaft roundup post, we mentioned ECD Carbon Pro 2.0 attack has received some reviews about breaking, the goalie shaft holds up really well.
StringKing Composite Pro
| | |
| --- | --- |
| Material: Carbon Fiber | Ratings: |
| Length: 36" | ⭐⭐⭐⭐⭐ |
| Color: Black, White | |
To meet a popular demand for carbon fiber shafts, StringKing Composite Pro Goalie shaft is for goalies who prefer carbon fiber over metal. This goalie shaft comes with a decent amount of flex.
You could also expect top-of-the-line quality that is super stiff and impact resistant. Featuring an advanced taper design, this shaft doesn't create a single breaking point as it distributes the weight and material evenly throughout.
Same weight as Metal Pro 3, it's a little over 5 oz, allowing you to make quick saves and deliver faster outlets.  
Epoch Dragonfly Elite
| | |
| --- | --- |
| Material: Carbon Fiber | Ratings: |
| Length: 40" | ⭐⭐⭐⭐⭐ |
| Color: Black | |
Esthetically, this is really a cool and sleek-looking shaft. Quality wise, Dragonfly Elite is also Epoch's best goalie line. It's modeled based on Epoch's Dragonfly C40 with proprietary technology added on top, such as surface veil technology for better gripping and advanced carbon layering for more durability.
Its concave design with a slip/grip top coating makes it easy for hand control when saving and throwing quick and long outlets. 
All in all, this is a technology-packed carbon fiber goalie shaft that takes your performance to the next level.
STX Sc-Ti O Goalie
| | |
| --- | --- |
| Material: Metal | Ratings: |
| Length: 40" | ⭐⭐⭐⭐⭐ |
| Color: Platinum, Black | |
STX premium Sc-Ti product line also offers a great goalie shaft that is worth considering. This is a metal shaft made with a mix of scandium and titanium alloys. Just like other Sc-Ti shafts, the Sc-Ti goalie shaft has the highest strength-to-weight ratio and is super compact. 
A perfect 34 inches long doesn't weigh you down and decreases your hand's speed. Gripping uses a traditional concave octagon shape that is comfortable and max sandblast finishing keeps your performance consistent in all weather conditions. 
Another great thing about Sc-Ti O Goalie shaft is you can easily pair it with STX Eclipse 2 to complete your perfect goalie stick.
What's the difference between a longer goalie shaft and a shorter shaft?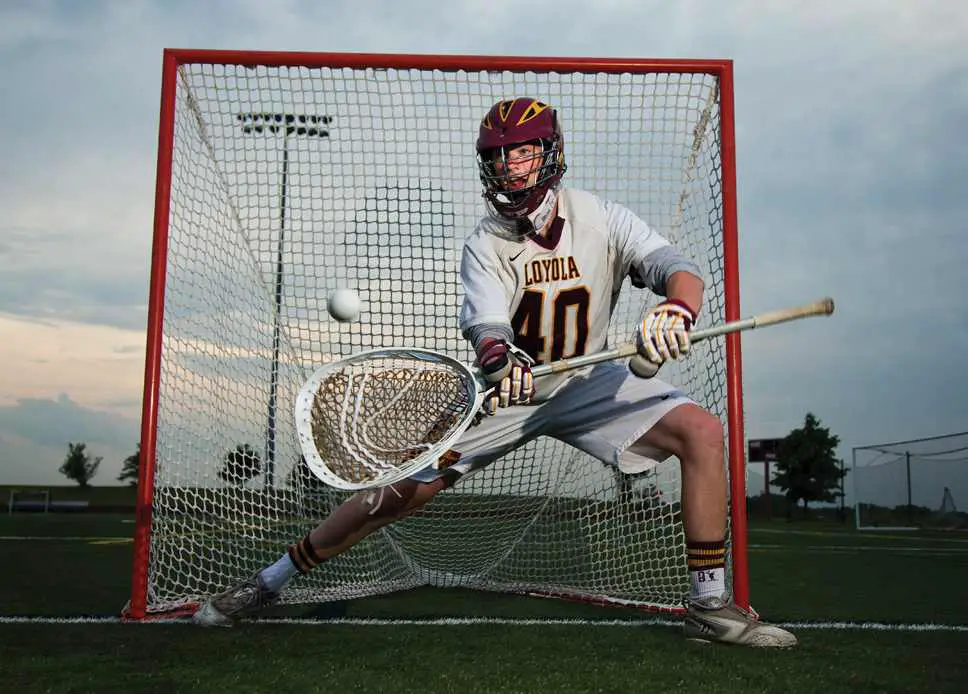 Before we jump into what qualities to look for from great goalie shafts, I think it's important to first make a distinction and observation between long and short goalie shafts. The shafts mentioned above are mostly 34, 36 or 40 inches long. Even though goalies are allowed to have a longer stick up to 72 inches, most goalies keep their shafts short for mainly two reasons. 
First, shorter shafts are less cumbersome and bulky. A lightweight shaft makes you feel more in control and are more prone to quick motions and rotations. If you are a goalie who likes to get outside the goal and run the ball up the field, you would definitely want a shorter goalie shaft. 
Another thing about having a short shaft is that it's less likely to get caught on the net, so it allows you to make wide and clear rotations when saving. 
On the other hand, a longer shaft also has its own merits. Right off the bat, a long shaft is easier to scoop ground balls and clamp rebounds. Since it's longer, it has more weight which generates more power necessary for a long outlet pass. 
A traditional long goalie shaft is also more balanced in its weight distribution whereas a shorter stick can be top-heavy. Lastly, a long shaft does provide more coverage and can come across as more intimidating to offense players. The mind game makes a difference. 
Since now you understand the nuances between long and short shafts, it's time to learn what makes the best lacrosse goalie shafts the best.
How To Choose A Goalie Shaft
Choosing a goalie shaft is all preference. You have to decide what type of player you are and what fits your needs, but there are some things you can look at while picking out the perfect shaft for you.
Shape
One of these things is the shape of your shaft. When deciding on a shape, it's going to be important to test out different types to see which one gives you the most gripping and comfort. Currently, the most common shapes are traditional octagonal and concave.
Weight
As we alluded to in the last section, the length of a shaft is correlated with its weight. However, this is not to say a longer shaft will be heavy. Options included above are all made of highly advanced materials that offer the most efficient strength-to-weight ratio. 
While there is more than one factor that goes into having quick hands, generally the lighter your shaft is, the lighter your overall setup and the quicker your hands would be to save and block a shot. 
If you want an extra lightweight option, getting an attack shaft is quite popular.
Materials
In the best lacrosse shaft roundup, I took a deep dive into all the different materials. In the realm of goalie shafts, the most popular choices are metal and carbon fiber. Both of them are great. It's really up to your personal preferences depending on what features you are looking for. 
Metals are more classic and tend to have less flex but more stiffness. Whereas carbon fiber is newer and tends to have more flex but less stiffness. Metals are more prone to absorbing shocks and impacts that cause dents on the surface.
Bottom line
I hope this framework could help you identify and pick the best goalie shaft for yourself or your kid in 2022.
The Benefits of Picking Your Own Shaft
One of the best parts about being able to customize your own shaft is the fact that you know what type of player you are. It's a liberating experience that allows you to up your play caliber and give you more and more opportunities when it comes to lacrosse.
If you are just starting out, buying a premade combination is perfectly fine, but when you are looking to hone your skill, customizing your stick is a great way to do it.
Conclusion
As a goalie, you are looking to gain total control against your opponents in front of the goal. By combining different heads and shafts to create the right combination for yourself, you are able to come to the perfect medium for your capabilities. Don't forget, you have the freedom of choosing a wide range of shafts in different lengths so don't be afraid of testing out new things that you might never know could otherwise be the perfect pick for you.
Check out other goalie buying guides:
>> Best Lacrosse Shafts in 2022
>> Best Lacrosse Goalie Chest Protectors
>> Best Lacrosse Goalie Pants For Men
>> Best Lacrosse Gloves For Goalies