I love doing the best lacrosse heads roundup; one it's the most important piece of equipment so I want my readers to get their hands on the best, two there are always exciting new releases coming out every year to review. 
2022 is no exception! Whether you are planning to buy a new head for this season or simply checking out some great options, this post has them all. We will highlight and review the top 3 heads for every position. Depending on where you play, I have also written reviews that provide you with a full list of options for each specific position.
See below to learn more:
I have done a lot of preparation prior to writing this guide to make sure the heads included are the best currently on the market. In addition to scouring available information online, I also got my hands on most of the heads to give you an honest and first-hand review.
| Product Image | Lacrosse Head Name | Recommendation | Check Price |
| --- | --- | --- | --- |
| | STX Surgeon 900 | Best Attack Lacrosse Head | Check Price |
| | ECD DNA | Best Defense Lacrosse Head | Check Price |
| | STX Eclipse 2 | Best Goalie Lacrosse Head | Check Price |
| | STX Duel 3 | Best Faceoff Lacrosse Head | Check Price |
Jump to the section you want to see:
Best Attack/Middie Heads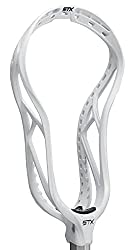 STX Surgeon 900
Improved precision
Great ball retention
Good stiffness
Easier and faster scoop
Extremely light
Once used to the lightweight, hard to go back to other heavier alternatives
A most recent upgrade from Surgeon 700, STX Surgeon 900 has proven to be one of the best lacrosse heads for elite offensive players. Its super lightweight design, weighing in 4.4 oz and around 125 grams, is made for utmost speed and control. 
It features several proprietary technologies that definitely offer more precision and gripping control for an attackman
Tight face shape that is great for attacking and ball retention. InnerLock™ provides more flexibility with stringing by narrowing the channel for nicer hold
Speed Scoop™ design makes sure you can pick up groundball quicker and easier from any angle of attack 
Unlike the previous version, Surgeon 900 is made of EnduraForm™, which allows it to hold good and consistent stiffness, strength and durability while being super lightweight.
After chatting with several college lacrosse players, STX Surgeon 900 appears to be the newest winner of attackman's choice. This is my pick for 2022.
StringKing Mark 2A
Low offset perfect for one-handed cradling
Very light
Great durability
Nice scoop
The wider face shape could take some time to get used to
Right off the bat, Mark 2A really stands out from other attack heads with a wider face shape design, which gives attackmen a better and wider catchability of the pocket. 
Its large offset has that nice low sloped profile that is very crucial when attackmen often need to cradle using one hand and keep the ball away from long-stick defenders. 
Next, let's talk about weight. Although Mark 2A isn't as light as Surgeon 900, it's still extremely light coming in at 4.5 oz or 128 grams. That truly makes Mark 2A another lightweight offensive powerhouse. 
Per usual good stiffness, durability and nice flat scoop as you can expect from StringKing. 
Overall StringKing Mark 2A is well designed to provide the perfect balance of performance, durability and weight.
This is a choice you can't really go wrong.
Warrior EVO QX-O
Pretty light
Durable and stiff
Pinched down face shape
Sidewall holes are cut downward
Sidewall holes end early
The newest upgrade in the Warrior Evo line from Warrior Evo 5 that was released 5 years ago, Evo QX-O largely resembles its predecessor in terms of visual and design 
One noticeable difference is the weight. Evo QX-O weighs in 4.9 oz or 139 grams, compared to the bulkier Evo 5 weighing in around 5.5 oz or 156 grams. As you can tell by now, attack heads are becoming lighter and lighter in order to maximize the power and control of shooting. 
Replicated the more pinched down throat design, Evo QX-O is as stiff, if not stiffer, as the Evo 5 with a more durable and high heat resistant Therma-Loc resin plastic material.
Since QX-O is very similar to its older versions, its sidewall holes are cut down into the head and the holes end early as well, potentially making it hard to string. For people who aren't used to the Evo line, this should be a feature to be aware of. 
If you are used to the Evo line, Evo QX-O is a worthy upgrade to consider.
>> Click here to check all best attack/middie heads
Best Defense Heads
ECD DNA
Super stiff
Great durability
Nice scoop
Skews towards the heavier side of the spectrum
Wide face shape
Talking about how stiff and durable a head could be, ECD DNA definitely has a seat at the table. Needless to say, DNA is the stiffest defensive head out on the market.
DNA is marketed to be suitable for all positions, but it has become extremely popular among defensemen and LSMs for its great warp resistance and shape retention. If you tend to go for hard checks, you can't really go wrong with this head. 
It also has a decent scoop and great face shape for passing although I did see some players report it's a little too wide as an attack head. 
All in all, DNA is a no-brainer defensive head to consider.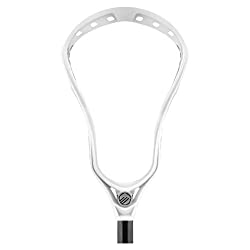 Maverik Tank 2.0
Very stiff
Great durability
Improved scooping
Wide face shape provides less control
Stringing could be an issue
A 2021 release of Maverik's Tank line, Tank 2.0 kept most of the designs from Tank 1.0 as well as improved upon it. 
Right off the bat, this head is super stiff, as the name suggests, like a tank. Six struts on each side make this head very warp resistance and durable. Again, defensive players need that extra stiffness to deliver solid hard checks.
They redesigned the scoop by adding more roundness on the back that definitely improves the ability to pick up groundballs. In terms of face shape, Maverik is very generous with making it a wide face shape head. Therefore, it is more preferable for pure defense players, not necessarily preferable for LSMs. 
One potential issue you might run into is stringing. Since it's so wide, it will be tough to get the high pocket to match up with the head.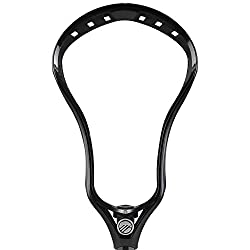 Maverik Havok
Pinched face shape
Good scoop
Lighter than most D heads
Not as durable as most D heads
Unlike traditional wide defense heads, could be something to get used
Next in line, Maverik Havok is a defense head that is more geared toward LSMs. Unlike the Tank, Havok has a much tighter pinched face shape as LSMs are more involved in passing as transition players. A tighter face shape also allows you to string a narrow channel and a quite perfect defensive pocket. 
As far as the scoop goes, Havok uses the ground control scoop with a nice angle that makes picking up groundballs super easy. Stiffness is good but not as stiff as the traditional D heads for Havok is positioning itself more as a transition head.
For defensive players who like to gain more control and accuracy, Havok is definitely a great choice.
>> Click here to check all best defense heads
Best Goalie Heads
STX Eclipse 2
Most popular goalie head option currently
Great face shape for a big clearing area
Very comfortable to hold
Lightweight
Might not be the stiffest head, but is above average
Pretty pricey
STX Eclipse line has an undoubted reputation when it comes to goalie heads. This is currently the best goalie head recommended by pros and coaches alike.  
If we roll back the history, the original STX Eclipse actually came out over a decade ago and it has since become the option for many goalies despite being an old product.  
Due to its continuing popularity, the second version was launched in 2017. It is definitely an upgrade on the former design. Salient features include a secure and comfortable grip around the throat and stiffer and more durable rails to withstand power shots and prevent the head from folding backward. In addition, the design comes with double the amount of string holes to increase stringing customization. 
Eclipse 2 has revamped the scoop design, incorporating STX's signature speed scoop technology to make it quick and easy to work with ground balls. Likewise, the offset design allows it to throw clean and quick outlet passes.
This is certainly a successful continuation of their Eclipse 1 by both maintaining the overall face shape and implementing improvements to make an even better goalie head. It deserves to be named the no.1 goalie head currently on the market.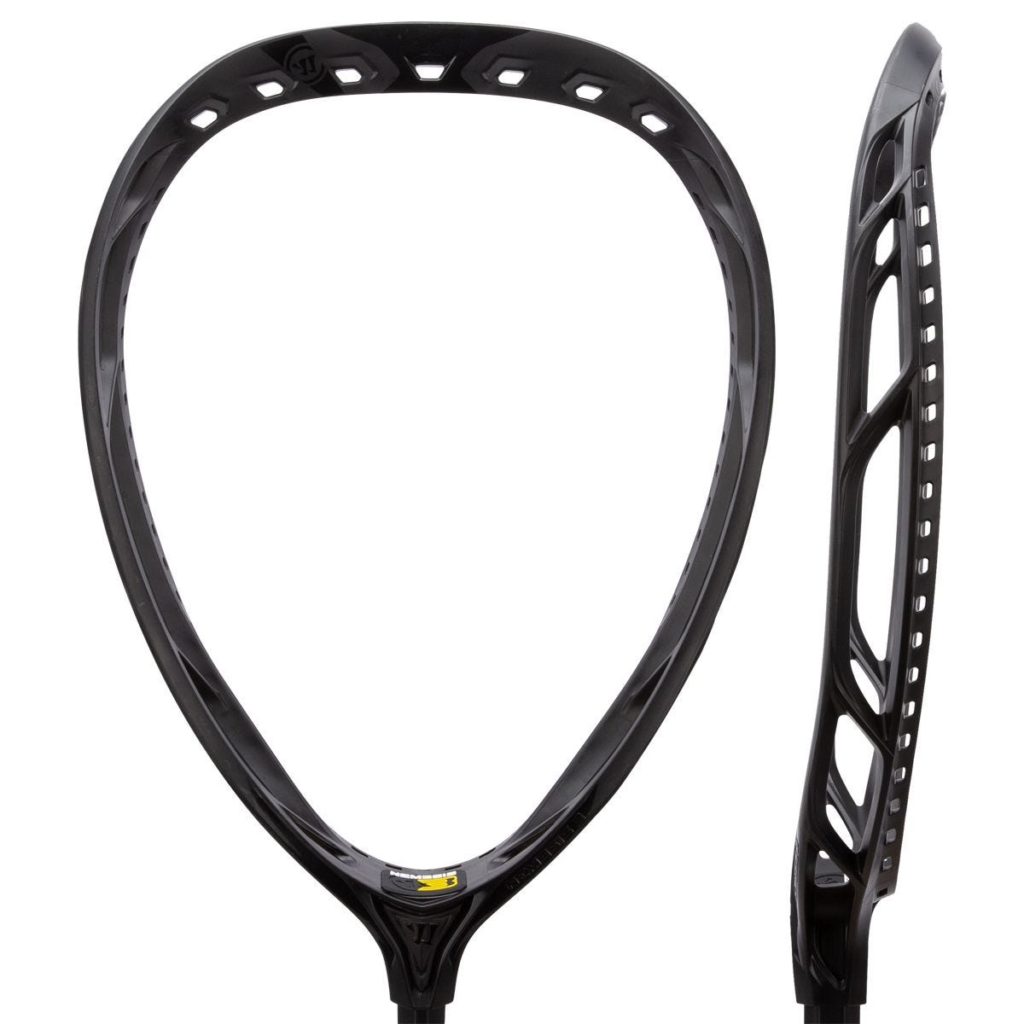 Warrior Nemesis 3
One of the lightest heads available
Very good quality and stiff materials
Plenty stringing holes
Might need to take some time to adjust the different face shape
There are two golden children that most goalies choose and rave about, one is the STX Eclipse line, the other is the Warrior Nemesis line. 
A decent upgrade from Nemi 2, Nemesis 3 is lighter and stiffer with a more game friendly design. In fact, it's one of the lightest goalie heads available right now. Unlike Eclipse's oval face shape, Nemesis adopts a rounder face shape that offers a more balanced feel in the hand and a larger saving area for goalies during games. 
It comes in medium weight and standard throat design and provides a great amount of stringing holes on the sides. In addition, many players will find the struts on the sidewall more than adequate. By striking that perfect balance between weight, price and durability, Warrior Nemesis 3 is an ideal purchase for both young and professional goalies. 
A relatively new release in 2019, Warrior Nemesis 3 is a must-have to consider.
StringKing Mark 2G
Plenty stringing holes
Wide face shape for clearing
Great customer support
Super lightweight
Shortened throat could lead to less gripping
As one of the reputable and popular brands in lacrosse, StringKing continues to deliver satisfying and good quality gear for laxers of all ages and skills. 
After STX Ecplise 2 came out, a few different brands have decided to follow suit, which has greatly expanded the options for players. 
Mark 2G was launched in 2020 and it has quickly become one of the most popular heads among goalies. It is crowned to be the lightest goalie head currently on the market, under 11 oz.
Without sacrificing quality and durability, Mark 2G has good stiffness and a large surface area with plenty of sidewall holes to work with. It's a perfect head for players who want different pockets and stringing customizations. 
If you are familiar with StringKing attack, faceoff and defense heads, you will be very comfortable with this head design as it strikes a lot of similarities to the other heads. 
It has a low profile, shortened throat that might be an issue for goalies who like to use one hand to grip the throat as it doesn't leave much space. 
Overall, Mark 2G is a great and high-quality goalie head that comes with a six-month warranty.
>> Click here to check all best goalie heads
Best Faceoff Heads
STX Duel 3 (Suitable for FOSO and FOGO)
Better durability
Quality material
A straight throat for hand placement
Great scoop
A worthy purchase mostly for people who used Duel line in the past
The newest release of the STX Duel line in 2021, STX Duel 3 is worth the hype. It adopted many favorable designs from the last iteration Duel 2 and made further solid improvements, such as more durable Reflex plastic and a straight throat. So if you have been using Duel 2 and Reflex, Duel 3 is an ideal upgrade. 
Reflex™ technology offers better warp resistance and durability. After twisting, it will reflex quickly and snap back to shape. Great shape retention is key for FOSO players as they need that consistent performance from the head after a faceoff. 
Additionally, it features the popular Speed Scoop™ for groundballs. 
All in all, this is a great Duel product with many spot-on upgrades, especially if you are a fan of the Duel line. I definitely think this is one of the best faceoff heads you should consider in 2022.
StringKing Mark 2F (Suitable for FOSO and FOGO)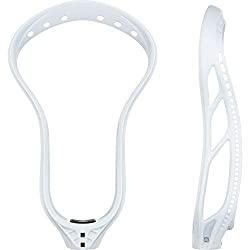 Nice warp resistance
Nice scoop
A nice short throat
Good SNG head
The reason why I put StringKing Mark 2F next is the fact that it largely resembles the STX Duel line. Specifically, its face shape and sidewall holes are very similar to a Duel. 
One great improvement they did is the scoop. A more angled and powerful scoop makes it easy to pick up ground balls from all angles. 
It has a short throat that is perfect for a faceoff and a straight down sidewall design for ball retention. 
The no.1 factor we look for in a faceoff head is its material. Whether it has great warp resistance, great durability and flex. With new hybrid plastic, Mark 2F has nailed those features. 
No matter how much pressure you apply to twist the head, it snaps back to its original shape. This new material definitely is a game changer which gives this head a great balance of flex and stiffness. 
One minor downside to highlight is that it does take some time to break in as the material is known for its shape retention. 
Overall, this is a great option as an SNG faceoff head. Recommend!
Nike CEO 2 (Suitable for FOGO)
Great face flex
Great flexibility
A nice short throat
Not the best warp resistance faceoff head
Ever since Nike CEO became a popular head for faceoff due to its nice face flexes, the CEO line is chosen by more faceoff players than middies (originally targeted position). Took that lesson, Nike released CEO 2 which is designed for FOGOs only. 
How faceoff players became a fan of CEO is because of its face flex. The sidewall structure creates big open spaces that allow the head to condense down on itself when facing off. 
Similar to CEO, CEO 2 replicates most of the original design adding just a few modifications specific for faceoff. 
A couple of modifications to highlight: a shorter throat, a more rounded scoop and a stiffer material
Since CEO 2 specializes in FOGOs only, you shouldn't expect high durability and warp resistance from this head, which means you will likely need to replace this head more often than other options.
>> Click here to check all best faceoff heads
How To Choose A Lacrosse Head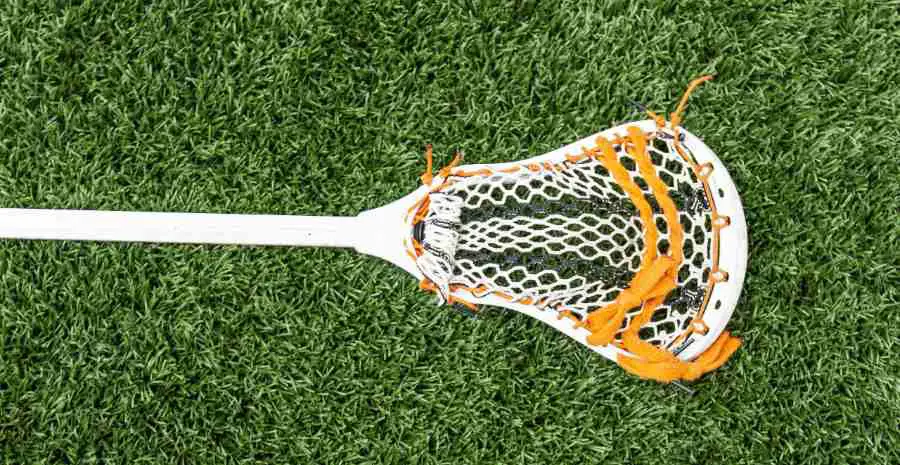 Let's be honest, there are so many options to choose from the market today, so how do I make sure they are actually the best heads to consider? Well, thanks to many years of experience playing, I have developed a system that identifies the good from the bad, even without having to feel the product in my hand. 
In this section, I will show you what characteristics to look for so that you can also become an expert in selecting the best head for yourself or your kid. In short, here are the 5 most important things to evaluate when making a purchase:
Face shape
Right off the bat, the first thing I look at is the face shape of a head. Because a head functions as the primary vehicle to cradle, shoot and pass, the face shape determines how well it retains and controls the ball. 
Also depending on your position, a great head takes that into account by adjusting the shape to find the fine balance between control and accuracy.
For an attacker, a narrow head works the best as you need maximum ball control when making sharp turns and accurate shooting.
For a middie, the range is wider given you cover every part of the game. Anywhere from a pinched attack head to a wide defense head, you can choose any face shape in between. 
For a defenseman, you will be mainly looking for a wide head to maximize interception and coverage area. However, a wide head also means you will lose some ball control, so I typically still go for a fairly pinched defense head.
For faceoff, you will find the face shape to be similar to a attack head. A narrow head helps to clamp the ball well. 
Materials
Once you identify the face shape, it's time to figure out the materials. What materials the head is made of directly contributes to its stiffness and durability. 
Luckily, brands have continuously pushed the boundaries in terms of how tough the plastics can become. All the options above share this important quality, which is they are very durable and withstand a great amount of wear and tear. 
In addition to reading the review above, be sure to check out their product pages as well to learn more about the advanced plastics they use.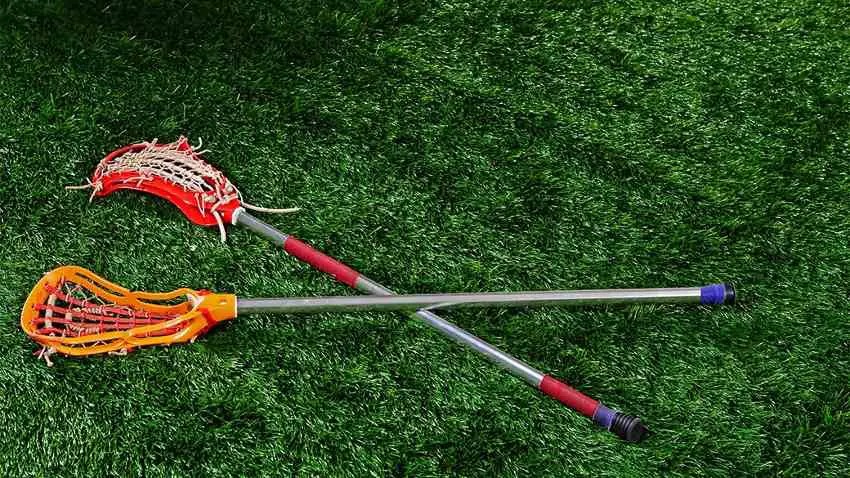 Weight
Another important reason companies are developing better and better materials is to maintain or even decrease the weight of a head every year. See, there's a fancy term companies like to use when marketing their heads, strength to weight ratio.
What this means is how to make the head more durable without adding weight so that it reaches a higher ratio. This is a great metric to benchmark your head against and typically the best heads will mention this ratio particularly. 
Stringing
Remember these are all unstrung heads, which means how you will string your head is also, if not more, important. So you want to check where the pocket placement is located by measuring the offset.
Hold out your head horizontally and look for the lowest point on the sidewall rails. That will be where the lowest point of the pocket lands. 
A general rule of thumb is attackers look for low pockets, middies look for something in the middle between a low and high pocket and defenders go for high pockets. 
Scoop
Last but certainly not least, don't forget about the scoop! Those critical groundballs often determine the outcome of a game, so you need the best scoop to seize the opportunities. The worst nightmare I have with a head is a poor scoop that slows you down. 
Pay attention to the shape of the scoop. A more rounded and smooth scoop is often a good sign that it picks up groundball very easily. Also, check if they mention any technology in their scoop, such as STX iconic speed scoop.
Conclusion
Without a doubt, there are a lot of things to consider when it comes to picking the right head. I hope this guide has served as a great starting point as you develop in your lacrosse career. Again, a lot of different factors and considerations have gone into making this list, and I hope you have learned a thing or two about how to make an informed decision on your own.
Maybe these heads are a little bit out of your budget. Don't worry; I have also prepared a list of affordable heads that are great for readers looking for cheaper options.
To summarize, these are the best lacrosse heads in 2022:
| Product Image | Lacrosse Head Name | Recommendation | Check Price |
| --- | --- | --- | --- |
| | STX Surgeon 900 | Best Attack Lacrosse Head | Check Price |
| | ECD DNA | Best Defense Lacrosse Head | Check Price |
| | STX Eclipse 2 | Best Goalie Lacrosse Head | Check Price |
| | STX Duel 3 | Best Faceoff Lacrosse Head | Check Price |
Additional Resources
What comes next after buying an unstrung head? Time to string your head with the best available mesh and string kit to make your head ready for a great season.