As players and parents become more mindful of concussion risk, having a good and sturdy lacrosse helmet is mandatory protection for lacrosse players. It shields your head from strayed power shots and heavy missing slashes. 
To help you select the best helmet for safety, this guide will show you the best lacrosse helmets on the market today for all players as well as what features to consider when buying your lacrosse helmet.
Note, women's lacrosse doesn't allow physical contact therefore women players don't wear helmets but goggles or headgears instead.
Jump to the section you are looking for:
Best Lacrosse Helmets For Men In 2022: Detailed Reviews
Based on the sizing, for players in 12U & above, your best bet on finding a good and fitting helmet is in adult helmets. I have also done in person due diligence by trying them on and I am glad to present to you the top 6 most popular and NOCSAE approved helmets today. 
Cascade XRS Helmet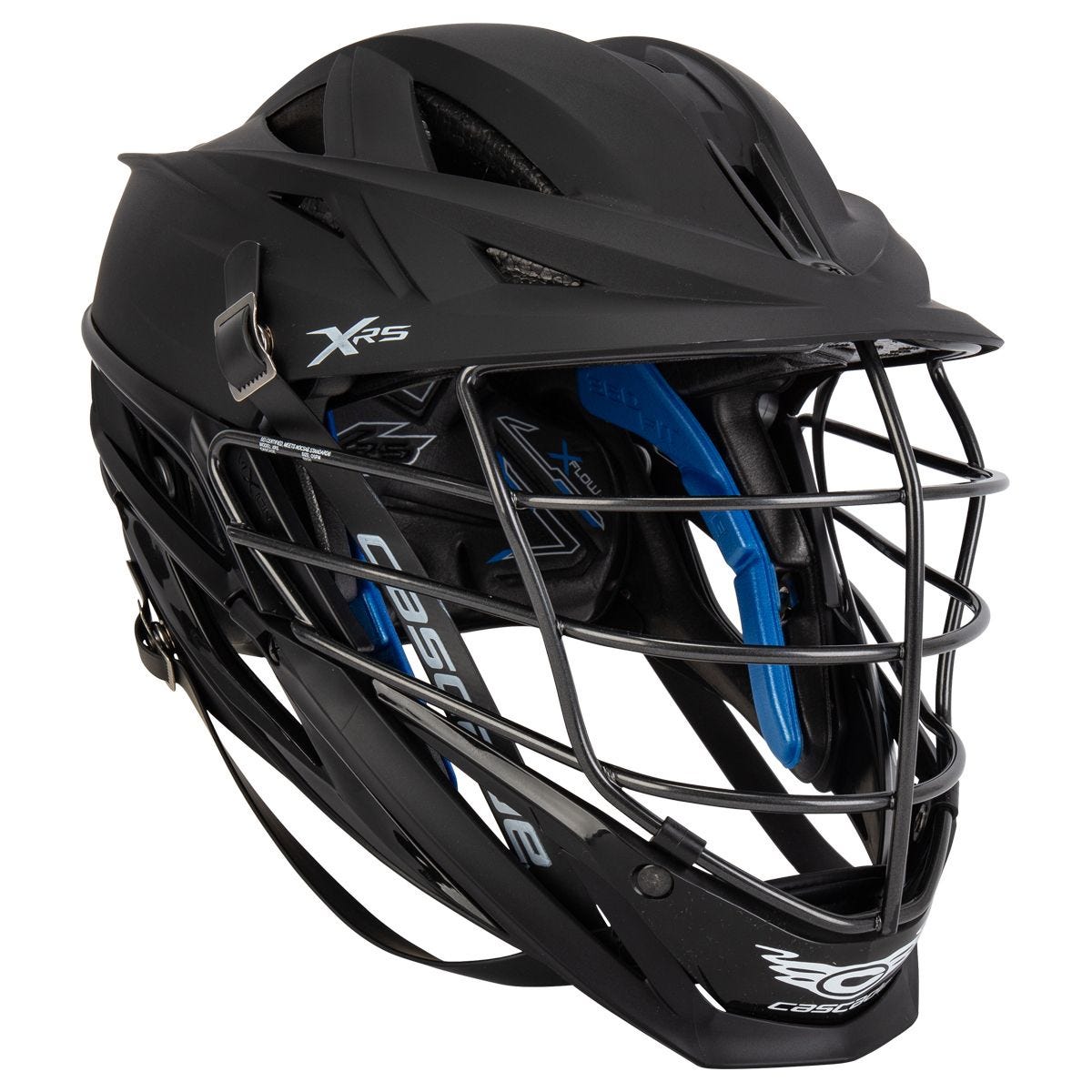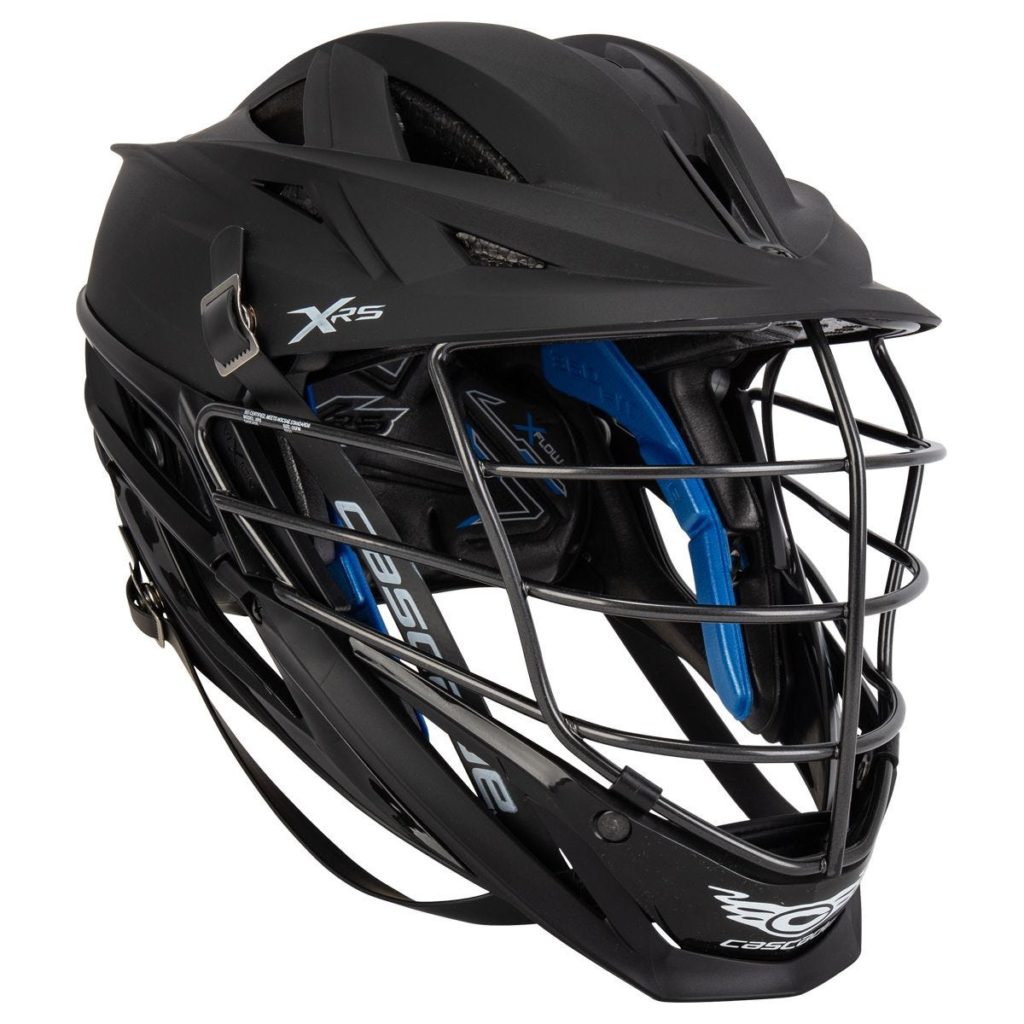 As the best lacrosse helmet manufacturer, Cascade is the industry standard that sets forth with another newest release for 2022. XRS helmets also quickly rose to the top of the best-selling helmets today.
If you watched PLL games and the D1 tournament last season, you probably have seen this helmet being worn by many professional and elite lacrosse players. Its Tri-Liner system withstands all kinds of powerful hits to create optimal and full 360 degree protection. One noticeable upgrade is the exterior double jawbone design that further improves the fit and safety of your head.
Protection is only secondary if you don't find a good fit in this helmet. Cascade offers top of the line XFlo ventilation and adjustable fit for various head sizes. So if you happen to have a bigger head, no worries. XRS built in adjustability makes sure you can easily make it fit. Lastly, this helmet also bumps up your peripheral visibility by 20% thanks to the new VIXION system. 
Overall, Cascade XRS helmet is the best option for the 2022 season if you are looking for the no.1 helmet on the market today.
Cascade CPX-R Helmet
The Cascade CPX-R is quite a popular lacrosse helmet because it packs a ton of convenient features and all at a very pocket-friendly price tag.
To begin with, this helmet introduced the SPR fit system where there is an adjustable pad located at the back of the helmet, and this allows the one-size-fits-most helmet to give a tighter fit.
The helmet also has a long profile, and the advantage of this is that it results in a perfect tilt. Another handy feature is the Seven Technology liner which aids with energy transfer upon direct impacts.
How this system works is that the liner compresses so that energy is displaced laterally, but then the liner resets within seconds, ready to protect the player from the next impact.
In addition to the many great features, this sleek helmet is also among the best-looking helmets on the market.
Cascade S Lacrosse Helmet
Speaking of a lacrosse helmet that took the game by storm and remains to be one of the most popular lacrosse helmets today, Cascadae S has to be on top of that list. Came out in 2017, Cascade S reshaped the industry standard at the same time propelled Cascade to become the leader in helmets today. 
What makes this product special was the introduction of Tri-Liner system that is built inside this helmet. It not only disperses heavy impacts and blows but also promotes optimal comfort with the added foam.
Before Cascade S, helmets used to have a big problem with airflows. Now the XFlo ventilation technology directly increases breathability by 2x. Many players love that new feature since it keeps their body and head cool throughout the game. 
This is definitely a helmet that you can't go wrong with. Highly recommend.
Warrior Burn Matte Lacrosse Helmet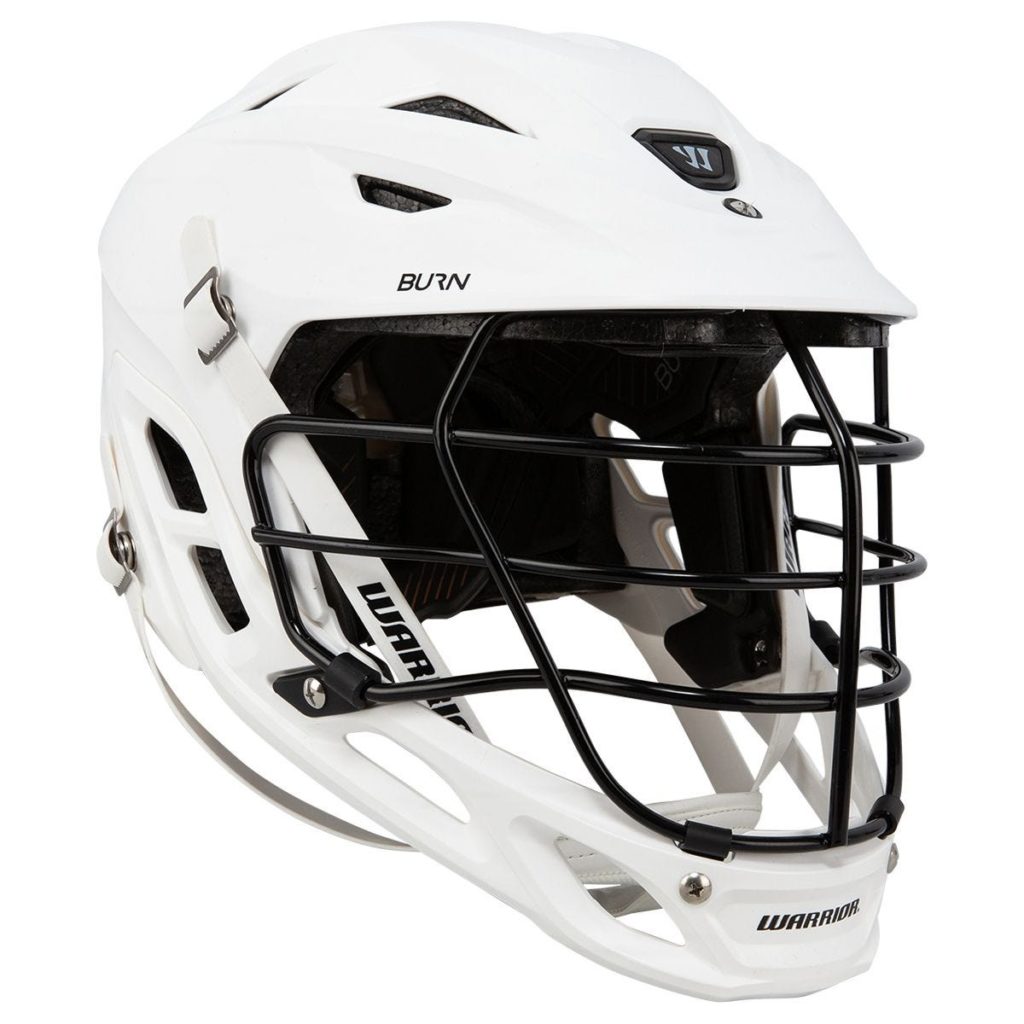 Warrior has also been a runner-up recently in the lacrosse helmet game. By doubling down on creating one of the best helmets with premium protection, Warrior Burn is a solid option to consider. 
Right off the bat, I really like the design of this helmet. It has a very sleek and cool-looking shape with many color combinations you can choose between the chin and the shell. It definitely has a premium look and feels you expect from an expensive product.  
The protection this helmet provides is also top notch by featuring JAWS protection and Vionic protection systems. No matter if it was an unintentional slash or fast moving shots, this helmet makes sure its impact is minimized and dispersed. 
One minor downside is the chin bars on the side could potentially get in the way of your peripheral visibility, so that's something to keep in mind with. 
All in all, this is a very exciting and relatively affordable helmet that many players from professional leagues to local tournaments prefer.
Warrior EVO Lacrosse Helmet
Another popular and worth considering helmet option from Warrior is the EVO lacrosse helmet. As a trustable and reliable brand, Warrior EVO attests to the stand of time. The Viconic EAS liner system promotes the finest and optimal impact protection that allows players to play confidently.
In addition, the adjustability in this helmet is on another level. Featuring BOA Fit system, this high tech system dials in your perfect fit with ease and quick access to any fine-tuning. Continuing Warrior's sleek and cool-looking design, EVO helmet adds a unique personality to your overall game outfit. 
If you are a fan of Warrior's products and would like to try out one of their helmets, I can assure you this Warrior EVO helmet won't disappoint.
STX Rival Lacrosse Helmet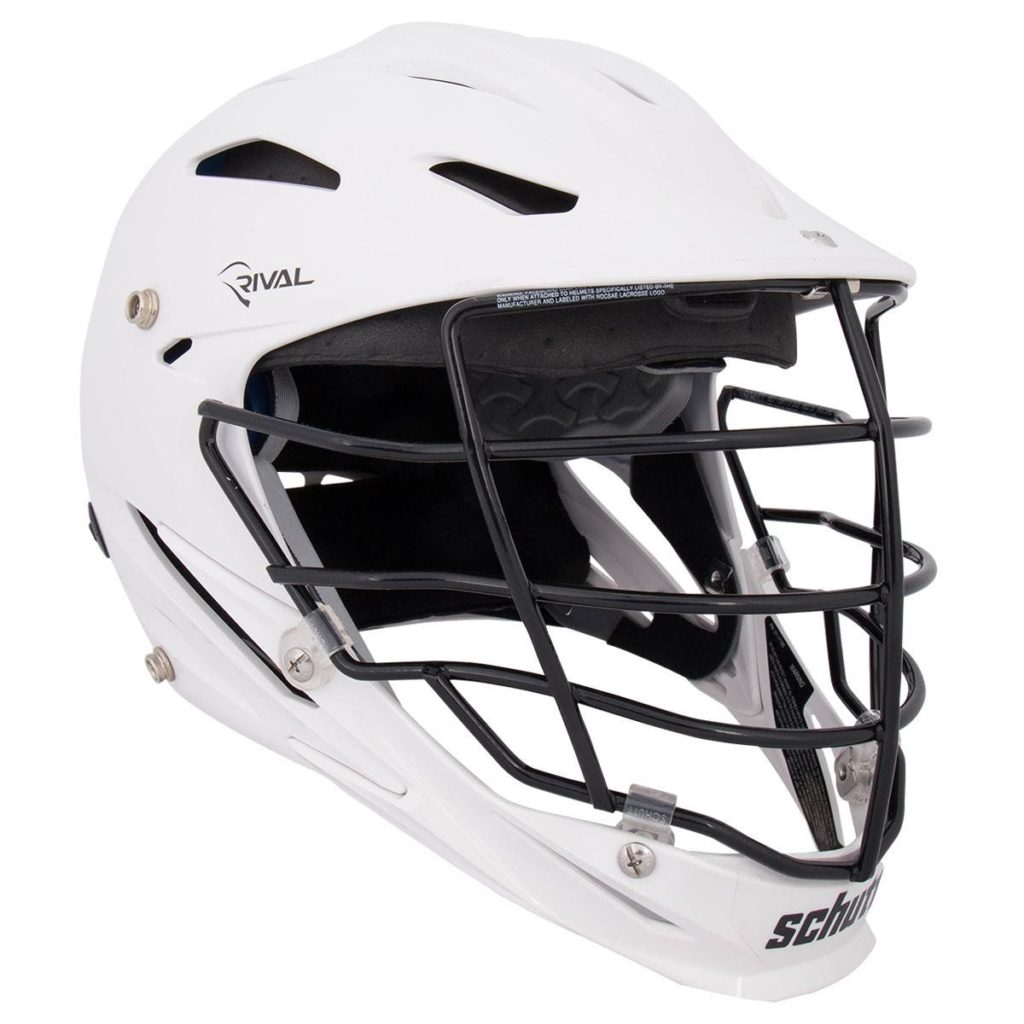 As a lacrosse manufacturer powerhouse, it will be a surprise if we don't include a product from STX. Came out in the height of 2018, STX Rival helmet has been a favorite among D1 lacrosse players. 
I always like the details and fine touches STX incorporate into their products, this one is no exception. Featuring Sure-Fit air system, this helmet is super easy to adjust with a simple push of the pump to find the perfect fit for your head. It's made of lighter yet durable materials that don't weigh you down in fast gameplay. 
The aggressive cutouts on the top of the helmet allow air to flow nicely and smoothly through the helmet for ventilation. If you are a fan of STX Stallion helmet, you will greatly appreciate how much improvement this newest upgrade from STX has done.
Best Lacrosse Helmets For Kids and Youth Players
Cascade S Youth Lacrosse Helmet
This youth helmet is perfect for lacrosse players who are under the age of 12.
By using the Tri-Line system, the Supermono S shell provides efficient impact resistance, and it is also very lightweight such that it will not interfere with the young player's movement while on the field. It's important to keep the head light and easy on the head as young players have less strength. 
Protection is also a top priority. Cascade S is designed with a dual-material chin piece that creates optimal stiffness and shielding capability. Additionally, Gen4 EPP liner meets and exceeds lacrosse protection standards which is not very surprising as the helmet is NOCSAE approved.
Cascade CS-R Youth Lacrosse Helmet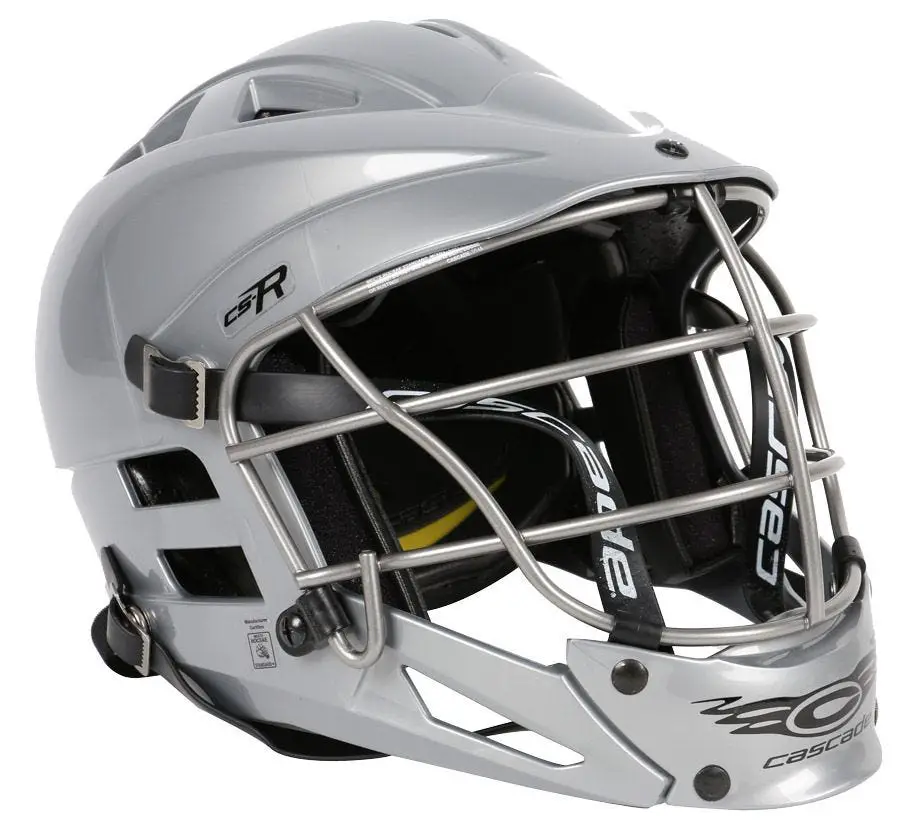 The Cascade CS-R comes with one very handy feature which is the temple-mounted Fit Switch technology. This system comes with switches placed at the temple of the helmet, and these allow the player to adjust the lateral width of the Gen3 EPP liner easily, so they get a no-fuss instant fit.
The full pivot system is another very handy feature whereby the whole rear third of the liner can pivot to grasp the head, and this gives an instant, secure fit that can be adjusted using the proprietary pull-tab.
These easy features, along with the lightweight nature of the helmet make it easy to use such that the young lacrosse player can easily put the helmet on by themselves.
A great quality lacrosse helmet young players can use for a long time so you don't have to bother switching every so often.
Warrior Burn Junior Lacrosse Helmet
Similar to the premium quality you can get from a Warrior's adult head, Warrior Burn Junior offers the same quality at a more affordable price compared to Cascade's.
Built for young players, Warrior Burn Junior has all the nice features that put emphasis on protection and comfort. It features quick and easy velcro pull-tab system to provide a comfortable fit for young players. Furthermore, the helmet has an energy-absorbing vinyl nitrate foam liner inside to diffuse heavy impacts. 
Overall, if your child is very comfortable with Warrior's products, this head is a highly worth considering option for him/her.
Best Lacrosse Helmets For Women
Cascade LX Women's Lacrosse Headgear
As mentioned in the beginning, helmets are not mandatory in women's lacrosse but goggles and headgear are. If you haven't yet, check out my reviews on the best women's goggles in 2022. This women's helmet has a flexible outer shell that provides total coverage of the front, back and sides of the head.
Additionally, the front of the helmet features a facemask made from heavy-duty steel for long-lasting durability and excellent facial protection, and it also gives optimized sight lines thus eliminating potential blind spots.
The Cascade LX also features Poron XRD technology which maximizes protection by dispersing linear force at the point of contact. To ensure a perfect fit, this helmet comes with a rear adjustable strap and three interchangeable cheek pad sets.
Also, there are dual rear slots that can accommodate various hair lengths and styles for a great fit and quality comfort. Still, on hair, the helmet has strategic vents which accelerate airflow to keep the player's head pleasantly cool.
Lastly, this helmet has an integrated goggle system, and this one-piece design ensures that there will not be any facial pressure, as is often the case when using a separate goggle.
How To Choose The Best Lacrosse Helmet?
I hope at this point you have a decent idea of the best products that are available on the market today for you or your child. In this section, we will go ahead and outline some important features to consider when buying the best helmet for the cost.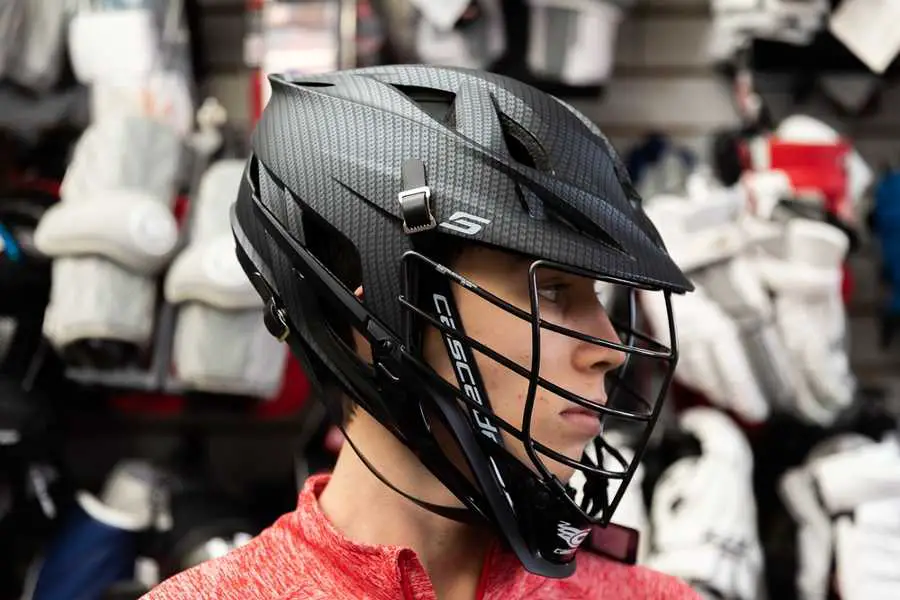 Buyers should look out for the NOCSAE logo on any helmet they might be interested in buying. Safety always has to come first and so the player needs to be completely sure that they are investing in a helmet that will adequately protect their heads from any serious injuries.
First off, you want a helmet that is lightweight yet strong. This way, the helmet will not weigh heavily on your shoulders, hampering your performance but at the same time, the strength of the helmet should be such that a player can take a hard shot to the face and yet be able to walk off the field uninjured.
Safety goes hand-in-hand with a great fit. Even the most efficiently designed helmet will not offer much protection if it doesn't fit the head correctly, to begin with. A good lacrosse helmet should give a snug fit around the head with the padding on the inner side of the helmet providing firm, even pressure.
Despite being snug, the fit should still feel comfortable such that players can wear the helmet all day long without worrying about getting headaches. As far as the tilt goes, you should be able to look through the top bars of the face mask and not the middle bars.
Once achieved, the perfect tilt is maintained by tightening the chin strap so that there is no slack.
One important feature that can break or make a lacrosse helmet is how wide and big your field of vision is. One thing you might notice from different brands is the slightly different facemask designs specifically how bars are constructed. 
Good lacrosse helmets have a mostly undisrupted vision where you shouldn't feel the bars getting in the way.
Despite being functional, sporting gear should also bear some character and personality. Lacrosse helmets come in a wide variety of hues and models so players can easily take their pick regarding which design best suits their personality.
Besides the basic look of the helmet, players can additionally buy decals, helmet wraps and custom facemasks to put on their helmets and give it that personal touch. The decals can even be customized to match the team's colors, logo, etc.
The helmet, visor and chin guard colors can also be customized accordingly to match the team's uniform or a player's personal preferences.
Conclusion
I hope this guide has given you the knowledge and information you need to make an informed purchase decision. When it comes to helmet, you shouldn't treat it lightly as it's the only protection that shields the most important organ of your body, the head. 
The best helmet has the best protection and comfort, so look for these two things when picking a helmet. In addition, other essential lacrosse protective equipment to consider along with your lacrosse helmet:
Best lacrosse arm guards and elbow pads