To be great at lacrosse, half of the battle is to hone in and improve your skills; another half is to find yourself the best and most suitable equipment and gears on the field. Last time, we talked about why lacrosse head is crucial to the success of your lacrosse career; equally important, lacrosse mesh could impact just as much, if not more, for it affects your ball handling, passing, shooting and cradling. 
Not yet have a lacrosse head? Check out my 2022 heads buying guide and 2022 affordable heads buying guide
Over time, players have developed different preferences in meshes depending on the strength of the head and shape of the pocket. Thus, in today's market, there are semi-hard, hard and soft mesh options. 
To help you understand their differences and learn the best lacrosse meshes available that are worth taking a look at, I did thorough and extensive research to come up with the following list of the best lacrosse mesh in 2022.
Let's get to the reviews. 
Best Lacrosse Mesh To Buy
---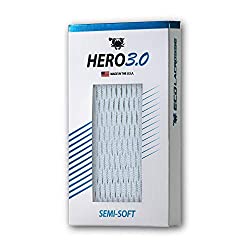 ECD Lacrosse Hero 3.0
Hardness: Semi-soft, semi-hard
Highlights:

Innegra Core Weave for sturdiness
Textured LTH Fibers for ball feel
Advanced coating
When it comes to choosing the best mesh, ECD is arguably the no.1 choice for most players. Since its inception, ECD has been working on and developing mesh products. Hero 3.0 is their most recent release in the mesh world.
Just like Hero 2.0, Hero 3.0 comes in semi-hard and semi-soft, adding brand new striker colorways to the semi-soft line. One major improvement is using a brand new Repel+ Coating that provides a stronger water repellency capability (10x better) to both keep your mesh lightweight and retain its holding and shape. Additionally, Innegra Core Weave is applied to the entire back of the mesh, making it even lighter and improving sturdiness. The lightest mesh by far in the market, Hero 3.0 weighs 17 grams. 
Like Hero 2.0, Hero 3.0 continues to use LTH fibers that create a great responsive feel and flexibility for better ball control.
If you are a first timer stringing your head, Hero 3.0 is proven to be the best and most beginner friendly mesh as there is an ample amount of videos on the stringing process you can find online. To seasoned players alike, Hero 3.0 is a proven and widely popular option for people who want to get the best quality mesh and forget about it at ease after.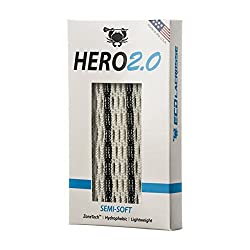 ECD Lacrosse Hero 2.0
Hardness: Semi-soft, semi-hard, faceoff
Highlights:

Innegra Core Weave for consistency
Textured LTH Fibers for ball feel
One impressive feature about the hero 2.0 lacrosse mesh is that it comes with ZoneTech technology whereby the center channel of the mesh is made of a different material from the sides of the mesh.
The center channel uses LTH fibers that have a great responsive feel and flexibility, but the sides use Innegra fibers that are extremely lightweight but more rigid and with less elasticity.
The rigid outer fibers funnel the ball into the center channel, and this results in increased accuracy, better playing consistency, and increased control during the game.
When the ball is funneled towards the center channel, it does not roll around the pocket as much, and so the player has optimum control. Besides ball control, this feature also reduces the likelihood of the net bagging out with prolonged use over time.
Another advantage is that both types of fibers are designed to be completely weatherproof, so players do not have to worry about the net expanding or contracting when exposed to extreme weather conditions.
The Hero 2.0 complete kit includes the mesh and the hero strings. If you are looking for a cheaper alternative to 3.0 with almost equally great quality (5 dollars less), no look further than Hero 2.0. 
StringKing 3S / 3X
Hardness: 3S: semi-soft, 3X: semi-hard
Highlights:

Twistex Technology for ultimate consistency
15% thinner and lighter than Type 2
When it comes to Lacrosse meshes, StringKing is a brand that's all about quality, and the String King type 3 does not fall short of your expectations.
To begin with, the yarns on this mesh have been twisted using the Twistex technology whereby yarns are given added twists before they are knit, this design results in a more compact construction that has better shot accuracy.
Twistex technology also results in yarns that have better elasticity and texture, which gives the mesh just the right amount of stretch without the net bagging put after several uses.
Besides the perfect stretch, the yarns also have enhanced ball control as well as a very responsive feel which is particularly ideal for all types of players.
StringKing Type 3 lacrosse mesh is very thin and very lightweight but it is also very durable, and the Twistex technology allows the pocket to have a rigid backbone. This way, the pocket allows for ultimate playing consistency and aggressive speed.
Overall, StringKing Type 3x Semi-hard, 3s Semi-soft Lacrosse Mesh is perfect for players who are looking for a more focused and rigid pocket that's resistant to rain and one that also has a much longer lifespan.
StringKing 4S / 4X /4F
Hardness: 4S: semi-soft, 4X: semi-hard, 4F: faceoff
Highlights:

Tri-Twist Technology for ultimate control
A more responsive pocket
After two years of its Type 3 release, StringKing Type 4 mesh further improved upon itself to give the mesh an even better overall performance and profile. 
Similar to the Type 3x, the StringKing Type 3s features String King's Tri-Twist Technology which truly sets StringKing apart from other competitors.
For starters, an immediate change you notice when comparing it with Type 3 is the lighter weight. Type 4S (semi-soft) weighs 17 grams; Type 4X (semi-hard) weighs 19 grams. More importantly, the decrease in weight doesn't sacrifice the elasticity and grip players look for while playing due to its Tri-Twist technology. The ability to deliver consistent quality and performance is what makes StringKing mesh one of the most impressive brands currently. 
As Type 4 comes with two options, 4S and 4X, you want to choose the mesh that fits your playing style and preference the most. 4X, the harder version, could be a bit more elastic as it works well for powerful shooters whereas 4S, the softer version, is more consistent that is more ideal for speed shooters.
ECD Vortex Mesh
Hardness: Semi-soft, semi-hard
Highlights:

HybridWeave for a consistent shape
Weatherproof materials
During the manufacturing process, this mesh will be dipped in a mixture of beeswax and other materials, resulting in an impressively waterproof net where water beads right off the mesh.
When a net is unable to absorb water, its fibers stay in shape, so this East Coast Mesh will not stretch and get baggy with time. Thus, it holds up rather well after one or two seasons.
This soft mesh also needs almost no break-in time so players can enjoy a good game immediately after stringing the mesh. Another pleasant feature is how this mesh is firm but not stiff, so it gives a great hold and absorbs impact very well thus reducing the chances of rebounds.
Additionally, this firm mesh gives pinpoint throw accuracy making it great for goalies of all levels. The stickiness of the mesh allows it to carry the ball well and with this superior ball control, players can feel it all the way down the lacrosse stick.
Read also: Best Beginner Lacrosse Sticks in 2022
Combine this with the waterproof quality which offers consistent performance every single time, you have yourself a high quality mesh that offers superior performance and is very durable while still coming at a very pocket-friendly price point.
Also, the plain color makes this mesh perfectly comply with high school and NCAA rules.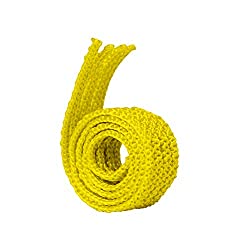 Epoch 3D Elite Women's Mesh
Hardness: Semi-soft
Highlights:

Tri-Diamond Technology for ultimate control
Weatherproof HT Poly technology
As we begin to see more brands dive into the women's mesh market, I wanted to include my current favorite women's mesh, Epoch 3D Elite women's mesh. Not only is it a more recent release that incorporates many advancements and great technologies, it's also weather-resistant and holds its shape for an enduring time with built-in connection points. 
Epoch uses the Tri-Diamond Technology, designed with three different diamond sizes, gives players a deep pocket in the sweet spot for ball feel and control while keeping it rule complaint.
 A great quality mesh that doesn't lose its consistency and performance even under the most challenging weather conditions. If you are looking for a women's mesh, highly recommend checking out 3D Elite from Epoch!
ECD 12D HeroMesh Goalie
Hardness: Semi-soft, semi-hard
Highlights:

HyperWeave technology for increased feel and control
Semi-soft Complete Kit (Currently Sold Out)
Semi-hard Complete Kit (Currently Sold Out)
If you aren't aware, goalies also have their own specific meshes made by the brands. As one of the OG wax mesh brands, ECD 12D HeroMesh is the best wax mesh product on the market. 
What's wax mesh anyway? It's basically a finishing step where the mesh is dipping in a waxy, water-resistant coating to make it waterproof for better performance in the rain.
12D HeroMesh comes in three options, black and white, semi-hard and semi-soft. With a minimal break-in time after stringing it up, 12D HeroMesh has superior rebound control that offers goalies extra confidence when saving and releasing as well as best hold profile. 
Overall, ECD is still the best brand in the mesh market for all players alike. This is a solid option. 
What Are Different Lacrosse Mesh Types?
A wide variety of products is a must in lacrosse as players have unique playing styles and personal preferences. Although we haven't officially defined what semi-hard or semi-soft represent, they are a crucial components you need to think about when picking the right mesh. 
In this section, we will go over the four most common types of mesh offered on the market, hard, semi-hard, semi-soft and soft. 
Hard mesh is often picked up by intermediate and more seasoned players as it takes longer to break in and requires more skills to get used to. It does hold many great properties: its long-lasting shape and hold, weather resistance and superior elasticity. Hard mesh doesn't need to be replaced as often as other types since it's the most durable and sturdy. But it also requires a lot more time and effort to soften the mesh. 
Very similar to hard mesh, a semi-hard mesh is an in-between product that is also pretty durable and consistent. It gives players who don't want to use hard mesh but have similar properties an opportunity to get what hard mesh has to offer. Semi-hard mesh is especially great for defensive players, LSM and defensive middies. 
Semi-soft is an in-between product that resembles a soft mesh. And it seems like more people are moving towards semi-soft options for their good resistance and minimal break-in time. They are also easier to string than hard mesh.
The best thing about soft mesh is that it's game ready once you get it and it's very easy to string. It also offers a better feel of the ball and control of shooting and passing. It's very flexible. Due to these properties, a soft mesh is widely preferred by beginners and intermediate players. At the same time, FOGOs often choose soft mesh for their heads as its stretchiness and softness work really well during face-off.
Playing face-off next season? Click here to learn more about the best face-off heads
However, because it has a less rigid coating, it tends to break down and become less consistent as time goes on. You will need to replace your soft mesh more often than more durable options.
How To Choose A Lacrosse Mesh?
Now we went over the different types of hardness in lacrosse meshes, what are some other things you want to look for in choosing a great and optimal lacrosse mesh? Keep in mind, at the end of the day, you know your playing style and preference the best, so feel free to experiment with different products to find the best mesh and pocket for your head.
The diamond count here refers to the number of diamonds per horizontal row. So far, the most popular and common are the 6-diamond and 10-diamond. 
6-diamond: With fewer holes, the bigger diamonds allow for a much greater feel of the ball than mesh with more diamonds. Additionally, fewer diamonds also shorten the break in time as the size of the diamonds can be formed easier with less mesh to work with. Often, fewer diamonds give you a better hold by having larger diamonds wrapped around the ball when inside the pocket. 
10-diamond: Most popular option for meshes currently available. Notable, goalie meshes are often made with 10-diamond for their superior rebound control. The more diamonds you have in the mesh, the smoother the release of your pass will be. It does create more drag as there is more mesh to roll the ball with. It takes some time to break in so make sure to put in enough reps after stringing it up. 10-diamond is ideal for more experienced players.
ECD has popularized the wax coating finished meshes as most of its products are coated in wax (beeswax), giving the mesh more grip and control of the ball. The improved control creates a much bigger threat for their opponents as both defenders and attackmen. The beeswax coating is also weatherproof and proven to be more durable and consistent. In short, if you are a player looking for more hold and a natural whip, wax coating is something you want to consider.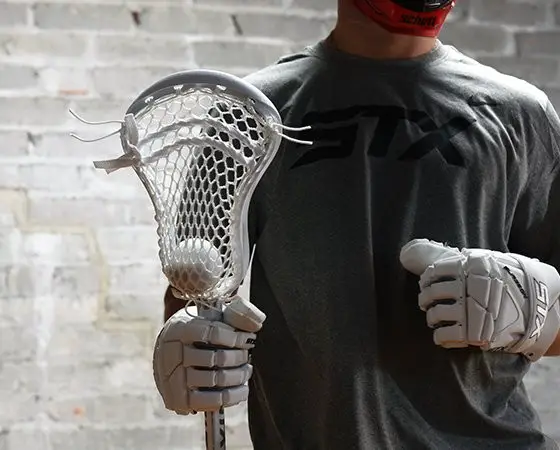 Additional Products You'll Need To String A Lacrosse Head
If you have decided to purchase single pieces of mesh, don't forget to buy some custom lacrosse shooting & sidewall string to make your perfect strung head. That said, I usually recommend players buy the stringing kits as they come with everything you need to get the job done.
Unless you are a high-level and professional player, feel free to customize your stringing style. Additionally, if you want to learn more about shooting strings, check out this post on what you need to know about shooting strings.
StringKing Lacrosse Sidewall Strings
StringKing Lacrosse Shooting Strings
Ninjalax.com Lacrosse Mesh Spool
To give your meshes extra grip: East Coast Dyes Lacrosse Mesh Wax
To stretch your pocket: STX Lacrosse Pocket Pounder
How To String A Lacrosse Head
Learning how to string your lacrosse head is an essential skill to have if you want to level up and become an elite player. Luckily, it's not that hard and there are many videos that teach you the basics and tips and tricks to get you started.
If you want your head strung by a professional, Lax.com offers to string your head by one of their Pro Stringers and you can customize the color and design your own pocket.