If you happen to be a lacrosse enthusiast or former lacrosse player, you probably also want to introduce your kids to this exciting and fast-paced sport. In my opinion, once your kids turned 5 or 6, that's the best age to give them a lacrosse mini stick to fiddle and play around with. 
Thanks to the growing popularity among young generations, mini sticks or fiddlesticks have done a great job getting young kids to fall in love with the sport. But what is a mini stick anyways? A mini stick is a smaller and lighter version of the normal stick, intended to be safer and easier for children. It serves as a way for them to pick up and develop some basic skills before they transition to a regular lacrosse stick.
The good thing about these fiddlesticks is they are suitable for any skill level before your child is old enough to play comfortably with a normal stick. 
Therefore, in this post, you will learn everything about the best lacrosse mini sticks in 2022 and how to find the best stick for your kiddo.
For complete beginner player sticks, see the best options here.
Best Lacrosse Mini Sticks
I was surprised and glad to find how many great options are available on the market today for parents to choose from. That said, not every mini and fiddlestick is of good and durable quality. In this section, we will take a look at some best options to consider today.
Warrior EVO Mini Lacrosse Stick
| | |
| --- | --- |
| Type: Mini Stick | Colors: Black, Blue, Red, White |
| Size: Youth (Under 8) | Ratings: |
| One mini lacrosse ball: ✅ | ⭐⭐⭐⭐⭐ |
This prestrung EVO Mini stick is a replica of the regular Warrior EVO stick. Put in an equal amount of effort in stringing, Warrior EVO Mini stick has nearly an adult level of stringing and ball control. 
The shaft is super light to keep it easy to play with for young kids. Overall it's a durable, sturdy and great mini stick that will make your kid happy and excited for some lacrosse fun.
It also comes in four different colors that also add fun and personality to the sport.
Warrior EVO Warp Mini Stick
| | |
| --- | --- |
| Type: Mini Stick | Colors: Black, Blue, Yellow, White |
| Size: Youth (Under 8) | Ratings: |
| One mini lacrosse ball: ✅ | ⭐⭐⭐⭐⭐ |
Another warrior stick, another warrior win! Warrior EVO Warp Mini is a very popular mini stick as an entry point to the Warrior products. Parents especially love the quality and consistency this stick offers. The adult version of Warrior EVO Warp has also made it to my list of best 2022 heads. 
One unique feature you might notice is that instead of a changeable pocket like EVO Mini, EVO Warp Mini is permanently attached to the head and is ready to use in no time. This is a great and convenient feature for parents who don't really know how to adjust pockets. 
Check out this great video done by the folks from Lacrosse Monkey:
STX FiddleSTX Mini Power
| | |
| --- | --- |
| Type: Fiddlestick | Colors: White |
| Size: Youth (Under 8) | Ratings: |
| Two mini lacrosse balls: ✅ | ⭐⭐⭐⭐ |
It's quite impossible to not include STX when it comes to heads as they are one of the best brands making premium lacrosse equipment for laxers. This pre-strung Mini Power is a replica of STX's popular Super Power head. STX is very known for its player-centric design and ethos; this head is no exception. 
Because they are very affordable people usually buy a comb set so that your kids can play and enjoy themselves with siblings and friends. Overall, this is probably one of my favorite fiddlesticks for its great quality at a very reasonable price.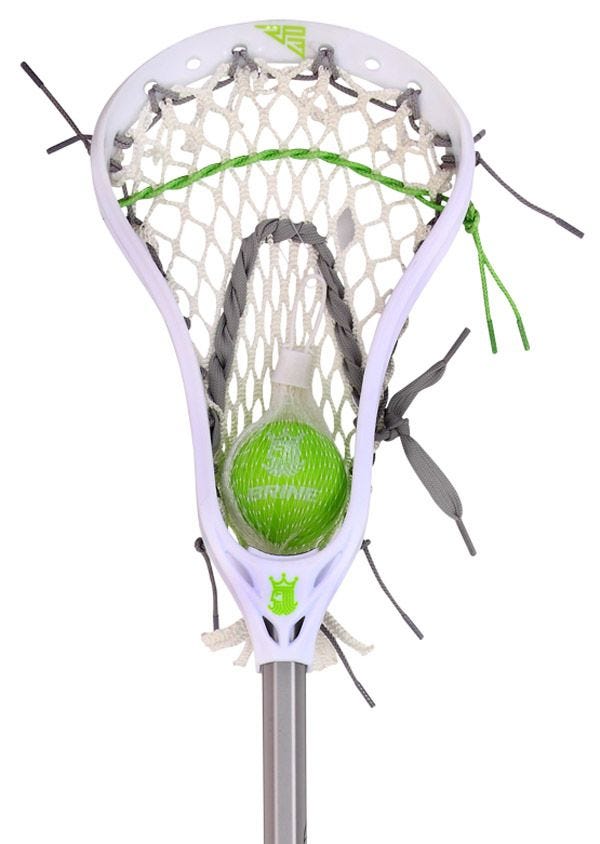 Brine Mini RP3 Stick
| | |
| --- | --- |
| Type: Mini Stick | Colors: White |
| Size: Youth (Under 8) | Ratings: |
| One mini lacrosse ball: ✅ | ⭐⭐⭐⭐ |
Brine Mini RP3 is a mini version of the iconic Brine RP3 regular stick. This pre-strung complete stick has a nice pocket that holds and catches the ball very well, which is a great stepping stone before they transition to a regular stick.
I recommend this stick, especially for young kids who are looking to become offensive players as the head mimics the features of a great offensive head. Additionally, it has a very light shaft that is easy to throw around with.
Overall, you can't go wrong with this classic Brine Mini RP3 stick. It's particularly great for potential shooters and attackers.
Franklin Kids Mini Lacrosse Stick
| | |
| --- | --- |
| Type: Mini Stick | Colors: Blue |
| Size: Youth (Under 8) | Ratings: |
| One mini lacrosse ball: ✅ | ⭐⭐⭐ |
This is a quality fiddlestick for young kids as a toy to get started on lacrosse. It has just enough durability and consistency to be a great stick for easy and light exercise. The stick is 34 inches tall and comes with a nicely pre-strung head. The bright blue will definitely make your kids fall in love with this mini stick. 
One downside about this product is its shaft is quite flimsy. Many parents have complained about them breaking after a few uses. If you are looking for a durable and stiff stick, Franklin Mini stick might not be the best option as it's more of a toy.
STX Mini Eclipse Goalie Stick
| | |
| --- | --- |
| Type: Mini Stick | Colors: White, Orange, Navy, Green |
| Size: Youth (Under 12) | Ratings: |
| One mini lacrosse ball: ✅ | ⭐⭐⭐⭐⭐ |
What is better than getting your kids to play with the best and most popular adult goalie stick? STX Mini Eclipse is the mini version of STX's famous Eclipse Goalie Stick. Once she gets used to playing with this stick, she will have no problem transitioning to the adult version. 
It's a perfect tool for young players to learn and develop basic goalie skills. Also no need to worry about stringing, the product comes pre-strung in a way that is designed for young beginners to learn fundamentals. 
This is the only mini goalie stick I recommend so if your kiddo is curious about what it feels like being a goalie, this goalie stick is for her.
STX FiddleSTX Game Set
| | |
| --- | --- |
| Type: Fiddlestick set | Colors: White |
| Size: Youth (Under 8) | Ratings: |
| Two mini lacrosse balls: ✅ | ⭐⭐⭐⭐ |
Don't just buy one stick. To help your kiddo learn all aspects of a lacrosse game and eventually become an elite player, this game set is perfect for backyard mini gameplay. It comes with 2 mini sticks, 1 goalie fiddlestick and 1 mini goal (3' x 3').
Many parents love this product for its durability and size. Whether it's for multiple children or one, this game set creates the best playing experience. Additionally, it comes out of the box ready with a little effort needed to put it together. 
For parents looking for a complete set, don't miss this amazing option.
What Age Is Appropriate For Fiddle and Mini sticks?
Fiddle and mini sticks are specifically designed for young players between 3 and 8 years old. The lighter materials and smaller sizes are beginner-friendly and forgiving, especially for young children with small hands. 
The next stepping stone before a regular lacrosse stick is a youth lacrosse stick which is made of similar materials to a regular stick but smaller and lighter.
How To Find The Best Mini Lacrosse Sticks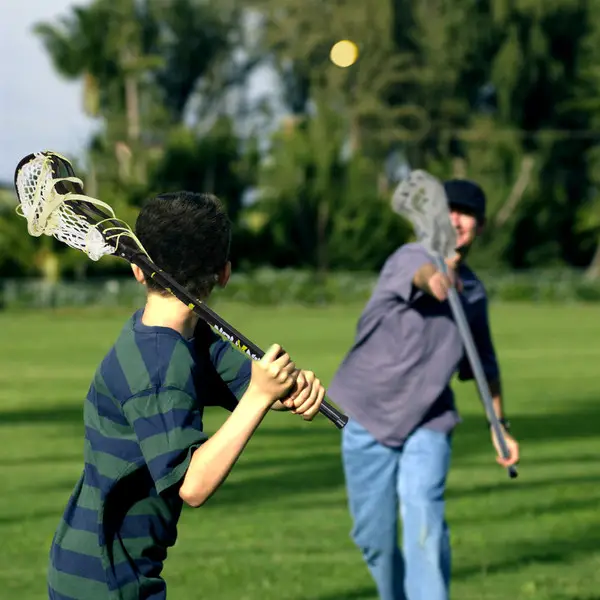 I hope the product reviews gave you a good sense of some great products on the market today. In this section, let's explore together some features to look out for in order to make the best purchase. 
Materials
Although mini sticks are lighter, it doesn't mean they should be made of cheap materials. The products included above are made of either durable alloy or advanced plastics. Make sure to read the product pages to check what materials are used in the stick. 
Durability/Comfortability
Good materials go hand in hand with durability and prolonged use. Since mini sticks are great for kids anywhere between 3-8 years old, finding a high quality stick allows your kids to play more consistently for a longer duration.  
Another important quality parents should look for is comfort. During the learning phase, a comfortable gripping makes it easier for young laxers to learn the basic hand placements. If possible, my advice is to test out the sticks in person at a local sporting store. 
Brands
This might not be as a concern for young players as it is for older players, but consider the fact they will grow up and eventually choose a good brand to deliver the best performance. 
Brands like STX, Warrior are great brands to grow with as players move up their levels, so getting comfortable with a brand and its products is the best way to play smart at an early age. 
Price
Mini sticks are more affordable than regular lacrosse sticks based on their smaller size, so there's no need to break a bank for a very expensive mini stick. All the options above took into account price tags so that you don't need to worry about paying for overpriced products. 
Conclusion
That was everything you needed to know about lacrosse mini sticks and the best options available on the market today. Getting the first stick for your kids is very exciting! With that goal in mind, I hope this buying guide gave you the confidence and knowledge to purchase the right stick for them.
As always feel free to fire away any questions or comments below. I will try my best to answer them as quickly as possible. In the meantime, check out the training page where I share tutorials on learning basic and fundamental skills to become an elite player.
Additional Resources
Looking to buy women's complete sticks? Check out the best options in 2022 here
Consider buying a shaft and a head separately? Check out the best lacrosse shafts and lacrosse heads today