Just like heads, there is a wide range of lacrosse shafts available today on the market. Similar to heads, you'll also quickly notice that they don't all have the same length; some are heavier; some are made of titanium while others are made of aluminum.
These differences exist for a reason so people can choose the best option depending on their preferences. 
To make the selecting process less painful and easier, I created this guide to help you decide which option is the best with confidence. In this detailed review, you can expect to learn some of the best lacrosse shafts that are worth your consideration. 
I have selected a few best options for all positions: attack/middie, defense and goalies. 
If you are a beginner player, I recommend you to start with a complete stick rather than an individual head and shaft combination in order to develop your preferences and knowledge about your playstyle.
>>> Click here to learn more about best lacrosse sticks
Without further ado, let's get started.
Jump to the section you want to see:
Lacrosse Shafts Requirements For Every Position: Attack/midfield, Defense and Goalies
There are certain rules players need to be mindful of when it comes to choosing the right shaft, so in this section, let's go over what they are and what rationales are driven behind the rules.
For Attack/Midfield Players
Attackers and midfielders often need to be very fast and agile and they also need to have aggressive moves. For these reasons, their lacrosse shafts need to be short and light in weight so that it enhances their game rather than weighing them down.
Attack and midfielder shafts are usually the shortest, measuring between 37"- 42" long at youth lacrosse level; and 30"- 32" at NCAA lacrosse level.
For Defense Players
Players playing the defense positions often block shots and throw hard checks and so, as a result, their lacrosse stocks tend to be longer for wider reach and made of more durable materials for longevity. Defense shafts are often the longest of all lacrosse shafts, measuring between 42"- 62". 60" is often the standard shaft length used by high school and NCAA level defensive players.
For Lacrosse Goalies
Goalies need a long shaft that allows them to guard the goal effectively but at the same time, they also need to move quickly with agility. For these reasons, goalie lacrosse shafts are between 40"- 72" long, but 40" is often used as the standard length.
Best Lacrosse Shafts For Attackmen and Middies
Just like every detailed review I have written, I scoured customer views, lacrosse forums, YouTube videos and visited local sporting stores to test them out myself. 
With great confidence, I present to you the best lacrosse shafts for attackmen and middies:
STX Sc-Ti
Sc-Ti is probably the best shaft series out on the market currently. Speaking about the maximum customization, this choice of many professional players comes in with five different profiles and weights: X+, O, X, R, S. The goal is simple, to make an Sc-Ti shaft perfect for every lacrosse player. 
They weigh 190 grams, 170 grams, 140 grams, 150 grams and 160 grams respectively. Made of STX proprietary Sc-Ti alloy, they are not only lightweight but also super durable and strong. 
By further enhancing the feel of this stick, it's built with a mild sandblast grip finish that gives a nice firm grip with or without gloves. A great grip allows players to play in all weather conditions without compromising their speed and ball control.
ECD Carbon 3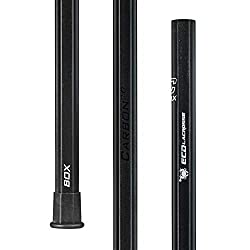 Check Price On Lacrosse Monkey
The newest and exciting release of ECD's most popular shaft line in October 2021, Carbon 3 offers a lightweight yet sturdy option that is ideal for attackers and middies. A simple and sleek design features a light sandpaper grip that allows players to comfortably roll in their fingers. The gripping is a great continuation from Carbon 2.0 that players really loved about. 
It comes in three different colors, black, white and darker grey with a new sliding end cap. If you are planning to get a super durable carbon fiber shaft that flexes, Carbon 3 is possibly the best option in the league right now.
StringKing Metal 3 Pro
Check Price On Lacrosse Monkey
As the name suggests, StringKing Metal 3 Pro is currently one of the most popular metal shafts on the market. Super durable and high-quality material helps you deliver great and consistent performance. When holding the shaft, you definitely feel the nice and tough metal with a concave shape gripping for optimal hand control.
Another thing I really like about Metal 3 is the options it offers. It not only comes in with two different colors, silver and black but also lets you pick the best option depending on your skill level with four different weights 135 grams, 155 grams, 175 grams and 195 grams.
Epoch Dragonfly Elite
A brand new release at the end of 2021, Epoch Dragonfly Elite II is a great attack/mid option for skilled and professional lacrosse players. Combining every innovative technology Epoch has ever implemented, Elite is an option you can't go wrong with. The two biggest improvements come from the all-new Reactive Technology that optimizes energy transfer while maintaining power and reactivity and Dual Micro Grip that provides a smooth matte finish. 
Chosen by Tom Schreiber, Matt Rambo and many other professional laxers, Dragonfly Elite II is designed for the highest performance and the greatest competition. I am also a big fan of their shaft design that is subtle with cool touches.
Furthermore, a 1-year warranty really speaks volumes about the quality of their shafts, so if you want a great quality shaft, Dragonfly Elite is worth the price tag.
Maverik Caliber
Featuring military-grade strength, Maverik Caliber is the most durable and strongest shaft Maverik ever created. Featuring Dual Wall Taper technology, Caliber has a great strength to weight ratio. If you are an aggressive offensive player, consider buying a Caliber that allows you to make power shots and throw hard checks with confidence. 
The shaft also features an adjustable butt-end together with a silicone liner that adds stability for more accurate shooting and passing and a bead blasted finish for a nice hand grip.
>> Continue: Best Lacrosse Shafts For Offense
Best Lacrosse Shafts For Defense In 2022
StringKing Metal 3 Pro Defense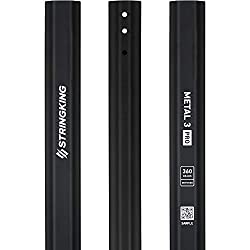 Just like the Metal 3 Pro Offense version, Metal 3 Pro Defense shares similar qualities. Coming in standard 60-inch long, Metal 3 Pro Defense has two options of weights, 360 grams and 400 grams. 
 The improved alloy offers unrivaled strength and durability guaranteeing that the shaft could hold up to hard checks and toughest play. 
ECD Carbon Pro 2.0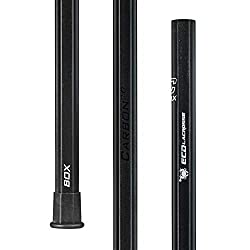 Made of high quality composite materials and advanced manufacturing processes, Carbon Pro 2.0 is a shaft that embodies quality and great performance. 
The carbon fiber material allows the shaft to have a high strength to weight ratio for optimal longevity and without weighing the defense player down while doing hard checks.
With a firm yet comfortable grip, Carbon Pro 2.0 features a textured stick with a slight sandpaper feel. And it comes in two different colors, black and white. 
STX Sc-Ti Defense
Check Price On Lacrosse Monkey
Just like Sc-Ti Offense line, Sc-Ti Defense line works like a dream. They are the only brand in town that offers three unique shapes in their long defense sticks, X, R and S. To maximize finger and thumb placement for feeling and control, you can choose between X, R and S based on your preferences. 
A widely popular defense shaft option, Sc-Ti has really established itself as a flagship people love and rave. 
Epoch Dragonfly Pro Defense
Check Price On Lacrosse Monkey
Epoch Dragonfly Pro features Epoch's surface veil technology (SVT) which lets the stick have fewer micro fractures without giving it unnecessary extra weight. Thereby, it improves the overall durability so that it can withstand hard hits and checks. 
The product comes with a 6-month warranty in case of breaking, severe bends or major cracks. 
>> Continue: Best Lacrosse Shafts For Defense 
Best Lacrosse Shafts For Goalies in 2022
ECD Carbon Pro 2.0 Goalie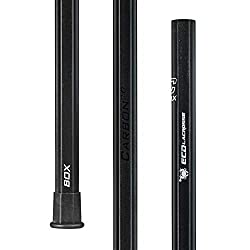 A super lightweight shaft allows goalies to respond quickly and easily. It has incorporated all cutting-edge technologies ECD developed into this shaft. Mid kick point provides an accurate release and advanced materials provide optimal control. 
Pro 2.0 Goalie offers a slightly longer 40 inches shaft and has two color options, black and white. 
STX Outlet
Check Price On Lacrosse Moneky
STX Outlet is a goalie specific shaft that meets all expectations and needs from a goalie. Its ergonomic profile resists handle twists and new textured grip zones improve stick control. Durability is as good as it gets. People love it for how long it lasts without a single sign of wear through countless saves and checks. 
STX Outlet pairs really well with STX Memory Mesh 12D™ and STX Eclipse II lacrosse head. In short, you can't go wrong with this shaft.
StringKing Metal 3 Pro Goalie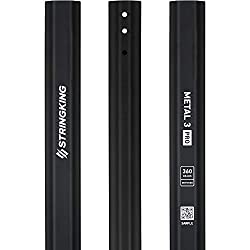 Coming in at two different weights and colors, Metal 3 Pro Goalie is light, durable and sleek-looking. It's designed with professional goalies in mind and manages to keep the price affordable for all levels of players and increases the overall strength-to-weight ratio. 
A 6-month warranty speaks to their confidence in the products and brand. Overall, Metal 3 Pro is a solid choice!
Epoch Dragonfly Elite Goalie
Dragonfly Elite Goalie shaft is a great option especially for people who prefer composite shafts. Dragonfly Elite Goalie features the 12K Intelligent Weave Technology which is designed to stabilize the hands thus pushing energy towards the head of the stick for optimal strength and performance. 
Without compromising the durability and quality, Dragonfly Elite is pretty lightweight. The shaft also comes with one carbon black option. 
>> Continue: Best Lacrosse Shafts For Goalies 
How To Choose A Lacrosse Shaft
Here are the 4 most important things to look out for when choosing the best lacrosse shaft for yourself:
Types of grip
Lacrosse shafts now come with many different grip variations, which means that players no longer need to tape up the stick or use grip spray all in a bid to get the grip that they want.
The first type of grip is where you have sandpaper coating on the stick, also known as the grip. Just as the name suggests, this type of grip is gritty and this enables it to offer a firm hold even when the player is in gloves and it's a rainy day.
The second type of grip is the slick grip which is essentially a rubberized coating. This does not feel gritty, like the grip grit, but when the player is in gloves, this grip feels sticky and offers a feel. Lastly, the traditional gloss-type grip comprises a smooth finish and the downside to this is that the stick can get very slippery when wet.
Types of Shaft Shapes
Different shaft shapes create a different feel in the player's hands and this impacts the feeling the shaft has on your grip and cradling.
Octagon is by far the most common lacrosse shaft shape and this is because it has smoother edges for fast stick work and crossovers.
Additionally, octagon shafts offer the most texture and feel through the glove, but they are not the only shaft shape available. Like we mentioned above, STX Sc-Ti line both offense and defense offers several options, concave (X), rigid (R), shift (S), octagon (O) and extreme concave (X+)
Basically, the main options are between a rigid shaft and a more circular one.
While the former offers tight angles, the circular ones have rounded corners and both options offer different feels fit for different players.
Material Used In Lax Shafts
Aluminum shafts are often cheaper, and so they are more popular with beginner and intermediate level players who may just be picking up the sport.
Depending on the levels of the aluminum grade used, these shafts will have varying weights and durability but generally, aluminum lacrosse shafts tend to be the most lightweight of all shafts.
Additionally, these sticks also tend to be very versatile and easy to use. The reason why this shaft is not popular among more advanced players is that it can dent rather easily when used for rigorous play. Also, because they lack a natural grip, these shafts will not offer the advanced grip desired by more advanced lacrosse layers.
New to lacrosse? Check out these incredible beginner lacrosse players:
Warrior Evo Warp Next Complete Lacrosse Stick
STX Stallion 550 Junior Attack Complete Lacrosse Stick
Titanium was the first technological advance in lacrosse shafts, prior to which aluminum and wood were the only shaft material options. Although other materials have not been introduced especially for advanced players, titanium still remains a popular option owing to its strength and durability as well as its superior lightweight feel.
Scandium is arguably the most popular lacrosse shaft material available today because it has the highest strength-to-weight ratio.
This way, players get to enjoy lightweight speeds combined with impressive durability. At the same time, scandium sticks come at a very affordable price point and this gives rise to the perfect shaft for top-level lacrosse players.
Bends / Scandium-Titanium
When titanium and scandium are mixed together, they create a superior strength-to-weight ratio which neither of the materials can achieve on their own.
For this reason, blended shafts will have the lightweight feel of Scandium and the comparable durability of a titanium shaft which gives players the best of both worlds. For midfielders, these are the best shafts on the market.
Composite shafts are made from carbon fiber and they have flex profiles which make the stick very versatile and perfect for attack players playing the offense.
The weight-to-strength ratio for these sticks is rather impressive, and players are assured of a shaft that gives unrivaled shot velocity without the stick bending or denting.
The other advantage of composite shafts is that they have a natural grip and they feel cold in hot weather and warm in cold weather.
When the ball is in the head and the player starts their shooting motion, some sticks offer the ability for the shaft to flex with the ball and this delivers more power into the speed of the ball when released.
Carbon fiber composite shafts are known for their flex factor and they offer a variety of flex options ideal for different players depending on their flex preferences.
Flex basically allows you to shoot the ball harder and this feature is often particularly desired by attackers and middies.
Time for a nice head to pair with your shaft
A shaft wouldn't work without a great head to go with. To save you the hassle of going through every option available, check out the best lacrosse heads for every position: