Beginners tend to underestimate the importance of high quality shoulder pads as there wasn't enough discussion and attention around them. 
In order to enhance the safety protocols and avoid potentially fatal injuries, US Lacrosse ruled to require all boys lacrosse players to wear shoulder pads that meet the 2022 NOCSAE ND2000 standard, effective Jan 2022. In a nutshell, what it entails is that going forward, legal shoulder pads must have improved protection in the center of the chest to help reduce the risk of commotio cordis.
To learn more about the new regulations, visit USA Lacrosse Official Website
Hence, whether you are buying shoulder pads for yourself or your kids, the legal shoulder pads now need to meet the new NOCSAE performance standard and contain an SEI certification mark. 
To save you the hassle and confusion, in this guide, I will show you the best lacrosse shoulder pads in 2022 that not only meet the new standard but also offer great features to keep you safe and nimble. 
Let's get started.
Read also: Best Lacrosse Arm Guards in 2022
Best Lacrosse Shoulder Pads To Buy
Since this had been a fairly recent rule change, there is a limited list of options to choose from. Yet, at the same time, fewer options streamline the selection process by reducing the various nuances that are difficult to fully understand. 
In the shoulder pads game, Maverik has established itself to be a trusted name chosen by many players. Therefore, the best and most popular shoulder pads are from the Maverik brand. 
One note to keep in mind here is every option comes with two versions: speed pad a.k.a liner, shoulder pad. Speed pad, liner, doesn't come with shoulder caps so no arm protection whereas shoulder pad does.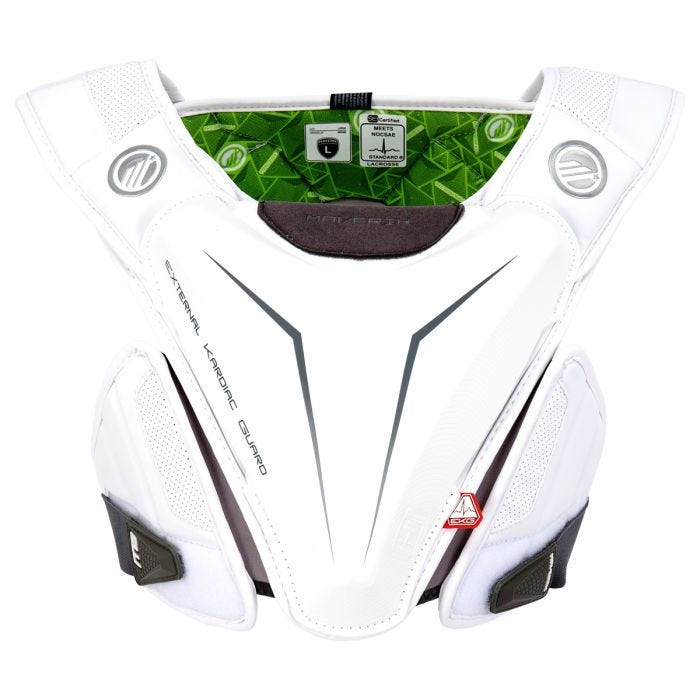 Maverik M5 EKG Speed Pads
| | |
| --- | --- |
| Release date: 2021 | Type: Liner |
| New NOSCAE Performance Standard: ✅ | Ratings: |
| Size: Men's | ⭐⭐⭐⭐⭐ |
The longest-running product line, Maverik's recent upgrade M5 EKG has this cool-looking Maverik lax shoulder pad that features Maverik's External Kardiac Guard which is a hard plastic shell in the front protecting the vulnerable center areas, sternum and clavicle.
Although the design might make it seem bulky, it's super lightweight and nimble that doesn't restrict movements from any direction. 
Another reason I like the front protection cover to be outside is that the shoulder pads lay flat on your chest and it does make it more comfortable than the ones on the inside. Additionally, the liner allows for fast evaporation of sweat thus keeping the player cool and dry throughout the game.
As one of the most popular and common shoulder pads options, I think these are the best so far on the market for all position players. It's definitely my no.1 recommendation.
Maverik Max EKG Shoulder Pads
| | |
| --- | --- |
| Release date: 2019 | Type: Shoulder Pads |
| New NOSCAE Performance Standard: ✅ | Ratings: |
| Size: Men's | ⭐⭐⭐⭐ |
Max EKG is a more advanced and protective shoulder pad for more experienced players in a competitive league. As you see in the picture, very similar in design and style to the M5 as they all belong to the EKG line. 
Extra padding and protective cushion with Anaform plates at the front and back give players extra insurance and ease while playing at a high compact level. It has a nice and premium quality feel to it. 
It might be a little clunkier than M5, but Max maintains a great level of mobility and flexibility, especially the speed pad version. In terms of the shoulder pad version, I do see some reviews about limiting arm movements due to shoulder caps and shoulder caps wearing off after a few games. 
If you don't mind the extra weight for better protection, Max EKG is a great option for you.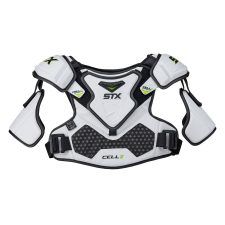 STX Cell 5 Shoulder Pads
| | |
| --- | --- |
| Release date: 2021 | Type: Shoulder Pads |
| New NOSCAE Performance Standard: ✅ | Ratings: |
| Size: Men's | ⭐⭐⭐⭐⭐ |
This shoulder pad features STX's patented Geo-Flex II Technology designed to provide mobility and impact resistance.
This is done by dispersing energy evenly after impact while remaining flexible to remain to protect the player in case of another immediate impact.
Another handy feature is the exclusive cardiac silhouette coverage together with a raised dual-density chest plate which allows the shoulder pad to sit naturally on the players' shoulders so that it gives a nice relaxed feel without negatively impacting the player's playing performance.
The player's performance is also enhanced by the 7-point stretch zone system on these shoulder pads which offers a full range of mobility. A good shoulder pad should offer protection and comfort, and the sweat-wicking liner on this pad guarantees thermal comfort for the players in all weather conditions.
STX Stallion 75 Shoulder Pads
| | |
| --- | --- |
| Release date: 2021 | Type: Shoulder Pads |
| New NOSCAE Performance Standard: ✅ | Ratings: |
| Size: Youth's | ⭐⭐⭐⭐ |
Compared to the Cell 5, Stallion 75 is a more beginner friendly shoulder pad as it's fully adjustable depending on your age and also comes in various sizes depending on your body size. The freedom to customize and adjust to your need is a key feature you want to look for from good shoulder pads. You don't want your shoulder pads to get in the way of your motions. 
The wider protection area again offers beginner players better safety and greater confidence to perform and compete at a high level. 
If you are a beginner player looking for budgeted shoulder pads that come with extra protection and a fully adjustable design, look no further. Stallion 75 meets all the needs you look for.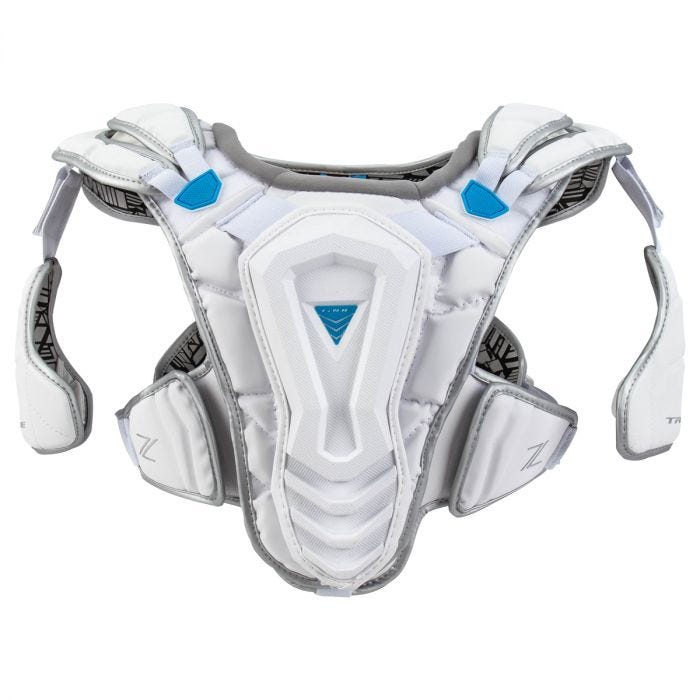 TRUE Zerolyte Shoulder Pads
| | |
| --- | --- |
| Release date: 2020 | Type: Shoulder Pads |
| New NOSCAE Performance Standard: ✅ | Ratings: |
| Size: Men's | ⭐⭐⭐⭐⭐ |
True Temper Lacrosse might not be a very familiar name compared to Maverik and STX, but many players have heard or even picked up their TRUE Zerolyte Shoulder Pads. Before putting them on the list, I read many great and positive reviews on this product and even went to the local store to test out the hype myself. With no surprise, TRUE Zerolyte is a solid option.
The front protective plate is narrower than most other options. Since the plate sits outside of the front padding, it's more comfortable to wear. 
The liner version is super lightweight and offers great mobility and flexibility, especially around the shoulders. It also allows a wide range of adjustments to your liking. 
All in all, this is a very comfortable and adjustable shoulder pad. An option you can't really go wrong with!
Nike Vapor Elite Shoulder Pads
| | |
| --- | --- |
| Release date: 2021 | Type: Shoulder Pads |
| New NOSCAE Performance Standard: ✅ | Ratings: |
| Size: Men's | ⭐⭐⭐⭐ |
Right off the bat, this liner has a minimalistic design with fewer materials. With a nice and thick center cushion to cover the key areas, Vapor Elite has the least amount of coverage among all the options on this list. Which draws some negative feedback on not having enough protection on the back. 
This pad is probably the most suitable for defenders who don't likely need extra protection on the field and is looking for a lightweight and nimble liner for maximum flexibility and a wide range of motions. 
Best Youth Lacrosse Shoulder Pads
Warrior Burn Next Youth
| | |
| --- | --- |
| Release date: 2021 | Type: Shoulder Pads |
| New NOSCAE Performance Standard: ✅ | Ratings: |
| Size: Youth's | ⭐⭐⭐⭐⭐ |
A brand new 2021 release, Burn Next Youth features upgraded impact sternum for max chess protection. These shoulder pads maximum shoulder protection through the floating shoulder pads that expand and collapse as the player moves.
This configuration ensures maximum protection, but at the same time, it allows the player to experience flexibility along with a wide range of mobility.
On top of that, these pads have integrated rib protection and an external sternum plate for added protection which can be very important for entry-level players who are just learning the basics of the game.
Bottom line, this is by far the most complete shoulder pad that was designed especially for kids and lacrosse youth players. The price is reasonable as well for players with tight budgets.
Maverik MX EKG Shoulder Pads
| | |
| --- | --- |
| Release date: 2021 | Type: Shoulder Pads |
| New NOSCAE Performance Standard: ✅ | Ratings: |
| Size: Men's | ⭐⭐⭐⭐⭐ |
You know it's coming…I have to admit Maverik does make banger products. MX EKG is their product line that gears toward youth players. While maintaining the same level of quality and protection, MX EKG features the new center front plate that meets the new NOCSAE performance standard. 
Signature EKG design ensures optimal flexibility and mobility on the field. The adjustable dual arm straps which have full-length sleeves create a comfortable fit that all new players can appreciate because this allows them to play well without being weighed down by an uncomfortable shoulder pad.
Lastly, the perforated nylon liner gives airy comfort for great moisture control during sweating and thermal comfort whereby excess heat is dissipated for a comfortable cool and dry feel. All in all, Maverik MX EKG is a great youth player option.
How to Choose Lacrosse Shoulder Pads
Reading the product reviews alone is useful for people who already know a thing or two about shoulder pads. However, for people who want to get more educated or are new to the sport, this section will help you become familiar with shoulder pads and how to choose the lacrosse shoulder pads.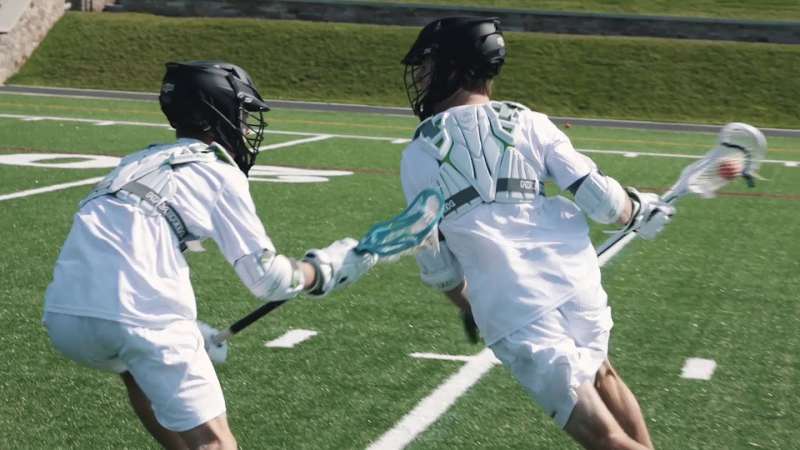 Liners vs. Shoulder Pads
I wanted to make an official comparison between the two versions of shoulder pads because the distinctions are the most important factor to consider when choosing shoulder pads. 
Liners, some brands denote them as speed pads, are simplified versions of shoulder pads, meaning they don't come with shoulder capping and more extensive arm protection. Their core feature is the front and center hard protection plate that meets the NOCSAE standard. Without too much restriction on the shoulders and overall clunkiness, these pads are great for defenders and middies who don't require as much arm protection as attackmen do. 
On the other hand, shoulder pads are exactly what they sound like. This more comprehensive model is perfect for attackmen as they are deep in the red zone where ball travels unpredictably between offensive and defensive players. 
Products I listed above provide customizable padding options to your liking, in case you worry the extra protection pose restrictions in your movements.
Size
When picking shoulder pads, you want to make sure if they are an adult or youth fit. I have read reviews where buyers didn't check the sizing and ended up with wrong shoulder pads. I would recommend going to the actual store to try them on and see which size fits the best. 
Here is a shoulder pad sizing chart as a good reference:
Again, make sure to check the product page where you can find their own sizing chart.
Protection
Shoulder pads are meant for porection, so you want to find the best protection possible. Nice and simple. Offensive players should in particular look for maximum protection by getting a full model. Because offensive players can find themselves often on the receiving end of physical contact and hits. 
All the options above provide first grade protection for your vital core area, so make sure to grab one of them for the upcoming season.
Mobility
Good shoulder pads provide good protection without hindering your mobility and flexibility. The fine balance between protection and lightweight is a great metric to measure the quality of shoulder pads.
If you opt in for shoulder pads, make sure to read reviews about the comfort around shoulders as sometimes stiff padding can get in the way of your motions.
Material
Another property to look out for in good shoulder pads is if their materials are breathable and have cooling effects. There is nothing more frustrating than having wet padding wrapping around your shoulders and body. 
So make sure to check out their product pages to see what fabrics they use.
Bottom line
These are the essential features and properties that good shoulder pads provide. Check out this product review video from ECD where Greg goes through why he likes them:
Conclusion
To keep the game safe and sound, lacrosse shoulder pads play an essential role. They are designed and made to protect both your bones and internal organs. This is why it is important to choose the best lacrosse shoulder pads to stay safe during your game.
I hope this guide serves to help you decide and choose the best lacrosse shoulder pads that are right for you.
In addition to shoulder pads, check out the best lacrosse gloves, lacrosse helmets and lacrosse helmet visors in 2022 to complete your protective gear set.