If you landed on this page, you are probably either curious or looking for the best lacrosse sticks for beginners and youth players on the market today. Well, in this post, I will show you everything you need to know. 
This guide will walk you through the top complete lacrosse sticks that were made for youth, U12 & Under, entry-level and intermediate players. To help you find the stick you are looking for specifically, they will be categorized based on positions. 
After reviewing some products, I'll also go over a few basic things that you need to understand about lacrosse sticks in order to make an informed decision about which lacrosse stick to buy.
Looking for women's sticks, check out my complete guide on women's lacrosse sticks.
Looking for the best heads and shafts in 2022? Click here and here to learn more.
Jump to the section you want to see or find below for the best option for each position:
| Product Image | Lacrosse Stick Name | Recommendation | Check Price |
| --- | --- | --- | --- |
| | StringKing Complete 2 Senior | Best Stick For Attackers | Check Price |
| | ECD Bravo 1 | Best Stick For Middies | Check Price |
| | STX X10 | Best Stick For Defenders | Check Price |
| | STX Eclipse 2 | Best Stick For Goalies | Check Price |
Best Lacrosse Sticks For Beginners (Attacker and Middie)
Let's start with the recommended lax sticks for attack players and middies.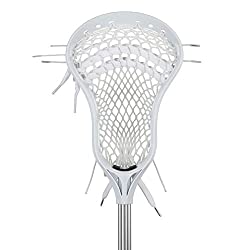 StringKing Complete 2 Senior
Ideal choice for both beginners and intermediate players
High quality pre-strung head with great mesh
Wide head shape might not be the best option for some intermediate players
StringKing is probably one of the best brands right now making complete lacrosse sticks. Notably, their complete 2 line is great for beginners and intermediate players. 
If you read my best attack and middie heads and lacrosse mesh reviews, you know StringKing is known for its offense heads and mesh. To make their complete stick just as powerful and high-performing, StringKing uses their elite offense heads and premium mesh to create their complete pre-strung lacrosse stick. 
Featuring a premium alloy shaft with added durability, this stick delivers the expectation and beyond. Complete 2 is my choice of the best lacrosse stick for beginner attackers in 2022.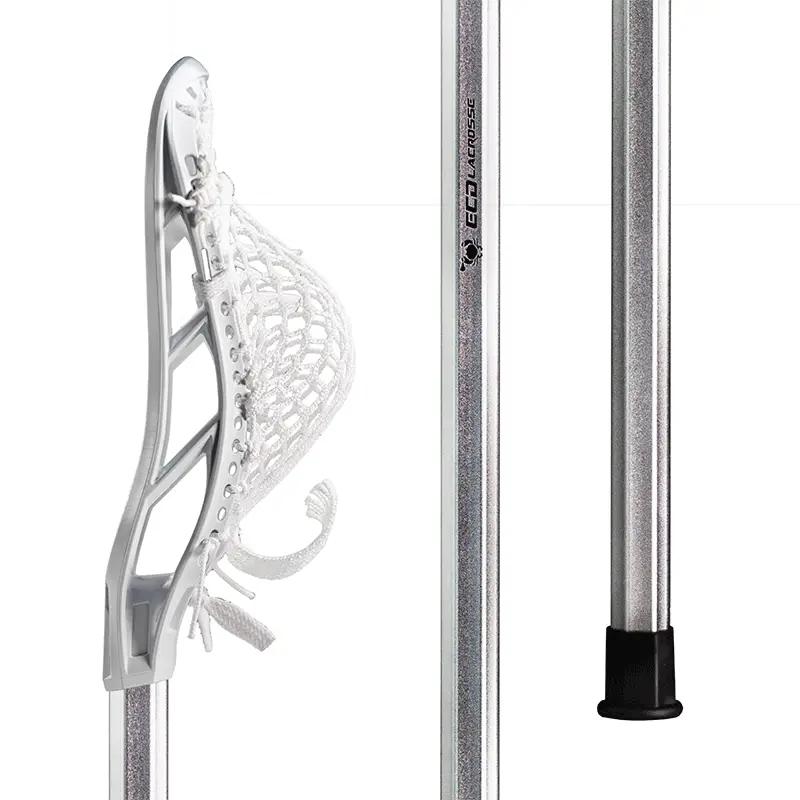 ECD Bravo 1
Affordable price
Go-to choice for beginners and youth players

Very well-strung pocket
Hard to hold gripping when it gets wet
If you are looking for a more affordable and beginner-friendly complete stick, ECD Bravo 1 offers the best value on the market today. It's made with the goal of giving beginner players the same quality and specs you can expect from an elite stick. 
What makes this stick special is the well-strung pocket. Unlike most other beginner sticks, ECD Bravo 1 consists of a great soft mesh with a mid pocket that helps players to learn the game and the fundamental skills in the best way possible. 
A wider face shape, a perfectly round scoop and a stiff construction are specific features beginner players will fall in love with. This is the go-to stick for most high school level players today.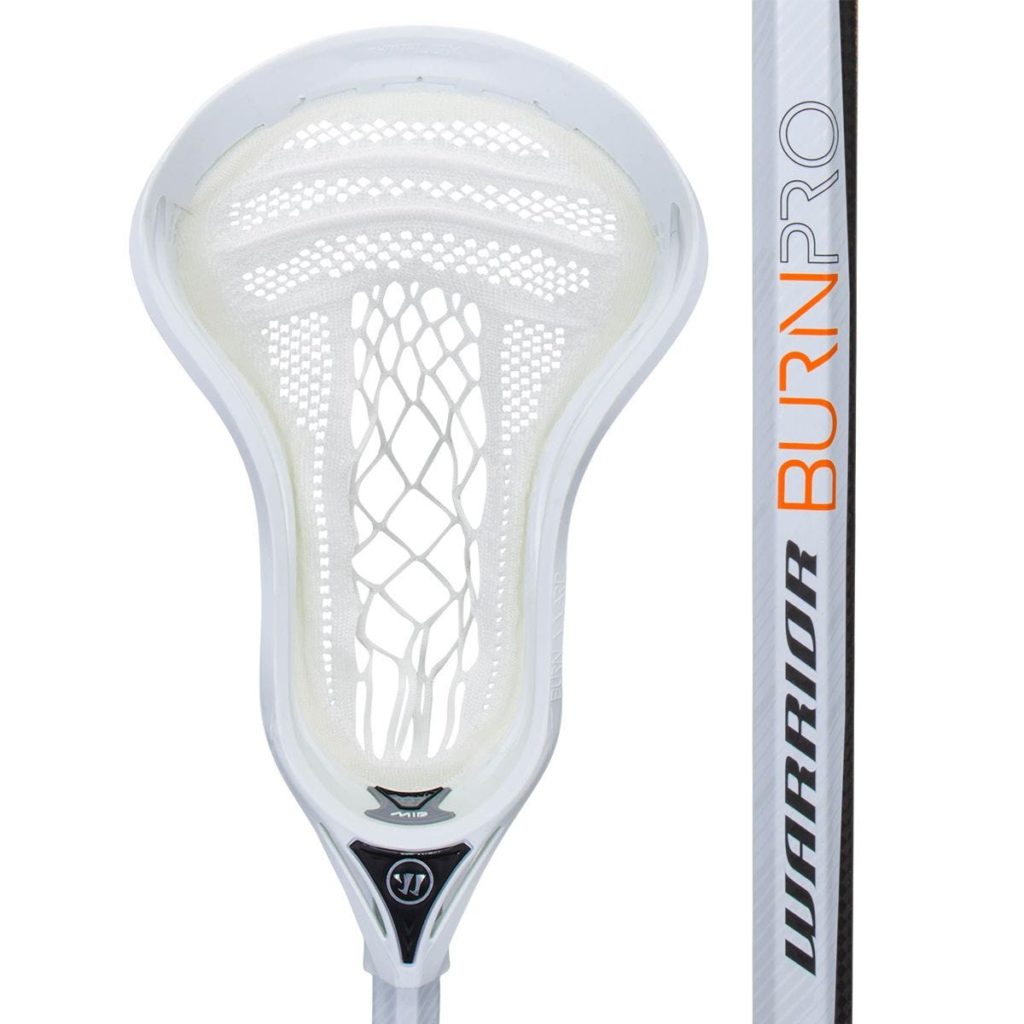 Warrior Burn Warp Pro Complete
Ideal choice for both beginners and intermediate players
High quality permanent strung pocket for beginners
Wide head shape might not be the best option for some intermediate players
The 2022 brand new Warrior Burn Warp complete stick is next up on our list. For beginner players who aren't comfortable with stringing their heads, Warrior Warp pocket is a great option. Warp pocket refers to Warrior's permanent built-in pocket that doesn't require any break-in or adjustments. 
Warrior Burn is also known for its unique head design with higher pinched construction and durable plastic material. The shaft is made of carbon fiber that is super strong and lightweight so that it maximizes the gameplay experience for beginners.
All in all, this is a great complete stick that checks all the boxes for players looking for a well-made pocket and great hand control.
Best Lacrosse Sticks For Beginners (Defense)
The two selected sticks below are great for players who are just starting to learn defense.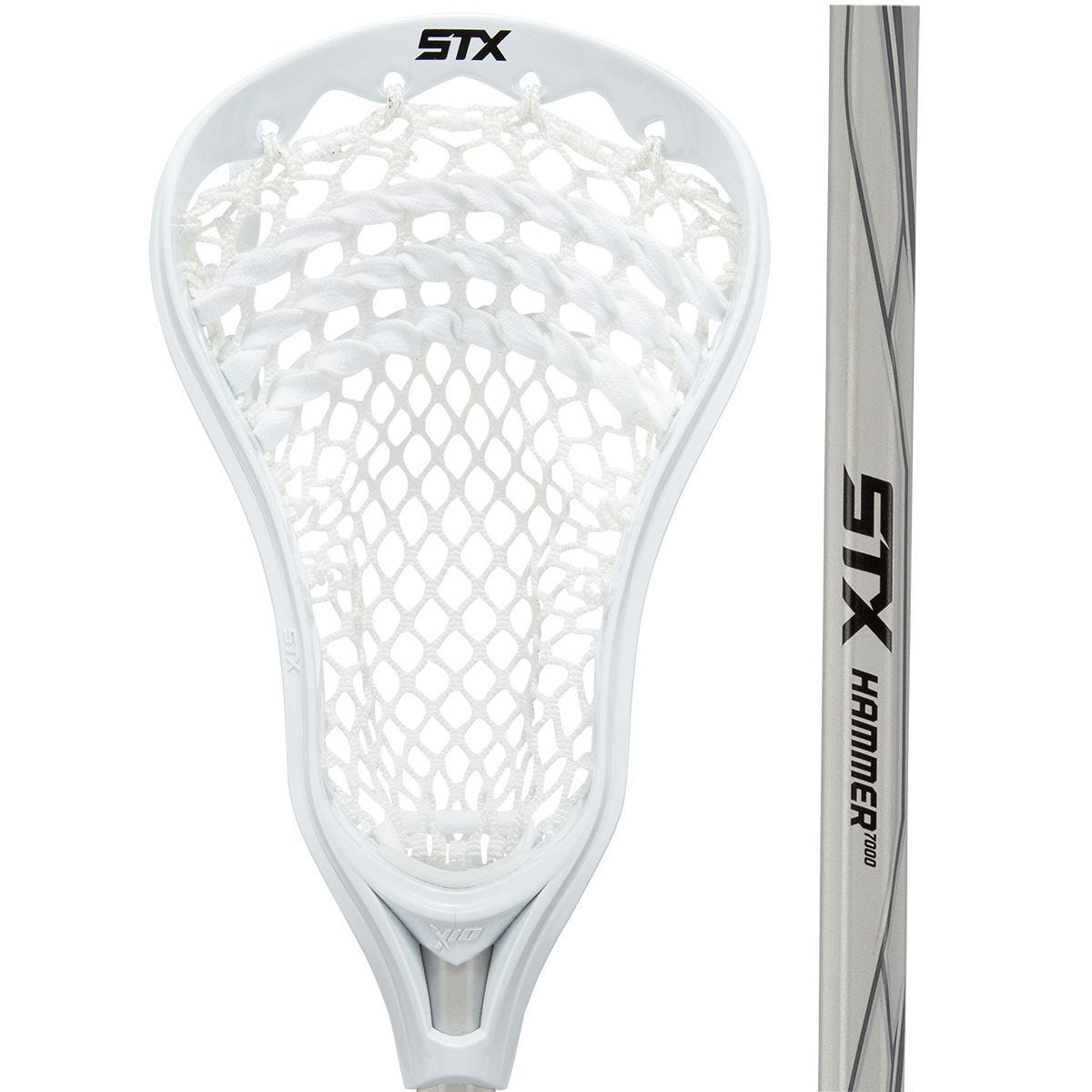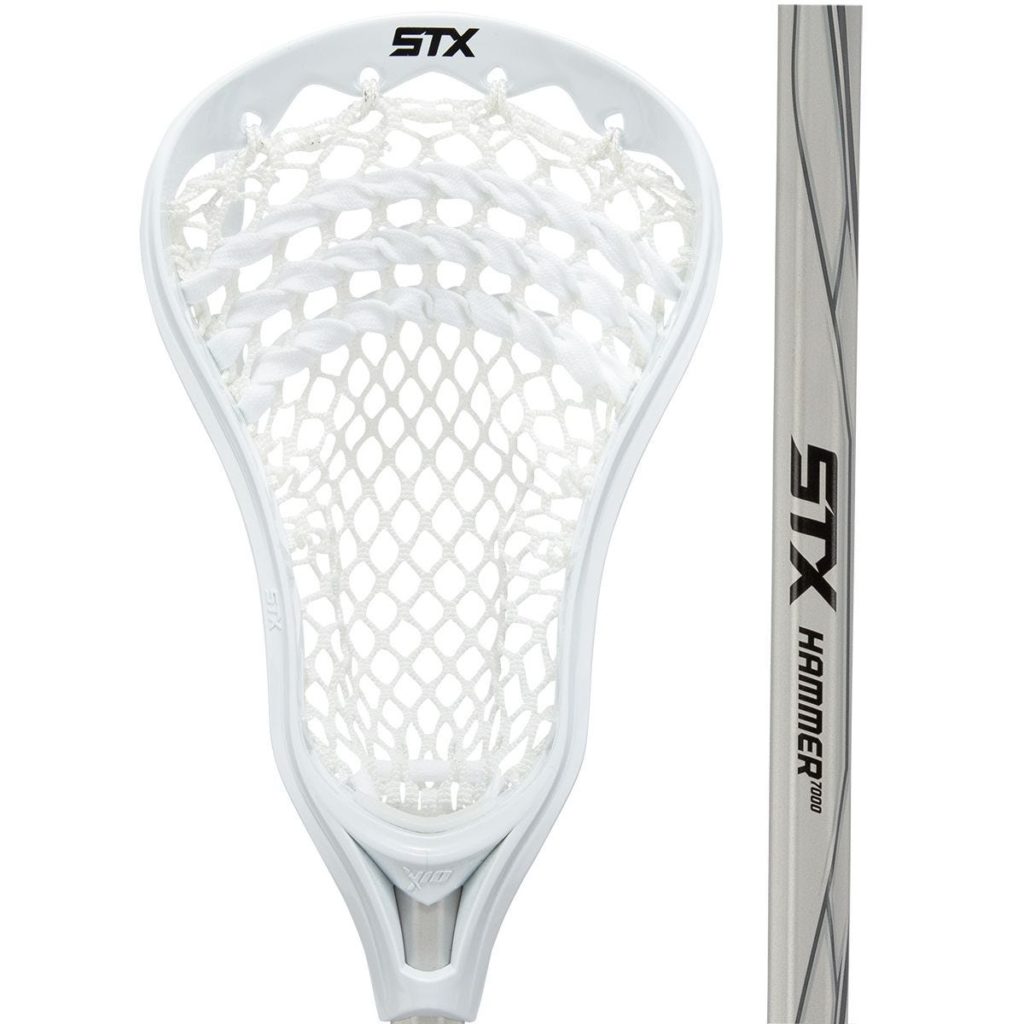 STX X10 Defense Stick
Great for beginners to develop proper fundamentals
Paired with iconic X10 head
Wide face shape for optimal defense ability
The shaft isn't the most durable and lasting shaft STX offers, but it gets the job done
For any older defensive players out there, you would know how great the STX X10 defense stick is. It has been a long-running defense model made by STX. It has one of the best stiffness and strength qualities you can expect from a defense stick.
For beginner defenders, buying a durable and strong stick is very important as you learn the footwork and calculate the right timing to throw checks. Additionally, the head comes with a wider face shape that gives defense players more surface area to intercept passes and shots. I also really like the classic STX trestle sidewall design of the head. 
As far as the shaft goes, this defense stick is paired with Hammer 7000 shaft that offers decent durability and gripping.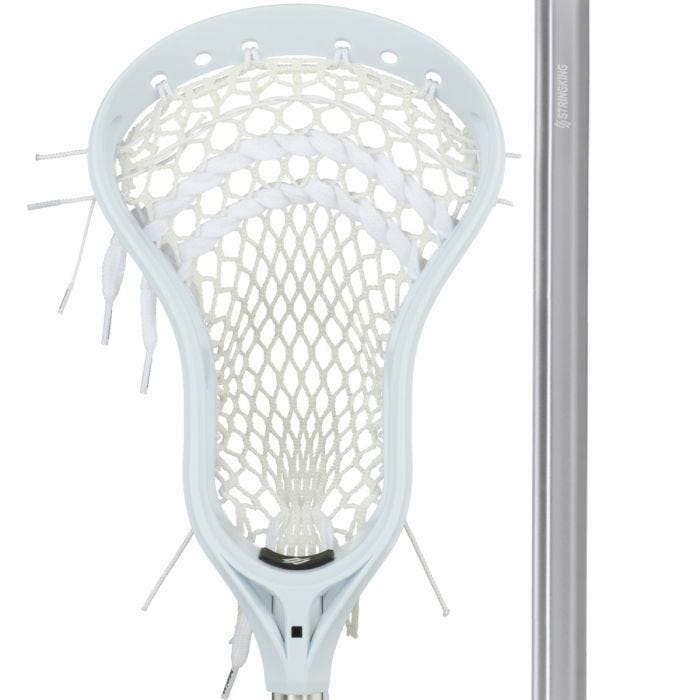 StringKing Complete 2 Senior
Durable shaft material
No need to break in
High quality pre-strung head that is less affected by weather
The shaft is heavier than some alternatives
StringKing Complete 2 Defense is another great option for young defenders. A very durable and quality shaft is what makes this stick stand out for it withstands beating quite well. 
Similar to many beginner-friendly options, this stick requires no break-in time. It's game ready right out of the box.  Furthermore, the shaft features a durable and lightweight material that gives the player better control of the stick. 
The wide scoop is great for ground ball pickups. Hence, overall, Complete 2 Senior Defense is a great option for players who are learning the ropes of the game or are ready to move toward a more advanced stick.
Best Beginners Lacrosse Stick For Goalies
This is my all-time favorite stick for goalies that I always recommend for beginners who are just starting out with lacrosse.
STX Eclipse 2 Goalie
Durable goalie stick at a resonable price
Strung head with 12-diamond great quality mesh
Widely popular choice
Semi-hard mesh requires some time to break in
This head is molded after the iconic Eclipse head, strung with a semi-hard mesh pocket. Right off the bat, this stick has incredible strength, along with the closed sidewalls that prevent bending and flexing of the head under pressure.
It also comes with a great scoop to help goalies pick up ground balls easily and the enhanced gripping helps goalies maneuver with confidence. The overall design is suitable for goalies of all levels, especially for beginner players with a steeper learning curve.
Best Youth Lacrosse Sticks For U12 & Under
Youth players under 12 years old aren't tall and strong enough to handle a full-sized lacrosse stick, so youth players use shorter and lighter sticks.
Below are my picks of the best lacrosse sticks for youth laxers in 2022.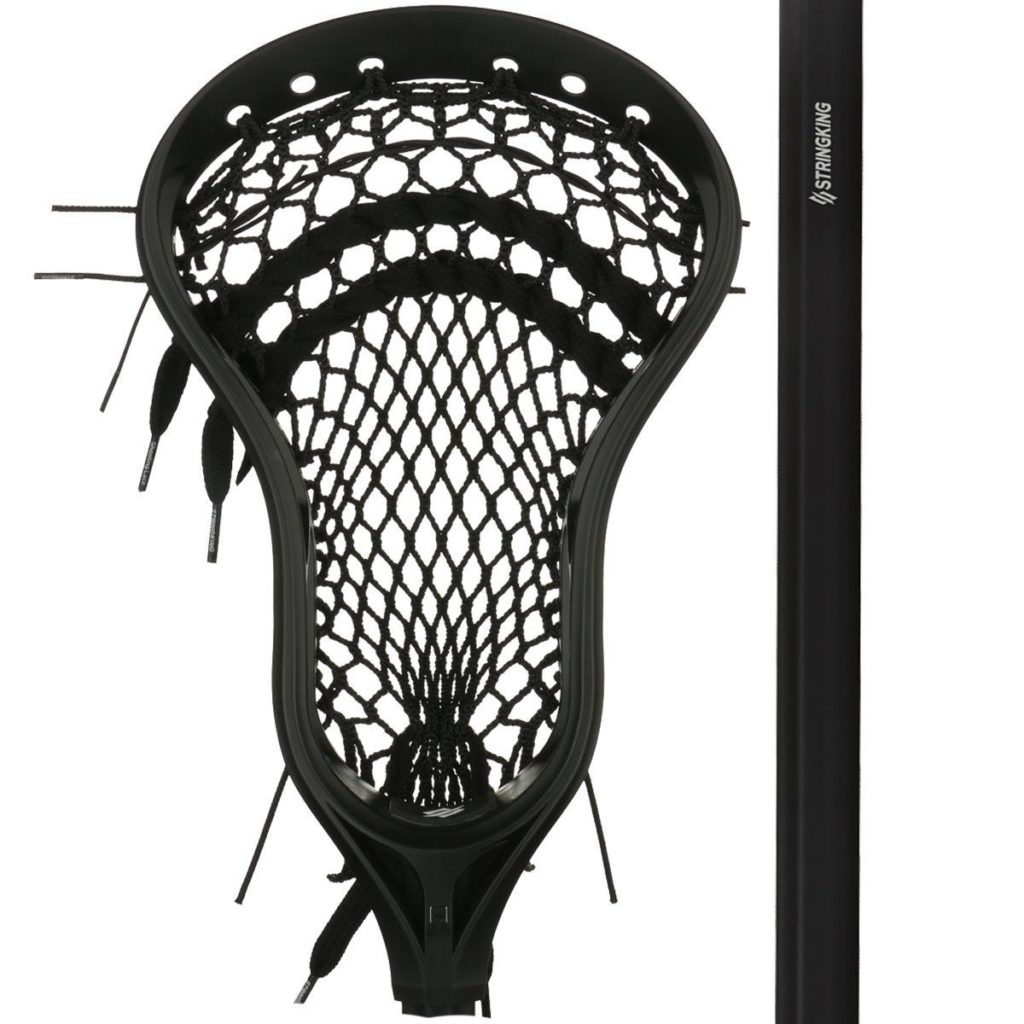 StringKing Complete 2 Junior
Wider head for an increased catching area
Pre-strung head with a great pocket
Light shaft for easier gripping
Might not be as ideal for bigger and taller size players
This is the lacrosse stick that I always recommend for kids.
It's the StringKing Junior that comes with a light shaft and a wide head that makes learning lacrosse basics an easy task for any kid. This stick is delivered as complete and ready to use with the mesh strung that requires no break in time.
Compared to the adult version A7150, this stick has a shaft that is much lighter, thinner and easier to grip. This will allow kids to learn shooting and cradling a lot easier and faster.
As for the head, it's wide enough and it has a good pocket that makes catching the ball easy for the player.
Overall, this is a well-balanced premium stick that was made especially for youth players. If you are looking for a complete stick for your kid to get started with, make sure to pick this one up.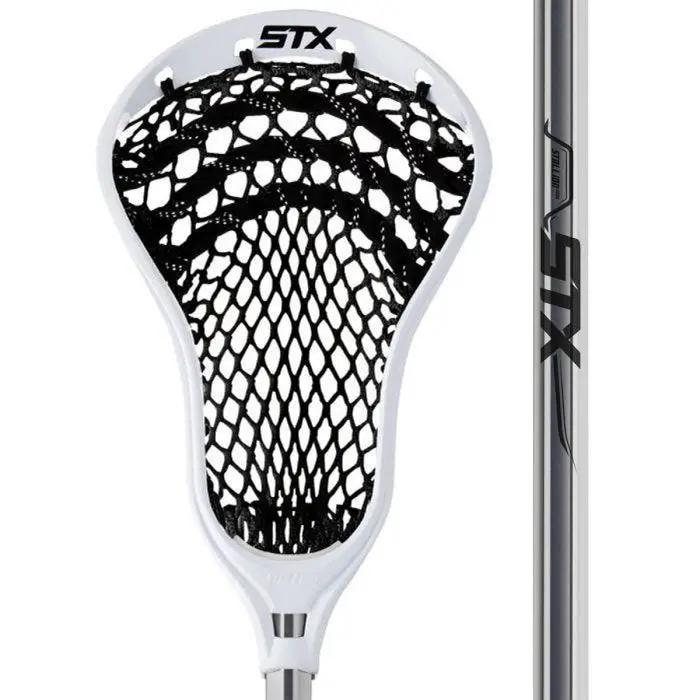 STX Stallion 50
Soft materials perfect for youth players
Easy catching and ball control
Pre-strung head with soft mesh
This stick is intended for youth male players, not for youth female players
Pocket will need adjustment
My second favorite stick for youth lacrosse players is definitely the STX Stallion 50 which is made for kids to help them learn the basics of lacrosse.
The design of this stick is ergonomic which makes it easy to use for beginners. The head of this stick is made of soft material to enable players to easily pick the ball from the ground. There's a short and thin handle to provide easy control over the stick for young players.
Another amazing thing is that the STX Stallion 50 is really lightweight which makes it a perfect stick for kids under the age of 10. However, the only downside I can see with this stick is the pocket. Many people have complained about the pocket is too deep and that it needs adjustment.
Other than that, I think this stick is a good one. Its price is quite reasonable based on what this stick offers. I'd totally recommend this stick.
STX Stallion 550 Junior Attack
Meet NFHS Rules
Ideal weight-length balance
Durable stick with a shorter and thinner design
The stick screw attaching the head is not very secure. You might want to add a second one for better stability
Stallion 550 Junior is currently the best-selling stick among youth lacrosse players. 
This stick's head is wide and has a u-shaped scoop, designed to make it easy to catch and control the ball thus making it ideal for entry-level players. Besides that, the sidewalls of the head are light-weighted thus enhancing ball passing. The soft stringing material used for the head makes it flexible and versatile to use.
The smooth finish handle is polygonal in shape, therefore, enhancing the comfort of gripping. It also meets NFHS regulations and comes at a low price which makes it a total bargain.
Overall, the simple yet appealing design of this lacrosse stick is great for developing fundamentals thus making it one of the best lacrosse sticks for beginners who intend to play in attack or midfield positions.
STX Stallion 200 Defense
Great for beginners to develop proper fundamentals
Paired with STX elite Stallion U 550 head
Wide face shape for optimal defense ability
The shaft isn't the most durable and lasting shaft STX offers, but it gets the job done
This is a great defense starter stick for players who just started to play defense.
It is a standard, full-sized 6-foot long pole that can be cut to the needed size depending on the player's height and preferences.
The head is slightly offset in order to enhance ball control and easy catching. The open sidewall design creates room for a wider face to help the player pick up ground balls and catch easily. The sidewall is also reinforced for strength and durability ensuring the player will get to use this stick for multiple seasons without breaking.
STX FiddleSTX Two Pack
Great for backyard mini practice
Comes with a mini ball
Great price for a good quality
Not really durable; only suitable for recreation
Handles are made of plastic
As a disclaimer, the STX fiddlestick is not intended for official game use but solely serves the purpose of entertainment and recreational use. This 2-pack comes with two mini sticks that are only 30 inches long.
They're made of plastic so they can't be used in youth competitions as legal lacrosse sticks. However, they are great to learn and practice with, especially for kids under the age of 8.
The package will also include a soft lacrosse ball for kids to play with. The bottom line, this is a great gift for kids under 8 years old to get exposed to lacrosse as their first unofficial stick. If you want to check out more mini lacrosse sticks, click here to see the best mini sticks in 2022.
Custom Lacrosse Stick VS Lacrosse Complete Stick
So between the custom and complete lacrosse sticks, which one makes more sense for a beginner and young player? 
The real and short answer is that it all depends on your preference. The conventional and more detailed answer is that in the early days of your lacrosse career, it's better to use a complete lacrosse stick since you are still developing and crafting your skills. 
Complete lacrosse sticks come ready to be used immediately after unboxing them. There's no further action or customization required by the players, which makes it a great option for lacrosse beginners who don't need or have the expertise to assemble a custom lacrosse stick. 
A custom-made stick means that you get to choose the head and the shaft separately and then you assemble them together to complete your stick. It gives you more control and freedom to meet your playing style. 
The head will usually be unstrung because some professional players prefer to use their choice of lacrosse mesh and knots on the head.
Custom lax sticks are generally the preferred option for more advanced lacrosse players. Since the stick is the most important piece of equipment in lacrosse, advanced players are keen on maximizing their ability and potential for the best performance. 
Read also: Lightest Lacrosse Shafts in 2022, Lightest Lacrosse Heads in 2022
Women's Lacrosse Sticks VS Men's Lacrosse Sticks
A common question I often get from beginner players is what are some major differences between women's and men's lacrosse sticks.
In short, women's lacrosse sticks are shorter than men's lacrosse sticks. Men's lax heads are lighter and come in sizes that are normally bigger. We'll get to the details of these measurements in the U.S Lacrosse Regulations section.
As you probably know, women's lacrosse has slightly different rules than men's lacrosse.
It has less physical contact than men's lacrosse which makes the specifications of the gear used in each game different.
For example, women don't wear helmets. Instead, they put on goggles.
As for youth players, there's no difference between women and men. Typically they use the same youth lacrosse sticks, yet read customer reviews to be 100% sure. As I noted above, STX Stallion 50 might not be a great fit for most youth female players. 
You can watch this video to understand more about the differences
U.S Lacrosse Regulations For Sticks: Which Size You Should Get
The first thing to keep in mind is that the length of a lax stick depends on the position you play in. 
Moreover, youth players (under the age of 14) will need to buy lacrosse sticks with specific sizes that differ from those used by older players.
U.S Lacrosse made a clear set of regulations that determine the appropriate sizes of lacrosse sticks that should be used by all lax players in the United States.
See the table below that specifies the length of lacrosse sticks that should be used in each position.

If you want to see the whole list of regulations other than stick dimensions, you can visit the U.S Lacrosse website.
Other than the length, different positions in lacrosse require different specifications.
For attackers and middies, they prefer to buy lighter and shorter shafts for better speed and control.
For heads, attackers and middies like a more pinched face shape and lower to mid pocket. Moreover, they usually go for sticks that have a great grip for maximum control.
For defense players, they like longer shafts with strong heads because they would be able to poke their opponents and block them from scoring.
The head should come with a spacious pocket to be able to steal the ball easily from the other team with a great scoop for ground balls.
Read also: Best Defense Heads
As for goalies, they go with larger heads that come with huge pockets to enable them to block the balls more effectively.
How To Choose The Best Lacrosse Sticks For Beginners
In order to help you make the best buying decision at a great price, I did the necessary research and in-person testing. 
Here are a few features I consider to be the most important when choosing a quality stick:
Positions / Level
As mentioned earlier, depending on your position and level, your choice of a lacrosse stick varies. Youth sticks are typically shorter than standard adult sticks by 2 to 4 inches. Attackers/middies tend to have the shortest sticks for fast speed and quick release. As you develop better catching and control, you want to choose a tighter head for accuracy and hold. 
Defenders have the longest sticks which allow them to cover wider surface area to intercept passes and do checks. Beginners don't often pick up "d-poles" right away as they are harder to control, so better to get comfortable with an attack stick first. 
Goalie's sticks are different from an attack and defense stick as they are designed to be larger and more rounded. 
As long as you buy from known and reputable brands, the stick will be legal and fine to use.
Shape of the Pocket
A head comes with a pocket that can be shaped in many different ways. Sometimes, you find that different leagues require different pocket types.
But if you're not sure which type to get, you can always go with a universal pocket type.
Shaft Material
Popularly, most shafts are made of aluminum because it offers strength, and durability while being lightweight and affordable at the same time.
Alternative materials that may be used are alloys, carbon fiber composite, titanium or scandium.
While aluminum is preferred for its lightweight, titanium is known for its strength and scandium is known for offering a nice balance between the two.
Composite is valued for the fact that it maintains a consistent temperature while being used outdoors.
And in general, you want to choose a shaft that is light and durable at the same time regardless of your skill and position.
Conclusion
I hope this guide covered everything you wanted to know when it comes to choosing the best complete lacrosse stick! There is indeed a lot of information to take in and digest, so feel free to bookmark this page and come back whenever you need a refresher. 
In a summary, here are the best beginner sticks in 2022:
| Product Image | Lacrosse Stick Name | Recommendation | Check Price |
| --- | --- | --- | --- |
| | StringKing Complete 2 Senior | Best Stick For Attackers | Check Price |
| | ECD Bravo 1 | Best Stick For Middies | Check Price |
| | STX X10 | Best Stick For Defenders | Check Price |
| | STX Eclipse 2 | Best Stick For Goalies | Check Price |
Below is a great video that explains everything you need to know about choosing the right stick in a video format: 
Drop a comment below if you have any questions and let me know if this post is very helpful!