Just like every sport, to be good at lacrosse requires a consistent period of training, practice and conditioning exercises.
And there's no doubt that practicing in your spare time outside of team training is beneficial to your growth. So if you are ready to take your game to the next level, consider buying a portable backyard lacrosse goal. 
Quick and easy to assemble; very convenient to fold and store away in your garage or take it somewhere else to practice.
Hence, in this guide, we are going to look at some best portable lacrosse goals to buy for the up and coming 2022 spring season.
Note: Don't forget to buy a backstop net as well for convenience when picking up the balls and for safety when shooting in the backyard
Best Lacrosse Goals To Buy In 2022: Detailed Reviews
The first impression I got immediately after plunging into the research is how many different portable lacrosse goals there are. Then of course not all portable lacrosse goals are created equal. There are many nuances that differentiate a good portable lacrosse goal from a bad one. 
I have included a total of 8 best options, 7 high quality portable lacrosse goals for intermediate and advanced players and 1 for young players.
GoSports Portable Lacrosse Goal
| | |
| --- | --- |
| Size: Standard 6′ x 6′ | Ratings: |
| Frame Material: 17 gauge steel | ⭐⭐⭐⭐⭐ |
| Net Thickness: 2.5mm | |
This fully collapsible lacrosse goal works like a charm. It can not only be fully disassembled and get stored away easily but also takes just under 10 minutes to set it back up. It comes with a standard regulation size, 6' x 6' x 7', which is a perfect training goal for high school and college players. 
The frame is made of durable and thick steel metal that holds up in any weather condition, so you can confidently leave it outside in your backyard all year round. What's even more impressive is that it's not so heavy, if you simply want to move it around the house, super easy to pick it up and transport it. 
The goal also comes with a duffle bag for portability.
The only drawback I notice is the poor stitching/sewing can be annoying when trying to slide the tubing through the sleeve, which could potentially rip the nylon so be careful when setting up the net.
Kapler Portable Lacrosse Goal 
| | |
| --- | --- |
| Size: Standard 6′ x 6′ | Type: Pop-up goal |
| Frame Material: Steel | Ratings: |
| Net Thickness: 3mm | ⭐⭐⭐⭐ |
Featuring a snap-lock frame, Kapler portable lacrosse goal is a perfect training and practice lacrosse goal. Whether you are a beginner or a pro, this lacrosse goal provides a quick and easy setup. You are also able to move it around due to its lightweight. 
What makes parents love these is the heavy-duty net that withstands all kinds of shooting power, so if your kid is looking to do lots of shooting drills, this is the best portable lacrosse goal available. 
One other thing to note is stringing the net does take some time especially the first time, but it gets easier once you are used to it.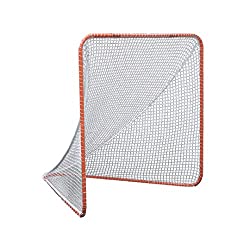 Gladiator Official Lacrosse Goal 
| | |
| --- | --- |
| Size: Standard 6′ x 6′ | Type: Pop-up goal |
| Frame Material: Steel | Ratings: |
| Net Thickness: 3mm | ⭐⭐⭐⭐⭐ |
Gladiator official lacrosse goal is made of a sturdy and high quality steel frame. It is a great option if you are looking for a goal that lasts a long time. 
The net is made of 3mm braided polyester with a reinforced lacing cord. Both the lacing cord and the braided polyester make assembling easy.
The gladiator goal also has an angled base bar construction with a reinforced segment of seams that prevent tearing. Furthermore, the orange coating gives the goal a smooth and even finish. It also provides a rust-proof layer.
On Amazon's product page, you see a clear and easy to follow set-up manual which is also included in the package to make the assembling process fast and easy.
Only one issue some customers experience is the net frays and tears easily after being exposed to the sun for a while.
Bownet Portable Lacrosse Goal 
| | |
| --- | --- |
| Size: Standard 6′ x 6′ | Type: Pop-up goal |
| Frame Material: Steel | Ratings: |
| Net Thickness: 2.5-3mm | ⭐⭐⭐⭐ |
Bownet official lacrosse goal is lightweight, weighing just a little under 8 lbs as it doesn't have metal pipes. The goal comes with a duffle bag in which you shall find the fiberglass poles that fit into the sheaths.
The goals steel frame is covered with rubber feet to prevent any damage to the floors or grass. And to make the net durable and warp-resistant, it deploys a knot-less design.
The installation process is fast and simple taking just under 2 minutes; it only needs tools that are included. Likewise, it also takes no time to disassemble. 
If you are a fan of low-maintenance lacrosse goals, this goal is a great option. Plus, it is easily portable and fits into the trunk of your car.
EZGlobal Lacrosse Folding Goal 
| | |
| --- | --- |
| Size: Standard 6′ x 6′ | Type: Foldable Goal |
| Frame Material: 17 gauge Steel | Ratings: |
| Net Thickness: 2.5-3mm | ⭐⭐⭐⭐ |
Ezglobal lacrosse goal is designed for players of all levels. The goal is made of strong steel which allows it to remain sturdy throughout its use.
Its official 6' x 6' goal size lets you practice in a real game setting. This way you are able to improve your shooting accuracy and power in no time.
Ezgoals are made out of the top quality steel with UV-protected netting so it holds up nicely in all weather conditions and for a long time. And it folds up easily for storage. 
One common feedback is assembly could be a little tedious since you need to weave the net to the frame. 
All in all, this is a great lacrosse goal at a reasonable price.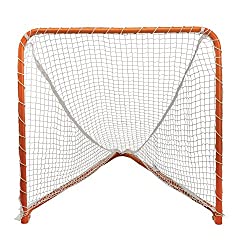 STX Folding Lacrosse Goal 
| | |
| --- | --- |
| Size: Box 4′ x 4′ | Type: Foldable Goal |
| Frame Material: Steel | Ratings: |
| Net Thickness: 3mm | ⭐⭐⭐⭐ |
STX Folding Lacrosse Goal is a perfect fit if you are looking for a simple and high quality goal to practice shooting in the backyard.
It comes with a 4 x 4 frame size and is made of 1.5-inch steel that is steadily attached to the mesh netting and the nylon binding. 
Like all STX products, this backyard lacrosse goal is very sturdy and comes with a thicker net than most other brands.
It is highly recommended for schools and recreational lacrosse.
Franklin Sports Lacrosse Goal
| | |
| --- | --- |
| Size: Standard 6′ x 6′ | Type: Pop-up Goal |
| Frame Material: Steel | Ratings: |
| Net Thickness: 2.5mm | ⭐⭐⭐⭐ |
This is an awesome goal for kids and beginners who would love to train often in order to master the game. The goal is available in the official size, 6′ x 6′.
The goal's poles are made of galvanized steel to ensure that it provides the steadiness you are looking for.
It also comes with a weather-resistant net with reinforced edging and a rugged tarpaulin net for better play. 
Like all the goals in this guide, the Franklin Sports goal is lightweight and can be easily moved around. However, it will not be as easy to dissemble once you lace up the net. 
Overall, this is a good lacrosse goal at a slightly cheaper price.
Franklin Youth Lacrosse Goal
| | |
| --- | --- |
| Size: 38" x 38" | Type: Pop-up Goal |
| Frame Material: Plastic | Ratings: |
| Net Thickness: 2.5mm | ⭐⭐⭐⭐ |
This is my favorite youth lacrosse goal for young players to learn fundamentals and practice their skills. It's very simple and quick to set up. 
It comes with a 38'' x 38'' frame which is smaller than a regular size but is super lightweight for easy transport. It gets the job done by being a recreational lacrosse goal for fun. 
One downside to that is the net is not durable enough and the goal could be slightly flimsy. Customers generally suggest don't try to shoot it with a regular lacrosse ball but with a soft training ball.
FAQs About Portable Lacrosse Goals
In this section, I will properly address some questions you might have before buying a portable lacrosse goal.
Why should I buy a lacrosse goal of my own?
Having a lacrosse goal is important if you do not want to limit your practice only to the team's training time. Becoming a great lacrosse player needs countless hours of shooting, passing and throwing. Mastering the basics of this game often requires you to have a lacrosse goal at home to practice regularly, especially if you want to get a head start on the season before it starts.
What are some differences between an official and practice lacrosse goal?
The biggest difference lies in the portability and materials. Besides the youth practice goal, other options on the list come with regular frame sizes. Let's compare:
Official goals are made of durable materials. The metals are heavy hence making them difficult to transport. The practical goals are easy to transport because they are made of lighter steel. Practical goals are also made from less durable materials, unlike official goals whose materials are expected to withstand powerful shots.
The official lacrosse goals use thicker steel pipes of about 1.75 to 2 inches in diameter. The practical goals use steel pipes of 1.5 inches.
All official lacrosse goals are painted in bright orange. The practical goals, on the other hand, are painted in any color. However, with newer brands, you may find many practical goals with orange lining.
The official lacrosse goal must have 90-degree angles on the top and bottom. Practical goals mostly have rounded corners.
The net is the most delicate part of the lacrosse goal. It is also the most worn-out part after long-term use.
Most lacrosse nets used in the lacrosse goals range from 2.5 mm to 3-6 mm in thickness. The thicker the net, the longer it holds up. Most practice goals come with a 2.5mm net which makes them less durable than the official lacrosse goal used in games. But many practice goals can still withstand harsh weather conditions and power shoots fairly well.
If you want to replace your old lacrosse nets, check out some great replacement nets.
Portable Lacrosse Goals v.s. Static Lacrosse Goals
Portable lacrosse goals are perfect for backyard practice as you can move them easily. A collapsible (folding) goal can be effortlessly stored in the car for transportation or in your garage, cabinet for storage. Which means portable lacrosse goals are lighter than static ones.
Pop-up Lacrosse Goals v.s. Folding Lacrosse Goals
Within portable lacrosse goals, there are two major types: Pop-up/collapsible lacrosse goals and folding lacrosse goals.
Pop-up goals collapse onto themselves with multiple joints design throughout the frame whereas foldable goals can only fold up the back triangle without collapsing the frame. 
Pop-up goals are easy and convenient for transport and storage as they can be dissembled into a small area. But the setting up and breaking down process can be tedious and time-consuming. 
Foldable goals are very easy to fold to a flat surface since it doesn't collapse into small pieces.
Depending on how you want to use it if you simply want to keep a lacrosse goal in the backyard, folding a lacrosse goal is a better option as it's more durable. If you want to have a highly portable goal, consider buying a pop-up goal.
How Big Should A Lacrosse Goal Be?
The official size of the lacrosse goal remains the same irrespective of the brand or type you go for. They are regulated to be 6' x 6′. This is the same size used in lacrosse matches across schools and tournaments.
There are other smaller lacrosse goals measuring 4′ x 4′ but are mainly used for box lacrosse.
It is important to check if it's the correct goal size you are looking for. Practicing with the wrong net could hinder your growth.
Is Getting A Cheap Lacrosse Goal A Good Idea?
Acquiring a lacrosse goal used to cost a fortune. However, now with better technology and affordable materials, buying and setting up a lacrosse goal in your backyard is quick and easy.
Buying a cheap lacrosse goal can sometimes be the way to go especially if the goal is meant for kids to have fun and mess around with. But, if it's for serious lacrosse training, buying a high quality lacrosse goal should be a priority as they withstand shootings better. 
The products I included in the earlier section are a great place to start when looking for either your first purchase or an upgrade.
Additional Features To Consider:
Net Quality
Low quality nets wear and tear quickly. As we mentioned earlier, you want to look for a thicker net, ideally thicker than 3 mm. 
Youth lacrosse goals don't hold up as well as a standard lacrosse goal, mainly because the net they use isn't durable for holding powerful shots. In any event, if you aren't happy with the original net, you can also buy thicker replacement nets for better quality.
How to string a net
The level of difficulty the goal requires to string a net is also an important factor to consider. Some goals will need you to loop string around the frame to attach the net, which takes more time but typically you only need to string it once. Other goals will come with lacing rods that allow you to directly attach the net to the frame. 
Also, don't forget to buy some zip ties!
Here is a helpful tutorial to help you get started:
Take Your Backyard Training To The Next Level
Rebounder: A great equipment to improve your shooting and passing skills. Also, way more versatile and convenient than a wall since it's also portable.
>> Check out the best lacrosse rounders in 2022
Backstop: Another essential addition to put behind your goal is a backstop. This will save a lot of energy and time as these large nets catch and collect the balls much easier. 
>> Check out my pick for the best backstop nets in 2022
Shooting Targets: What's a better way to improve your shooting accuracy than having a visual focus attached to your goal. Designed to give players maximum shooting reps, these shooting targets are a must have for training.
>> SKLZ Univsal Corner Shooting Targets
Soft training ball: Perfect training ball for beginners. It's softer than a regular lacrosse ball but still the same weight and size.