If you are an advanced and elite women's player, you are probably looking to assemble your own lacrosse stick. After all, a complete stick lacks the individuality and personal preference that different players value. 
As women's lacrosse blew up onto the scene, brands are making more advanced and better heads year by year. Most importantly, these heads are specifically designed for women's players so that you can receive maximum comfort and control.
Hence, in this post, let's find out the best women's lacrosse heads for offense and defense players in 2022. 
Not yet ready to purchase a separate head and shaft? Click here to check out the best women's complete sticks in 2022.
Jump to the section you want to read:
Best Women's Lacrosse Heads For Attack
While researching for women's lacrosse heads, I found many great options available today. Although it did make my job challenging, I was excited to learn more about women's lacrosse, such as the different pockets, specs and rail designs.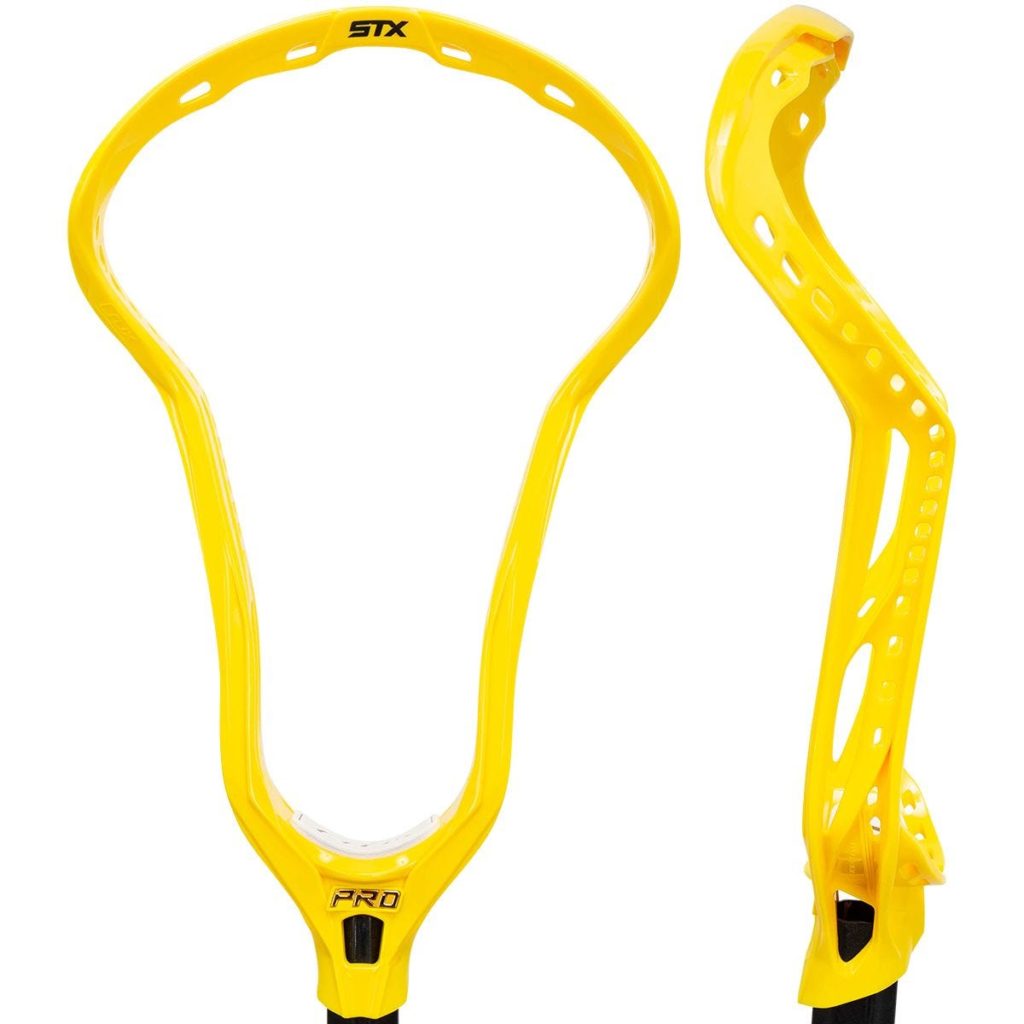 STX Crux Pro Head
| | |
| --- | --- |
| #1 Best 2022 Attack | Colors: Yellow |
| Release date: 2021 | Ratings: |
| Type: Unstrung | ⭐⭐⭐⭐⭐ |
The first on our list is the newest iteration of STX Crux 600. To be honest, I had my fair share of doubts regarding how much better it could be. STX Crux 600 has been the most popular and the most successful head among players. Needless to say, STX managed to implement more exciting upgrades to this head. 
It revolutionizes the offset design that gives players more ball control. The materials are significantly lighter than the previous model, 20 grams or 0.7 oz lighter to be exact. 
Wanna string a better pocket? Crux Pro has a minimal sidewall design so you can easily string a progressive pocket for attackers to go for powerful and swift shots. Lastly, it features STX's iconic speed scoop for those critical groundballs. 
All in all, Crux Pro Head is my no.1 lacrosse head choice for women attackers.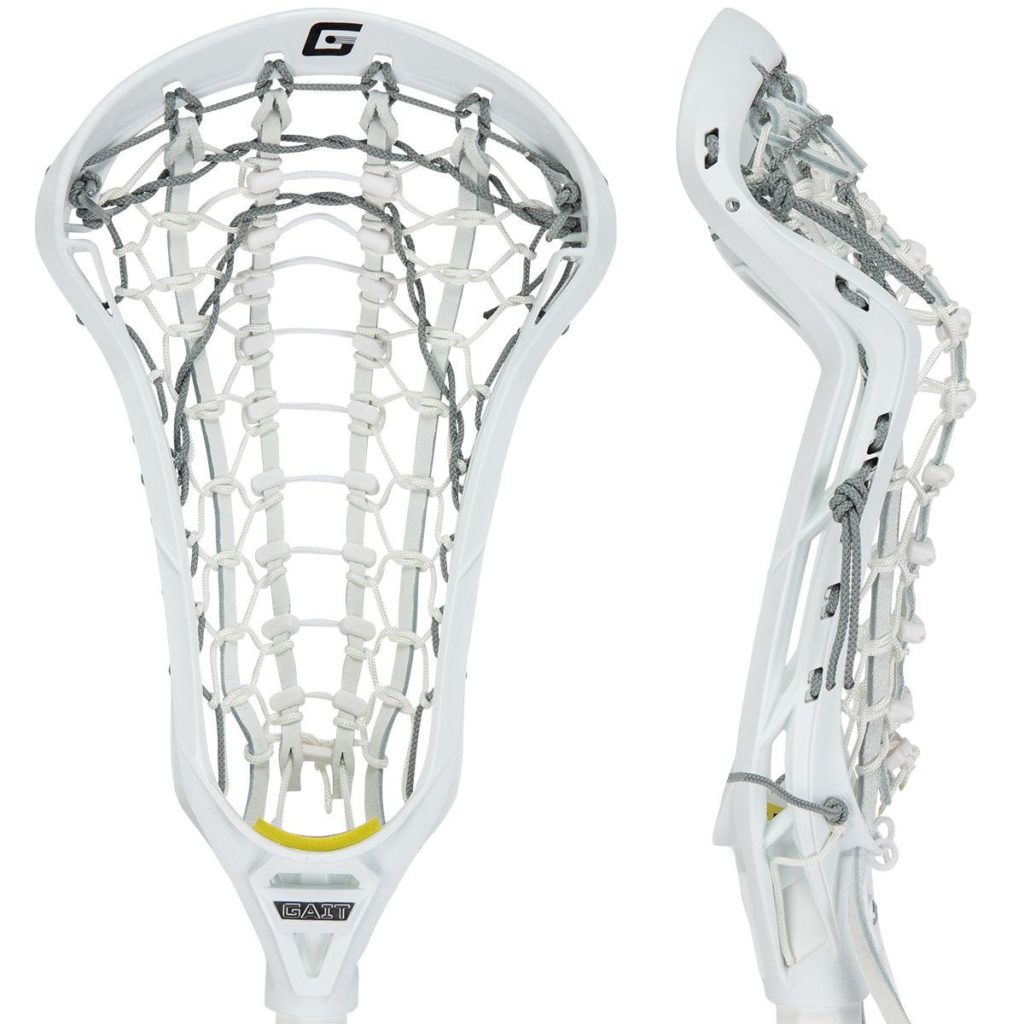 Gait Whip Head
| | |
| --- | --- |
| #2 Best 2022 Attack | Colors: Black |
| Release date: 2019 | Ratings: |
| Type: Rail Elite, Mesh Pockets | ⭐⭐⭐⭐ |
Gait is a great up-and-coming lacrosse company that is very much under the radar right now, but as you continue reading the guide, Gait has a couple of solid women's heads.
Gait Whip is a head that is specifically designed for offensive players. Its tight face shape, lightweight design and a narrow channel are ideal features that create more accurate and powerful shots. 
It also incorporates the Curved Offset Technology to create an aggressive shape design for easy groundballs and more whip to your shots. One thing to note here is that the pocket is not strung with the standard flex mesh or mesh runner pocket. If you want a mesh strung head, this head will need to be restrung. 
Other than that, Gait Whip is a great and affordable head for players.
ECD Infinity Pro
| | |
| --- | --- |
| #3 Best 2022 Attack | Colors: Smoke, Clear |
| Release date: 2021 | Ratings: |
| Type: Unstrung | ⭐⭐⭐⭐ |
Next on our list, we have the brand new 2021 release, ECD Infinity Pro. The biggest upgrade from the previous model is the new ultra-lightweight diamond plastic, which reduces the weight by 10%. Additionally, it improves the overall performance and durability compared to the original Infinity. 
Since ECD is known for its mesh and pre-strung pockets, ECD Infinity Pro features the best Venom Pro pocket that creates additional control and maximizes offensive performance. So if you are a player who particularly enjoys ECD mesh, ECD Infinity Pro is a choice you can't go wrong with.
Best Women's Lacrosse Heads For Middie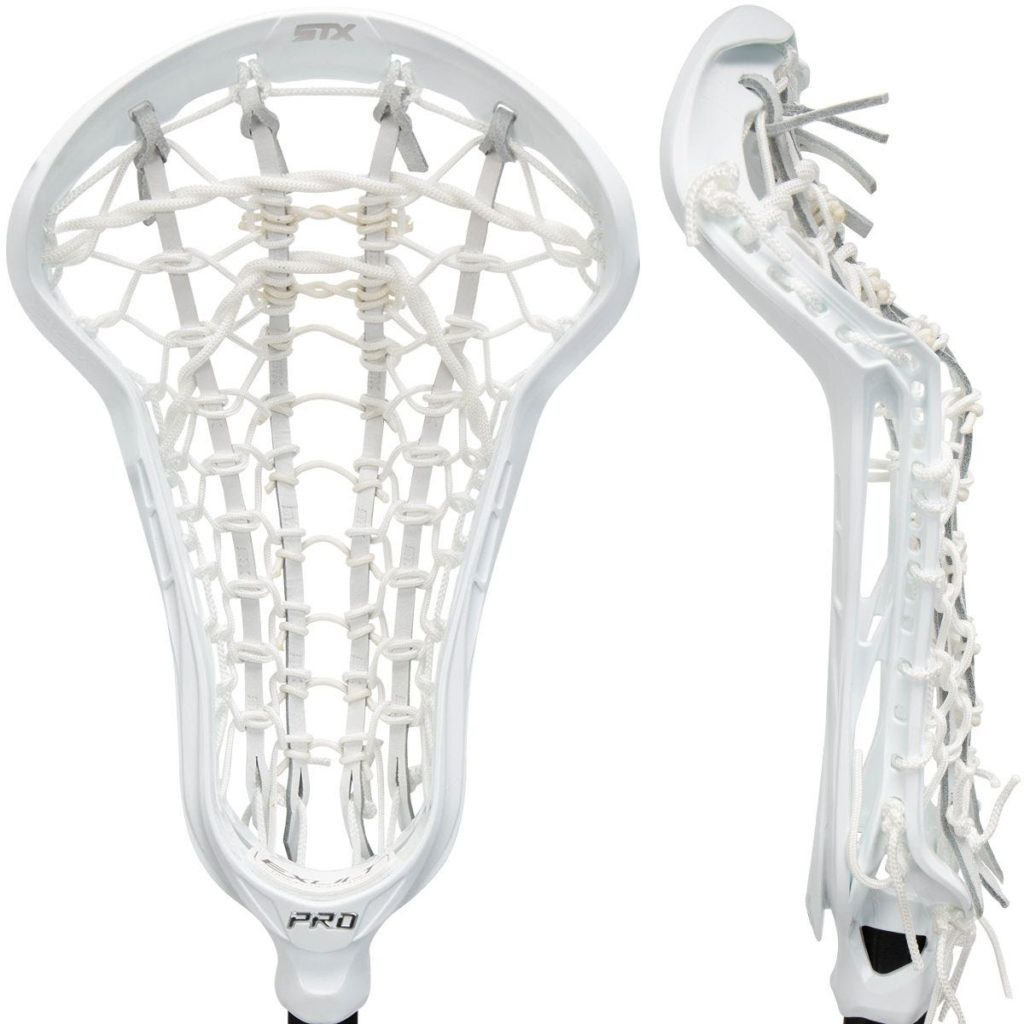 STX Exult Pro Head
| | |
| --- | --- |
| #1 Best 2022 Middie | Colors: White, Black |
| Release date: 2020 | Ratings: |
| Type: Strung | ⭐⭐⭐⭐⭐ |
STX Exult Pro is a versatile and all-around head for players in all positions, especially midfielders with a large coverage area and a long list of responsibilities. Whether you are passing critical balls, fighting for groundballs, hustling back on defense or taking unwavering shots, Exult Pro gets the job done.
In terms of weight, Exult Pro is so far the lightest Exult ever made. The maximum offset and prominent shoulders create a secure pocket for ball retention. It's also made of Eduraform plastic that endures wear and tears for a longer time. Lastly, it's the speed scoop, which doesn't need any additional explanation. 
Overall, Exult Pro is definitely a great head for elite midfielders who covers every corner of the field. It checks all the boxes you'd expect from the best middie head.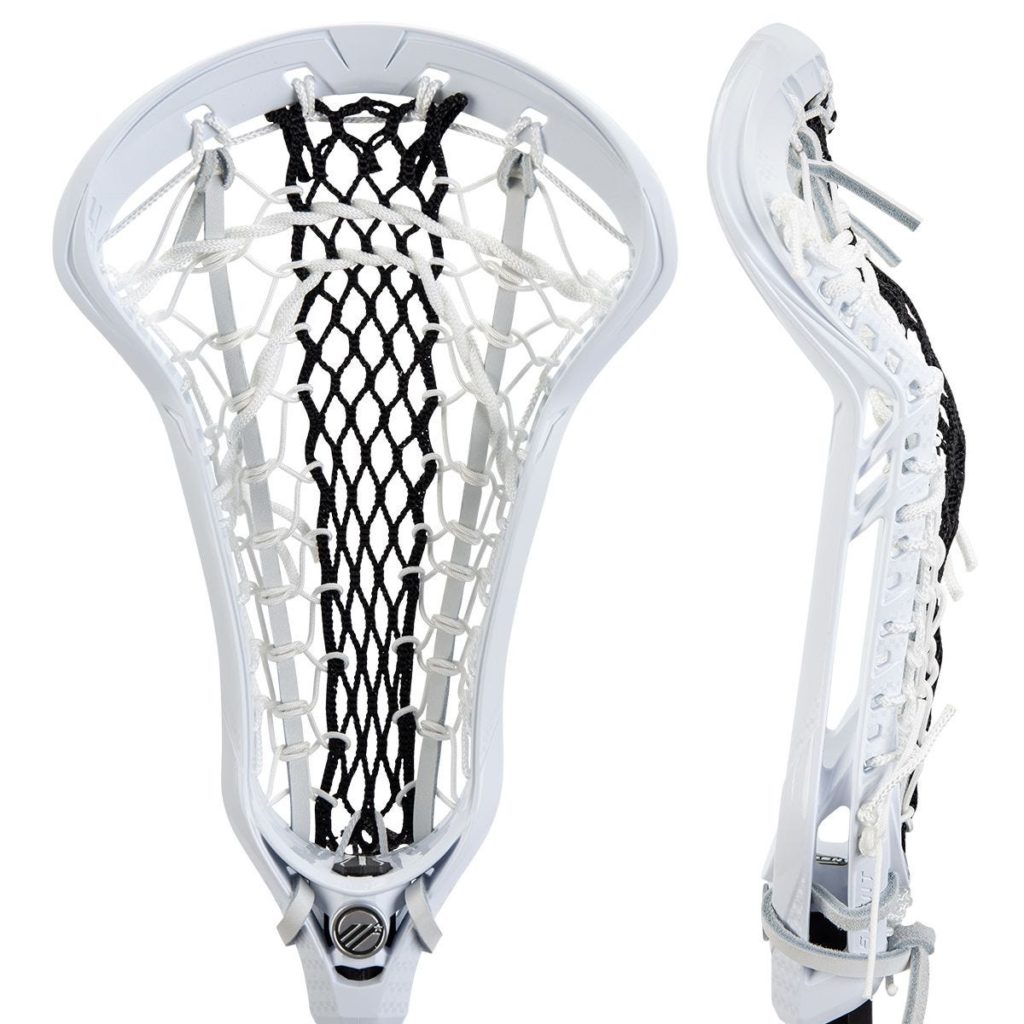 Maverik Ascent Head
| | |
| --- | --- |
| #2 Best 2022 Middie | Colors: White, Black, Silver |
| Release date: 2020 | Ratings: |
| Type: Strung | ⭐⭐⭐⭐ |
Another very common middie head is the Maverik Ascent+ Head. It's specifically designed for do-it-all midfielders due to its 22-degree release angle. It allows for high-powered shots, accurate passes and superior draw control.
It has the profile every midfielder looks for, a.k.a tight face shape, lightweight materials and advanced mesh runner system. With this pre-strung head, you are confident that the ball will land in the sweet spot securely and safely without wobble. 
Similar to the STX's speed scoop, Maverik features a Ground Control scoop that also ensures easy groundballs. 
Maverik Ascend will be a great investment for any offensive middie looking for a powerful head that takes the game to the next level.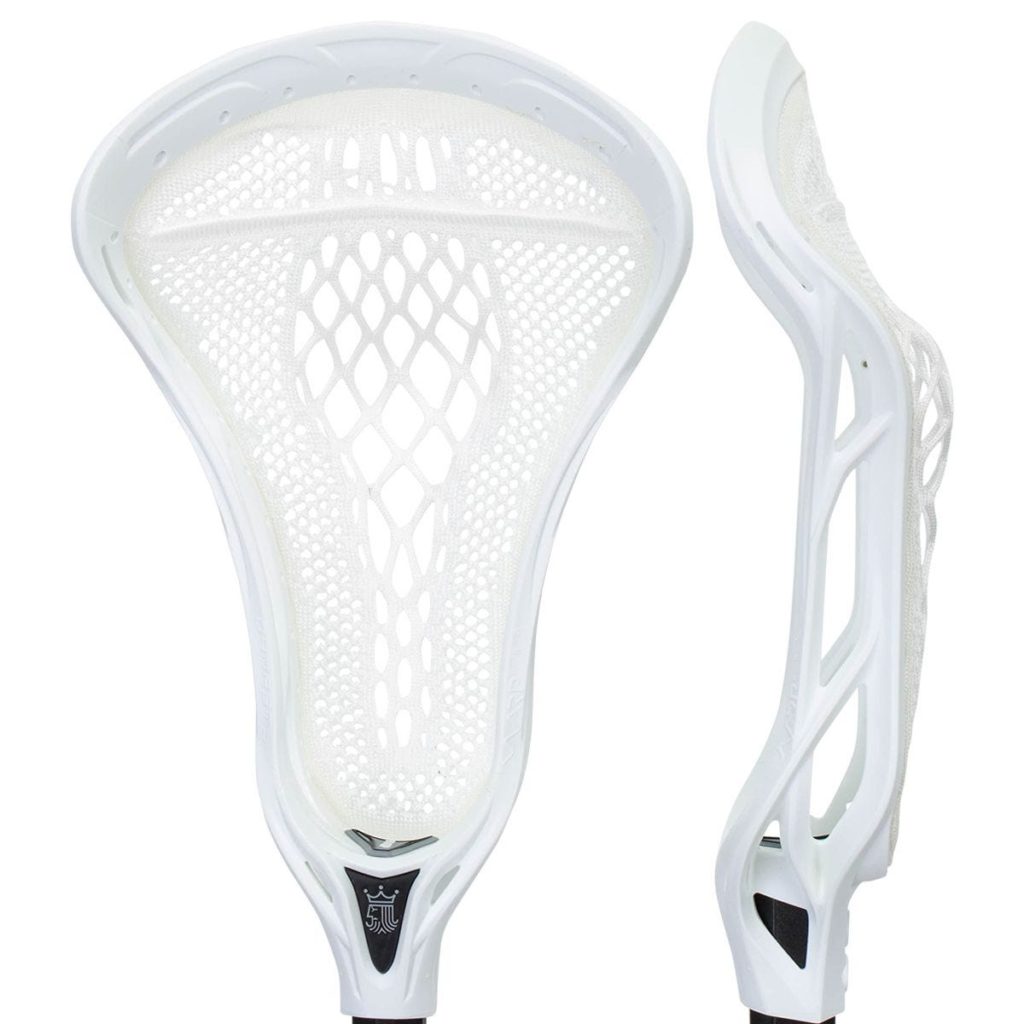 Brine Dynasty Warp Pro Mid Head
| | |
| --- | --- |
| #3 Best 2022 Middie | Colors: White, Black, Yellow |
| Release date: 2020 | Ratings: |
| Type: Strung | ⭐⭐⭐⭐ |
As the OG lacrosse company, Brine Dynasty continues to make some of the most popular and best quality middie heads today. Brine differs from other brands with its unique Warp pockets. And Warp Pro Mid Head is the first Women's Warp that Brine has implemented. 
Unlike replaceable pockets, Warp pockets are attached permanently to the heads and they don't need any adjustments. This is especially great for beginners and intermediate players who are looking for a ready-to-use head without break-in time. 
Other great features you should know of include reinforced sidewalls that create maximum control & accuracy and a great weight-to-power ratio that improves shooting and catching. 
Its super lightweight design and premium ball feel make this head a great option for middies looking to take their game to the next level.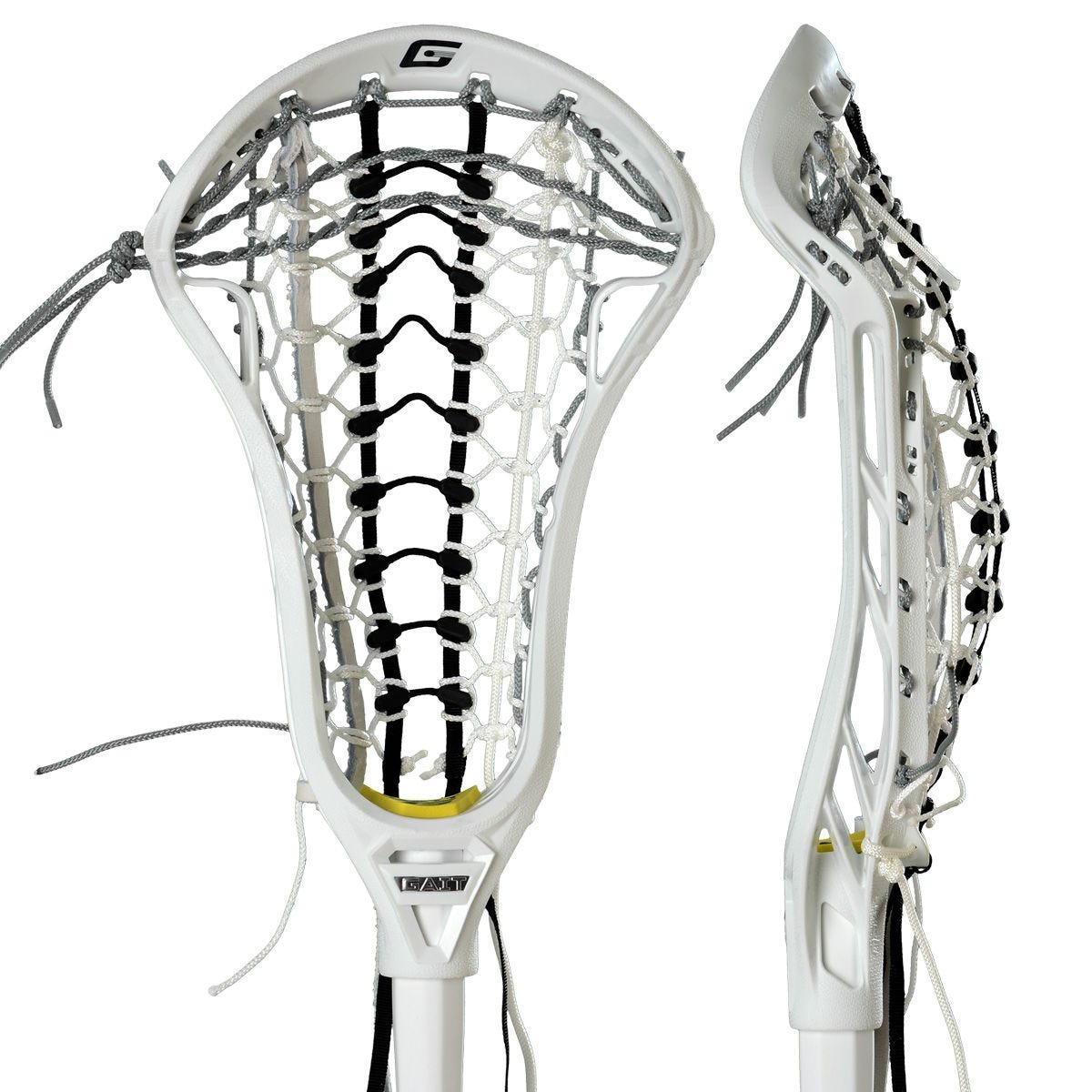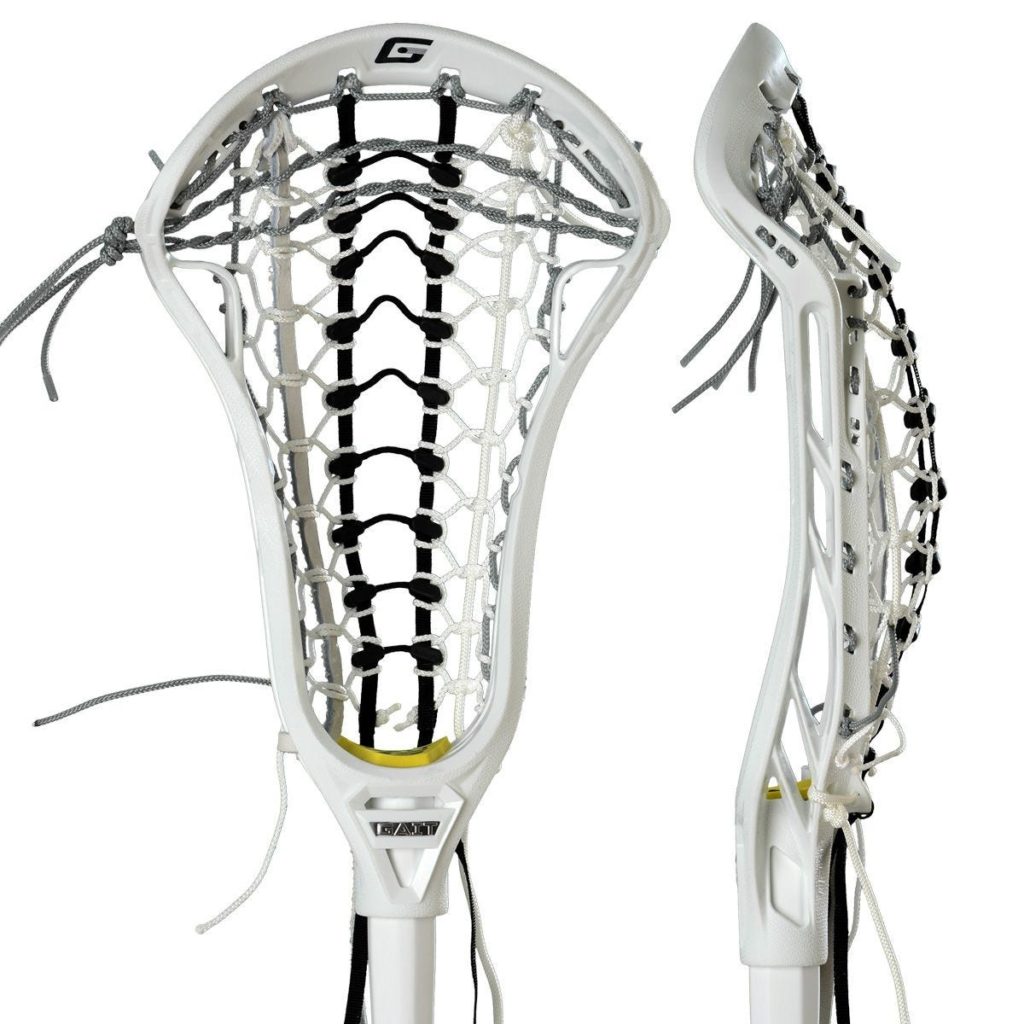 Gait Draw Head
| | |
| --- | --- |
| #1 Best 2022 Draw | Colors: White, Black, Yellow |
| Release date: 2020 | Ratings: |
| Type: Strung | ⭐⭐⭐⭐ |
Men's lacrosse has faceoff heads; women's lacrosse has draw heads. So I also want to include a draw specific head for middies who are responsible for this very important part of the game. 
What makes Gait Draw Head different is its versatility. Not only does it dominate the draw but also meets the expectation you have from a great middie head. This is a great quality players want to see since they also participate in normal gameplay after the draw.
It features the reverse scoop design that provides the best untouchable control for players to grab the ball or push it in the direction they want. The new stringing hole design renders a large front pocket when releasing the ball.  
As a low-profile and less known brand, Gait has proven itself as a great contender against big brands. If you are looking for a good draw specific head, make sure to check Gair Draw Head.
Best Women's Lacrosse Heads For Defense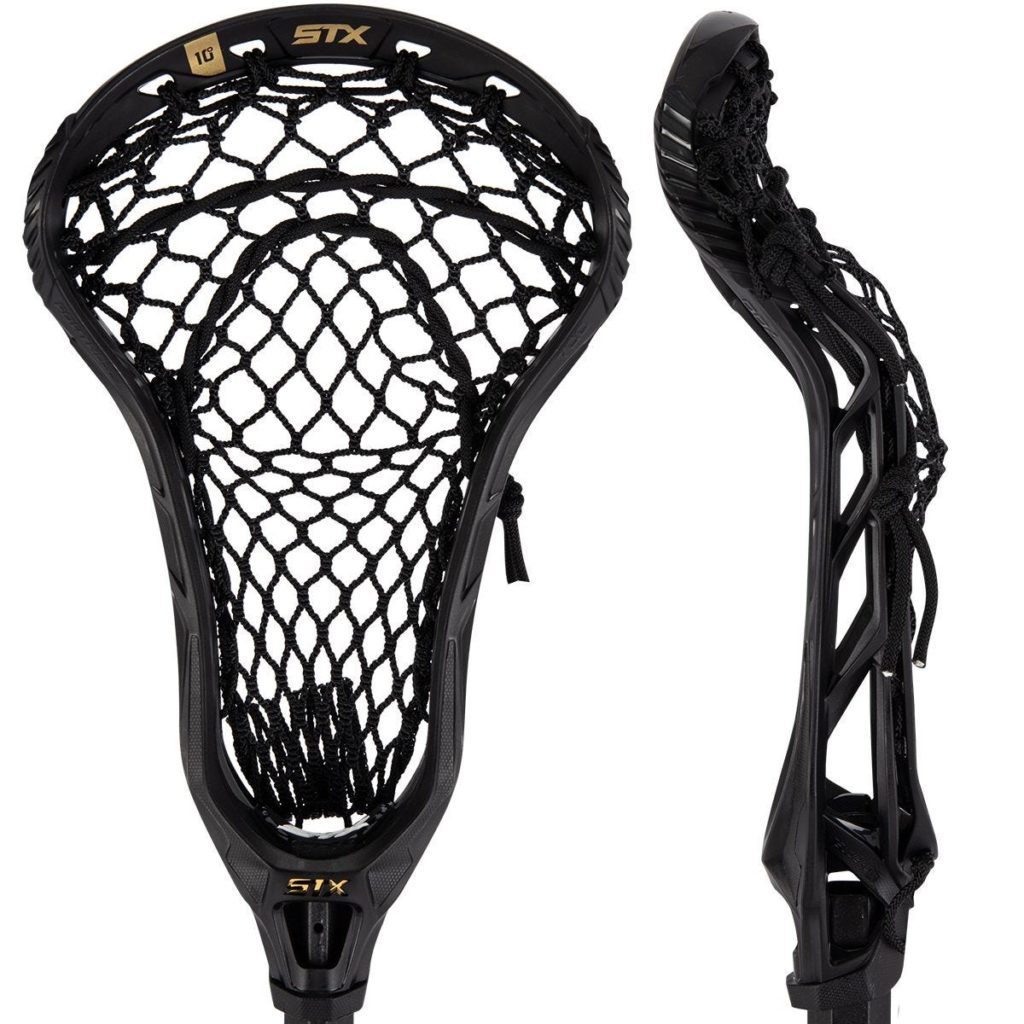 STX Fortress 700
| | |
| --- | --- |
| #1 Best 2022 Defense | Colors: White, Black |
| Release date: 2019 | Ratings: |
| Type: Strung | ⭐⭐⭐⭐⭐ |
So far STX has topped both the attack and middie heads on our list; it's time for a hat trick. STX Fortress 700 is the best defense head currently for women's players. The Fortress's line is also the first head ever released specifically for women defensive players. 
Over the years of refining, Fortress 700 features a narrower face shape, reduced sidewall height and strike plates at the scoop shoulder that empower the best blockage and checks. The first thing you notice when holding this head is its incredible stiffness and durability. It's made of STX endura form materials that maintain its shape and stiffness even on those hot summer days.
Lastly, Fortress 700 features the best mesh available on the market. Crux mesh pro system allows for easy maintenance and long-term durability, with a varied-diamond pattern designed for a secure hold inside the pocket.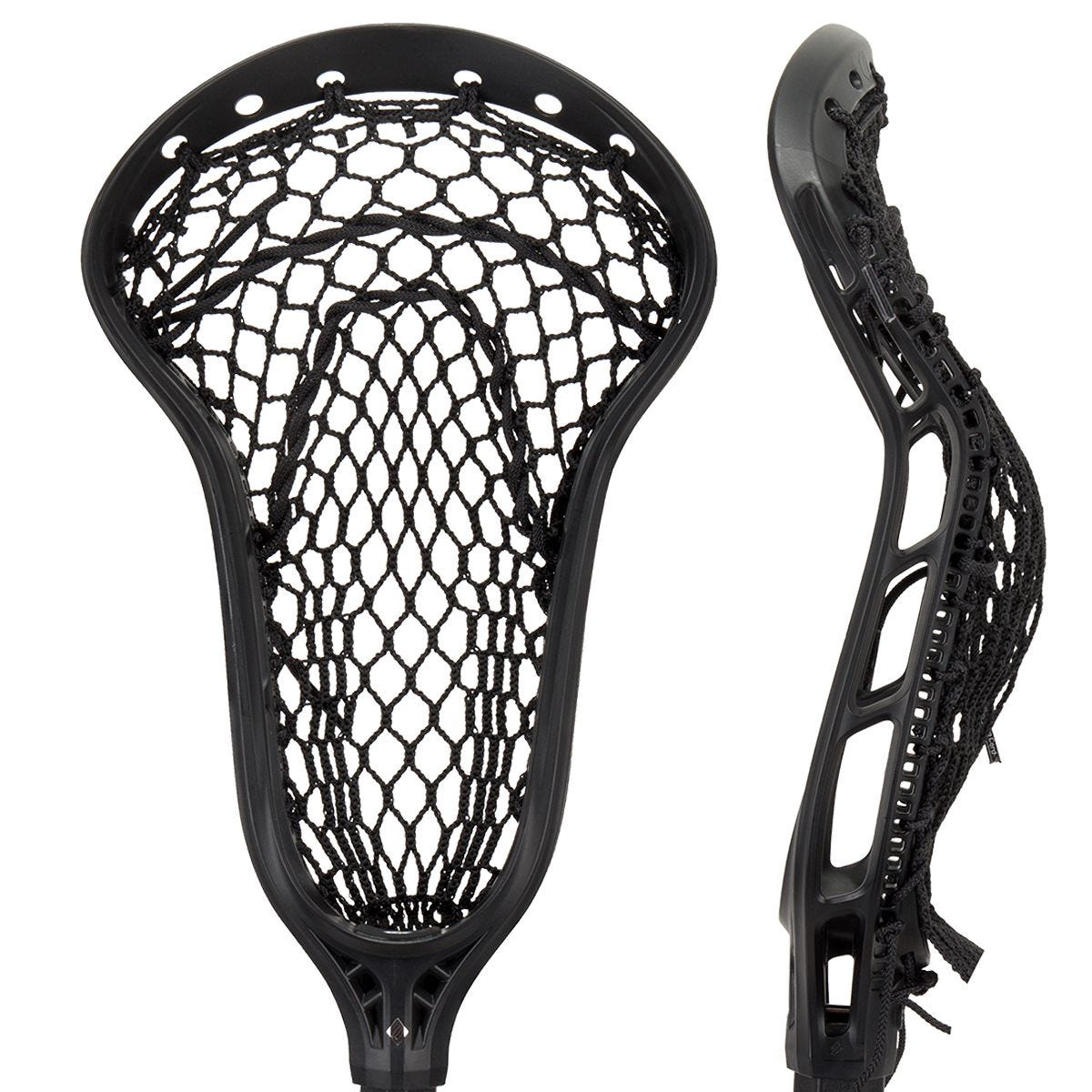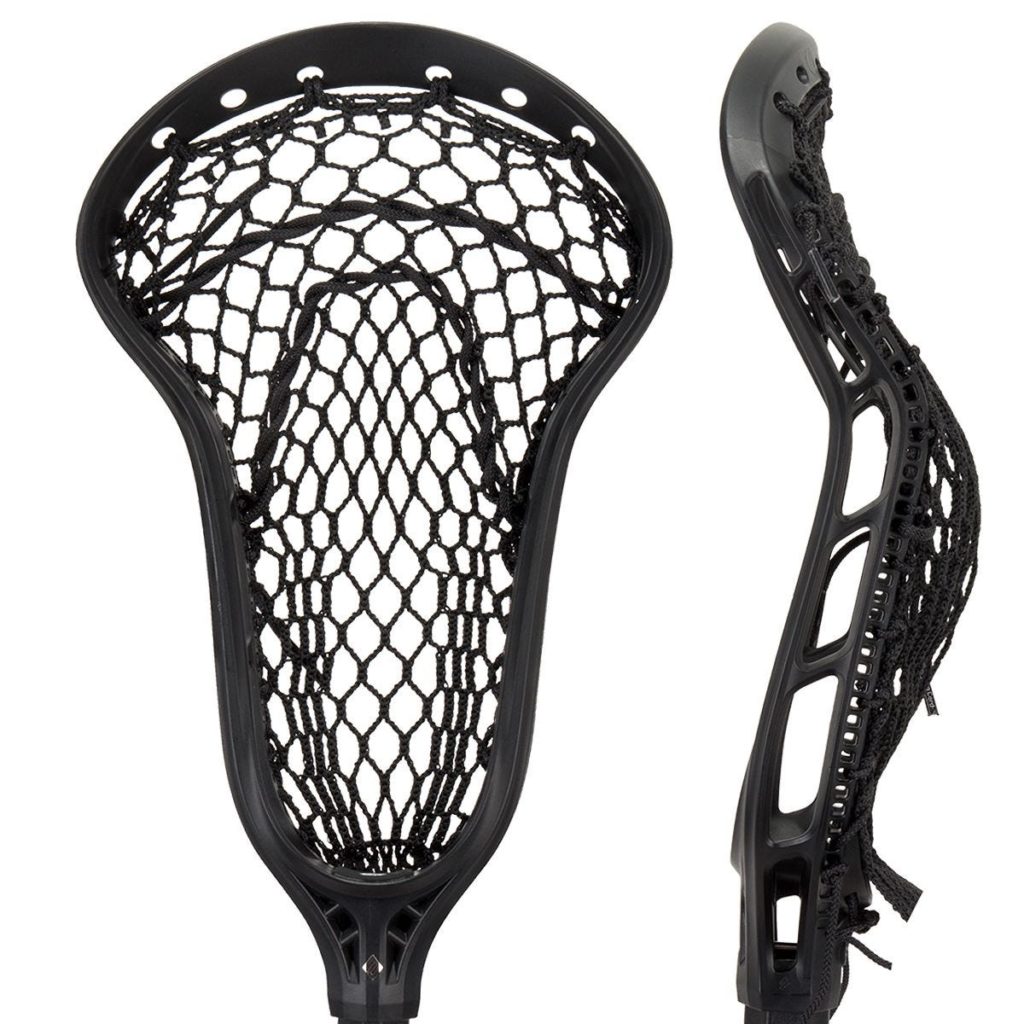 StringKing Mark 2 Defense Head
| | |
| --- | --- |
| #2 Best 2022 Defense | Colors: White, Black |
| Release date: 2018 | Ratings: |
| Type: Strung | ⭐⭐⭐⭐ |
StringKing Mark is a frequent guest on our best men's lacrosse heads in 2022 for its popularity and quality. The Mark 2 Women's Defense head is no different. The Mark 2 Defense head features ultra light materials without sacrificing any durability. The moderate sidewall profile and wider face shape are designed specifically for defensive play.
What I notice about the StringKing Mark 2 is the flexibility it comes with. Because this defense head is very light; the head is more likely to bend or flex. It really comes down to personal preference but if you are a defensive player who likes the head to be stiff, this head isn't the best option for stiffness. 
The head comes with two pocket options, mid or high. Overall, StringKing Mark 2 Defense is a head you can't go wrong with.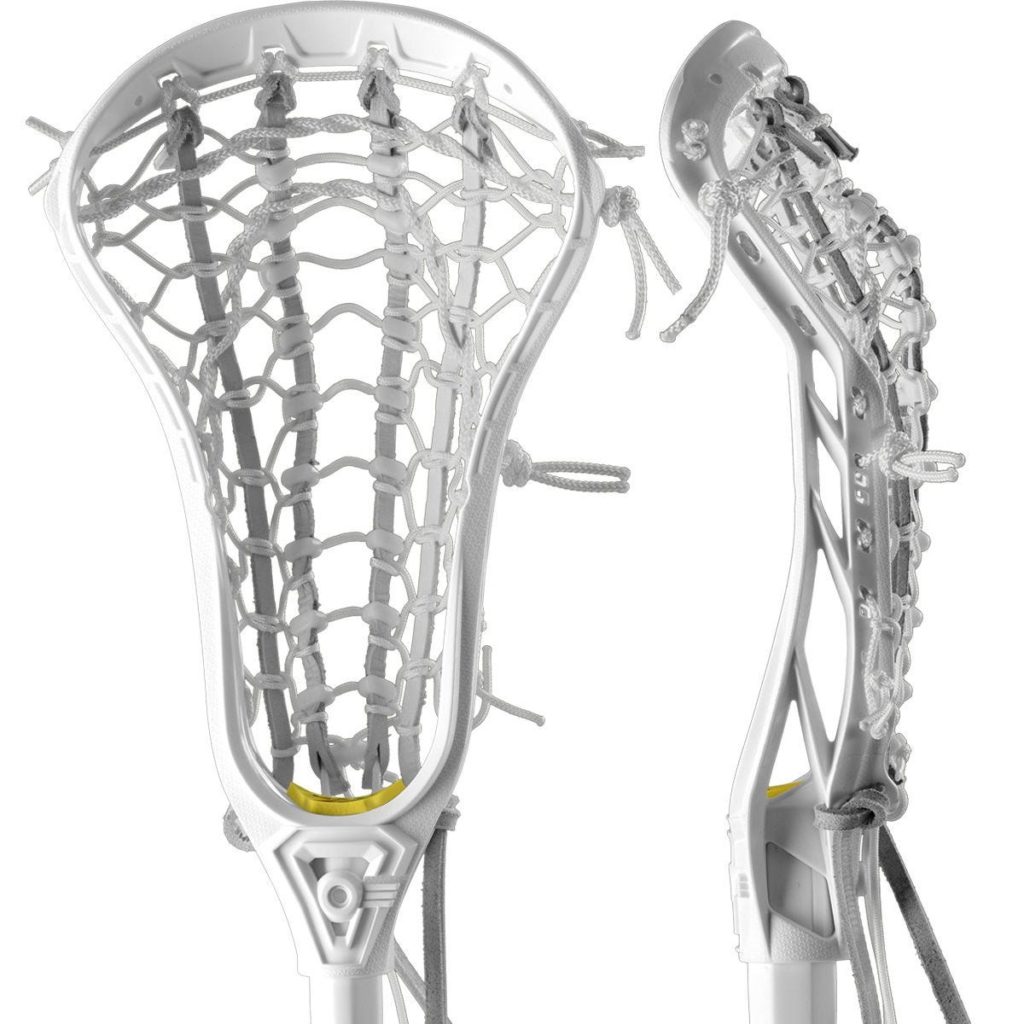 Gait Air Head
| | |
| --- | --- |
| #3 Best 2022 Defense | Colors: White, Black, Yellow |
| Release date: 2020 | Ratings: |
| Type: Strung | ⭐⭐⭐⭐ |
To wrap up the list, we have Gait Air Head. It's perfect for defenders looking for a balance between strength and weight. This head is known for its ultra-lightweight and narrow design for optimal ball control. 
For defenders looking for quick and fast ball transitions, this head features the Air's lowered U scoop, and it improves passing accuracy. This head is also strung with Rail Elite pocket, which is considered #1 selling custom pocket today.
All in all, if you are a defender who participates in both sides of the field, Gait Air Head provides the balance you need to deliver a great performance. 
I didn't include any specific goalie heads as buying a complete goalie stick is the best option. First, there is very few standalone goalie heads available. Second, a complete stick will most likely meet your need as a goalie. 
Click here to learn more about complete goalie sticks.
How To Choose The Right Women's Lacrosse Head
Now we have a list of great heads to choose from; it's time to understand how exactly you should evaluate and select the best lacrosse head depending on your preference and gameplay.
Materials
Similar to men's heads, best women's heads are also made of advanced plastics. STX has endura form technology; ECD has patented diamond plastic materials; StringKing has its ultra-lightweight plastic materials. 
They all share the same goal, how to reduce weight without sacrificing durability and stiffness. Stiffness holds the shape when going for groundballs and also reduces wobble inside the pocket when running and dodging on the field. Durability helps your head last longer. 
Read the product page to look for what materials or technologies they use in their heads. Also if the head is a recent iteration, it's most likely a great model that players swear by.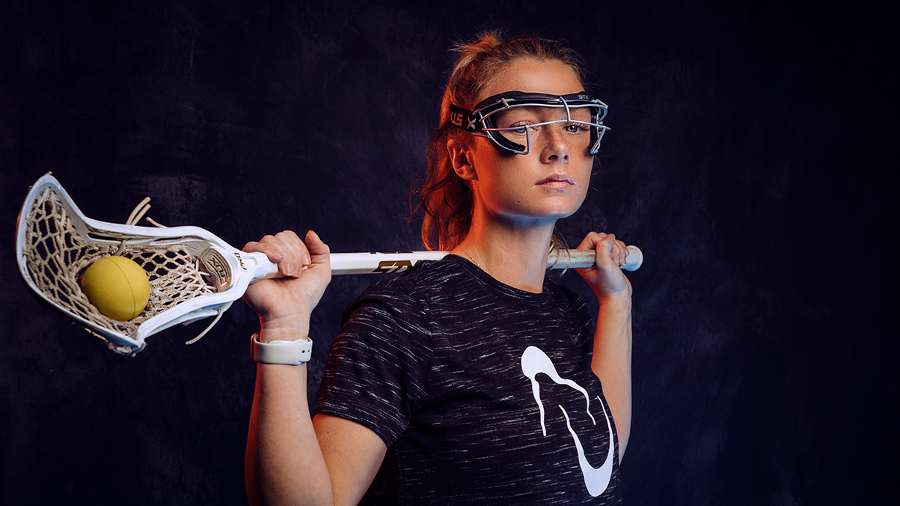 Face Shape
One big noticeable difference between different heads is the face shape. Face shape largely determines how well and how accurately the head performs. 
As alluded to earlier, different face shapes are designed for different positions. Offensive players prefer a tighter face shape that offers better security and control of the ball inside the sweet spot. Defensive players look for a more forgiving face shape to maximize coverage area for blockage and checking.
If you take the draw for the team, remember to grab a draw specific head as it fits better into an opposing head and promotes more ball grabbing.
Pocket
This is where women's lacrosse has the biggest difference from men's lacrosse. Women's lacrosse pockets aren't nearly as deep as men's lacrosse pockets. If you choose to buy a pre-strung head, a mesh pocket is now the go-to option for most players. There is another popular kind of mesh called mesh runner that is a hybrid of leathers/strings with mesh. 
As long as you choose a pre-strung head from a well-known brand such as STX, EDC or Brine, the pocket will be legal for play. If you are stringing yourself, make sure to follow the rules as women's lacrosse has the strictest pocket regulations. 
Check out this video for women's stringing:
Scoop
Great players are fighting for every groundball opportunity. To do that, you need the best scoop that allows you to grab and secure the ball. 
Best scoops are rounded and flat. My all-time favorite scoop has been the STX speed scoop. Regardless of the angle that you are scooping, it gets the job done with ease. Make sure to read the product page to better understand what scoop is implemented in the head and how it benefits you depending on the position you play.
Customer Reviews/Word of Mouth
Customer reviews are by far the best source of information you should utilize. As they not only provide lots of insight and first-hand experience, they also reveal any defects sellers don't disclose. 
As a good practice, always read at least a couple of reviews if available before making an online purchase. 
But, what if you don't see any customer reviews since many products are new to the market? Try to ask around your teammates and coaches to see if they could share any insights. If not, go to your local store to test out the new products in person. Although this takes more time and effort, I have found it to be incredibly helpful in helping me learn and write about the products you see above.
How Is Women's Lacrosse Head Different? [Explained]
As you might notice, a women's lacrosse head looks pretty different from a men's lacrosse head. The women's head has a deep angle, "shoulders" toward the top of the head as men's head doesn't. The mesh on the head also mimics the traditional style with thick shooting strings called leathers running lengthwise. 
Also due to the women's lacrosse stringing rules, "the pocket" tends to be tied tighter so that it's shallow and acts less of an actual pocket. It couples with a shallower sidewall make cradling significantly more difficult in order to balance the advantage offensive players gain from no contact rules.
What most beginners and fans don't realize initially is how different women's lacrosse is from men's lacrosse. Which is why the construction of the head also differs. But I wouldn't be surprised if women's lacrosse will slowly converge to men's lacrosse. Notably, in 2018, women players are allowed to use mesh in their pockets which is a huge improvement in terms of performance and ball control.
Conclusion
As we reach the end of this buying guide, I hope you already have a head in mind. The goal is really to help you select the best head that suits you the most, so if there's anything that is unclear or confusing, make sure to ask away in the comments below. 
I will also continue to update the list as more heads come out in 2022, so be sure to check back in before the fall season starts.
Additional Women's Lacrosse Info