Women's lacrosse has continued to develop and thrive as more parents and girls choose to play this exciting sport. While writing the review for best women's lacrosse heads, I was pleased to see how much progress and development has occurred. 
In this post, you will soon find out women's shafts are also better than ever. They are lighter, more advanced and more durable. At the same time, as more brands get into making women's shafts, you might be overwhelmed with unlimited choices. 
Hence, I am here to help you find the best lacrosse shaft that suits your preference and playing style the most. And after the product review, we will walk through the features you'd look for when making a purchase.
Without further ado, let's dive in.
Best Women's Lacrosse Shafts
It was really fun to test out some of the shafts below at a local store. After some series of comparisons and talking to the owner, I have included 7 best-selling and best quality shafts that you should consider today.
Maverik Ascent+ Shaft
| | |
| --- | --- |
| Material: Carbon Fiber | Colors: White, Black |
| Type: Straight Shaft | Ratings: |
| Diameter: 7/8" | ⭐⭐⭐⭐⭐ |
A more comprehensive and upgraded option of Maverik's Ascent shaft, Ascent+ is for the best midfielder. As a player who is covering both ends of the field, you need a light and strong shaft. And this is a shaft that doesn't disappoint.
The matte finish makes the shaft especially soft to grip. The butt-end design makes bottom hand placement easy and comfortable. When holding the shaft, you notice the slimmer diameter is designed perfectly for women to gain better ball control.
Lastly, it has great durability. I swang the shaft a few times and can definitely see how it can hold up for multiple seasons. For aspiring midfielders, this is an awesome straight shaft that lets you deliver a great performance. 
STX Crux Pro Shaft
| | |
| --- | --- |
| Material: Carbon Fiber | Colors: Black, White, Gold |
| Type: 10-degree offset | Ratings: |
| Diameter: 7/8" – 1" | ⭐⭐⭐⭐⭐ |
"STX Crux Pro is the best shaft in women's lacrosse." This is the marketing line taken from STX. After the review, you can decide for yourself. Crux Pro is an upgrade from the Crux 600 shaft. It's used by the best players today.
Right off the bat, this shaft is lighter and stronger than any previous version. It's specifically made for the Crux Pro head or any 10-degree head. It features a unique flared design where it goes from 1'' near the throat to ⅞'' for the rest of the shaft. 
For attackers who rely on speed and accuracy, a wobbly head will make it extremely difficult. With STX patented Shaft Lock, the shaft ensures a secure connection without wobble no matter how you swing it. 
As STX's signature product, Crux Pro has a sleek and cool design. Therefore, in addition to being able to last for multiple seasons, the design will always stay trendy and continue to elevate your game.
ECD Infinity Pro Shaft
| | |
| --- | --- |
| Material: Carbon Fiber | Colors: Black, White |
| Type: Straight Shaft | Ratings: |
| Diameter: 7/8" | ⭐⭐⭐⭐⭐ |
As a customer-centric brand, ECD always incorporates customers' feedback to make their product better and more powerful. Infinity Pro is a great example of how they improved the shaft based on reviews.
This straight shaft features advanced carbon fiber materials that offer extra flex and snap when shooting. Notice the shaft comes with a ring on the top section of the shaft, which is called a key point. This mark allows players to find the best top-hand position for a shot with added power. 
In terms of gripping, this shaft is made with soft-touch coating and rubberized texture. Because ECD collected a lot of feedback on making the bottom section of the shaft rougher for more traction, Infinity Pro layers a raised texture for bottom hand grip. 
Overall, ECD Infinity Pro is a great and lightweight straight shaft for all levels of players.
StringKing Composite Pro
| | |
| --- | --- |
| Material: Carbon Fiber | Colors: Black, White |
| Type: Straight Shaft | Ratings: |
| Diameter: 1" | ⭐⭐⭐⭐⭐ |
Another lacrosse powerhouse that is known for its quality shafts, StringKing Composite Pro will not disappoint. This shaft is made with the best quality and ultra-stiff carbon fiber materials for players looking for good performance consistency.
Featuring StringKing signature smart taper technology, this shaft strikes the perfect balance between strength and weight. StringKing is not shy about using the word consistency to describe this shaft.
So I went to the store to test out how consistent this shaft really is. Lo and behold, this shaft delivers quality shots every time. Coupled with liquid coating and natural shape, it stands for the premium quality elite players expect from a shaft.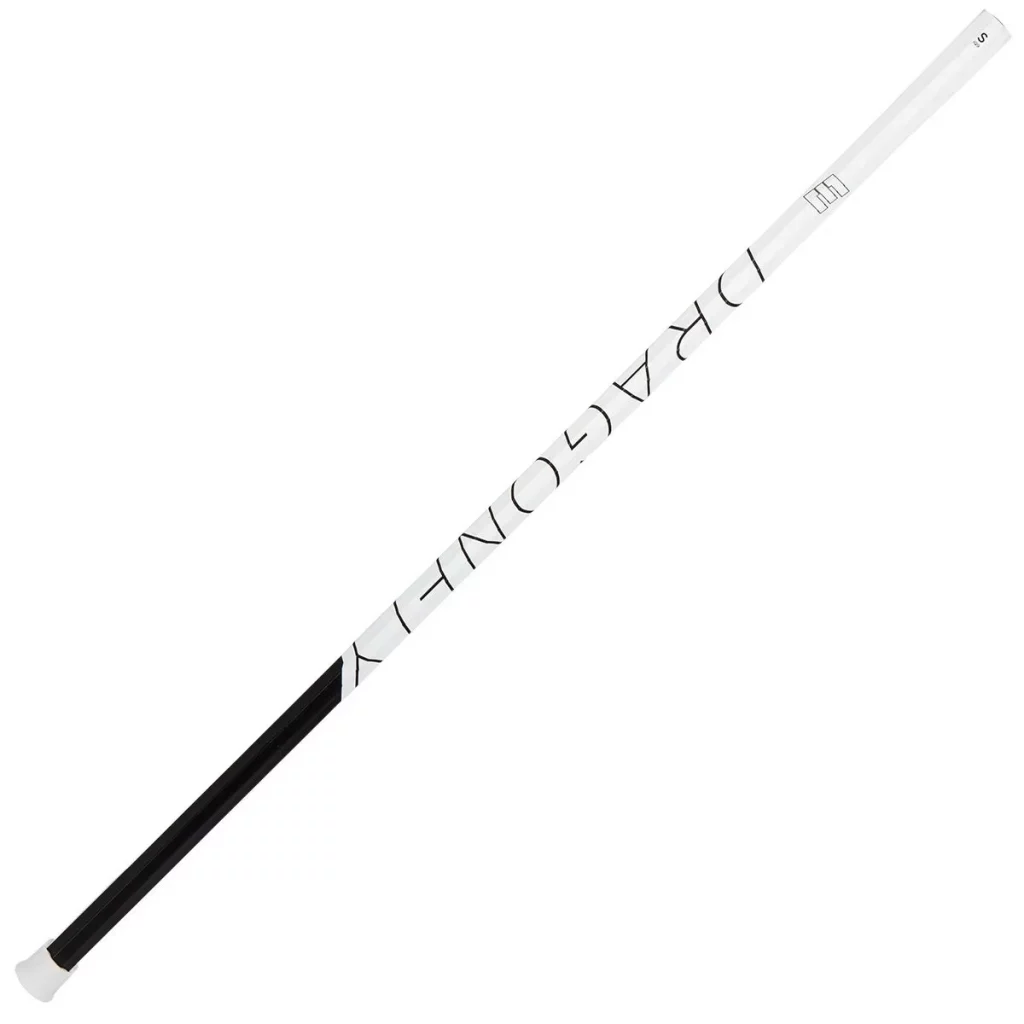 Epoch Dragonfly Purpose Pro
| | |
| --- | --- |
| Material: Carbon Fiber | Colors: White |
| Type: Straight Shaft | Ratings: |
| Diameter: 1" or 7/8" | ⭐⭐⭐⭐ |
Newest release from Epoch, Dragonfly Purpose Pro represents the highest level of technology and quality compared to other Epoch's shafts.
Dragonfly Purpose Pro offers two geometric options for different preferences, 1 inch traditional concave shape and ⅞'' slimmer concave shape. If you want to get more handle control and leverage, ⅞'' diameter is what I recommend.
 Additionally, it features Epoch's Micro-Bead texture that makes gripping very easy and comfortable. Even in bad weather conditions, this shaft provides a consistent gripping profile that allows you to perform at the same level. 
As a carbon fiber shaft, Epoch is designed with Flex iQ9 giving players the snappy, quick release that is unique to carbon materials. Overall, as one of the newest options, Dragonfly Purpose Pro stands for the best women's shaft today.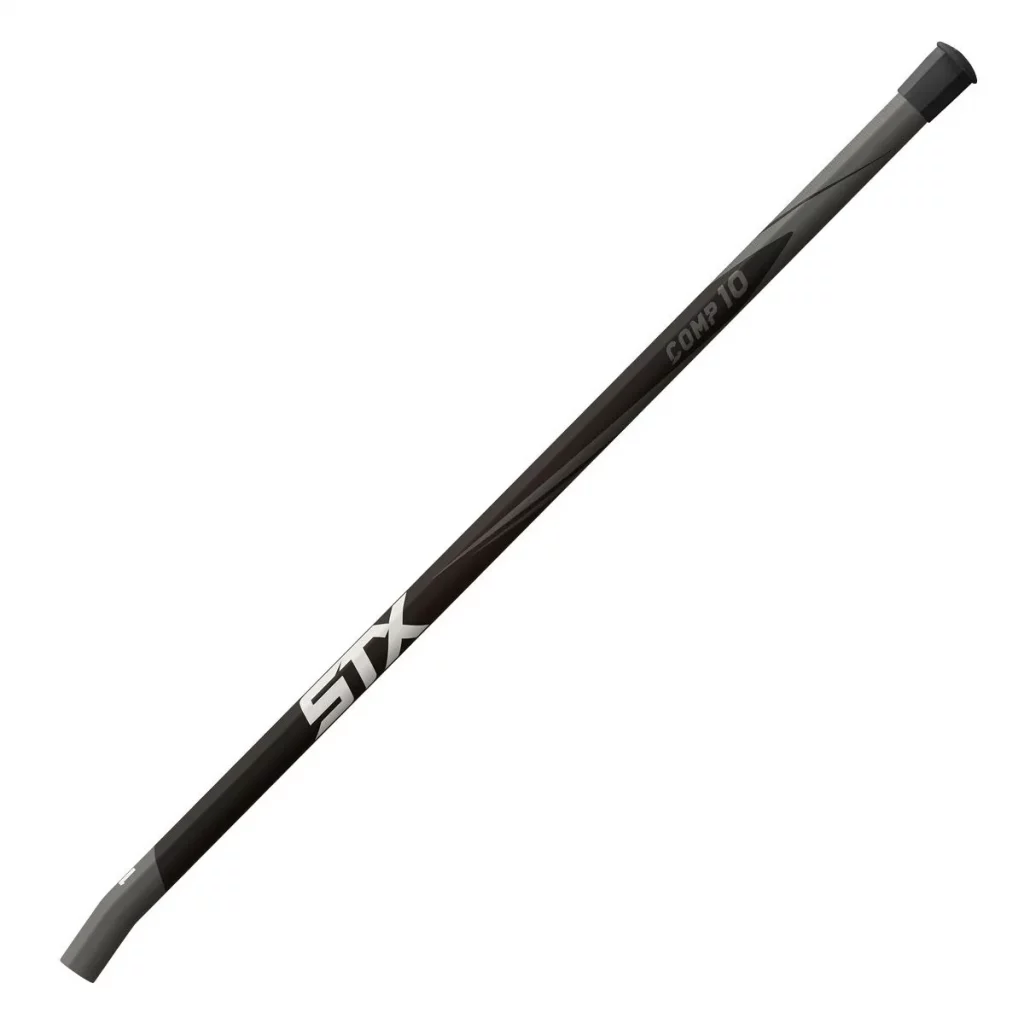 STX Comp 10 Shaft
| | |
| --- | --- |
| Material: Carbon Fiber | Colors: Black, Gray, Graphite |
| Type: 10-degree offset | Ratings: |
| Diameter: 1" | ⭐⭐⭐⭐ |
For players who are looking for a more affordable 10-degree option without sacrificing quality, STX Comp 10 shaft is a great shaft. It's made of carbon fiber materials that deliver dependable durability and consistency. 
It's a versatile shaft for all positions and levels of players. A very simple and low-profile design speaks to its focus on practicality. I specifically like the soft and rubberized finish many STX shafts adopt.
All in all, for players looking for a cheaper 10-degree shaft, don't miss out on the STX Comp 10.
STX Fortress 700
| | |
| --- | --- |
| Material: Carbon Fiber | Colors: Black, Gold |
| Type: 10-degree offset | Ratings: |
| Diameter: 1" | ⭐⭐⭐⭐ |
Fortress 700 is a 10-degree offset shaft that's made for the best defenders on the field. This is also one of the best defensive shafts used by many elite players currently. 
Similar to ECD Infinity Pro, STX Fortress 700 also features a GRIP coating at the bottom section of the shaft that allows defenders to securely hold the shaft with one hand and clear the ball with precision. 
Fortress 700 is built with the best materials to withstand the heavy contact and intensity of defensive play and pressure. 1'' diameter profile creates the optimal strength and control when throwing checks and intercepting passes. 
This shaft pairs perfectly with the Crux Pro, Fortress and any heads with a 10-degree offset. If you are a defender ready to take your defensive game to the next level, check out Fortress 700. 
For goalies, instead of buying a separate shaft, consider many great complete goalie stick options. Check out complete goalie sticks.
How To Choose The Right Women's Lacrosse Shaft
Now you learned the best women's lacrosse shafts on the market today, but how did I come to the conclusion? In this section, I will share with you the few features you want to look for when making a purchase.
Shape
If you haven't noticed, one thing that's unique to women's shafts is the fact that there are typically two types of diameters, 1'' and ⅞''. Some brands like Epoch offer two options for players to select based on their preferences.
1'' is the classic shaft diameter with a heavier but more durable profile. Whereas ⅞'' is a more recent invention to make the shaft lighter and easier to control. Especially for offensive players, you will find ⅞'' more to your liking due to its maneuverability.
Although I didn't feel an apparent difference between the two different shapes, it's a worth checking them out in person at a store.
Material
If you read my other buying guides, you know how important material plays in deciding the quality of a shaft. 
Unlike men's shafts, women's shafts are commonly made of carbon fibers as they are lighter, stronger and more durable. So metal women shafts are slowly fading out of the scene especially when it comes to finding the best women's shafts. 
As a personal preference, I like how carbon fiber gives players a more flexible and snappier shot that is very beneficial for women players. A more powerful and quick release is what separates a goal and a save.
Weight
Because carbon fibers are naturally lighter than metal shafts, you can expect the best women shafts to be very lightweight without sacrificing durability. What the store owner tells me, although women players often ask for the lightest shafts, they should also seek shafts with a good balance between weight and durability. 
Equally important, depending on what position you play, your preference for weight changes. Offensive players should look for lighter shafts for better control and agility. Defensive players are better off with heavier shafts to withstand heavy checks and impacts. 
The great news is women's shafts are now equipped with advanced tech and features that make it possible to find the perfect sweet spot between weight and strength.
Handle Finish
What separates an elite player from a good player is the ability to handle the ball under pressure. To do that, the shaft has to have enough traction with a soft finish to make gripping comfortable. Additionally, when players switch hand placements, the texture lets players make a perfect grip.
Another reason why a rubberized finish or raised texture is beneficial is the ability to perform even in rain. As the shaft gets wet, it becomes slippery and is not easy to handle. A rough texture solves this problem. 
Thus, for elite players looking for consistency, make sure to check out their product page to see what finish they deploy to the shafts.
Offset
Due to strict pocket rules in women's lacrosse, lacrosse brands have made a unique advancement to provide more ball control without a deep pocket, which is the offset. 
If you want to get a bit more ball control and security, an offset stick does a better job than a straight shaft. The offset settles the ball right into the sweet spot in your head. That said, if you prefer a straight head with a shallower pocket, straight shafts are also available. 
So before you make a purchase, first understand if you want a shaft with or without offset. If necessary, go to a local store to test them out. There is no right or wrong. It's all about personal preference. From there, be sure to pick out a 10 degree offset head as well. A 10-degree offset shaft must go with a 10 degree offset head.
Conclusion
Now we have reached the end of this guide, I hope you now have some options in mind and are using the framework I wrote above to make a final decision. 
If you are a beginner player, I recommend you to first buy a complete stick as there are many great complete women sticks on the market. In fact, even elite women players tend to buy a complete stick straight out of the box.
Buying a shaft and a head separately works the best for players who already know what they look for. For example, you already know what offset and shaft diameter you prefer. With a good level of understanding, you can make a smart purchase. 
To pair up with your shaft, don't forget to check out the best women's heads on the market today.