My 16-year-old nephew asked me yesterday if he had a chance to become a D1 lacrosse player as 5'8'' and 150 Ibs. He isn't sure if he is too small and lanky to fit the ideal lacrosse body type. I figured this would be an interesting question to share with my readers, which is does body type matter in lacrosse?
It occurred to me that many young high schoolers are probably worried about the same thing as granted height and size play an important role in almost every sport. To play on an elite level, it'll be very difficult if your body doesn't do you a big favor. 
After doing some research and talking to a few elite laxers, here is the takeaway:
Depending on your position in the field, the answer might vary. However, in general, there is no one-size-fits-all body type in lacrosse. If anything, speed is more important than body type. Your lacrosse IQ, your willingness to hustle, your mental fortitude and your coachability are what make you a great lacrosse player.
Does Size Matter In Lacrosse
In this section, we will take a look at body type through the lens of weight and height. It's good to recognize that they help elevate your gameplay and performance depending on the position you play.
Do weight and height matter?
As we know, lacrosse is the fastest sport on two feet. There's a lot of sprinting and running involved in a game which means players must be fit and very athletic. The average professional lacrosse player weighs 198 Ibs and is 6'1'' tall. The average D1 lacrosse player weighs 195 Ibs and is 6'0" tall.
Goalies:
Goalies with bigger sizes are typically more popular as their bodies could cover up more of the net. 
What goalies might not want to admit is the fact that many savings happen to be blocked by players' bodies or shafts, which is why a bigger goalie is beneficial. That said because shots are fired at an incredible speed in lacrosse, scores are made off of deflection and in between the legs. 
What this means is elite goalies might not be large but they have the super fast hand speed to move the stick. The second when a goalie sees the attacker fire a shot, he needs to swing his stick as fast as possible to stop the ball. 
Therefore, this brings us to the conclusion, size isn't a must to become a great goalie. Hand speed and stick skill are the differentiating factors that separate the best from the good.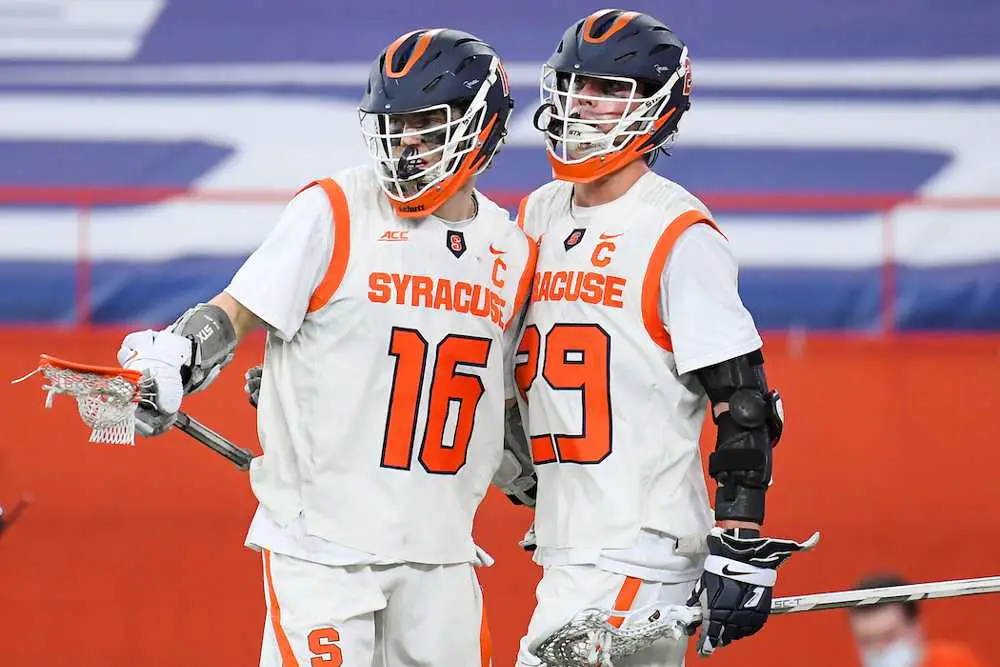 Defenders
A good defense is measured by how many times you interrupt and block an offense without the attacker zipping past you to make a wide-open shot. Therefore, to play good defense, height and weight play a rather supporting role. 
If you read my review for the defense position, you know the no.1 most important skill as a defender is great footwork. And having great footwork works both for smaller and bigger defenders. Likewise, if you don't have good footwork and speed, height and weight will not matter. Thus, if you aren't doing footwork drills or practices every day, it's much more beneficial to do that than worrying about your body type. 
However, because defenders use d-poles that are longer and a bit heavier, bigger and taller defenders will have longer and stronger arms to poke and throw checks at a longer distance. Bigger defenders also come across as more commanding which limits the free space for attackers to maneuver. 
In conclusion, defense is played by foot. Without great footwork and speed, your body type won't make you a good defender alone. They only become useful for players with good enough footwork and speed. 
If we do an in-depth analysis of the top 7 lacrosse teams in D1 college lacrosse, we see that the average height and weight of defenders hover around 6'0'' and 198 Ibs.
| | | |
| --- | --- | --- |
| Team Name | Average Defense Height | Average Defense Weight |
| UNC | 6'05'' | 197 |
| UVA | 6'27'' | 200 |
| Duke | 6'03'' | 200 |
| Notre Dame | 5'96'' | 203 |
| Maryland | 6'02'' | 193 |
| Syracuse | 6'00'' | 207 |
| Georgetown | 5'95'' | 190 |
| Brown | 6'35'' | 196 |
Midfielders/Attackers
As the key offensive players, middies and attackmen need speed, agility and good stick work. The most important skills then become good ball and hand control, which then explains why height and weight aren't the most important criteria to measure an offensive player's ability and skill. 
Especially for midfielders, as they need great speed running up and down the field, being lightweight and nimble gives them more leverage than pounds and inches do.
Similarly, attackers tend to be smaller to generate good and fast speed on a one-on-one battle at the same time they have more balanced lower core strength to withstand defenders' contact and pressure. 
To use some interesting data points to further the discussion, let's take a look at the current top 8 attackers in PLL:
| | | |
| --- | --- | --- |
| Player Name | Height | Weight |
| Matt Rambo | 5'10" | 210 |
| Zed Williams | 6'2" | 230 |
| Jordan Wolf | 5'9" | 170 |
| Josh Byrne | 6'3" | 200 |
| Matt Kavanagh | 5'8" | 180 |
| Grant Ament | 5'9" | 165 |
| Curtis Dickson | 6'2" | 205 |
| Justin Guterding | 6'0" | 190 |
From 5'8 to 6'3 and 165 to 230 Ibs, what this chart goes to show is that there's no best height and weight combo for attackers. Maybe above 6'0 is the accepted ideal but it doesn't mean players under 6'0 won't be as competitive. In addition, we see a much wider range of weight in attackers, but if we exclude 165, the average sits right around 198 Ibs as attackers do need the strength to push through harsh defense. 
Does Size Matter In Women's Lacrosse
First, let me remind you that women's lacrosse is quite different from men's lacrosse in the sense that women's lacrosse is a non-contact sport. Because of that, women players don't wear as much equipment besides the goggles as their male counterparts.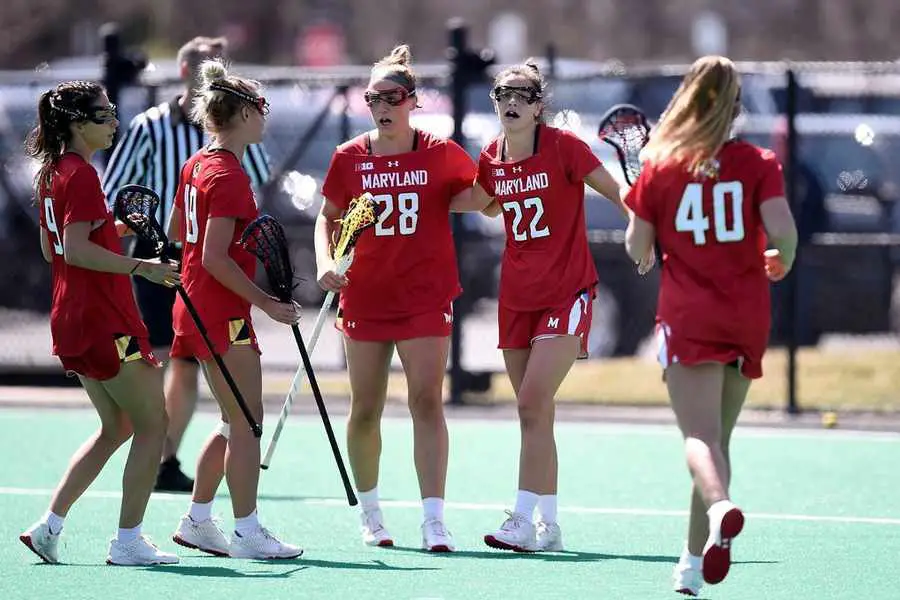 Therefore, for women's lacrosse players, what matters much more important is speed and agility. Without being able to use physicality and contact, you will have to excel at your footwork, maneuvering and lacrosse IQ. 
That said, being a good athlete, you will certainly need to be at your best physics and condition as possible. The nuance is that being tall or big doesn't necessarily and strictly make you a better player.
Check out this post on the best lacrosse drills to help women's lacrosse players to improve instantly.
Conclusion
The biggest takeaway from this post you should bring home is being blessed with a genetic lottery certainly helps you become a dominant and competitive player but it doesn't make you a greater player. 
Depending on your position, height and size matter in different ways. Goalie is the only position that has a direct benefit to having a large size but at the same time, you shouldn't sacrifice the hand speed. Defenders are generally around 6'0'' and weigh 198 Ibs. Middies and attackers can vary largely in sizes and weights as long as they have the speed. 
Therefore, to close off, I want you to first identify your strength, are you taller or stronger? If you are taller, focus on getting better at the footwork. If you are stronger, focus on improving your ball cradling skill. The smart thing to do is to control what we can control and play relentlessly to your strength.
Head to the training page to start improving your lacrosse skills today