A good pad for a middie should be lightweight so that it doesn't weigh down a player who is always running up and down.
But even as it does this, it shouldn't compromise on safety.
One of the options that will help you do that is the Brine King 4 Shoulder Pads.
Not only is the shoulder pad lightweight, but it provides extra strength to the areas where you need them most such as the spine and sternum.
This ensures that you remain safe in these tricky areas.
Check out the full list of Best Shoulder Pads in 2022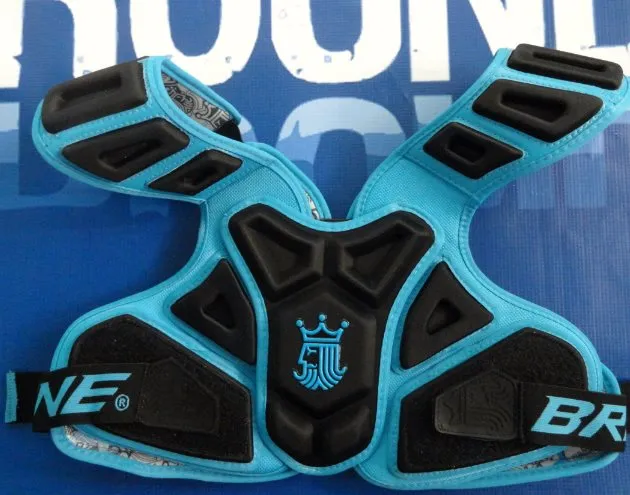 Brine King 4 Shoulder Pads Review
Padding
Brine King 4 shoulder pads has skillfully incorporated the padding in places where it is most needed, thus achieving the desirable lightweight.
For instance, the sternum and chest are shielded with the internal cap system padding.
If the bulky padding weighs you down, then Brine King Shoulder pads are your ultimate solution.
These pads comprise of foam that is compression-molded hence they use as little padding as possible, so they keep you secure.
Upper arm protection
Brine  King 4 Shoulder Pads reduced some quantity of padding in the shoulder region so that they could come up with the low weight pads but still maintained them strong.
So, the player's protection is still assured but the weight is light.
Comfort
King 4 shoulder pads provide the best mobility for players because they are very light.
They are made with the Grid-Flex technology that ensures every pad moves separately according to the movements of your body and as a result, this minimizes the resistance of every move that the player makes.
All the while, the gear is kept in the right place where it is needed.
Moreover, these pads are made with the Ventilator Chill technology hence the player can breathe with ease in whichever situation because they are highly well ventilated.
This technology also ensures that each pad is kept cool regardless of the hotness outside by conducting sufficient flow of air all over and it also absorbs heat off the player's skin.
Shoulder caps
Brine King has added TPR shoulder caps that ensure gears can be customized.
These caps are characterized by a removable snap feature hence the adequately customized fit ensures biceps protection.
Additionally, these shoulder caps are so slim and they comprise of foam-compressed individual pockets that offer protection to your shoulders from a check from any given angle.
There are separate portions of foam over the top, back and front that constantly keep your shoulders secure.
Chest/back/sternum protection
The spine and sternum are some of the crucial places that should be accorded prime protection. You cannot risk exposing such an area to injury.
For this reason, Brine saw it particularly essential to add reinforced pieces in these places.
They made use of the internal cap system padding to ensure your safety is well catered for.
Brine King 4 Shoulder Pads Key Features
The following are major features of the Brine King 4 Shoulder Pad:
Switch Tech replaceable fit arrangement that enables the player to break down or build up the pad organization hence elevating mobility and offering maximum protection.
A ventilator liner that keeps the player dry
Multi-piece that is made up of Aeroshield foam that renders ultimate protection and balance between the fit.
Bicep and shoulder pads that are adjustable hence the pad coverage can be customized according to style of playing.
Internal plate system: this enables the player to contend with high impact areas where many attacks are likely to be tackled.
Dual density protection: these shoulder pads are flexible and low weight hence they provide greater flexibility and dual density protection.
Sleek design: these shoulder pads have an ideal sleek design which ensures protection for the players and does not compromise flexibility.
Verdict
In a nutshell, the Brine King 4 Shoulder pads are best for those players who want speed because they are slim and lightweight.
These pads are also considerably comfortable because they ensure the players do not sweat and they feel light as they play.
Since their shoulder caps have a removable snap feature, players can customize them in any manner that suits them.
Lacrosse players seeking for strength and comfort should consider buying one and they will never regret.
The color choices are blue/black and blue/white. Their sizes are medium and large.