If a regular game with a 10v10 format puts you on the edge of the seat, imagine there's only one field player and one goalie on each team fighting for a victory. Braveheart is one of the most stressful and rewarding experiences in lacrosse. 
So what is a braveheart exactly? Braveheart is a form of tie-breaker where a 1v1 sudden victory overtime is conducted. Meaning one field player and one goalie from each team will be playing. After the faceoff, the team scores first will come away with a victory. 
Although it's very unlikely to see braveheart played in NFHS and NCAA lacrosse, this is utilized more often at summer camps and fun tournaments when stakes aren't high. It's a fun, entertaining and exciting way to let players experience the uniqueness of lacrosse.
Braveheart lacrosse rules
The name braveheart is chosen for a reason. The most courageous and most skilled lacrosse player will take on the challenge to win a braveheart since they will singlehandedly decide the outcome of the game. Keep reading till the end to read one of the craziest braveheart stories during my lacrosse career. 
Essentially braveheart is a stripped-down version of a lacrosse game. Double check with your coach or refer to the rulebook to learn the specific rules. Normally, in a braveheart, it starts with a faceoff. And goalies can come out of the crease and go all the way over to the offensive area and shoot. Similar to sudden death overtime, if a "formal" lacrosse game uses a braveheart, particularly at high school and collegiate level, it lasts 4-minute. If extra time is needed, there will be a 2-minute break between each period. In women's lacrosse, a braveheart lasts 3-minute long each; in total 6-minute will be played if needed. Teams will change ends after the first 3-minute half with no delay for coaching. 
Strategies to win braveheart in lacrosse
Braveheart can be nerve-wracking. Only the team that has done the most preparation leading up to the braveheart could win the game. Let's talk about some strategies that are beneficial.
The field player needs to be skilled at faceoff. Whoever has the possession after faceoff will be in the best position to win, so to win braveheart, you must have a solid shot at winning faceoff. Personally, I would rather choose a player who is better at faceoff than shooting. That said, some teams will strategically give up the ball first when they are more confident playing defense. 
Goalie plays an important role in both offense and defense, which means once you block the shot, cradle the ball downfield as quickly as you can to find a shooting opportunity. That's right; in a braveheart, goalies can run fullfield to score. This way is easier to score when you have a 2-1 situation. 
Fight for every ground ball. Every opportunity in a braveheart counts. Especially when you are playing defense, since there's only one opponent, you must bring out the best 1v1 defensive skills you got. 
Communication is king. Communication makes defense airtight and frees from mistakes. So the goalie must be great at communication and giving signals. Once there's a groundball opportunity, go hard at it. Even if you can't quite keep it inside your pocket, push it to your offensive half and outrun your opponent to secure the possession. 
To see how a braveheart is played out, watch this video below.
Braveheart in everyday lacrosse practice
After talking to some local coaches, I was not surprised to learn many teams incorporate braveheart into their regular training and lacrosse drills. As you saw in the previous section, to win a braveheart requires good 1v1 skills which are great exercises to improve players' overall ability. 
One-on-one defense is the best way to learn and improve a player's ability to dodge or intercept. Incorporate some versions of one-on-one practice for players to work on quick feet and deception. 
Since braveheart involves constant communication, this is the best exercise to let teammates get comfortable with talking throughout the game. For goalies to work on their communication, this could significantly improve your team's defensive play. 
Braveheart adds a level of intensity that emulates the real game. Hence, it provides the best scenario for players to face off under pressure. Teams with weaker faceoff should definitely consider braveheart as part of their regular training.
Why is braveheart controversial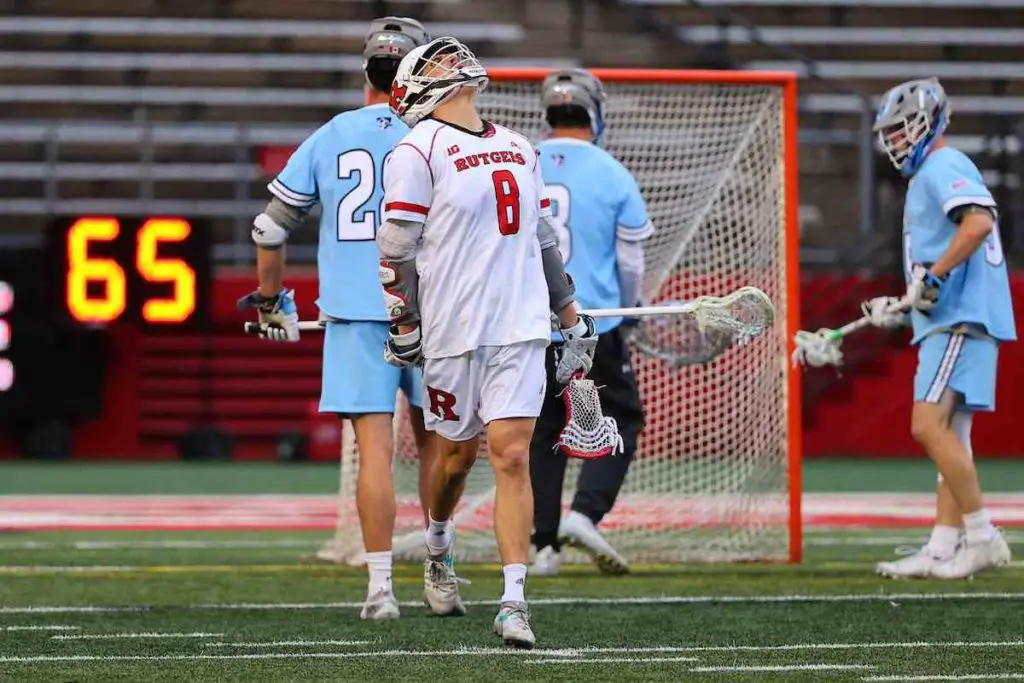 People have different opinions about braveheart. And the reality is braveheart is slowly fading away from the spotlight due to a few concerns raised from the lacrosse community. 
Many coaches and players don't like the idea of the outcome coming down to one single player. If one team plays better as a whole whereas the other team relies on a few key players, braveheart will favor the team with better individual players. As a result, this will discourage players from operating as a team rather operating as an individual. Which is an antithesis to how teams are supposed to win games. 
Also putting the pressure of winning onto one or two players is unnecessary. If there are 20 players in total playing in the regular time, it doesn't make much sense to strip away the other players and let the very few decide the final outcome. In addition, if one player makes a stupid blunder that costs a victory for the team, this could leave the player mentally scarred, and worse s/he might never recover from it. 
That said, braveheart could save a player's career as well. Now it's time for the story.
Storytime…
This happened during a summer camp I volunteered at a couple of years ago. For the tie-breaker, both teams decided to do a braveheart. To make it more fun and interesting, two coaches decided to put the most inexperienced players in. At this point, you might think this is a horrible idea because we all did at the time.
Our player is a complete beginner who had no training prior to the camp. After the faceoff and a series of mess mistakes but honest effort, the opponent picked up the ball and sprinted toward the goal for an open shot. It was blocked by our goalie who then passed the shot to our player near midfield.
He caught the ball and run downfield as fast as possible. In between him and the goal, there was the opponent goalie put up his stick and ready to block the goal. Our player swang his stick in a way as if the ball was knocked off the stick instead of a real shot. Nonetheless, it went straight into the top right corner. 
We all burst into cheers and celebrations. He was MVP of the game and for the rest of the week, we couldn't stop bringing it up. Before the summer camp ended, he found me one day and said that game instilled new hope in him after seriously thinking about quitting. In a way, braveheart gave him the courage to keep going.