Goalies are arguably the most pressure position on the field as they are directly responsible for either a save or a score. More often than not, they make direct contact with shots. 
Therefore, as a goalie, you want to be as covered and protected as possible without sacrificing mobility and range of motion. Just like field players, there are many different pieces of equipment you need to get hold of in order to legally play. 
In this post, we will go over every piece of equipment you need to wear as a goalie in a game and the best options currently on the market for purchase. While I was comparing different options, it was pleasing to see how much progress has been made over the last 5-6 years in this sport.
At a glance, here's everything you need to wear as a goalie: click on the section you want to see or continue reading
Additionally, here's a list of optional equipment worth considering:
Mandatory Goalie Equipment Walkthrough
Lacrosse stick
Let's start with the most crucial equipment of the game, the lacrosse stick. No doubt, picking the right goalie stick is half of the battle. This is your weapon to make saves and perform your job as the goalie. 
Although goalie sticks have a different shape than other lacrosse sticks, they all consist of two components: a shaft and a head. You could choose to buy them separately or you could opt for buying a complete stick that comes with a strung head and a shaft. 
Typically elites players in other positions would choose to buy shafts and heads individually; however, it's quite common for goalies to buy a complete stick since a great quality goalie stick meets the standard you'd look for from a goalie stick.
STX Eclipse 2 Goalie
Durable goalie stick at a resonable price
Strung head with 12-diamond great quality mesh
Widely popular choice
Semi-hard mesh requires some time to break in
This head is molded after the iconic Eclipse head, strung with a semi-hard mesh pocket. Right off the bat, this stick has incredible strength, along with the closed sidewalls that prevent bending and flexing of the head under pressure.
It also comes with a great scoop to help goalies pick up ground balls easily and the enhanced gripping helps goalies maneuver with confidence. The overall design is suitable for goalies of all levels, especially for beginner players with a steeper learning curve.
For the goalie's head, there's a specific type of mesh made for goalies, 12 diamond. If you read my guide on meshes for 2022, I recommend ECD 12D HeroMesh, both semi-hard and semi-soft versions.
Read also: Best Goalie Heads in 2022, Best Goalie Shafts in 2022
Helmet w/ throat protector
Next up, we have the second most important piece of equipment, a helmet attached with a throat protector to protect your head. Luckily, lacrosse helmets have seen a massive technological advancement. They are made to protect players from concussions or any severe brain damage. 
Lacrosse helmets are the same for all positions and both genders, so as long as you are buying a lacrosse helmet, just ensure to find the right size. The helmet I recommend today on the market is Cascade XRS Helmet.
Cascade XRS Helmet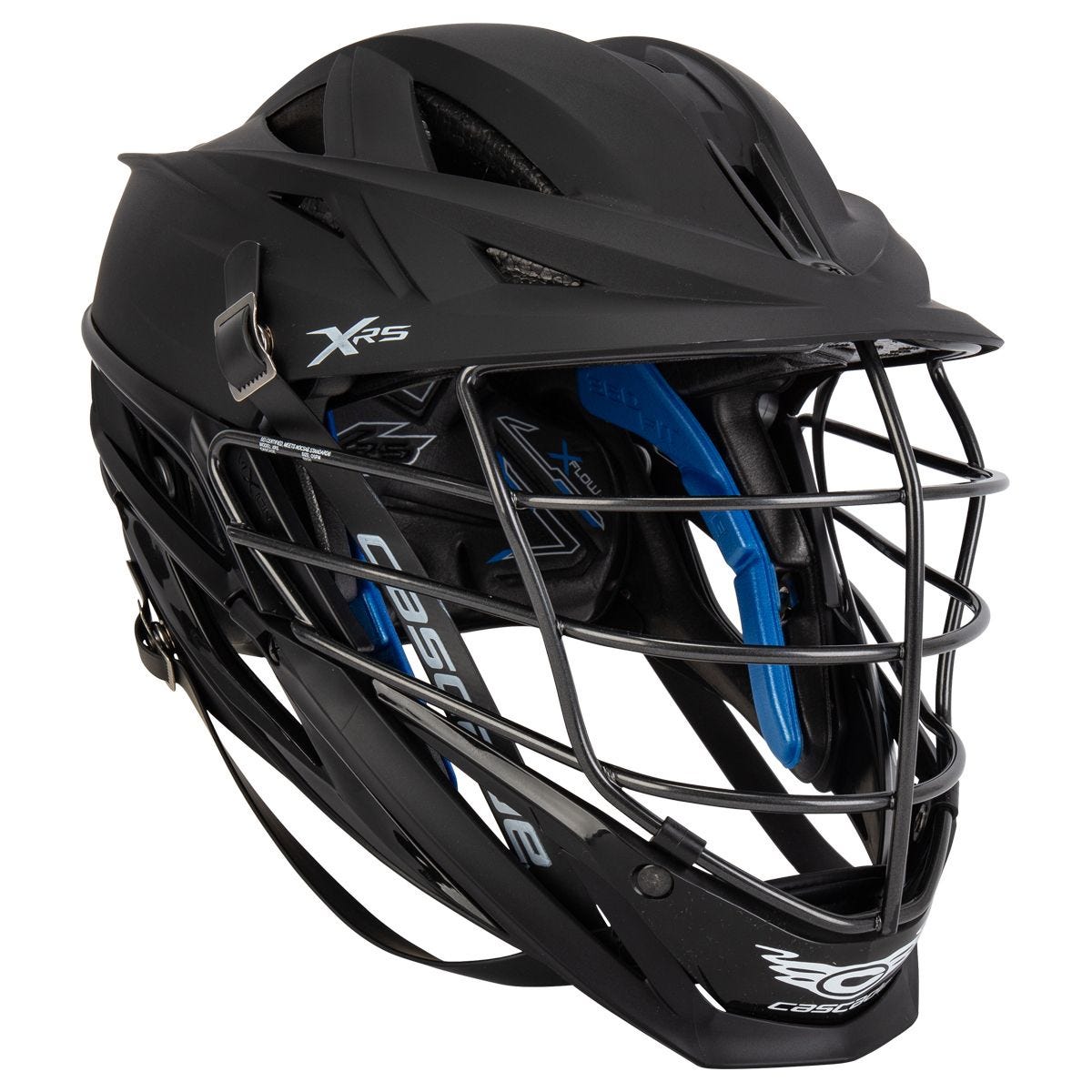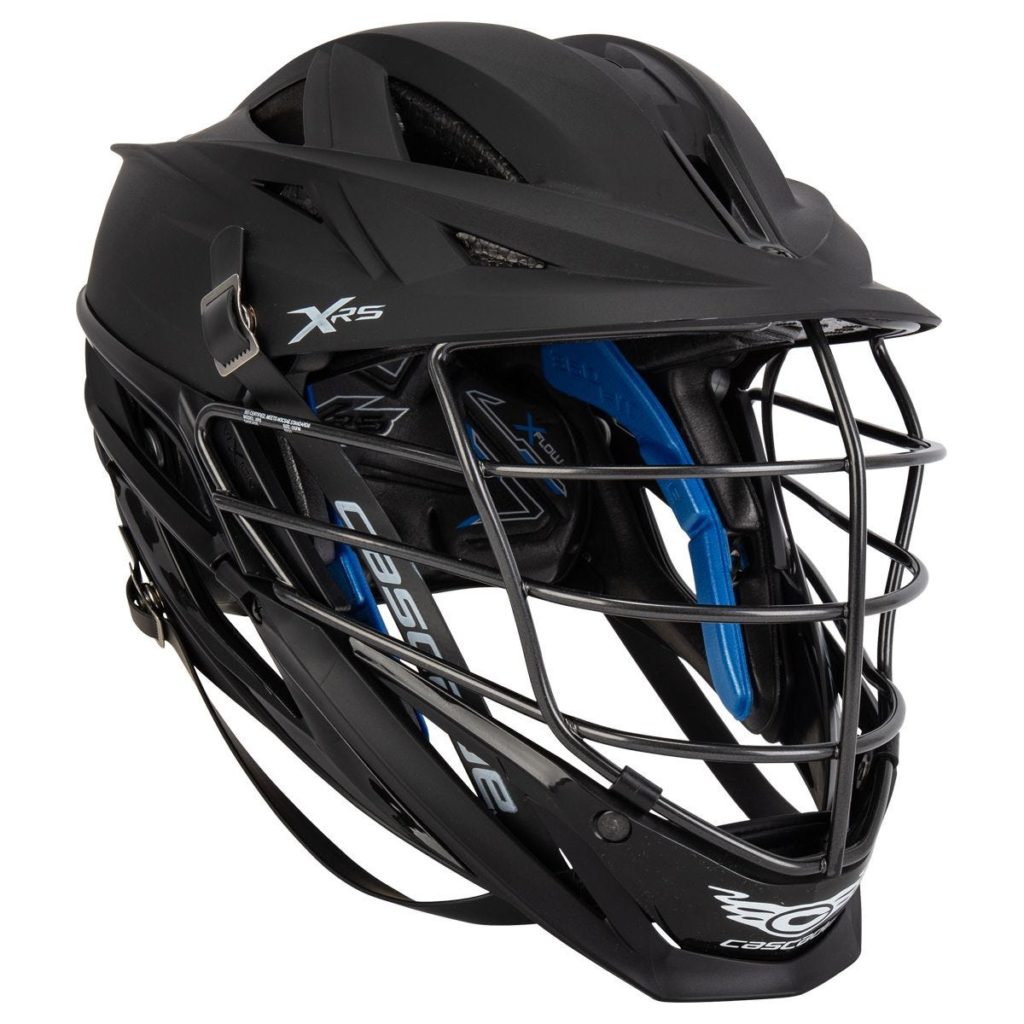 As the best lacrosse helmet manufacturer, Cascade is the industry standard that sets forth with another newest release for 2022. XRS helmets also quickly rose to the top of the best-selling helmets today.
If you watched PLL games and the D1 tournament last season, you probably have seen this helmet being worn by many professional and elite lacrosse players. Its Tri-Liner system withstands all kinds of powerful hits to create optimal and full 360-degree protection. One noticeable upgrade is the exterior double jawbone design that further improves the fit and safety of your head.
Protection is only secondary if you don't find a good fit in this helmet. Cascade offers top of the line XFlo ventilation and adjustable fit for various head sizes. So if you happen to have a bigger head, no worries. XRS built in adjustability makes sure you can easily make it fit. Lastly, this helmet also bumps up your peripheral visibility by 20% thanks to the new VIXION system. 
Overall, Cascade XRS helmet is the best option for the 2022 season if you are looking for the no.1 helmet on the market today.
Read also: Best Lacrosse Helmets in 2022
Unlike other players, goalies also need a throat guard attached to the helmet to protect their throat. Don't overlook the importance of this small equipment. If not securely attached, it could be intrusive to the goalie's movement. Here is my no.1 recommendation.
Cascade TP-S Goalie Throat Piece
The TP-S Throat Protector is the newest release from Cascade. It's made of premium material that is very durable and dense. Once attached to your helmet, it covers a wide area of your neck that offers you peace of mind. 
One great feedback from customers is TP-S is heavier than the previous models so that it stays still without bouncing around too much. This feature drastically improves the goalie's range of motion and the ability to save corner goals.
Read also: Best Goalie Throat Piece in 2022
Chest Protectors
In 2021, there was a new chest protector rule into effect that requires all chest protectors to be NOCSAE approved. So if you haven't bought a legal chest protector based on the new rule, be sure to pick up one today. 
There are only a few chest protectors that are approved on the market today. My no.1 option for 2022 is Warrior Nemesis Pro Chest Pad.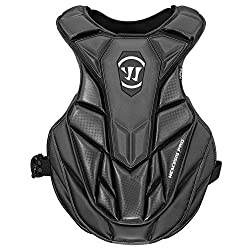 Warrior Nemesis Pro Chest Pad
| | |
| --- | --- |
| Release date: 2019 | Ratings: |
| New NOSCAE Performance Standard: ✅ | ⭐⭐⭐⭐ |
| Size: Men's | |
Warrior Nemesis is a great chest pad for beginner and elite goalies alike. It is designed for goalies looking for a good range of mobility and motions.
The shoulder pads feature Warrior's new bone system that is a compact plastic on top of a soft leather material which makes it smooth on the skin, but also tough enough to protect you.
It offers great protection by covering the entire frontal area of the goalie in a very comfortable way. The three-piece construction not only offers more protection but also keeps the chest pad from rising up when you bend for low saves.
The chest protector is cut wide enough at the neck to allow the helmet to swivel evenly without tampering with your chin guard. The pad covers around your torso pretty nicely by absorbing shots and minimizing damage. That said, one downside is the protector runs small for larger players with longer torsos. 
It might also feel a little heavier than many other chest pads as it is designed for the best protection and shield.
Read also: Best Lacrosse Goalie Chest Protectors in 2022
Goalie Gloves
Unlike helmets that are universal, you want to specifically look for goalie gloves. Goalie gloves provide more protection with an extra cover around the thumb. In addition, goalie gloves have more padding on the back of the hand and extra extension near the cuffs. After comparing all the options, I consider STX Cell 5 Lacrosse Goalie Gloves the best of 2022.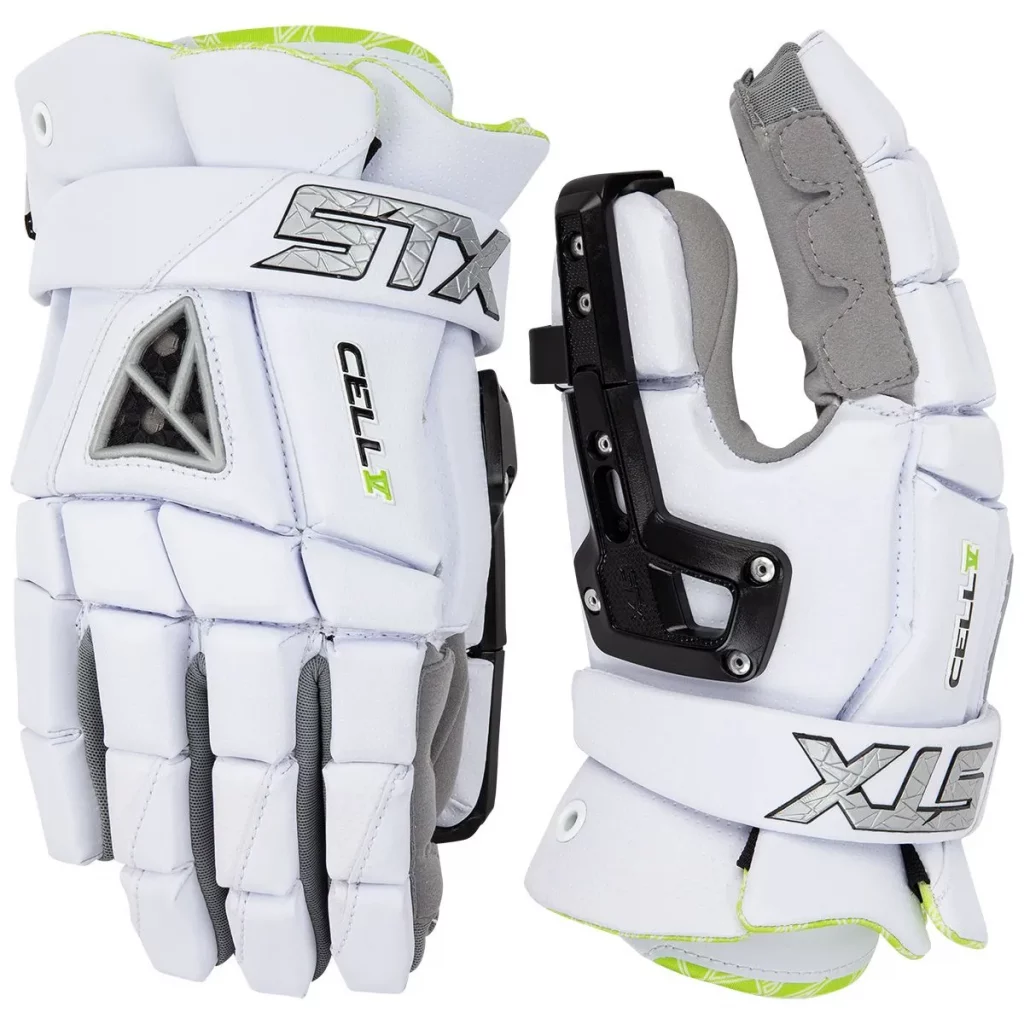 STX Cell 5 Lacrosse Goalie Gloves
| | |
| --- | --- |
| Features: GeoFlex II & Plastic thumb guard, AX Suede palm | Ratings: |
| Colors: White | ⭐⭐⭐⭐⭐ |
When it comes to the best lacrosse protective gear, STX never fails to enter the competition. Cell 5 glove is a very popular option among college and professional players. 
From the look of it, you immediately feel the protection and durability these gloves manage to offer. Adding an external plastic thumb guard, Cell 5 goalie gloves feature GeoFlex II flexible protector for power goalies. 
When you wear them, the Power Fit Profile really stands out as it's designed to offer more space and flexibility in the back of your hands for freedom of movement. Underneath the thick padding, your hands won't get sweaty or overheated thanks to the ventilated palm design. This is definitely a great option for goalies who love STX products and prefer their premium quality.
Read also: Best Goalie Gloves in 2022
Mouthguard
Although goalies won't have too much physical contact with other players on the crease, a mouthguard is still mandatory equipment for all players. Since wayward shots are always a possibility, a mouthguard offers you peace of mind especially if you go outside the crease to make a save. 
On the market, there are two general types of mouthguards: customized mouthguards and traditional mouthguards. A custom fit from the dentist will be more expensive than a traditional mouthguard, but it will be tailored made for your teeth and likely more comfortable.
The most well-known brands are SISU and Shock Doctor.
Shop mouthguards here: Mouthguards on Amazon
Athletic Protector
For male goalies out there who forgot to wear an athletic protector, you probably swore to yourself to never make the same mistake again. It's needless to say how important a reinforced athletic protector is for goalies. For women goalies, a simple athletic protector should feel sufficient plus the goalie pants on top. 
I have done some research to find this shock doctor adult compression short as a great choice for goalies. Or check out additional options on Amazon.
Cleats/Turf Shoes
Last but not least, goalies also need a pair of lacrosse cleats to support their movements. Since goalies don't need to do a lot of changes in directions, the priorities lie in finding a good fit and offering ample ankle protection. 
Hence, goalies should look for high tops as they provide the best ankle and foot protection. And my recommendation is Nike Alpha Huarache 8 cleats.
Nike Alpha Huarache 8 Lacrosse Cleats
| | |
| --- | --- |
| Release date: 2022 | Cut: High/Low |
| Color: White | Ratings: |
| Size: Men's | ⭐⭐⭐⭐⭐ |
Brand new Huarache release, Nike Alpha Huarache 8 Pro is a widely popular and great quality lacrosse cleats for players. 
Right off the bat, I really like the clean and sleek white design that Nike has adopted in the new edition. As 8 Pro is designed for lacrosse players, the construction and fitting are built for extra support and comfort.  
They come with flexible TPU plates and X fit system at the back of the heel that creates a lock-in feel for the high-cuffing version of the cleats. The cleats are also made with breathable and lightweight materials that go easy on your feet. 
There are both high cuff and low cut versions available so you can select based on your preference and need.
Read also: Best Lacrosse Cleats in 2022
Additional Goalie Equipment
There's always room for more protection. In this section, let's go over some additional goalie equipment you'd consider. These aren't mandatory per se but are recommended for players to consider.
Lacrosse goalie pants
Although goalie pants aren't mandatory for male goalies, they provide great additional protection for the lower half of the body. Do note, for female goalies, goalie pants are required at the high school level and below. 
Apart from providing good protection for your thighs and hip, the best goalie pants are made of stretchy materials without limiting your range of motion. There are a few good options worth considering, specifically Brine Triumph Goalie Pants appear to be the best.
Brine Triumph Goalie Pants
| | |
| --- | --- |
| Type: Goalie Pants | Colors: Black |
| Size: Men | Ratings: |
| Underneath shorts: ✅ | ⭐⭐⭐⭐ |
The Brine goalie pants have a flexible construction with multiple protection sockets at all sections of their size. The exterior layer is soft and cushioned. It can absorb the maximum impact of shocks and vibrations.
All the critical joints of the Brine pants are reinforced with protective inner seams and external pads. The multiple layered cushioning designs keep the waist, hips, and thighs comfortable.
The fabric can absorb sweat and moisture to protect your skin from allergens and irritating elements. The bottom hem has extra elastic padding for perfect fitment around the upper thighs.
You can even slide it up or down to match your thigh size. Enhanced protection over the scrotum protects the sensitive organ from shocks and vibrations.
The frontal design has sufficient space for accommodating protective cups if required. The waistband may look slightly relaxed in design. In fact, it is the flexibility factor that provides the most comfortable fitment.
It is also tight enough to stay over the waist without slipping up or down. The tightness factor allows free circulation and reduces allergic reactions.
Read also: Best Lacrosse Goalie Pants in 2022
Arm Pads
Arm pads aren't required for goalies at the high school level or above. In other words, arm pads are mandatory for youth goalies under 15. 
The rationale behind this rule is youth goalies are still at the developing stage and thus they would need more protection to avoid severe injuries. 
Some goalies do find arm pads intrusive with their arm movements, so it's common for goalies to ditch them completely once they reach the high school level. That said, for youth players, I recommend Brine Youth Uprising II Arm Pad.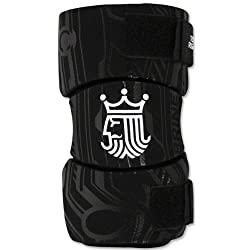 Brine Youth Uprising II Arm Pad
| | |
| --- | --- |
| Size: Youth's | Ratings: |
| Color: Black | ⭐⭐⭐⭐ |
Without a doubt, Brine is a leader in designing superior-quality lacrosse gear. This model is an excellent choice for kids to enhance their games.
We are a fan of the design. They also take the trophy for being flexible and comfortable.
The elbows are fully protected. The protective layer has a cap in the interior that ensures comfort and boosts protection.
Lastly, they also come with straps that allow you to adjust, depending on the size of your kid's arms. This feature also improves comfort and provides maximum fit.
Shin Guards
It's never fun when your shins get hit with a lacrosse ball. Your other parts of the body are pretty much covered, leaving your shins exposed. So definitely consider wearing shin guards if you are worried about getting bruises all over your legs. 
Shin guards used to be required equipment in the women's high school game until 2022 NFHS ruled it to be optional. Speaking of quality, the best shin guards are lightweight without restricting your movement. 
If you decided to buy a pair of shin guards, opting for the standard shin guards soccer players use is sufficient. Check out: Franklin Sports Superlight Soccer Shin Guards. This one is very popular, lightweight and provides the protection you need against forceful shots. 
Lacrosse Bags
With many different pieces of equipment, it's important to get a lacrosse bag to organize everything. Whether you choose to buy a personal bag or use the one school provides, make sure it's big enough to store everything. 
After using several different brands and types of bags, I have always been a fan of STX Lacrosse Challenger Bag.
STX Lacrosse Challenger Lacrosse Equipment Bag
| | |
| --- | --- |
| Type: Bag (36" x 12" x 11") | Colors: Black |
| Release date: 2013 | Ratings: |
| Size: High schoolers | ⭐⭐⭐⭐⭐ |
Long-distance game travel with heavy lacrosse equipment is now made simple with STX Challenger. The 36" bag can carry multiple lacrosse sticks for attackers, middies, defenders and goalies. In addition, it holds all your lacrosse uniforms, supplies, accessories, and gadgets.
A 36'' long x 12'' wide x 11'' deep, this lacrosse bag has one big compartment that provides sufficient storage space to also carry personal supplies like water bottles, towels, jerseys, etc. A safe twin zipper system can be used to lock the main cabinet. Side pouches with zippers can hold the sweat napkin, tissues, emergency medical supplies and first aid kits for quick access.
STX products are made to a high standard. Construction of the medium denier fabric makes the bag strong, flexible, and free from warping and breaking. If you plan to use this big for a long time, it has strong seams to make sure it will hold up for multiple seasons. 
Overall 36'' STX Challenger is a great option for high school players.
Read also: Best Lacrosse Bags in 2022
Complete Lacrosse Goalie Checklist
To tie everything back together, here's the complete checklist for everything a goalie needs to play this season:
Required Equipment
Lacrosse stick
Helmet w/ throat protector
Chest protector
Goalie gloves
Mouthguard
Athletic protector
Cleats/turf shoes
Additional Equipment
Lacrosse goalie pants
Arm pads
Shin guards
Lacrosse bags
Conclusion
As a goalie, you must protect yourself as much as possible. You never know which piece of equipment will save you from a broken bone; plus, it gives you the confidence in the crease to make bold saves.
As there are many moving parts, I recommend you take some time to read through the post again and jot down the equipment you will need for the season. If you aren't sure about the sizing, never a bad idea to check them out in-store. To wrap, keep in mind that every piece of equipment should give you a nice fit and great protection.