Speaking of the coolest and my favorite swag you can add to your sleek lacrosse outfit, it's a lacrosse visor.
Back in the day, old school visors were dull and unattractive with a lot of tints.
Fortunately, there had been a lot of improvements made in design and manufacturing, many trendy and cool-looking helmet visors are now available on the market for players. 
Although not every league and level agree on the same rules surrounding helmet visors, which we will get into shortly in this post, there are multiple benefits to having a helmet visor such as protecting your eyes from dust, small particles and direct sunlight.
Thus, in this guide, we've put in the effort and found the best lacrosse helmet visors to buy in 2022 for you.
Coolest helmet visors need to pair with the best lacrosse helmets in 2022
Best Lacrosse Helmet Visors Reviews 2022
EliteTek Helmet Visor
Universal helmet fit
Impact, Fog & Scratch Resistant
Great price
Designed for football, might have an issue with a lacrosse helmet
UV protection isn't the most ideal
For lacrosse players in need of the perfect protection, EliteTek is a top-of-the-line selection that is made of polycarbonate built with a polyester inner material for protection. 
Its quality for safety and impact resistance is well tested as it's made for high-impact and intense sports such as football and hockey. 
This durable visor protects both eyes from probable injuries resulting from poking. It also protects the nose and the surrounding areas while maintaining a lightweight that feels comfortable on your head. One impressive strength is that it is scratch resistant. 
It's designed for a universal fit where the visor is attachable to your helmet via two clip system to minimize any difficulty in attachment and removal. One drawback to being mindful of is that the clear version might not be as UV-resistant as the smoke-tinted version. 
The clear version is allowed in all leagues; therefore, you can use it in youth leagues, HS games, and college competitions. The smoke-tinted is only allowed in professional leagues.
Barnet Sports Helmet Visor
Fog & UV coating
Universal fit
Easy system for attachment and removal
Some reviews about not fitting youth helmet
UV protection might not be the best
Whether you're playing lacrosse, hockey, or any intense game, Barnett sports has built itself into one of the best visor options and a name you can trust.
To start off, this visor is sturdy. It can withstand heavy impact from objects, sticks, and balls. It consists of a polycarbonate material that is tough and transparent.
Although it's durable, it has a lightweight and anti-fog, anti-scratch design that ensures your comfort and that maximizes your visibility while wearing the helmet. The special coating also reduces UV light and glare that could obstruct and disturb your vision. 
This product is designed for a universal fit for all sizes and ages via two clip system that enables easier fastening, attachment and removal. Plus, the clear vision visor is approved across all levels.
SLEEFS Helmet Visor
Scratch-proof and anti-fog coating
Universal fit
Easy system for attachment and removal
Designed for football, might have issue with a lacrosse helmet
SLEFFS is another of our top picks. This lightweight visor is up for the job during intensive competition. It's made of Polycarbonate, which is a sturdy material with anti-fog and anti-scratch characteristics. Therefore this gives you great visibility, and you can clearly see objects coming your way.
The clip system enables you to adjust easily depending on your specific requirement, and this makes it the ideal choice for players of all levels. Additionally, this visor comes in many color options including a transparent version; hence, it's suitable for use without any issues. 
As SLEFFS prioritizes safety above all things else, this visor is built for optimal protection and safety, which gives players confidence and ease during gameplay. One caveat to note is this visor is made for football helmets, so it may not adhere to every lacrosse helmet.
Lacrosse Helmet Visor Rules
As I alluded to earlier, the rules around helmet visors are confusing and subject to different treatments depending on your level and league. Hence, it's super important to familiarize yourself with the rules before buying a helmet visor. 
This overview is by no means the most detailed and authoritative source, so please refer to the specific handbook or guidelines depending on your level. 
Due to a lack of information and specific ruling, there isn't an official answer. That said, Youth Lacrosse tends to follow the guidelines and rules made by NFHS, which states you can use a lacrosse helmet visor if it is clear, molded, and non-rigid. Tinted visors are strictly restricted. Here you have it, a helmet visor is allowed but a tinted one isn't. 
Ready to jump-start your lacrosse career?
>> Click here to find the best beginner sticks in 2022
Very clear and transparent regulations according to the NHFS book, "A player may wear a clear, molded and non-rigid helmet eye shield. A player may wear eyeglasses, either tinted or clear. A player may not wear both a clear, molded and non-rigid helmet eye shield and tinted eyeglasses."
To simplify, the helmet visor needs to be clear, molded and non-rigid. 
As you advance in your lacrosse career, rules tend to relax more and more. According to NCAA, "A plastic face shield as part of the helmet may be worn, provided the face shield is completely clear. A tinted eye shield may be worn only for a documented medical condition." Which means, a visor is 100% accepted, even a tinted one with proof of medical condition.
There isn't a universal ruling as the regulation largely depends on the league itself. You should consult with your team and officials to be clear on the legality of a visor.
How To Choose Lacrosse Helmet Visors
There are several factors to consider when purchasing a helmet visor.
Let's explore further below.
Material
Material is the first factor to consider. Based on my picks, all the helmet visors consist of Polycarbonate.
This material is both lightweight and sturdy. Therefore, it doesn't feel heavy on your head and protects you from heavy impact.
It's also transparent and scratch-resistant, meaning you'll have a clear view of what's ahead.
Also, it should have ample ventilation to allow for air circulation.
Playing lacrosse can make you sweat, and therefore ample air keeps you dry and comfortable.
Anti-glare
When playing lacrosse or any other game, there will be a lot of light, and full glare can be harmful to your eyes.
Ensure that your pick has anti-glare characteristics to protect your eyes.
The best visor allows a certain level of light and has some color tint to restrict the light that gets to your eyes.
Comfortable fit
Helmet visors are available in different shapes and sizes. However, the best selection is one that can fit any size.
The good news is most helmet visors are one size fits all.
However, it should fit comfortably on your head, and the top part must not obstruct your view. The chin straps should rest on the chin area.
If you buy one for your child, you can save some money by choosing a universal fit.
From our review, the visors come with a clip system that enables you to adjust the size depending on your specific requirement. Check for the adjustability features of the visor.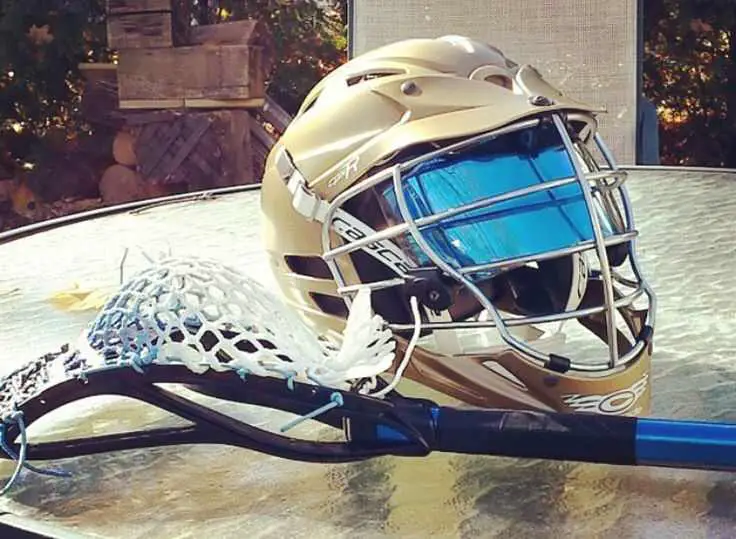 FAQ About Lacrosse Helmet Visors
Are visors legal in lacrosse?
Yes, they are legal.
However, before buying, it's essential to confirm whether the visors have met standards for your leagues or competitions.
Do all visors fit all helmets?
Most visors are a universal fit for all helmets.
However, it's crucial to find out if it'll fit the helmet.
Usually, most brands have compatibility charts that you can use to choose the visor depending on the helmet.
How do you tilt a lacrosse helmet?
The visor should be far from your face to allow air circulation and prevent fogging.
To tilt a lacrosse helmet, start by putting the helmet on then tilt forward in a way that your eyes are visible.
The helmet should be tight so that it doesn't get knocked off easily.
With the straps loose, adjust a bit lower and hold the chin strap so that it rests on your chin.
Adjust while tightening until it becomes tight on the top and loose on the bottom.
Another method is tightening the regulator at the back to achieve a perfect fit.
To learn more about helmet tilt, check out this post I wrote.
Conclusion
To recap, helmet visors help in protecting your eyes, nose, and surrounding area from injuries during a lacrosse game. They're also versatile for use when playing other heavy impact games such as football and hockey.
When shopping for one, consider the materials, anti-glare properties, size, style, and comfort. The best lacrosse helmet visor is one that guarantees your safety and comfort during the game.
And here are the three products I recommend in 2022:
| Product Image | Helmet Visor Name | Recommendation | Check Price |
| --- | --- | --- | --- |
| | EliteTek Helmet Visor | Best Lacrosse Helmet Visor | Check Price |
| | Barnet Sports Helmet Visor | Most Sturdy Helmet Visor | Check Price |
| | SLEEFS Helmet Visor | Best Lightweight Helmet Visor | Check Price |
Leave me a comment if you found this guide helpful. Also, feel free to drop a question, I will do my best to answer!