Aside from a nice face shape, good durability and stiffness, there's one more thing lacrosse players look for from a head, which is weight.
As the fastest game on two feet, players look for every opportunity to reduce and minimize the excessive weight that could bog them down. In particular, a lighter head makes the most significant difference among all equipment. 
To make sure you can get your hands on the lightest lacrosse heads, I created a list of the lightest and top quality heads for all positions for you to check out.
By looking through customer reviews, product pages and going to local stores to do real measurements, I was blown away by how many advancements have happened in lacrosse technology that allowed plastic materials to be lighter yet stronger than ever.
Click here to learn more about the lightest lacrosse shafts in 2022.
Without further ado, here are the best and lightest lacrosse heads in a glance:
Jump to a specific section:
Lightest Attack/Middie Heads
Most lightweight heads you see will come from the attack/middie category given offensive players put a lot of emphasis on fast shooting speed and great hand control. Due to this big demand for heads becoming lighter, brands have done such a great job pushing the envelope in terms of evolving the materials.
Click here to check out the best attack/middie heads
STX Surgeon 900 (4.4 oz)
A most recent upgrade from Surgeon 700, STX Surgeon 900 has proven to be one of the best lacrosse heads for elite offensive players. Its super lightweight design, weighing in 4.4 oz and around 125 grams, is made for utmost speed and control. 
It features several proprietary technologies that definitely offer more precision and gripping control for an attackman
Unlike the previous version, Surgeon 900 is made of EnduraForm™, which allows it to hold good and consistent stiffness, strength and durability while being super lightweight.
Tight face shape that is great for attacking and ball retention. InnerLock™ provides more flexibility with stringing by narrowing the channel for nicer hold
Speed Scoop™ design makes sure you can pick up groundball quicker and easier from any angle of attack 
After chatting with several college lacrosse players, STX Surgeon 900 appears to be the newest winner of attackman's choice. This is my pick for 2022.
StringKing Mark 2A (4.5 oz)
Right off the bat, Mark 2A really stands out from other attack heads with a wider face shape design, which gives attackmen a better and wider catchability of the pocket. 
Its large offset has that nice low sloped profile that is very crucial when attackmen often need to cradle using one hand and keep the ball away from long-stick defenders. 
Next, let's talk about weight. Although Mark 2A isn't as light as Surgeon 900, it's still extremely light coming in at 4.5 oz or 128 grams. That truly makes Mark 2A another lightweight offensive powerhouse. 
Per usual good stiffness, durability and nice flat scoop as you can expect from StringKing. 
Overall StringKing Mark 2A is well designed to provide the perfect balance of performance, durability and weight.
This is a choice you can't really go wrong.
Nike Lakota 3 (4.6 oz)
One of the most popular Nike offensive lines, Lakota 3 is the newest addition and upgrade in 2021. In comparison to the L2, the biggest improvement is the new plastic material that puts L3 among one of the lightest heads currently on the market. Without sacrificing durability, the new plastic endures the same, if not more, impacts and abuse. 
This head is very popular among offensive middies for its gradual and not too high pinched face shape.  A more rounded scoop enhances the capability for ground balls. In terms of the overall design, it mostly resembles the L2, so if you have been using L2, you will for sure love the new edition. 
Overall, I was really glad to see the drastic improvement in using a more advanced material Nike has done for the L3.
STX Stallion 900 (4.6 oz)
A middie specific head, STX Stallion 900 incorporates the brand new EnduraForm plastic that puts the head right at the 4.6 oz mark. This head is virtually identical to the STX Stallion Omega in terms of design, construction and attributes. 
For middies looking for a versatile and practical head, STX Stallion is built for durability, great transition from offense to defense and groundballs. Innerlock technology makes stringing very easy and convenient. 
If you are a fan of Stallion Omega but looking for a more affordable option, Stallion 900 will be your best option at a lighter weight.
StringKing Mark 2V (4.7 oz)
Although Mark 2V is a relatively older model that came out in 2017, that doesn't stop this head from gaining a ton of popularity and recognition. Mark 2V kicked off this revolution of shedding excess weight and only keeping essential parts to make it light and versatile. 
This head has the StringKing classic and simple looking design with a thinner and more rounded scoop for groundballs. It also provides up to 29 string holes to maximize the freedom for customization based on players' preferences. 
Overall, this is a great head for midfielders and it very much kept the qualities you are familiar with from the Mark 1.
Lightest Defense Heads
Compared to attack/middie heads, defense heads don't priortize weight as one of the most important features per se. That said, great and quality defense heads are made of advanced plastic materials that don't weigh players down while throwing checks and making quick defensive moves.
Click here to check out the best defense heads
StringKing Mark 2D (5.2 oz)
When StringKing released their Mark 2 series, they took the game by storm. I mentioned Mark 2V earlier for its revolutionary lightweight design; they did it again with their defense specific head, Mark 2D.
Mark 2D weighs at 5.2oz (147g) making it the lightest defense head to this day without sacrificing any significant durability and stiffness. 
Another popular and beloved feature is their scoop design. If there's one head that could compete with STX's speed scoop, that would be StringKing Mark 2 scoop. This feature makes this head one of the best defensive heads as you can scoop groundballs from any angle with a breeze. 
Overall given its surprisingly lightweight feature, StringKing Mark 2D is a solid defense head option for any advance and elite player.
STX X20 (5.2 oz)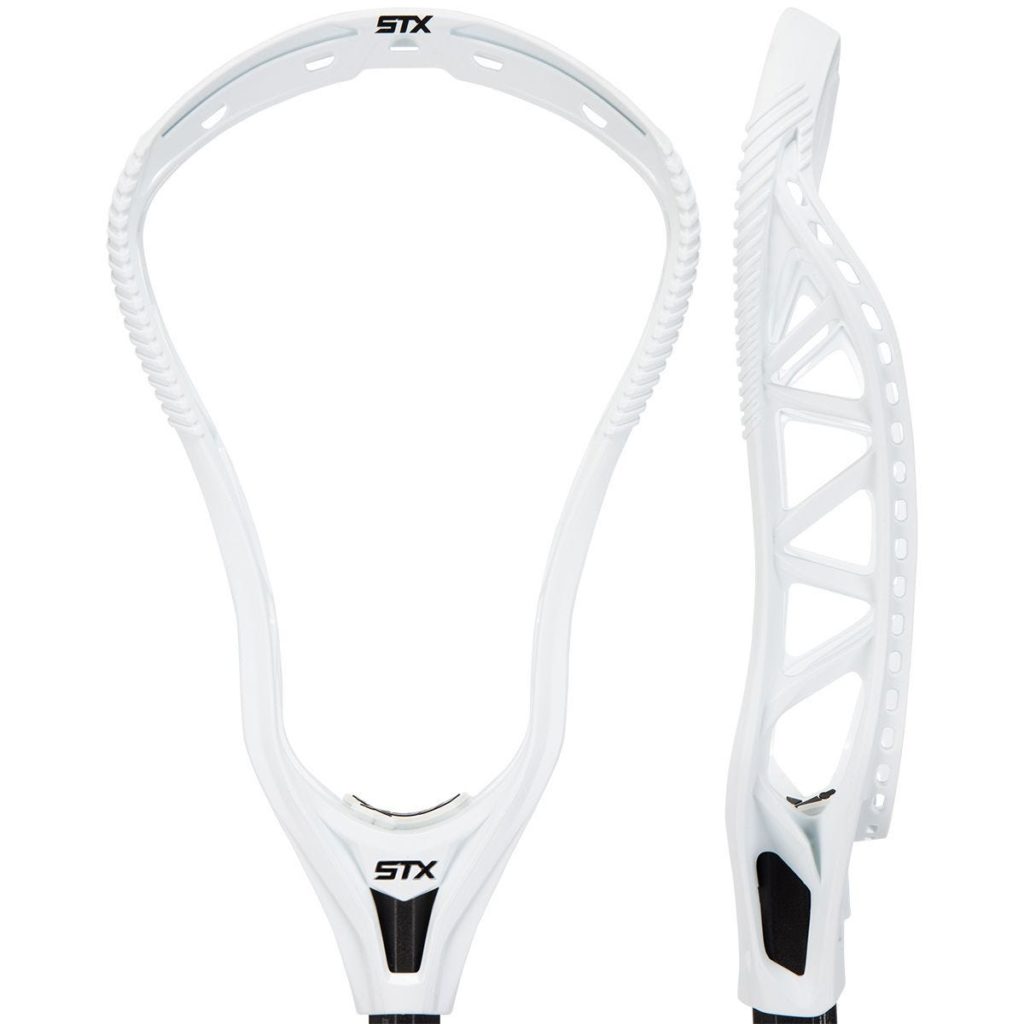 A much anticipated release from STX after a long time, STX X20 has lived up to its hype. Part of the reason why it took STX a while to do an upgrade could be that X10 continues to be widely popular and successful among defensemen. 
Design wise, X20 resembles X10 to a large degree. It shares the classic wide face shape with previous versions, with no/tiny pinch and heading straight out to the top. If you are used to X10 and are a fan of covering a wide surface area, X20 is your defensive head. 
This is probably one of the lightest defensive heads on the market in the meantime maintains a good stiffness. It also features the signature speed scoop people rave about. 
Overall, X20 is a solid and classic choice many people are excited about.
Lightest Faceoff Head
Below I also included a super lightweight faceoff head that provides great durability and warp resistance with good flex.
Click here to check out the best faceoff heads
StringKing Mark 2F (4.4 oz)
The reason why I put StringKing Mark 2F next is the fact that it largely resembles the STX Duel line. Specifically, its face shape and sidewall holes are very similar to a Duel. 
One great improvement they did is the scoop. A more angled and powerful scoop makes it easy to pick up ground balls from all angles. 
It has a short throat that is perfect for a faceoff and a straight down sidewall design for ball retention. 
The no.1 factor we look for in a faceoff head is its material. Whether it has great warp resistance, great durability and flex. With new hybrid plastic, Mark 2F has nailed those features. 
No matter how much pressure you apply to twist the head, it snaps back to its original shape. This new material definitely is a game changer which gives this head a great balance of flex and stiffness. 
One minor downside to highlight is that it does take some time to break in as the material is known for its shape retention. 
Overall, this is a great option as an SNG faceoff head. Recommend!
Lightest Goalie Head
Because goalie heads are bigger and wider than all other heads, so there's no point of competing goalie heads against other lacrosse heads. However, within its own category, being lightweight is still a key feature to consider.
Click here to check out the best goalie heads
StringKing Mark 2G (10.9 oz)
As one of the reputable and popular brands in lacrosse, StringKing continues to deliver satisfying and good quality gear for laxers of all ages and skills. 
After STX Ecplise 2 came out, a few different brands have decided to follow suit, which has greatly expanded the options for players. 
Mark 2G was launched in 2020 and it has quickly become one of the most popular heads among goalies. It is crowned to be the lightest goalie head currently on the market, under 11 oz.
Without sacrificing quality and durability, Mark 2G has good stiffness and a large surface area with plenty of sidewall holes to work with. It's a perfect head for players who want different pockets and stringing customizations. 
If you are familiar with StringKing attack, faceoff and defense heads, you will be very comfortable with this head design as it strikes a lot of similarities to the other heads. 
It has a low profile, shortened throat that might be an issue for goalies who like to use one hand to grip the throat as it doesn't leave much space. 
Overall, Mark 2G is a great and high-quality goalie head that comes with a six-month warranty.
Conclusion
That was the roundup of all the best and lightest heads available for purchase currently. 
While I did my best sifting through all the available options to find these options, I would still suggest you check out the best lacrosse heads in 2022 to make sure you don't limit yourself and miss the other great heads.