You just signed up for your first lacrosse tryout. It's both exciting and nerve-wracking. As a complete new beginner, you aren't sure what to wear, let alone figuring out what gear is required. 
Depending on what season of the year, the outfit you wear to practice could vary. Normally, lacrosse players wear wicking short-sleeve t-shirts and shorts and put on their protective gear prior to warm-up. Women also have the option to wear skirts. During early spring/late fall, players would layer up by wearing long sleeves and long pants or leggings.  
Because lacrosse season typically starts in early spring and many lacrosse clubs end tournaments in late fall, laxers are no stranger to playing in cold weather. Thus, the very first thing is to dress appropriately for the weather. Neither too cold or too warm, the goal is to find a perfect balance. 
Therefore, in this post, we will go over what you should wear and how to prepare yourself for cold and warm weather. Finally, we will give suggestions for lacrosse parents as well.
Beginner Sticks
What to wear to lacrosse practice in cold weather
Players who live in New England area understand the challenge of playing those chilling and blustery games in early March. If you are an inexperienced player, staying warm by wearing a proper outfit is a must. Also, unlike soccer or football, lacrosse games rarely get canceled because of adverse weather like rain. Therefore, don't bank on the weather helping you out too much, if not at all.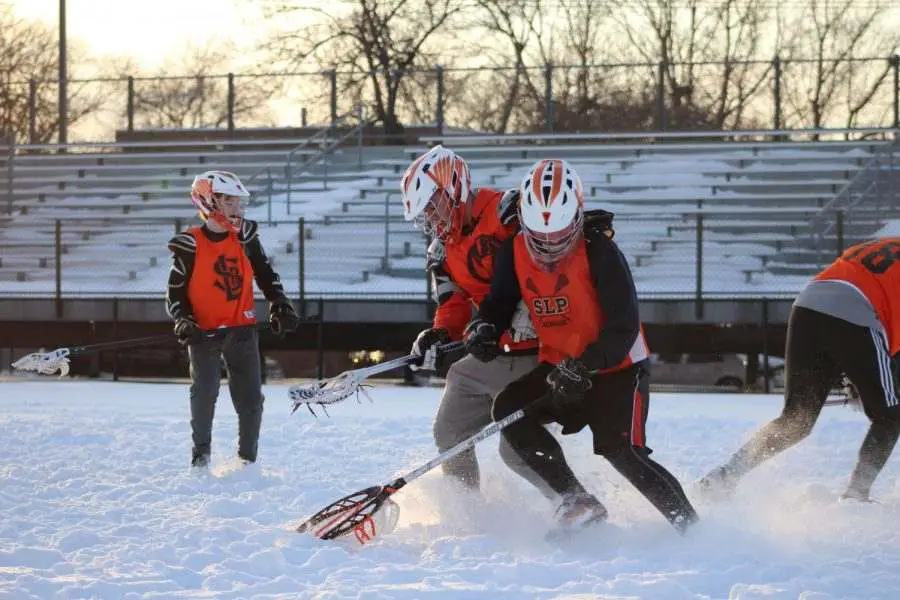 On the morning of your first day of tryout, go outside to test out the weather. If you like the cold, feel free to stick to your summer outfit. If you don't function well in the cold, definitely make some wardrobe changes to ensure you are warm and ready. 
Don't make the ameture mistake that leaves you shivering in the cold and not being able to perform at your best. 
For this very important reason, here's a list of things lacrosse players wear in cold weather to stay warm:
What to wear to lacrosse practice in warm weather
I hope you aren't too worried about playing in the cold because the majority of your season will be played in warm conditions. Unlike cold weather, warm weather means hot and humid conditions, particularly if you or your kid will continue to play during the summertime. Hence, warm weather can be unbearable times to times just like cold weather. 
If you are trying out in warm weather, here's a list of things you should wear to practice in warm weather.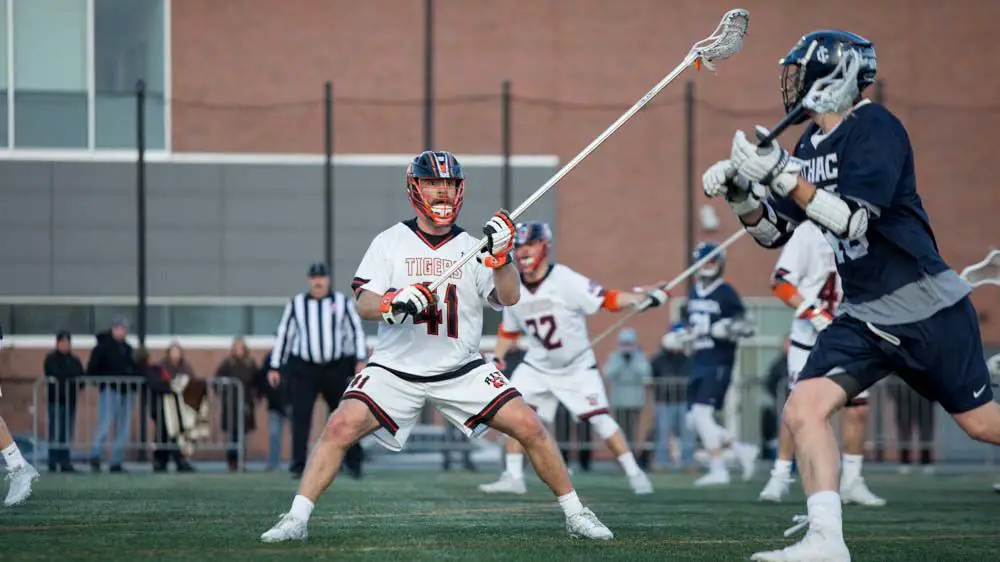 What not to wear to lacrosse practice
After going over the things you should wear to lacrosse practice, it's fitting to also mention things you shouldn't wear to lacrosse practice. They go hand in hand and overlooking them could lead to safety hazards and possibly injury. Hence, coaches will always emphasize what not to wear on the first day of tryout. Make sure to keep these items at home/dorm before heading to practice. 
Jewelry – When you make physical contact with someone, jewelry will likely get damaged and cut or scratch you and other players. So it's very dangerous to wear any jewelry to practice, including watches. A good practice is to leave any accessories at home. 
Glasses – Again due to the physical nature of lacrosse, no one is free from contact and collisions. Glasses can be knocked off and damaged. Since glasses are very close to your eyes, it's not worth the risk. Instead, wear contacts to practice. 
Phones – Some coaches are against bringing phones to practice for a number of good reasons. First, it distracts you from practice. Second, it will be a distraction for others when it rings. Third, your mind will drift to checking your phone. So personally I never brought my phone to practice. Plus, it's a better idea to get to know your teammates instead of checking your phones.
What to wear to lacrosse practice as parents
For parents who want to show mental support and be there for their kid's first tryout/game, in this section, I will also list out items/things that help you make the experience more enjoyable and easier to manage. 
Similar to what we did in the last two sections, parents need to also prepare accordingly depending on the weather. So let's jump in.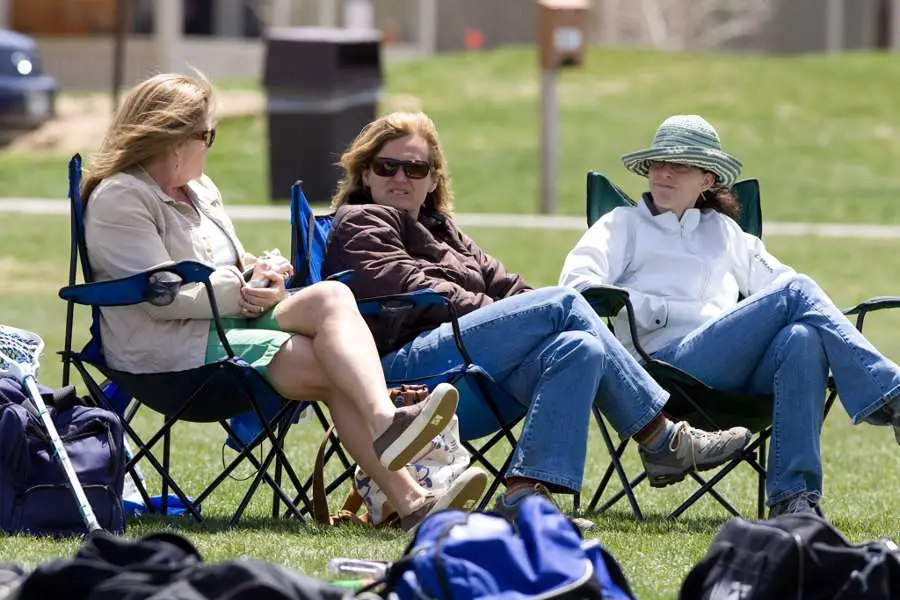 Cold Weather For Parents
Blankets – These are a must to stay warm on the sidelines when the wind is gusting. Either a camping blanket or an outdoor blanket would do the job. 
Stadium Seats – Consider buying an insulated stadium seat as aluminum stadium stands can be pretty unbearable on a freezing day. 
Rain/Wind Pants – Rain pants are a very popular option for parents to wear. They keep you warm and dry in any adverse weather conditions. If you like to stand around a practice or game, consider putting on a pair of rain pants with regular pants underneath. 
Warm Weather For Parents
Lightweight camp chair – Watching the game with the comfort of sitting is never a bad idea. These chairs are also made for mobility, so they are very easy to transport and carry.
Hats – On a very hot day, sunstroke can be a concern. So it's important to wear proper protection to cover your face and head. 
Sunscreen/Sunglasses – You will be spending a lot of time in the sun, so remember to put on sunscreen and sunglasses to protect yourself from the sun. 
Coolers – Wheeled coolers are lifesavers when you have to drag lots of ice and water around. No matter how far you need to park, they are very easy to transport and wheel around. 
Conclusion
As we wrap up the discussion, I hope this guide gave you an understanding of what you need to know before your first practice. Apart from athletic clothing, you must also wear protective gear for safety. If you aren't sure what you need, head to the checklist for men and women players right now so you don't miss anything that puts you in danger. For goalies, head to this post for a complete goalie checklist.