Due to the increasing popularity of lacrosse, more parents than ever are considering letting their children play this exciting and competitive sport. Since it causes fewer injuries and doesn't rely heavily on physical contact, it's not a surprise to see more parents favor lacrosse over football. Then the question becomes, at what age should you start playing lacrosse?
Based on my observations and research, players could start playing lacrosse as early as 7-8 years old. Because lacrosse requires sufficient coordination and strength, children around this age range have typically started to develop a decent level of coordination and mobility to perform basic skills. 
That said, this is a generalized conclusion that isn't necessarily the case for everyone. If your children didn't show signs of readiness by 7 or 8 don't be frustrated and give up on trying out the sport later. In fact, it's never too late to start playing lacrosse! My uncle started playing when he was 29 years old and he is loving it to this day.
Therefore, in this post we will explain everything about the benefits of starting early and why it's never too late to start either. Additionally, stay till the end for some helpful advice for parents.
Want to be a professional lacrosse player? Start with choosing the right lacrosse stick!
| Product Image | Lacrosse Stick Name | Recommendation | Check Price |
| --- | --- | --- | --- |
| | StringKing Complete 2 Senior | Best Stick For Attackers | Check Price |
| | ECD Bravo 1 | Best Stick For Middies | Check Price |
| | STX X10 | Best Stick For Defenders | Check Price |
| | STX Eclipse 2 | Best Stick For Goalies | Check Price |
What are the benefits of starting early?
In order to fully reach your children's playing potential, starting early is crucial. Here are some benefits and reasons as to why that's the case:
Physical Development and Stick Skills
Remember I said earlier about hand-eye coordination? Lacrosse significantly improves young players' balance and mobility as they try to be quick on the feet while maneuvering the stick. More importantly, they will develop a good level of strength and power since physical contact occurs in lacrosse. 
As we know lacrosse is played on a stick, there's no way around being able to handle a stick comfortably to win and be successful. In other words, mastering throwing, catching, cradling and shooting is the hardest challenge for every player. To accomplish that high level of excellence requires countless reps and practices. And that takes time. 
So, starting early gives your children enough time and patience to focus solely on learning thoroughly and correctly on the fundamentals.
Mental Development and Collaboration
The path to becoming a great laxer will not be straightforward. It takes serious hard work and time into crafting the skills. That's why this is the perfect sport for a child at a young age to commit him or herself. 
Because lacrosse requires a lot of running, even spriting in most cases, condition training in the early years is very demanding. When it gets challenging, young players learn to push themselves to the limits and never call it a quit until it's over. Aside from running, agility, strength and coordination challenge their brains to be adaptive and creative at the same time.
These invaluable experiences will help shape their mental toughness and "never quitting" mindset for the rest of their lives.
Additionally, lacrosse is one of the best sports to learn collaboration with teammates. A team only works when players are in sync fighting for the same goal. By planting this seed of connecting with teammates through communication and action, young players will benefit tremendously outside of the lacrosse field in the future.  
Is lacrosse hard for beginners?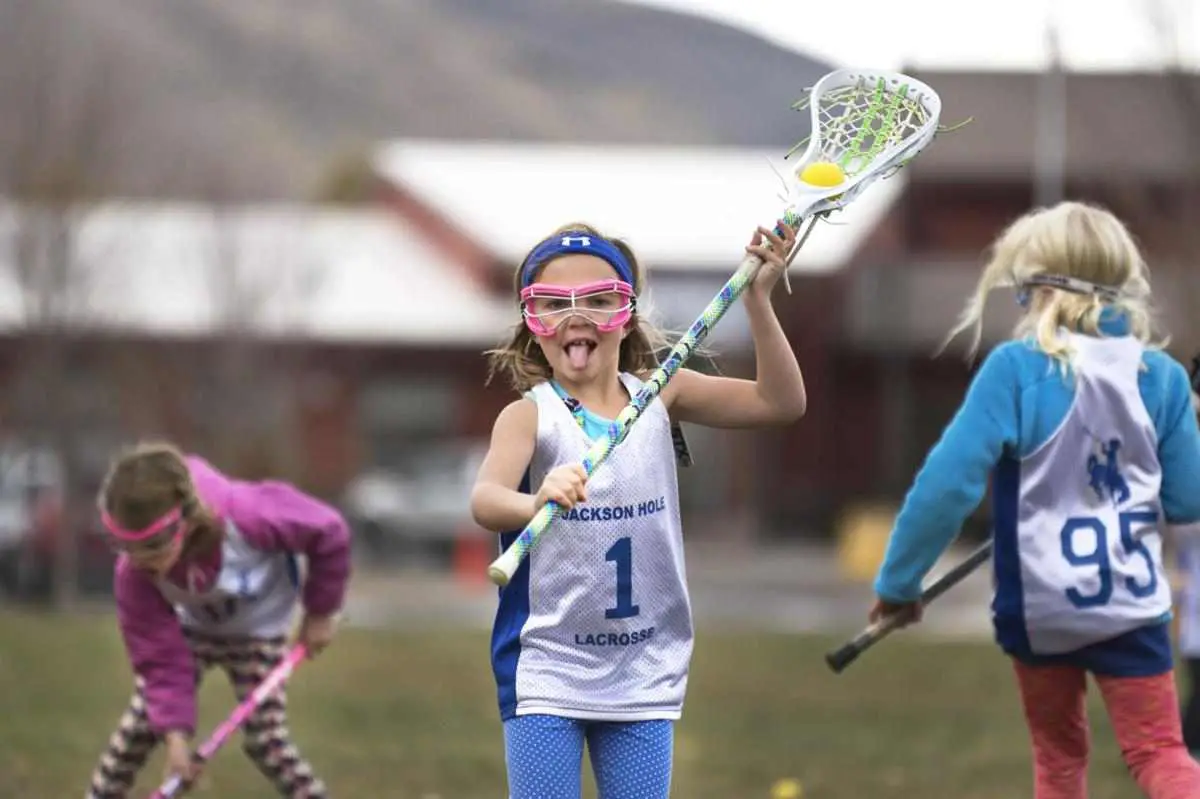 Because lacrosse relies heavily on the use of the stick, its difficulty depends on how quickly you can get comfortable with it. For example, for children who have a natural talent for coordination, lacrosse will not be a hard sport to learn. In contrast, for children who are slower, it might take a bit more time to get solid on the stick skills. If you want to get started with the best training routines today, check out this post on becoming a pro at cradling and the training page. 
In summary, lacrosse is generally not a hard sport to learn. However, depending on how fast your children can get comfortable with handling a stick, the process can be shorter and longer. For younger children under 7 or 8, get their hands on a fiddlestick to play around with first.
Is it ever too late to start playing lacrosse?
No. It's never too late to start playing lacrosse. Did you know a lot of fans actually turned into passionate lacrosse players later in their life? Lacrosse is such an emotional and exciting sport that keep fans on the edge of their seat, so why not try to throw a few balls and experience lacrosse yourself? 
If you are a middle or high school student looking to try out lacrosse competitively, I can assure you there are many great collegiate players who didn't start playing lacrosse until the middle/high school as well. The only difference is that you will have to catch up to players who are ahead of the curve. Want to learn how? Keep reading in the next section where I explain how to get started in lacrosse.
How should you get started in lacrosse?
First and foremost, you have to commit yourself to the sport, meaning you are financially committed by buying the gears and mentally committed by going all-in before the tryout starts. Equipments you need are a complete stick, helmet, cleats and mouthguard. See the complete equipment checklist here.
You will need to learn basic stick skills as quickly as possible in this order: cradling, throwing, catching and ground balls. Check out the training page where I have written detailed guides on how to practice effectively and correctly. Additionally, I highly recommend investing in a rebounder so you can practice without a partner. 
To pair with targeted skill practices, conditioning is equally important. Create a daily running/sprinting schedule where the goal is to run at least 3-4 miles every day to push your cardiovascular limits. To summarize, fundamental stick skills and conditioning are the priorities in the very early stage of your career. All of which could take 2-3 months for you to see significant improvements so try to stick to it as much as you can. After that, depending on whether you want to be a defensive or offensive player, I have written specific guides on playing defense and playing offense. Be sure to give them a read!
Advice for parents
Here are some great tips that parents could implement to help jump-start their kids' lacrosse success. 
Learn the sport with your kid! Attend their games and practices. Be on the sideline cheering for them when they shot a great goal or made a brilliant save. This will not only motivate them to push harder but also allow you to get a good sense of their strengths and weaknesses.
Practice with your kid. The best way to work on and improve their stick skills is having a partner they can shoot with. If you have never played lacrosse before, be sure to use a tennis ball for safety. 
Become part of the community. Talk to other parents and engage with the coaches. This is a great way to receiving great advice, help and build long term friendships in the community.
Lacrosse gears are expensive. Be sure on the lookout for season sales both from local sporting stores and online retail websites.
For parents who are thinking about lacrosse for their kids, here are 5 additional things you need to know.