Summer is just around the corner. Most high schools and colleges have already finished school and are in summer recess. This is the time when many high school players decided to go to a summer camp to further improve their skills at the same time get ready for college recruitment. A youth lacrosse camp can be found in most major cities in the US and there are also great university camps to consider as well. As someone who has spent both sophomore year and junior year summer at lacrosse camps, I am a big fan of spending summertime focusing on skills development. 
So if you are looking for some great camps to consider inside the US, in this post, we will go over the best lacrosse camps in 2022 and what factors you should look for from a great lacrosse camp. Without further ado, let's dive in.
Read also: Bringing a lacrosse stick on airplanes? Find out here
Best Lacrosse Camps in 2022
After scouring the internet and evaluating different programs by reading the descriptions and calling customer service, I was able to create this list of the best lacrosse camps you should consider in 2022. 
One important distinction you need to be aware of is whether the camp is geared toward recruiting/college exposure. Oftentimes you will find the answer in the Q&A section or they will highlight the nature of the program in the description. Which means if you or your kid is looking for a recruiting specific camp, you want to look for those specifically. To make a more comprehensive list, I included a mix of recruiting-focused and skill development-focused camps for you to consider.
New England Top 150 Lacrosse Camp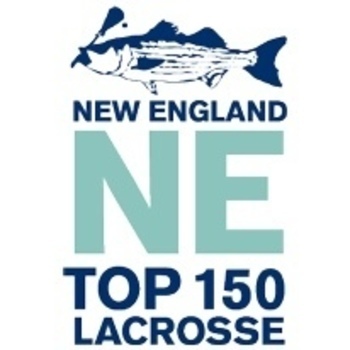 Website: netop150lax.com
Dates: June 28-29, 2022
Location: Portsmouth Abbey School, Portsmouth, R.I.
Costs: $625
Ages: Male, 15-19
Focus: Recruiting
This camp is a well-known recruiting camp that provides students/athletes, who want to improve their game, play against strong competition, and showcase their talents in front of many college coaches. This is a two-day program. 
And college coaches will be able to see each field during every session which makes it easy for players to be seen. You will get a lot of opportunities to showcase your skills and talents. Many nation's top colleges are common guests at this camp including, Tufts, Brown, Swarthmore College, etc. 
Overall, I think this is a great camp that allows you to get serious exposure to college-level lacrosse. If you are serious about recruiting, I definitely think this camp will be a great way to get yourself noticed by college coaches.
Duke Lacrosse Camp
This is a premier Duke Lacrosse Summer Prospect Day Camp where the current Duke's head coach, John Danowski, runs. This camp is designed to help players to be seen by specific college coaches, in this case, it's Duke. Players will receive the full attention of the college's coaching staff because there are many intimate recruiting events taking place throughout.
If you want to play for Duke specifically, this lacrosse camp is your best chance at getting recognition. It drastically increases your chances of successful recruitment if you do well. By the same token, if you don't play very well, it's also likely you will not be able to successfully recruit at Duke. So consider extensively beforehand.
IMG Academy
IMG Academy is a well-known and reputable lacrosse camp that provides structured training for youth and high school players. Group training sessions focus on technical skills training as well as exposure to innovative game-play strategies. Campers will also be learning both indoor and outdoor lacrosse tactics to further improve and develop. 
Throughout the entire program, campers can expect to have intimate interactions with coaches who will give interpersonal advice, feedback and guidance. Furthermore, all campers will also receive a post-camp analysis report that includes coach feedback and comprehensive metrics of each player's performance. 
If you are a lacrosse player who looks to further develop your skills, I highly recommend this highly professional camp. You will not be given any recruiting pressure but to focus solely on your skill development.
Nike Lacrosse Camps
Website: USSportsCamps.com/Lacrosse
Dates: Subject to your specific region
Location: Subject to your specific region
Cost: Subject to your specific region, camp
Age: Male, Female 10-18
Focus: Recruiting, Skill Development
Nike Lacrosse Camp is another famous and very well-run year around camp for lacrosse players of all ages and levels. It provides the opportunity to improve and refine every facet of their game in a positive, progressive and challenging environment. Professional camp directors and coaches will be helping campers every step of the way from teaching fundamental skills to promoting championship habits. Campers will feel confident they will walk away with improved stick skills, a higher lacrosse IQ, better overalls athleticism, and hours of lacrosse enjoyment. 
As one of the biggest active sportswear companies, Nike has the resources and platform to create one of the best lacrosse camps in the nation. One big upside about Nike lacrosse camp is they have locations in every major city in the US. For example, if you don't want to travel to a camp for only two days, choosing a nearby Nike lacrosse camp is never a bad idea. And it has more affordable pricing than other camps.
Piatelli Lacrosse Wrentham Day Camp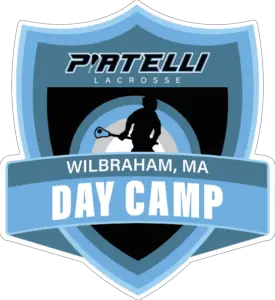 Website: piatellilacrosse.com/camps
Dates: June 20-23
Location: William A. Rice Complex, 54 Emerald Street, Wrentham, MA
Cost: $150
Age: Boys, Girls, k-8
Focus: Skill Development
Piatelli Youth Summer Camp is a great program for boys and girls who are still in the very early stage of their careers before high school. This camp focuses on improving the skills and lacrosse IQ of players through well-designed drills, position specific training, and fun activities to bring out the best in each player. So unlike the other training programs, this one solely helps young players in middle school or younger to be able to properly develop their skill sets.
The coaching staff is made up of high school coaches and experienced college lacrosse players who are passionate about teaching and the game itself. Another thing to note is in order to go to this camp, you are required to have full lacrosse equipment (helmet, gloves, shoulder pads, arm pads, lacrosse stick and a mouth guard) I have written a very detailed post on every single one of them. Learn more at the checklist post or you can go to the equipment section to learn more.
Bill Pilat's Goalie School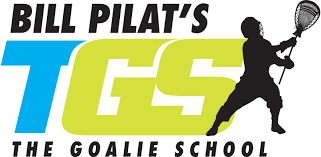 Website: www.goalieschool.org
Dates: June 22-24
Location: In many different states
Cost: $665
Age: Boys, Girls 10-18
Focus: Skill Development
Bill Pilat Goalie School is now part of the Nike Lacrosse Camp. This goalie camp solely focuses on helping goalies to develop skills and helping them get better, so if you are an inspiring goalie, be sure to check out this camp to further improve yourself. This camp includes individual analysis, extensive videoing of each goalie, and new methods of teaching techniques and footwork. Another great thing is now it provides camps all around the country. You simply go to the website and find the local camp in your state. 
Many coaches are college coaches who love to help young goalies improve and get better, so rest assured you will be in good hands with some of the best coaching staff in the US.
Read also: The Hardest Position To Play In Lacrosse – Revealed
What are some things you should look for from the best lacrosse camp?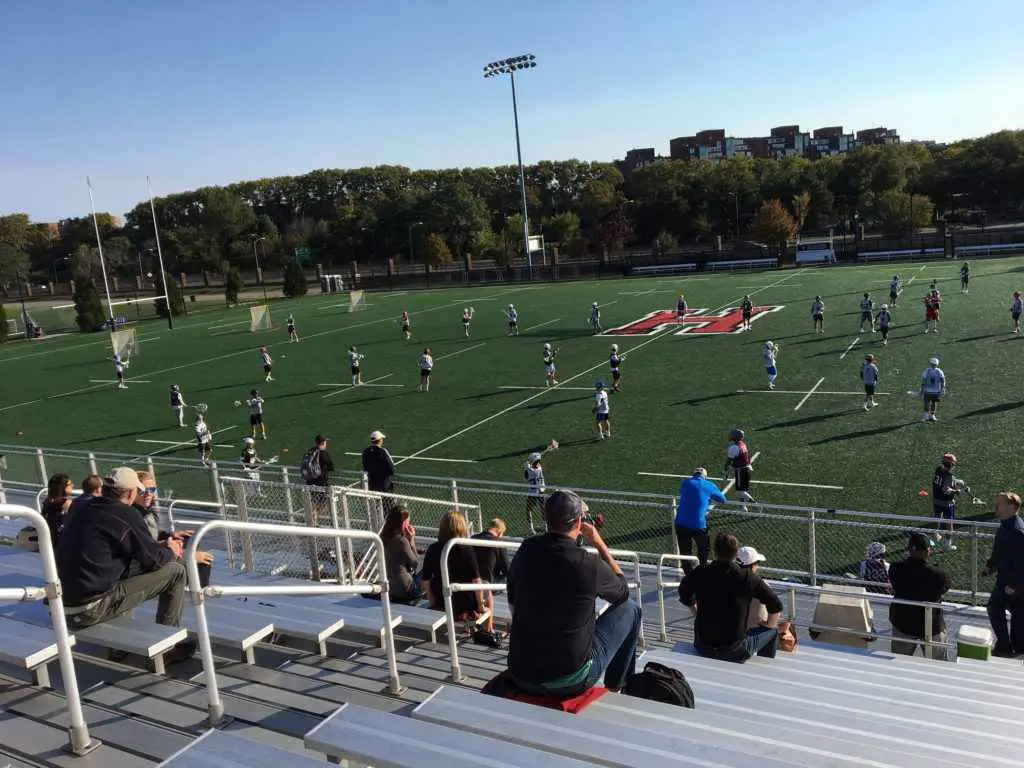 After doing some quick research, you will realize there are a lot of different programs provided for different groups depending on the athlete's age, skill level as well as camp focus. Apart from those features, there are also some characteristics you need to look out for from top lacrosse camps. We will provide an overview here in this section.
Good and experienced coaching staff
Camps should have coaches with years of experience in lacrosse so they can provide quality instruction to all campers, irrespective of their skill levels. The best way to do this is to read the coaches' bio on the website. Understand their past experience, credentials, etc.
Offer position-specific training
Depending on which position you play, the camp should be able to offer different instructions for attackers, middies, defenders, goalies and face-off. Again the best way to find out if they do provide this is to read through their website. If you aren't satisfied with the information, try to give them a call to understand further.
Fun team-oriented exercise
Since it is a summer camp and lacrosse is a team sport, the camp should help provide many opportunities to help players get comfortable with each other and develop good teamwork skills. Especially during transitions, players must be working together and be able to read the game to create opportunities. 
Low coach to camper ratios
Last but certainly least is to find out how many coaches and campers there are in total. Some camps want to get as many players as possible but there aren't enough coaches for players to get intimate training sessions. To improve quickly, you must be able to have 1 on 1 opportunity with coaches. Also look for camps that provide post-training reports which are great resources to help athletes continue their training during summer.
In conclusion
To wrap up, I hope this post provided some good insights into where to start looking for the best lacrosse camps in 2022. And of course, this list by no means covers all the best camps you'd find in the US. If you know any good local camps, definitely feel free to go with your own choice. As long as it provides the value and training you are looking for, that's what matters the most. 
Happy summer and happy training!