As a lacrosse player, you know the sport can be expensive. New gears, especially, can set you back quite a bit. If you're looking to save some money, one good option is to buy used lacrosse gear. Not having to commit to a big budget, especially if you're new to the sport or trying out for the sport for the first time.
Not just for beginners, a lot of advanced players opt for buying used gear when they could find good gems. Not to mention, you can sometimes find lightly used or even brand-new gear for a fraction of the retail price.
So if you are interested in buying used lacrosse gear to save a few hundred bucks but didn't know where to look, here's a rundown of the different types of gear you'll need and where you can find them.
Places To Buy Used Lacrosse Gear
Here are the four most common places to buy used lacrosse gear. Check them out today by clicking on the link below.
Sideline Swap
Sideline Swap is an online marketplace specifically for sports equipment. You can find just about anything you need for any sport on Sideline Swap, and the prices are often significantly lower than retail.
eBay
eBay is a great place to find deals on almost everything, including lacrosse gear. Be sure to check the seller's feedback score before purchasing to ensure that you're getting a quality product from a reputable seller.
Facebook Marketplace
Facebook Marketplace is a relatively new feature, but it's quickly become one of the best places to buy and sell used items. You can find just about anything on Facebook Marketplace, including lacrosse gear.
Play It Again Sports
Play It Again Sports is a chain of sporting goods stores selling used gear. They tend to have a pretty good selection of lacrosse equipment on their website. 
Links To Buy Specific Used Lacrosse Equipment
Head: Used lacrosse heads are a great way to save money without sacrificing performance. And you can find a pretty new looking used gear in your budget from the following links.
When inspecting a used lacrosse shaft, you'll want to ensure no cracks or breaks. You'll also want to check for any wear and tear. 
Gloves are important lacrosse equipment because they protect your hands from getting slashed by an opponent's stick. When shopping for used gloves, try them on to ensure a comfortable fit and look for signs of wear and tear, such as holes in the fabric or fraying seams. You can usually find good deals on used gloves at sporting goods stores or online classifieds sites.
Helmets are one of the most important pieces of lacrosse gear, so you'll want to be extra careful when choosing a used helmet. But do make sure that the helmet fits properly and is comfortable to wear. Also, test out all the straps to ensure they're still in good working condition.
Lacrosse sticks come in three varieties: defensive, offensive, and goalie. When choosing a used stick, be sure to select one that's appropriate for your position, and that is in good condition with no cracks or breaks.
Used footwear is widely available at online classifieds websites and sports equipment stores. When inspecting used footwear, pay attention to the condition of the soles and the laces. You'll also want to make sure that there's no excessive wear and tear.
When it comes to attackmen, you want to make sure that their gear can withstand a lot of wear and tear as they are constantly getting hit by defenders. With used gear, you want to inspect it closely for any rips or tears.
Midfielders need lightweight and breathable gear so they can run up and down the field without getting too sweaty. When buying used gear for midfielders, pay close attention to signs of wear and tear and any damage that may have been caused by water or sweat.
Defenders need durable and rugged gear as they always get pushed around on the field. Look for rips or tears and any damage caused by water or sweat.
Goalies need durable, breathable, and comfortable gear as they are constantly diving around on the ground. Pay close attention to any signs of wear and tear, especially on the knees and elbows, where they will be most impacted. Also, check for any rips, tears, or damage caused by water or sweat.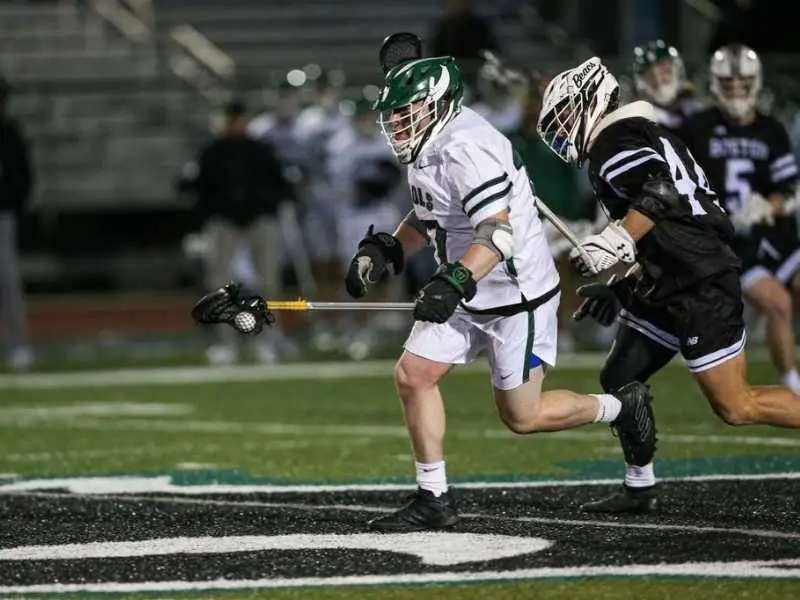 Things To Consider When Buying Used Lacrosse Gear
Condition
The first thing you'll want to do is check the condition of the gear. Make sure there are no rips, holes, or signs of wear and tear. If the gear looks well-worn, it's probably not worth your money. You want gear that looks like it's been taken care of and will last through a season (or two). Better the pictures, better the condition of the equipment.
Size
The next thing on your list should be the size. Making sure that the gear fits properly is important for both comfort and safety. For lacrosse gloves, grip size is also important – you want something that's not too big or small to maintain a good grip on your stick. A good rule of thumb is that the glove should come about halfway between your wrist and elbow.
Retail quality
This is important, especially if you're buying a used lacrosse stick. Sticks can be very expensive, so you'll want to ensure you're not getting ripped off by buying a stick that's not actually game-ready. One way to tell if a stick is of retail quality is by looking at the head; it should be stiff and not too flexible. To test the stiffness, try pressing down on either side of the head; it shouldn't give very much. You should also twist the shaft— it shouldn't bend more than 90 degrees.
Online customer reviews
If you're buying gear online (which, let's face it, these days, who isn't?), then checking out online customer reviews is a must. A quick Google search will also usually turn up some helpful reviews from blogs or other websites. Checking out what others have said about a piece of gear can save you a lot of time and hassle in the long run.
Pricing
Finally, consider pricing when shopping for used lacrosse gear. You don't want to overpay for something just because it's used. Try to find a balance between getting a good deal and getting quality gear that will last.
Read also: The complete equipment checklist for lacrosse players
5 Reasons to Buy Used Lacrosse Gear
Used Gear is More Affordable
One of the biggest advantages of buying used gear is that it's more affordable than buying new gear. Used gear is a great option if you're just starting out in lacrosse or on a budget. You can get high-quality gear without spending a lot of money.
Used Gear is Easy to Find
Another reason to buy used lacrosse gear is that it's more accessible than buying new gear. New gear is often only available through specialty stores or online retailers, which means you might have to pay for shipping and wait weeks for your order to arrive. On the other hand, used gear is available from various sources like Sideline Swap, eBay, Facebook Marketplace, and Play It Again Sports. 
Used Lacrosse Gear is More Eco-Friendly
Another benefit of buying used lacrosse gear is that it's more eco-friendly than buying new gear. When you buy new gear, you're supporting the manufacture of new products, which requires energy and resources. But when you buy used gear, you're reusing products already in existence, reducing your impact on the environment. So not only will you save money by buying used gear, but you'll also be doing your part to help the environment!
Used Gear is Often Just as Good as New Gear
When you buy used gear, it's often just as good as new gear. Sure, it may not be the latest and greatest model, but it will still get the job done. And, since lacrosse is a relatively low-impact sport, used gear can last for years.
You Can Try it Before You Buy
When you buy used gear, you have the opportunity to try it out before you buy it. This way, you can be sure that the gear is a good fit for you before you commit to purchasing it.
Read also: Best Cheap Lacrosse Shafts in 2022
5 Tips For Buying Used Lacrosse Equipment
While you can certainly find great deals on used gear, you should keep a few things in mind before making your purchase.
1. Do your research
The first step in buying any kind of gear, whether new or used, is doing your research. Knowing what kind of gear you need and what features are important to you will make it easier to find the right gear at the right price. When it comes to lacrosse, there is a lot of gear to choose from. Do some research online and talk to friends who play the sport to figure out what kind of gear is right for you.
2. Check for wear and tear
One of the main disadvantages of buying used gear is that it may be worn out or damaged. Before buying any used gear, inspect it carefully for any wear and tear. If possible, try the gear on or test it to see if it's still in good condition.
3. Ask about warranty and return policy
If you're buying used gear from a store or website, ask about the warranty and return policy before making your purchase. Most reputable stores will offer some type of warranty or guarantee on their products, so you'll be covered if something goes wrong with the gear you purchased.
4. Compare prices
When buying used gear, it's important to compare prices before purchasing. Just because something is cheaper doesn't necessarily mean it's a better deal. Take some time to e-shop around and compare different online sellers' prices before deciding on the best deal.
5. Buying from a reputable source
Finally, when buying used lacrosse gear, buy from a reputable source. There are plenty of places where you can buy used gear, but not all of them are created equal. Be sure to read reviews and research before buying from any seller, whether a store or a person.
In Conclusion
Buying used lacrosse gear is a great way to save money and get all the same equipment that the pros use. With a little research, you can find everything you need at a fraction of the cost. So don't be afraid to shop around and compare prices – your wallet will thank you!