Choosing the best lacrosse defense shafts is largely based on preferences, but there are more factors that come into play when picking the perfect one for your position. The range available is something of a spectacle, with different sizes, materials, and more to meet the preferences of every player.
Compared to other sticks on the market, defensive shafts are longer and more durable to last through the high impact that is inevitable in defense.
In this guide, we will take a look at some of the best shafts for playing defense in 2022 to ramp up your gameplay.
>> Click here to learn about best lacrosse shafts in 2022
>> Click here to learn about best defense heads in 2022
Best Lacrosse Defense Shafts
Before creating this list of best defense shafts on the market, I took a deep dive into customer reviews, lacrosse forums, YouTube videos as well as trying them out in local stores. Doing all the research has helped me whittle down a refined list of defense shafts that are premium quality and widely popular.
StringKing Metal 3 Pro
| | |
| --- | --- |
| Materials: Metal | Ratings: |
| Color: Black | ⭐⭐⭐⭐⭐ |
| Weight: 400 grams (14.1 oz) | |
StringKing's signature Metal 3 product line is a great option trusted by attackers and defenders alike. Similar to Metal 3 Pro Offense, the defense version shares similar qualities and attributes. An upgrade to a premium metal material, Metal 3 Pro Defense withstands high pressure and impact for a long-lasting period of time. 
It's longer than the offense version, coming in the standard NCAA shaft length of 60 inches.
Aside from length, it has two weight options: 360 grams for age 15 & under and 400 grams for age 16 & above. The metal alloy definitely gives defenders a premium and quality playing experience, guaranteeing that all weak spots have been carefully refined without adding extra weight.
It's ideal for power defenders who throw heavy checks and have stronger gripping.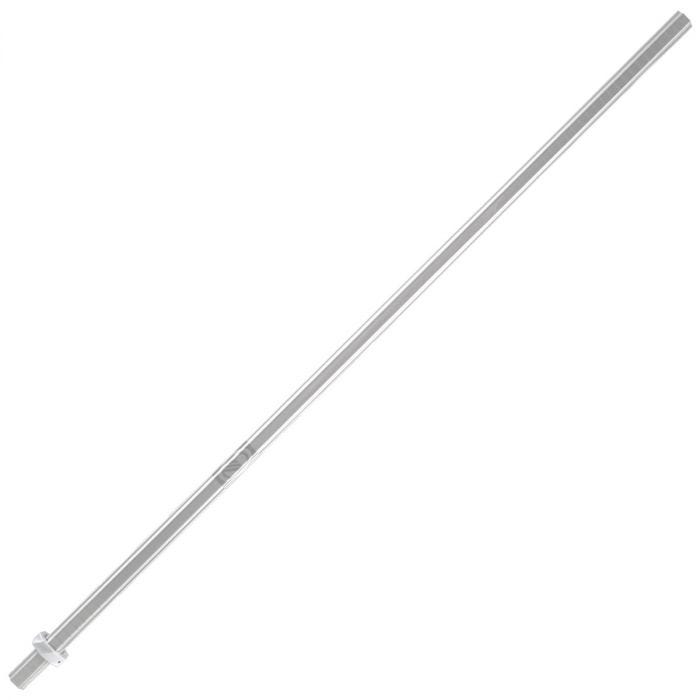 Maverik Caliber
| | |
| --- | --- |
| Materials: Scandium – Titanium | Ratings: |
| Color: Gunmetal, Black, Silver | ⭐⭐⭐⭐ |
| Weight: 386 grams (13.6 oz) | |
When looking at what the pros use, the Maverik Caliber Shaft is one that is used by a 4x All American, CJ Costabile. Made with military grade Scandium-Titanium metal alloy, this stick is one that is extremely durable and strong to withstand abuse.
Featuring Maverik's signature shape, this shaft provides great fingers and thumbs placement and control. With an adjustable butt-end, it's built for optimal personalization and stability. 
Incorporating bead blasting, dual wall taper technology, and Maverik's patented ABE, Caliber has established itself to be the perfect stick for any defender's needs.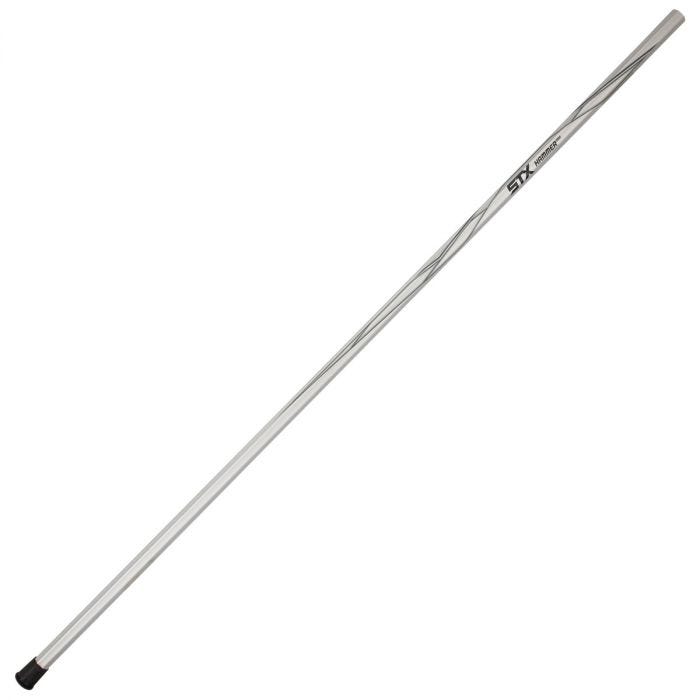 STX Hammer 7000
| | |
| --- | --- |
| Materials: Metal 7075 | Ratings: |
| Color: Black, Silver | ⭐⭐⭐⭐ |
| Weight: 370 grams (13.1 oz) | |
For a lockdown defenseman, STX Hammer 7000 is a great option at a cheap price under $100. With a minimalistic and clean design, Hammer 700 meets your defensive needs, especially as a less experienced or intermediate player. 
30% lighter than the previous version, this shaft is made of advanced alloy material that is fairly durable and lasting. The sandblasted texture and concave design are perfect for increased control of any situation, including repossession of the ball.
The unique octagonal shape is great for getting your opponent into the right position to lock them down. This shaft is one that will leave the perfect mark, putting you in full control.
Warrior Evo QX Carbon
| | |
| --- | --- |
| Materials: Carbon | Ratings: |
| Color: Black, White | ⭐⭐⭐⭐ |
| Weight: 400 grams (14.1 oz) | |
At the standard of 60 inches, it can sometimes be hard to find both super lightweight and super durable options for defensive sticks, but the Warrior Evo QX Carbon breaks that barrier. It's a great option for both defenders and LSM. 
It's the lightest carbon shaft Warrior has ever created, yet still maintains the same durability due to the high-tech QX carbon fiber it is composed of. The shaft also comes with 2 Warrior's new Warp End Cap for players looking for maximum shot leverage and most accurate releases. 
Lastly, with the control-optimized diamond raised grip, the Warrior Evo QX allows you to get the perfect check and clear the ball all in one. Overall, this is a solid choice for elites and beginners.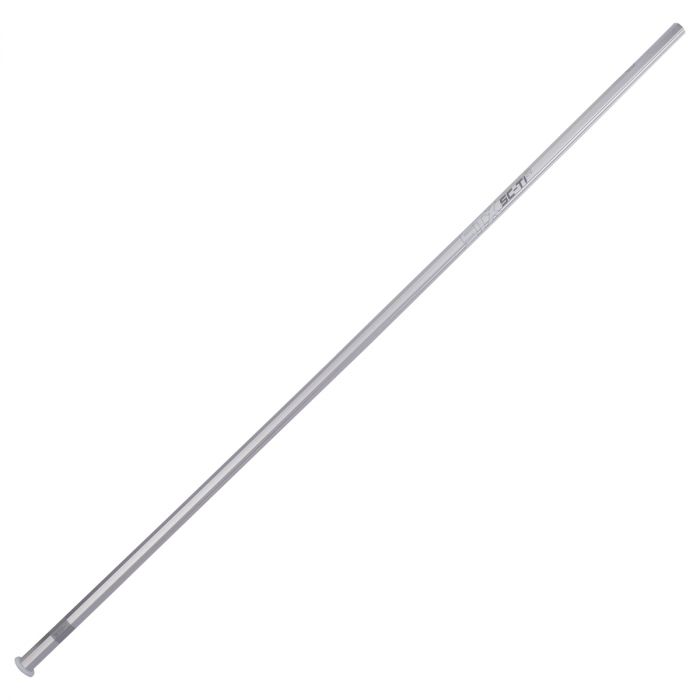 STX Sc-Ti Defense
| | |
| --- | --- |
| Materials: Scandium-Titanium | Ratings: |
| Color: Black, Platinum | ⭐⭐⭐⭐⭐ |
| Weight: 400 grams (14.1 oz) | |
If you read our best shafts roundup of 2022, you will notice Sc-Ti is an absolutely top-of-the-line series. One thing I really like about STX is the variations you can choose from depending on your preference and play style. 
In STX Sc-Ti Defense line, there are 4 different weights/shapes to choose from, X-grip (380 grams), R-grip (390 grams), S-grip (400 grams) and O-grip (400 grams). And Sc-Ti is known for providing the best strength to weight ratio. Since these shafts are definitely not light, you can expect that premium durability and quality that lasts multiple seasons.  
Because of its best-in-class material and design, Sc-Ti is pricey but still a great option overall considering how long it could last. 
Another Maverik shaft, another Maverik win. This super lightweight shaft has no specific designs or graphics as it completely focuses on delivering great performances. For players who value simplicity and minimalistic look, this shaft is for you. 
The lightweight doesn't compromise the durability and quality that comes with it. It has a very great strength-to-weight ratio and offers a good grip.
This simple looking shaft allows you to make perfect checks and interceptions without any fancy upgrade or modifications needed.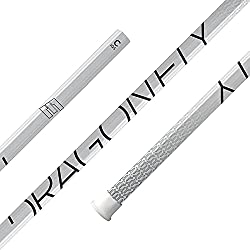 Epoch Dragonfly Pro II
| | |
| --- | --- |
| Materials: Carbon Fiber | Ratings: |
| Color: Blue, Green, Naked Carbon, Navy, Red, White | ⭐⭐⭐⭐⭐ |
| Gripping: Traditional Concave | |
The new release from Epoch, Dragonfly Pro II is a testament to Epoch premium quality and most advanced tech. This top-of-the-line shaft is designed for the best defenders on the field, offering six different colors. 
Made of carbon fiber, Dragonfly Pro II is as durable and tough as you can expect. It's built for aggressive defenders and LSM who throw powerful checks but also look for flexibility. A full package of technologies is incorporated into every shaft to craft this superior option. 
The shaft comes with a 6-month warranty. Although it's pricey, you can be fully confident of the quality you are getting.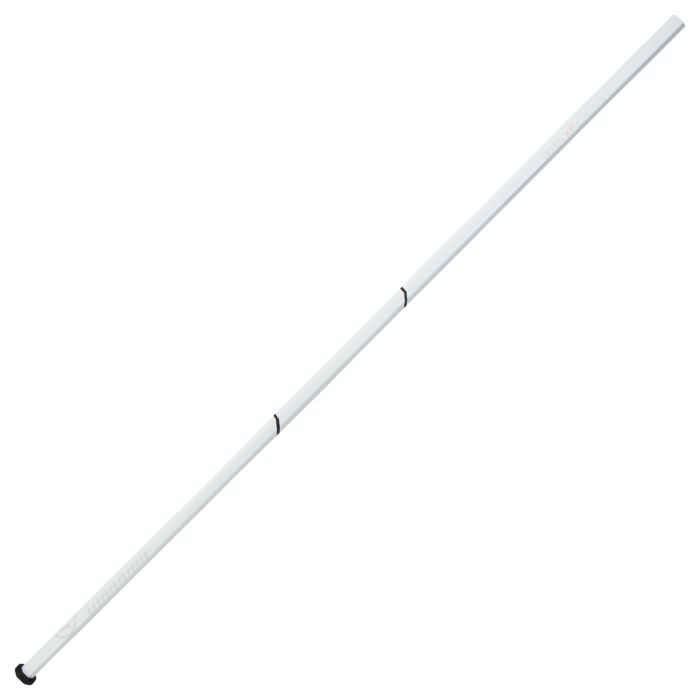 Warrior Burn XP Carbon
| | |
| --- | --- |
| Materials: Carbon | Ratings: |
| Color: White | ⭐⭐⭐⭐⭐ |
| Gripping: dot matrix | |
Made with a traditional octagonal shape from carbon composite, this stick is one for people who are looking for a long term shaft. It provides you with the proper amount of flex to sling your shots for a long pass and create power when checking.
As a most recent release, Warrior has focused on improvements based on measuring performances and collecting reviews from players and customers.
The dot matrix grip is optimized for stability while also protecting your gloves from getting ripped. It also comes with interchangeable end caps, one for more leverage and one for lightweight capabilities.
How to Choose a Defensive Shaft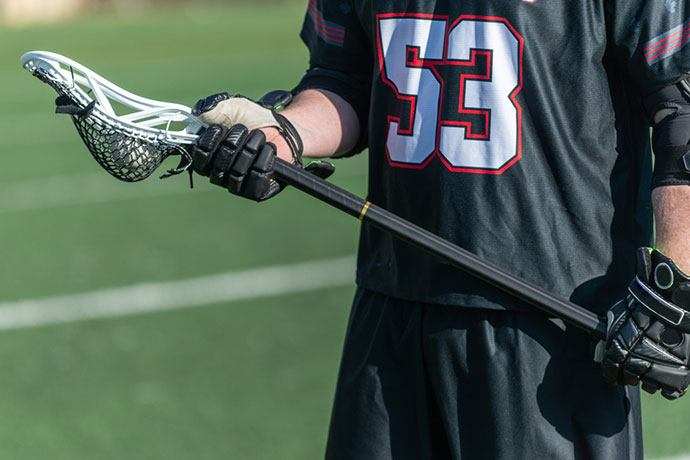 To become a great defender, the first thing is to understand what you look for from a shaft and which shaft is the best that fits your play style and ball feel. The worst scenario is to pick a shaft but you can't control it. 
That said, picking a shaft on defense is challenging even for advanced players as there are quite a few factors that play into it. In this section, we will go over a few key factors you want to look closely into including the material, weight, finish, and shape.
Material
There are two major camps of shafts currently, metals and carbon fiber. Ever since carbon fiber is introduced and developed into making shafts, there has been a debate about which one is better. 
As you guessed it, there's no better or worse. It comes down to personal preference. Up till recently, carbon fiber has taken the shaft market by storm. Many brands started releasing carbon fiber shafts as carbon fiber improves flex and maintains durability while reducing weight. 
However, people who are used to metal shafts, continue to choose metal shafts as they are stronger and are better at absorbing impacts. They are more subject to dents but last longer than carbon fiber shafts. 
When deciding on the weight of your stick, a good rule of thumb to note is that having a lightweight stick is nice to have for defense, but keeping durability in mind is also imperative for gameplay. The challenge is to find a fine balance between weight and durability. Luckily, the options I mentioned above meet the standard by being both lightweight and durable.
Gripping / Finish
Another common feature I highlighted is gripping. You want to make sure you are comfortable with it in your hands. Great and premium shafts are always taken into account having a sandblasted (Diamond) grip or rough texture to enhance gripping. 
The options above all have great handle finishes, so you don't need to worry about the discomfort caused by gripping. But still, make sure to read and watch customer reviews to get a sense of what others say and feel about a certain shaft. 
Shape / Design
Shafts come in different shapes. Using STX Sc-Ti as an example, there are four different shapes, concave, traditional, speed and octagon. Each shape serves a different purpose: traditional is good for enhanced control, speed is good for stronger cradling, concave is good for hand control, octagon is good for hand placement.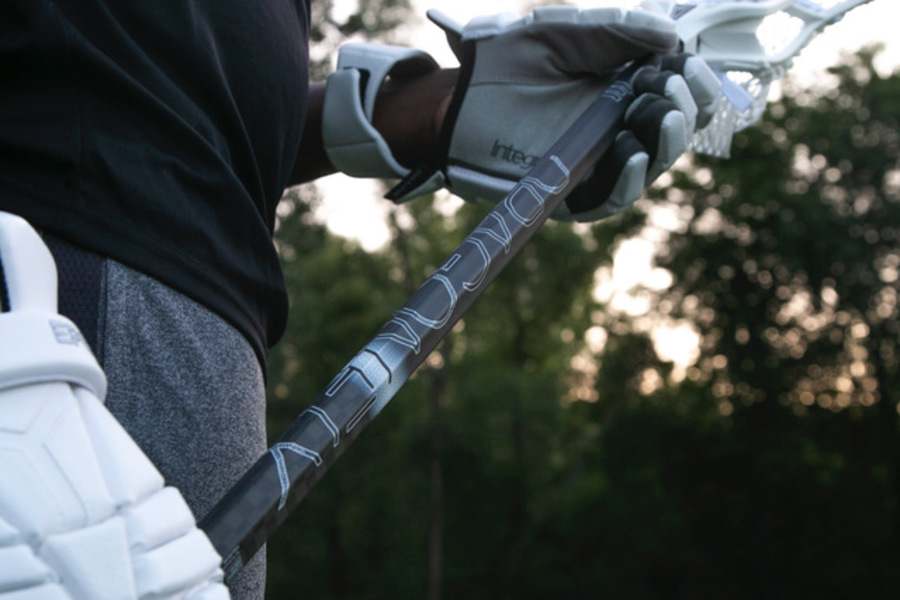 The best way to know which one is your preferred option is to simply buy all of them. Just kidding, please don't waste your money buying all of them! 
In addition to looking up customer reviews, go to your local store to give them a try. There isn't a better way to judge than actually feeling them in your hands.
Price
As you probably notice, defense shafts could vary a lot in prices. From shafts under $100 to shafts costing nearly $200, you will likely find premium shafts priced around $120 currently. Due to the advanced materials and technologies that go into these shafts, customers likely have to pay hefty prices to get optimal performance. If you would like to find cheaper options at more reasonable prices, check out sidelineswap where athletes and players buy and sell lacrosse equipment.
Is It Worth It To Buy a Separate Defense Shaft?
Ultimately yes, and depending on your skill level, it could be a yes or no. Of course, if you are serious about lacrosse, customizing your shaft is something that can be most ideal and liberating. Especially on defense, you are able to have much more control over your gameplay by customizing your stick and getting to pick everything from the length and weight to the finish of the grip.
Ready to pair your shaft with the best defense head? 
>> Click here to learn more about best defense heads in 2022
As a pro and skilled player, you want to buy the head and the shaft separately. Whereas, as a beginner or intermediate player, you can first develop some preferences and get some knowledge about your playstyle before dabbling into individual pieces. 
Conclusion
As a defenseman, having a lacrosse shaft that is suited to your needs is important to keep your gameplay competitive. If you are looking for the best shafts on the market in 2022, look no further, these are the best shafts that are chosen by the best lacrosse players on the field.
Write a comment if you find this guide helpful. Feel free to ask questions about anything that is unclear or needs some clarification.