Anyone who had worn a pair of uncomfortable cleats knows the frustration. It feels like you want to literally take off your cleats and run with bare feet. They not only put blisters on your feet but also put you at risk for ankle injuries. All of these go to show cleats are super important in lacrosse. 
With that in mind, players are very careful when choosing a new pair of lacrosse cleats. Since there are only a few brands that make lacrosse cleats, they can be sold out very quickly. This leads to many players wondering, "can you wear football cleats for lacrosse?" First football cleats are readily available in most retail stores and websites. Second if you play football during fall and lacrosse during spring, utilizing the same pair of cleats is very efficient. 
The short answer is you can wear football cleats for lacrosse. In fact, football cleats and lacrosse cleats serve similar basic purposes such as providing players extra traction on grass and feet and ankle protection from injuries. Of course, there are also a few differences that we will get into in this post. 
Moreover, in this post, we will also explore the pros and cons of wearing football cleats and discuss whether they are a good option for you. Without further ado, let's dive in.
Read also: Best Lacrosse Cleats in 2022
Football Cleats vs Lacrosse Cleats
To understand how football cleats hold up, let's compare the features of football cleats and lacrosse cleats.
Similarities:
Similar stud patterns designed for performing on grass fields
Options of high top, mid cut and low cut cleats
Similar designs in fit and shoe structure
Differences:
Different material composition
Different breathability
Different durability
Now let's delve into each specific feature in detail.
Stud Design
Since football and lacrosse are both played on the same condition – grass fields, they share similar stud patterns. Essentially a stud pattern is the certain arrangement of spikes you see at the bottom of the cleats. Both types of cleats offer molded studs that are built into the soles and detachable studs that can be changed after games. 
Since both sports require players to perform hard cuts and quick change of direction, this demands football cleats and lacrosse cleats to offer an aggressive stud configuration. So by having a similar stud pattern, both types of cleats generate a great amount of traction. Depending on your own preference, lacrosse cleats have more studs than football cleats. My suggestion is to try on different cleats to give them a try and decide which one is better for your liking.  
Type of Materials
When you put two types of cleats side by side, you notice the different cleat materials they use. Right off the bat, lacrosse cleats use softer plastic and synthetic materials, so they are softer and lighter. This then promotes better comfort and fit but reduces durability. 
In contrast, football cleats are made of hard plastic materials that withstand beatings and physical contact. So they last longer and are more durable. As a result, in terms of durability, football cleats beat lacrosse cleats. Yet in terms of weight, lacrosse cleats trump football cleats. 
Breathability 
Due to different materials, football cleats and lacrosse cleats differ in how well they are able to flow air in and out of the cleats. Softer plastic materials and mesh vents allow better airflow, aka better breathability. Hard plastic materials don't have the ability to provide the same breathability. 
Lacrosse cleats always put focus on creating more breathable and comfortable cleats for players. By implementing mesh vents in the uppers, lacrosse cleats are able to provide constant airflow and keep feet cool and dry. In contrast, football cleats are made of hard materials to improve protection at the expense of breathability. Therefore, wearing football cleats might not be the best option on a hot sunny day. 
Ankle Protection
Similar to football cleats, lacrosse cleats also offer a great variety of customizations depending on the player's position. As brands make more advanced and enabled equipment, the ability to select different ankle heights became a sought-after feature. 
Both types of cleats offer three different forms: high cut, mid cut and low cut. Lacrosse players use high cut/mid cut for support and coverage, low cut for flexibility and speed. Likewise, football cleats also vary by position. But high cuts and mid cuts are the most common as football players seek aggressive direction changes and changes in speed. 
Read also: Best Lacrosse Gloves in 2022
Reasons Why Football Cleats Are Good Alternatives
There are a few benefits to considering football cleats. Let's take a look at them and see if football cleats are suitable for you. 
Save Money
If you can wear a pair of cleats to both sports, why not do that instead of spending extra money? This decision makes the most financial sense as you can save a couple of hundred dollars. 
The key to maintaining your cleats is to give them good care. After the football season, you can deep clean your cleats and store them away for the spring season. Also remember to use athletic-specific detergent if you are to pop them in the washer. 
Abundant of Options
Shopping for lacrosse cleats can be frustrating. First there aren't a lot of options to choose from. Second the size you need is often not available. This is also why many lacrosse players have to look for football cleats as an option.
Luckily football cleats are often readily available in-store and online. There are a lot more options to choose from, so you have the freedom to pick and choose a pair that gives you the most comfort and fit. So if you have a hard time finding the right lacrosse cleats, why not give football cleats a chance?
No Need To Break In New Cleats
I am never a fan of adjusting to a new pair of cleats. This is why I refuse to buy a new pair of cleats until I absolutely have to. No matter how comfortable they are, new cleats need time to break in, which means you will be in pain for the first few practices.
So if you already have a pair of broke-in football cleats, you can simply skip this annoying part of the process and be ready to conquer the field instantly. 
Reasons Why Football Cleats Aren't Good Alternatives
After all, football cleats are designed for football, they aren't optimized for lacrosse. For this reason, there are a few drawbacks you should take notice of when considering football cleats.
Not Made For Lacrosse Specifically
This is an obvious disadvantage as football cleats are for football players. Although we see both sports and cleats share some similarities, they aren't made to maximize lacrosse performance. Specifically the football cleats are bulkier and have fewer studs. 
One noticeable difference is football cleats don't feel as nimble and lightweight as lacrosse cleats. That said, you have to really put them on and give them a trial run to feel the difference. I also know many lacrosse players simply like football cleats better.
Excessive Usage
One downside to using the same pair of cleats in multiple seasons is wear and tear. Your football cleats will take some beating during football season. If they are made of good quality materials, they can hold up for the additional stress of lacrosse. If not, another season of lacrosse could accelerate the wear and tear of your cleats.
Additionally, wearing a damaged pair of cleats could put you at a greater risk of injuries. Especially if you have some blisters and bruises on your feet from football, buying good quality lacrosse cleats is not a bad idea. 
With that said, if you worry about the validity of wearing football cleats to lacrosse games, I can assure you it's a common thing lacrosse players do. I often see players on my team play lacrosse with football cleats on. And they do just as fine.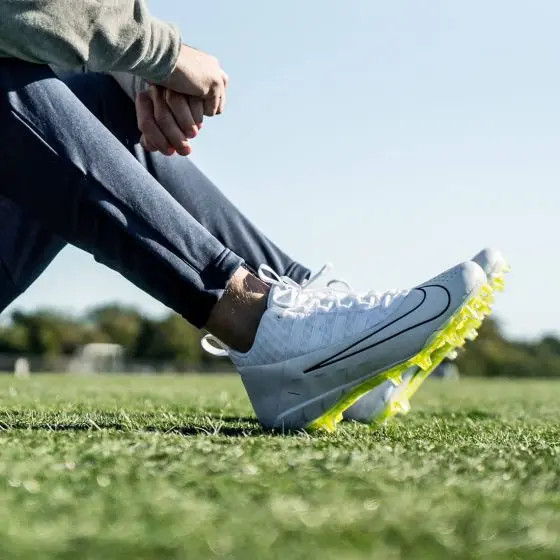 How To Decide
Since both cleats work, there's no right or wrong answer. You need to evaluate this decision based on your own preference. As aforementioned, football cleats are attractive alternatives for players who want to save money and skip the pain of breaking in a new pair of cleats. 
On the other hand, lacrosse cleats give you unbeatable performance since they are optimized for lacrosse. If you are a player who likes to dodge and make an aggressive change of speed, lacrosse cleats will give you better support. 
This is why I want to iterate no one can give you the answer but yourself. Doing some trial and error gives you the best idea of which type of cleats is your favorite and allows you to play at the highest level possible. 
Read also: How To Air Out Your Lacrosse Equipment