As spring is now in full swing, lacrosse players are putting their portable goals and rebounders in the backyard again to practice. After a restful and relaxing winter (I hope you continued to practice wall ball and conditioning), it's time to pick back up regular training and dial in the energy again. 
As a power shooter myself, I went through several nets in college and learned the importance of having replacement nets handy. Especially nets that are used for multiple seasons become flimsy and start getting holes and damages that potentially render them unusable. 
Hence, in this post, you will learn everything about the best lacrosse goal nets & replacement nets. I will also clarify how to find the best type of net for you specifically as there are many different types and features.
Without further ado, let's get started.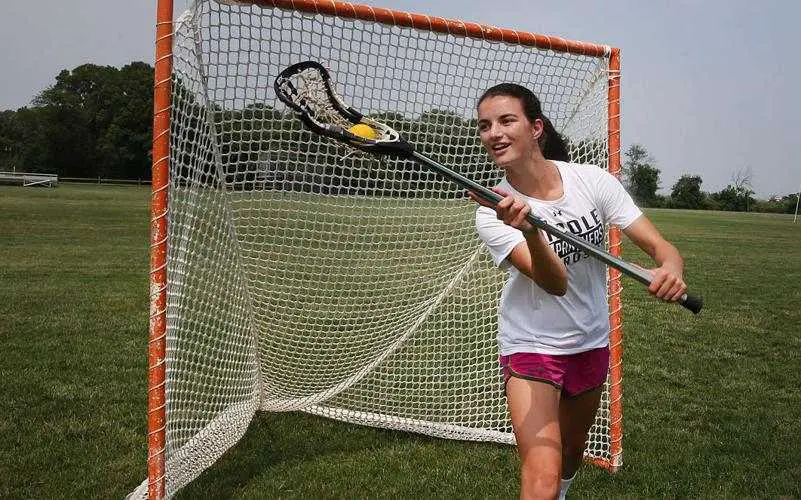 Best Lacrosse Goal Nets & Replacement Nets
Many beginner players are probably under the impression that all lacrosse nets come in the same size and materials. In fact, after doing some research, I learned there are actually many different products on the market with confusing labels. So to make this as painless and easy as possible, here are the 6 best lacrosse goal nets.
Every lacrosse net below fits the standard lacrosse goal (6 ft x 6 ft), so if you choose one of the portable goalies that are 6ft x 6ft, all the following nets can easily be used.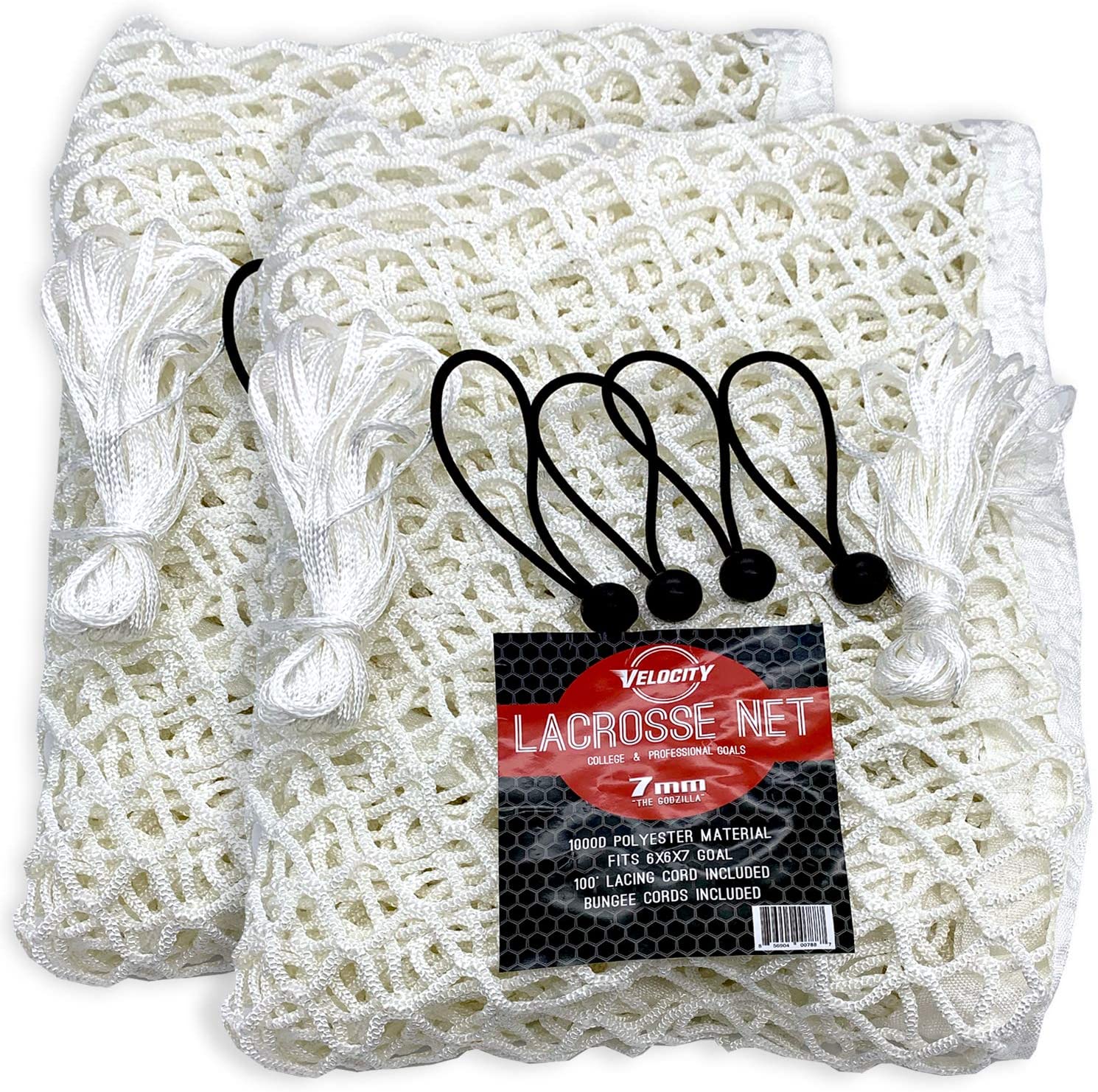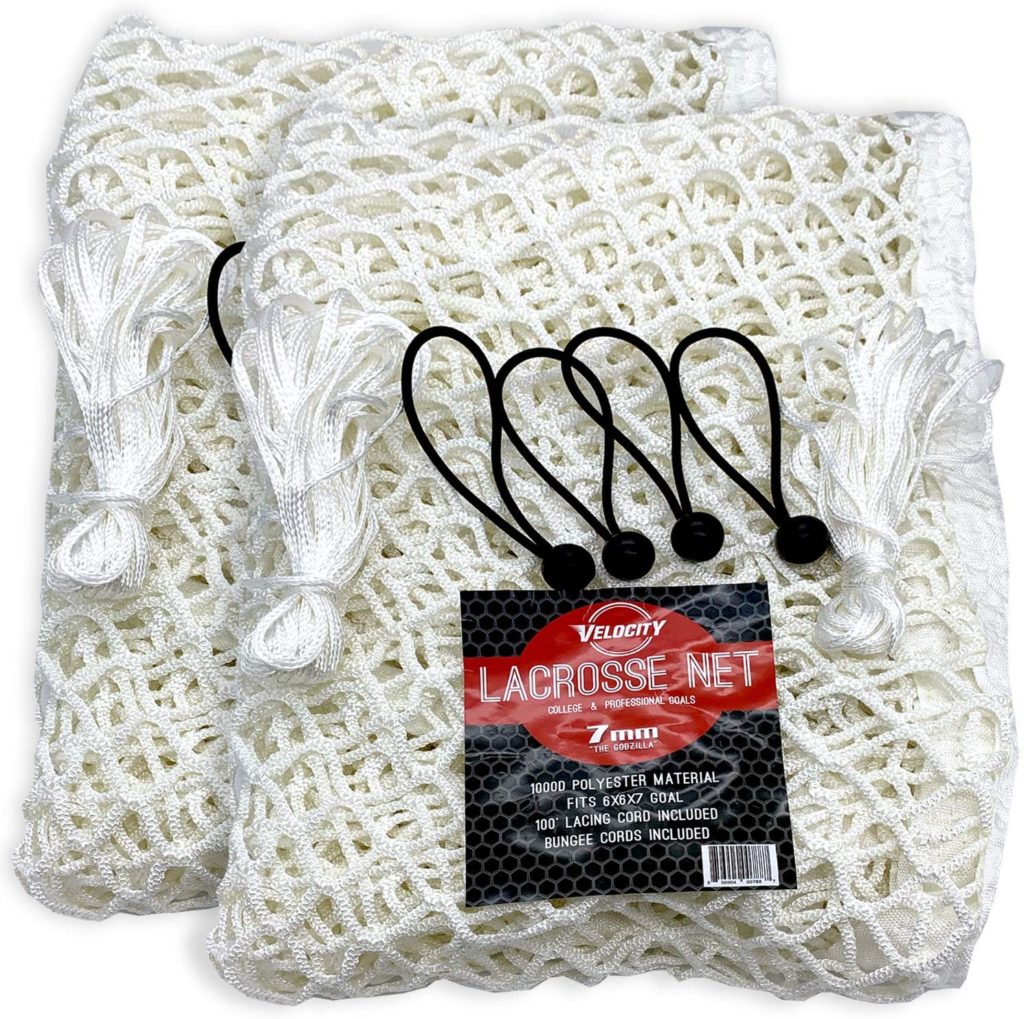 Velocity 7MM Lacrosse Net
| | |
| --- | --- |
| Net Thickness: 7mm | Lacing cord included: ✅ |
| Materials: 1000D high-strength polyester | Ratings: |
| Sizing: 6ft x 6ft | ⭐⭐⭐⭐⭐ (Currently unavailable) |
If you are looking for the strongest and thickest net available today, Velocity 7MM is the best pick. It's made of the most durable material, 1000D high-strength Polyester, 60% stronger than common 600D poly nets. For elite players who are not shy about shooting the most powerful shots, these nets will hold up just as well. 
If you are worried about direct sunlight damaging the outer coating, this net is made of UV resistant and waterproof fiber. So no matter it's a sunny or rainy day, this net is consistent and durable. 
Lastly, it comes with 100+ feet of lacing cord, 4 quick ties for assembly.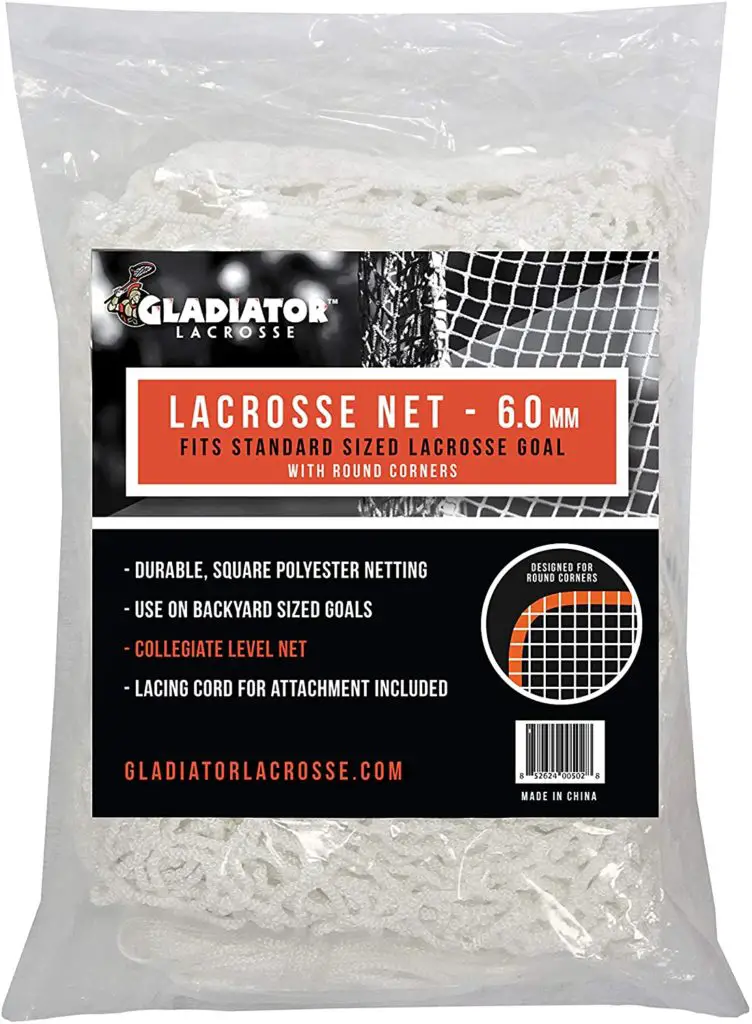 Gladiator 6MM Lacrosse Net
| | |
| --- | --- |
| Net Thickness: 6mm | Lacing cord included: ✅ |
| Materials: High-strength polyester | Ratings: |
| Sizing: 6ft x 6ft (Round Corners) | ⭐⭐⭐⭐⭐ |
As one of the big brands manufacturing goals and nets, Gladiator's 6MM lacrosse net is built for collegiate lacrosse. For players looking for a thick and durable net, this lacrosse net meets your demand. 
Based on many customer feedback, this lacrosse net fits goals that are 6ft deep instead of 7ft. So if you have a 6ft x 6ft x 7ft goal, after attaching the net to the frame, you could use zip ties to pull the net as far back as you could. 
Lastly, depending on the specific type, you can purchase a round or square corner net. So be sure to check the type of goals you have before placing an order.
Gladiator Square Corner 6mm Lacrosse Net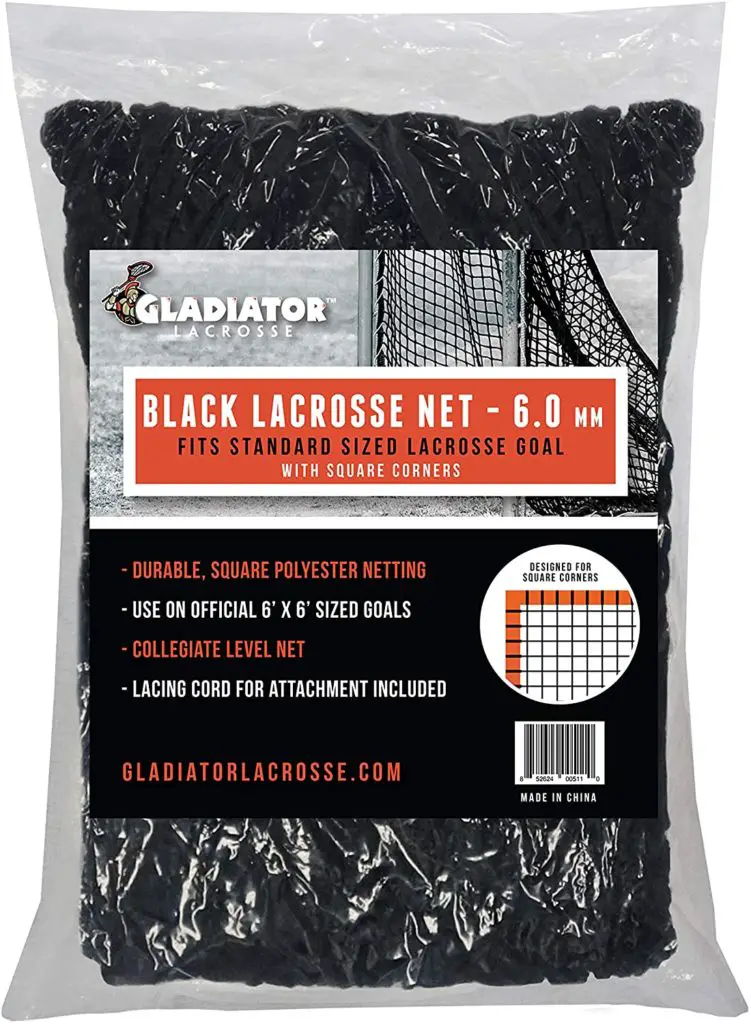 Gladiator 6MM Lacrosse Net
| | |
| --- | --- |
| Net Thickness: 6mm | Lacing cord included: ✅ |
| Materials: High-strength polyester | Ratings: |
| Sizing: 6ft x 6ft (Square Corners) | ⭐⭐⭐⭐⭐ |
The 6mm lacrosse nets also come in black color. Again it also offers two different options, round or square corners. This net fits 6ft x 6ft x7ft goal perfectly. This product is high quality and durable lacrosse net that holds up consistently for many seasons. 
Lots of very positive reviews are a great indication that if you are a high school player or above, this is the lacrosse net for you. One feedback is the product doesn't come with enough lacing cord to finish the entire net. So remember to grab some lacing cord to pair with this lacrosse net.
Gladiator Round Corner 6mm Lacrosse Net
Gladiator 5MM Lacrosse Net
| | |
| --- | --- |
| Net Thickness: 5mm | Lacing cord included: ✅ |
| Materials: High-strength polyester | Ratings: |
| Sizing: 6ft x 6ft (Square Corners) | ⭐⭐⭐⭐⭐ |
5mm lacrosse net is the most suitable for high school level lacrosse. It's more durable than most replacement nets but also has a fair share of versatility and flexibility. Like the 6mm Gladiator's lacrosse net, the quality of the 5mm net is just as great and durable. 
The finish touches of this lacrosse net and strong nylon strapping around the edges are all a sign of long-lasting quality. One thing to note is this lacrosse net won't work on other goal sizes than 6ft x 6ft. So be sure to check if your goal has a 6ft x 6ft frame first.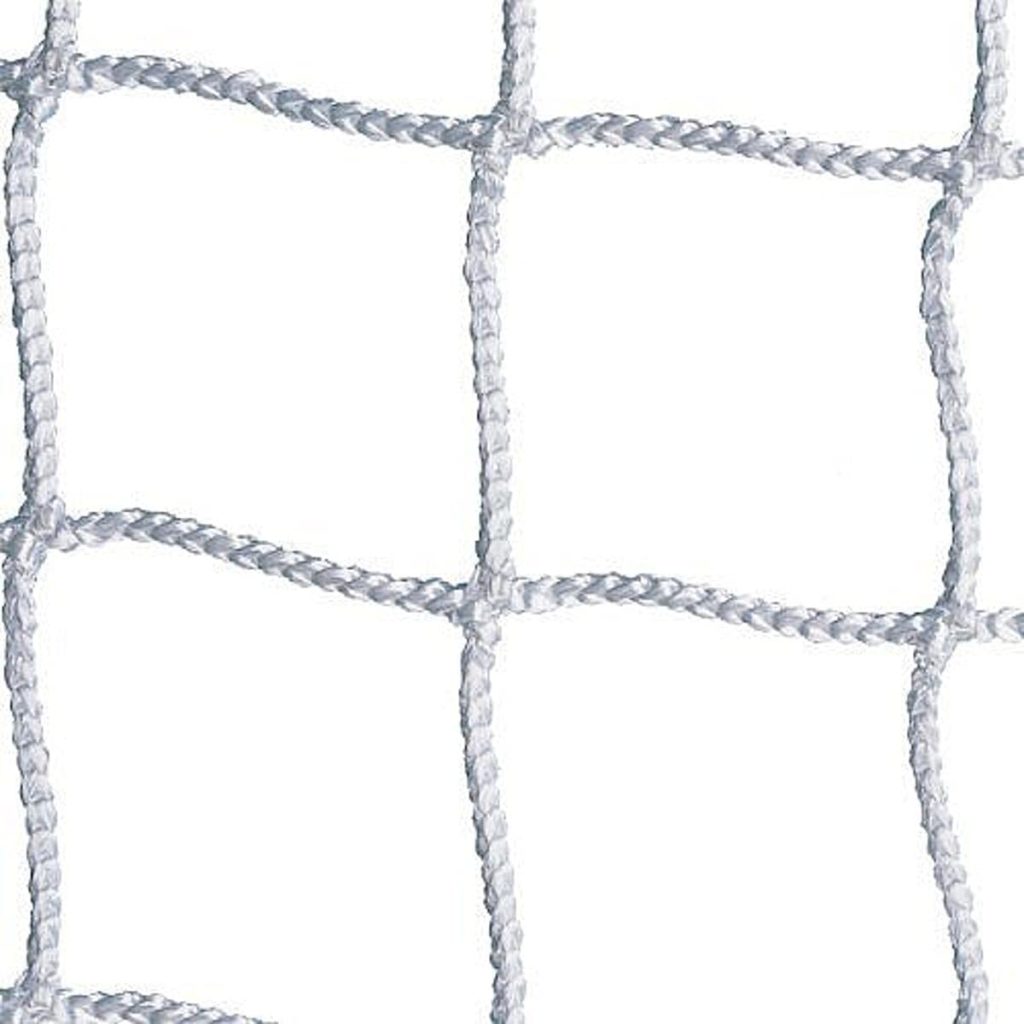 BSN 4MM Lacrosse Net
| | |
| --- | --- |
| Net Thickness: 4mm | Lacing cord included: ✅ |
| Materials: Nylon | Ratings: |
| Sizing: 6ft x 6ft | ⭐⭐⭐⭐⭐ |
If you are looking for a backup lacrosse net or a lacrosse net for your younger child, BSN 4mm lacrosse net is a perfect choice. Not only is it lighter but it is also more affordable than the other nets above. 
This BSN lacrosse net fits 6ft x 6ft goal with no problem and is super easy to install to your portable goal. I haven't found any apparent downsides to this lacrosse net so this is a product for people looking for a less expensive alternative.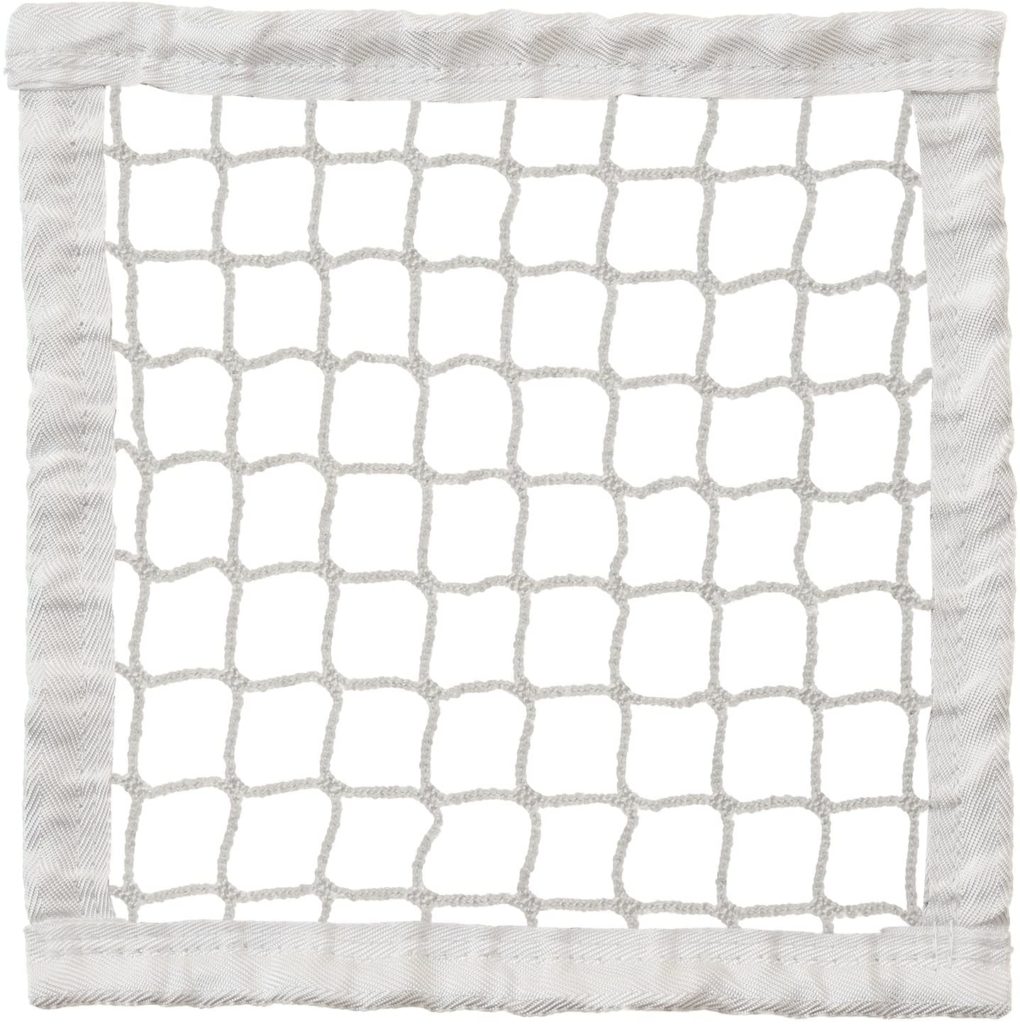 Champion 3MM Lacrosse Net
| | |
| --- | --- |
| Net Thickness: 3mm | Lacing cord included: ❌ |
| Materials: Nylon | Ratings: |
| Sizing: 6ft x 6ft | ⭐⭐⭐⭐⭐ |
Lastly, we have the most common lacrosse net for young lacrosse players, the 3mm lacrosse net. This is net is the thinnest and the most lightweight on the list. Because of this, it doesn't take beating as well as the other nets but for young players, this net is enough to do the job. 
It's also the cheapest option there is for lacrosse net on the market today. The product comes with two pairs of nets. Because it doesn't include goal bungees and lacing cord, consider buying them on Amazon additionally.
How To Choose The Thickness of The Goal Nets
As you probably notice, the products above are ranked from the thickest to the thinnest, which is the most important criteria you need to consider. From the manufacturer's perspective, the thicker the net, the more durable and strong it is. If you are an elite player, you would want to buy the thickest net to withstand heavy shots and beating. In other words, your choice of the net largely depends on your skill and competition level.
Youth player: 3 – 4mm
High school player: 4 – 5mm
College player: 6mm+
Use this simply as a reference because more often than not, you will find thicker goal nets are better especially if you practice regularly year-round.
Q&As About Lacrosse Goal Nets & Replacement Nets
What size of lacrosse net do you need?
The standard lacrosse goal is 6ft x 6ft, so be sure to check if the net is suitable for the standard lacrosse frame. Additionally, some lacrosse nets can extend to 7ft deep; others only to 6ft deep. Read customer reviews to see if people have issues with the depth of the goal.
What are lacrosse goal nets commonly made of?
The two most common materials are nylon and polyester. Some products like Gladiator will use a mix of polyester and cotton. Generally, the thicker nets use polyester as the primary material due to its strong and durable material profile.
How long will the replacement net last?
Based on my personal experience, they could last anywhere between 2 to 4 years. My most recent 6mm lacrosse net lasted 3 years. And based on many customer reviews I have read, on average it should last at least 2 years old. And the thicker the net the longer it could last.
Read also: