As a lacrosse player who is striving for improvement and excellence, your training shouldn't be limited to only team training and game days. To really see significant growth, you want to train and aspire to emulate what elite players do. And the best and most common practice you could start doing today is to put a lacrosse rebounder in the backyard and start hitting, which will quickly hone your passing and shooting skills.
Better than playing ball wall, rebounders give you better control, flexibility and convenience. 
Therefore, in this post, I will walk you through some of the best lacrosse rebounders you can buy right now to improve your skills. After all, what many people call talent is often a result of consistent and targeted training.
Best Lacrosse Rebounder In 2022: Detailed Reviews
EZGoal Lacrosse Rebounder
Great durability
Easy storage
Impressive rebound speed
Massive shooting area
Assembly process can be a little challenging espeically the first time
The manufacturer of this lacrosse rebounder understands what lacrosse players are looking for from a rebounder. It's a great choice with the best features in the market.
The EZ goal lacrosse rebounder is built of high-quality materials for longevity. The frames are made of 12 gauge steel for adequate support to withstand power shots. This compact structure also allows it to withstand any weather conditions, making it suitable for both indoor and outdoor playing.
Both the mat and the metals are highly protected from the ultraviolet rays of the sun. It means that the rebounder will remain in good condition even when left in the open.
The mat size stands at 8 feet high, perfect for young and adult players. The frame folds effortlessly despite its solid metal for easy storage. Many customers report that this tough rebounder can last well beyond 1 to 2 years. All the parts of the rebounder can be easily replaced if worn out or damaged, which makes it a great investment as you will unlikely need a brand new rebounder in a foreseeable future. 
The bottom line, EZgoal has made an excellent portable lacrosse rebounder that many laxers truly love. It's definitely one of the best lacrosse rebounders currently on the market.
Rukket 4x7ft Lacrosse Rebounder
Suitable for all skill levels
Built for long-term use
A great adjustability
100% Lifetime warranty
Doesn't fold entirely flat, causing some wasted storage space
This versatile Rukket lacrosse rebounder is perfect for players of all skill levels. It has great bungees for incredible bounce-back strength to practice different aspects of the game. 
Its four attack angles on the training screen will allow you to continuously experiment with different techniques until you have mastered the craft of the game.
The 20 square feet of superior ball return surface allows you to catch curveballs easily.
Additionally, the powder-coated metal frame makes Rukket lacrosse rebounder suitable for outdoor use. The net is resistant to weather damage and can last as long as you desire.
This rebounder comes with bungee clips for easy setup. It also comes with a silicone pad for indoor playing.
All in all, this is a high-quality lacrosse rebounder and I believe this is the best value-for-money lax rebounder in 2022.
Lacrosse Scoop Lacrosse Rebounder
Massive target area
Lightweight and portable
Great affordable price
100% Lifetime warranty
Not foldable for easy and convenience storage
It is time to invest in a Lacrosse Scoop Rebounder if you are looking to train like an elite player. It has all the features you need to become a pro laxer. 
First, it offers a large target area that is over 25 feet with 4 feet wide and 6.5 feet tall. Featuring 5 different angles, this rebounder provides a variety of returns for angles and velocity to really simulate the passes you receive in a real game. So if you are dedicated to improving your craft, this rebounder will ensure you become a highly skilled attacker. 
It's made of high-quality and heavy-duty steel to withstand all shots of different magnitude. Many customers are pleasantly surprised with how metal frames and net are very durable no matter how much power and speed you are shooting at it. 
It's super easy to set it up without additional tools needed. Only one potential drawback is that the rebounder isn't foldable, which means you have to put it outside in the yard which could expedite the wear and tear process. 
Overall, this is a great rebounder at an awesome price you don't want to miss.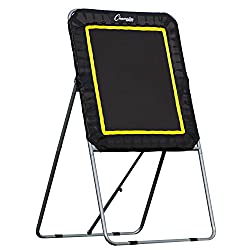 Champion Sports Lacrosse Rebounder
Great option for all skill levels
Super Durable
Adjustable steel frames
Excellent customer support
The installation manual is confusing; be sure to check out customer review video
Apart from completely elevating your training experience, this champion sports deluxe rebounder will also offer long-term benefits in your shooting techniques.
Right off the bat, if you are looking for a large and sturdy rebounder, this one is for you. 
This 8 feet tall rebounder requires a fairly simple assembly despite its heavy duty steel frames.
Due to the adjustability of the steel frames, the rebounder allows you to easily change the target angle into multiple rebound positions to fully cover all aspects of the training. 
The dampened rebound is highly durable hence produces utmost speed for the ball, providing you with the real experience as if you were on the field with your teammates. This is especially great for elite players who want to simulate a real game situation. 
One drawback to this rebounder is the fact that the instructions weren't 100% clear which makes it somewhat difficult to assemble. Be sure to read the customer reviews in which one customer has made a super helpful assembly video. 
Overall, it is an excellent rebounder for you if you are looking to take your shooting and passing capacity to a new level.
Victorem Lacrosse Rebounder
First grade steel metal frame
High quality mesh
Adjustable steel frames
Replacement net included
Not the best option for advanced adult players
This is yet another excellent and durable rebounder that is able to stand the test of critics and provide players an experience more than they bargained for.
You will find assembling easy and convenient. Kids will have no problem setting it up themselves. 
Made of extra-thick nylon, the mesh net is hooked to the frame with heavy-duty cords. In case of any potential damage and ripping, there is a mesh cover on top of the bungee cords.
Its resilient recoil surface enables you to build your own original passing and shooting capabilities. The steel pipes are easily adjustable to your desired angle of play.
Another great thing I love about this rebounder is that it comes with an extra net as a replacement should the first break or rip. 
Due to its lightweight and smaller size, Victoerm rebounder is more geared toward younger players. So if you are looking for a more advanced and bigger rebounder, this might not be the best option to consider.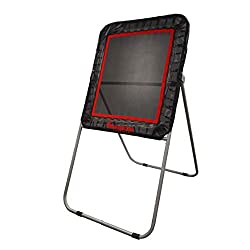 Gladiator Lacrosse Rebounder
Foldability for easy storage
Straightfoward to assemble
Good durability
Perfect shooting size
Paint flakes off after a period of usage
Not suitable to leave outside for too long
This lacrosse bounce-back rebounder is designed by a laxer for laxers in mind. Its high-quality material enhances your skills to become a better player than you already are.
One unique feature that won't go unnoticed with this rebounder is its simple to assemble design. Coming pre-assembled, the snap-lock frames ensure that you spend less time setting it up.
The rebounder's dampened surface guarantees you an excellent and powerful ball bounce that is desirable for advanced players. You are also assured of getting your desired angles because of its adjustable steel pipes.
The rebounder folds flat for easy storage. It also comes with a training manual to give you a new gaming experience away from the ordinary.
A few drawbacks to this rebounder are related to the fact that the paint starts to flake off quickly and potentially leads to rusting. So, if you are considering buying this rebounder, remember to store it in your garage to help keep the pain intact and prevent rusting as much as possible.
STX Bounce Back
Straightfoward to assemble
Great target area
Strong reboounce
Great option for all skill levels
Straps could potential start to break after some time
Doesn't offer replacement pads
Our final best durable rebounder pick in 2022 is none other than STX Bounce Back. 
This premium rebounder is made of good-quality materials that can last beyond multiple seasons. It's designed to improve basic lacrosse techniques such as pitching, throwing, catching and is perfect for all ages and levels. 
With an adjustable steel frame, this rebounder is very convenient; also needs no tools to set up and tear down.
The rebounder is easily adjustable to 5 different angles to enable you to maximize your practice sessions. The net's large surface area together with the adjustable nylon target improves pitching accuracy. 
A few minor drawbacks to keep in mind of are that the pad straps are inclined to break and tension springs can disintegrate after sitting outside in the open for too long.
All in all, this rebounder meets STX quality standards that can last longer than many other products especially with care and basic maintenance.
Benefits of Having Your Own Lacrosse Rebounder
Before rebounders became popular training equipment, players used to play wall ball. However, it's very difficult to find a perfect wall that can consistently pass the ball back and forth. 
Since then, rebounders have come to the rescue as a better and more versatile alternative. The benefits of having your own lacrosse rebounder are immense, here are just a few things that are worth noting:
It enables you to work on the game's basics whether or not you have a partner to toss with. A simple yet effective training helps you become an elite passer and catcher
Allows you to train whenever you have a few minutes. Setting it in the backyard ensures that you have such a huge convenience
Provides you a great versatility to practice different skills with adjustable angles
Easy storage and transportability compared to a brick wall
If you haven't started doing wall ball, I highly recommend you pick up a rebounder and start hitting right away. Regardless of your level or age, this is the single most beneficial practice for your long-term success. Check out my wall ball training guide to learn more.
For 10 to 30 minutes every day for 3 months, you will start seeing incredible results as you develop muscle memory.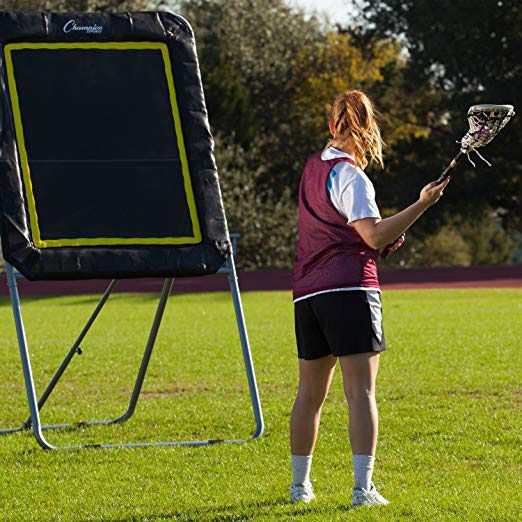 How To Find The Best Lacrosse Rebounders
Different rebounders are made for different players based on individual preference. As long as you know what key features to look for, you are able to select the best one for yourself. 
To be more specific, here are the six factors you should consider before buying a rebounder:
Size of The Rebounder
Depending on the sizes of the rebounders, they are suitable for different levels of players. The bigger the rebounder, the more beginner-friendly it is. Therefore, to choose the best size, you will have to consider your height and the skill level you are comfortable with. Most if not all frames are 7 feet high.
Also considering where you will be using and putting the rebounder is another factor. Larger rebounders are suited for open grounds; small ones are better for backyards and rather limited space. In my opinion, a large rebounder is also more fun since it allows you to play with friends for recreational purposes. I have a big one in the backyard and whenever we throw BBQ parties, that rebounder is often surrounded by kids. 
Adjustability in angles and net intensity
You want to look for rebounders that allow you to adjust different rebound angles and adjust the intensity of the net. A flexible rebounder gives you different types of passes in both defensive and offensive scenarios so that you can maximize your potential and become a great passer. 
Equally important, you want a rebounder with good rebound intensity. It goes without saying, if the net doesn't provide good enough bounciness, it's very likely not a rebounder.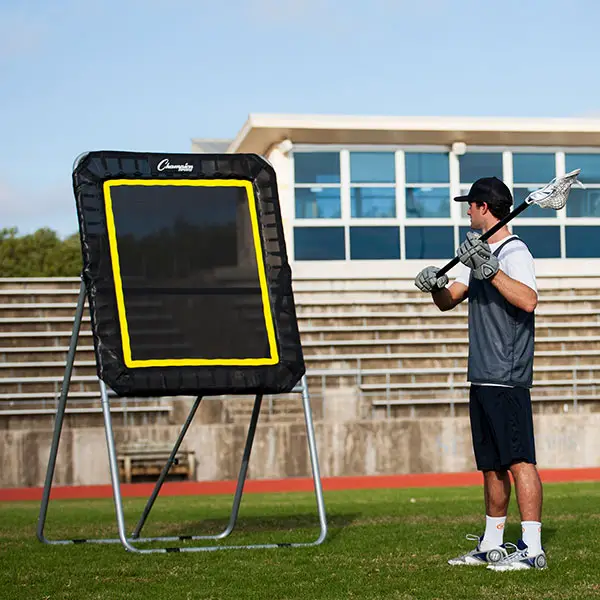 Setting up process
If the rebounder isn't designed for a convenient assembling process, no matter how high quality it is, customers will be somehow disappointed. A great rebounder is straightforward to assemble without needing any additional tools. 
If you aren't a handy person, be sure to read the reviews for the product and see what people say about the assembly process. It's definitely frustrating to not be able to get it set up properly when you are excited and ready to start playing.
Storage and Portability
Some rebounders can be folded flat while others lack foldability and flexibility. Therefore, this is something you need to consider. If you aren't planning to leave it in the backyard all year round, you want to look for a medium to small size rebounder that can be folded. Bottom line is to leave yourself with enough room for storage.
Secondly, the ability to carry it around is also a plus. You want to be able to easily transport it for convenience and storage. Remember the nets and frames can wear and tear if not properly taken care of. So, it's best to keep them always clean and away from dust and humidity to ensure maximum life use.
Durability
A good rebounder is durable enough to withstand different kinds of play and pressure without customers worrying about its longevity. Steel frames should feel compact, high quality and long-lasting. 
Because this is an important factor to consider, I specifically chose rebounders that are only made of heavy-duty and warp resistance coated steel. 
Customer Reviews
When shopping online, reading the customer reviews is the most helpful thing to help you make a buying decision. When I was doing research for this buying guide, going through customer reviews certainly has helped me understand the pros and cons of a product on a much deeper level.  
Don't be spooked by one terrible review. You want to read a couple of them to get a sense of how the majority of customers view the product. No product is perfect. Try to collect a few recurring highlights and issues people talk about. 
Thus, really couldn't recommend this enough: go through Amazon's customer reviews.
Rebounder Techniques
Now you have gotten a rebounder, what's next? 
There are many popular and effective drills you can do with a rebounder. Here I have included two great videos that teach you exactly what drills you should be doing and how to do them in a proper form.
Conclusion
Buying a rebounder is a great way to improve your game as you are able to practice wherever and however you want. Moreover, the rebounder's adjustability and portability make it a much better option than a brick or concrete wall.
By mimicking the game as accurately as possible a rebounder allows you to train in the right way and see solid results on the field both in the short and long term.
I am confident that the rebounder listed above will give you the experience you deserve and great value for your money.
As always, let me know in the comment section what you think!
Additional Resources:
Lacrosse Goal: Find out my 2022 top picks for best lacrosse goals
>> Best lacrosse goals in 2022
Backstop: Another essential addition to put behind your goal is a backstop. This will save a lot of energy and time as these large nets catch and collect the balls much easier. 
Shooting Targets: What's a better way to improve your shooting accuracy than having a visual focus attached to your goal. Designed to give players maximum shooting reps, these shooting targets are a must-have for training.
>> SKLZ Univsal Corner Shooting Targets
Soft training ball: Perfect training ball for beginners. It's softer than a regular lacrosse ball but still the same weight and size.