You love to indulge in games and sports, right? But without the right equipment and tools, you cannot ace the game. So when it comes to gloves, there's one option that's my favorite. In this post, I will be doing an in-depth review of Brine King 5 Lacrosse Gloves.
The importance of lacrosse gloves shouldn't be understated. However, many players tend to ignore gloves because they hinder performance.
Well, you need to give up on that myth right away because gloves play a major role in connecting your hands to the stick. If you are looking for a pair of best performing gloves, don't miss out on Brine King 5. So, buckle up because you are going to look like a pro with this glove!
Brine King 5
Sturdy grip
Contours to hand providing the perfect fit
Multiple paddings reduce chances of the hand injury
Moisture-resistant
Eliminates the chances of bacteria and bad odor
Pricey compared to other alternative options
Older model (2014)
Brine King 5 Gloves Features
Protection
There are different types of paddings in these gloves to ensure an optimal protection of hands. The notable additions include Arch-Tech and Skylight, and they are designed to absorb the impact of a shot. In other words, these paddings will reduce the force being implied to the hand due to a gaming shot.
It will also reduce the chances of serious injuries. When you are playing lacrosse, you would need to be extra considerate about your hands because there are frequent hits on the hand.
Comfort
Whenever you wear these gloves, the comfort factor will be impeccable, and instead of focusing on one area, the entire glove is designed to offer a comfortable experience. There are paddings on fingers as well backhand to optimize the hand movement and make it natural instead of being stiff.
At the palm area, there is Ax Suede that is capable of creating a connection between stick and hand, naturally. So, if you want to ensure an enhancing experience, this glove is a suitable option.
Fitting
The extra tight or loose gloves will do more harm than good to your game, and you might even lose the game. However, Brine King 5 gloves are designed to sit perfectly on your hands and offer a contoured fitting. While putting on the gloves, you will have a natural feel, and they will fit anatomically.
This fitting factor will ensure effective transitioning from playing lacrosse without gloves to gloves.
Grip
If you are looking for a comfortable grip, you will need the Ax Suede on your palm, and that's possible with this glove. Different paddings have already been used in gloves with Ax Suede in this glove offer a cushioned and hearty experience.
This cushioning will create a comfortable experience because extra paddings will soften the shafts.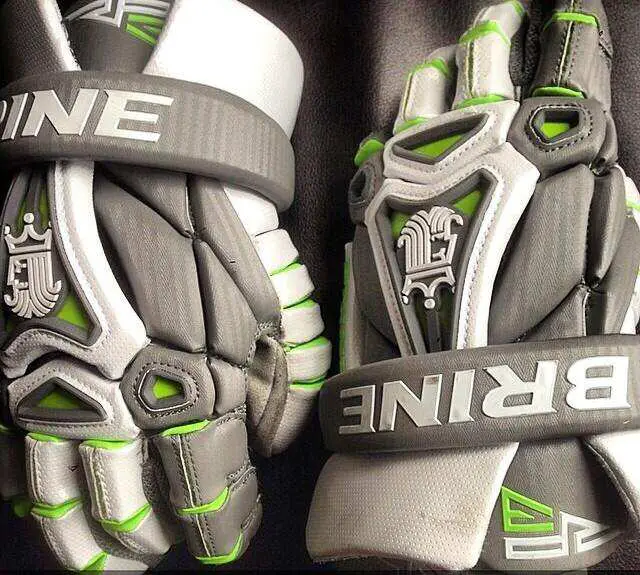 Wear & Tear
The game requires vigorous playing that can easily lead to sweat production, reflecting the presence of moisture. If you leave the gloves on the side after a sweaty game, it will become a pool of bacteria and bad odors.
To get rid of bacteria and smell, these gloves are designed with water resistance to ensure that water and moisture stay away. Even if there is some moisture, the fresh ventilator liner dries it up, and this configuration promises the durability of gloves.
Brine King 5 Gloves Review
According to the features, the gloves seem to be pretty promising and will offer high performance.
The manufacturers have used old techniques mixed with advanced science to help create a seamless experience for you.
No matter if you are pondering about moisture resistance or fitting, it will take care of everything.
In addition, there are multiple color options, and on the website, the custom fittings are available along with color and embroidery customizations.
When we first tried this glove, the amazing outlook captured our attention and we wanted to wear it right away.
Well, once the gloves were put on, we could feel the hand gliding in and sit perfectly on the hands through the contouring design.
The fit reassured the sturdy grip and the stick was easy to handle.
After the playing session, the best part was the glove's ability to absorb moisture and eliminate the chances of bacteria development and bad odor.
In addition, there are water-resistance features along with fresh ventilator liner to suck in all possible moisture.
So, all in all, it is a great fit for us and we are sure you would love to have your hands on this glove. (pun intended!)
The Verdict on Brine King 5
If you are looking for a premium glove for your lacrosse game and you are just starting off with the game, this glove will become an apt option for you.
The features are handy and impeccable enough to create an enjoyable playing experience while reducing the chances of an injury.
It is a bit pricey but will last forever with thick cushioning, which means it provides value for the money.
So, just prioritize your preferences and opt for them right away!
Additional Resources
For more lacrosse gloves options, check out my guide here
Looking for a good offensive head? I have picked them out for you here
A pair of good gloves need to be paired with a great shaft: best shafts in 2022
If you are a beginner, I recommend buying a good complete stick to learn the fundamentals