So far we have covered portable lacrosse goals, rebounders and backstop nets. To complete your optimal backyard lacrosse training set, there's one more gadget many players overlook, a good lacrosse goal target. Especially if you are an offensive player, goal targets would drastically increase your shooting accuracy and aim.
However, there are plenty of these targets on the market, which makes it daunting to identify the best.
Therefore, in this post, I have done the research and selected the best lacrosse goal targets for you. Also, I included the key features to keep in mind when buying your own goal targets.
Let's begin.
Best Lacrosse Goal Targets To Buy
EZGoal Lacrosse
Easy to set up
Great portability
Highly durable
EZGoal has continued to elevate the sports industry with its high-quality lacrosse target.
It comes with a sturdy frame made from steel. This frame has a 1.5″ coating to enhance sturdiness. It measures from 72″ in width to 72″ in height. The netting is UV Protected and has a lifetime warranty.
Therefore, you don't have to worry about leaving it in the sun.
Its fold-up style makes it easy to carry around as well as store after the game. Additionally, your practice will always be fun. This is because the goal target has corner net pocket targets, which help you improve accuracy. It also has a backstop rebounder net to make the experience more professional.
The frame and net are rigid enough to withstand shots as fast as 90 mph. Therefore, you can make your firm shots without fear of broken nets and lost balls.
Trigon Sports Lacrosse Goal Target
Quality materials for durability
Ideal for professional games
Great for all ages
Gorgeous colors
If you want to improve your accuracy in playing lacrosse, Trigon Sports Lacrosse Goal Target should be your go-to option. This goal target comes in black vinyl and features seven target zones to help you improve your skills.
Since it is easy to attach, you will have your game going in just a few minutes.
Thanks to the provided fasteners, which ease the setup process.
The goal measures 6'x6′ which is large enough for professional games or just for fun.
The goal is also ideal for all players, no matter the age or skill level.
Therefore, you can add it to your family's set of outdoor games to enhance the fun.
Champion Sports Goal Target
Good quality
Great portability
Easy setup
Nine targets for practice
Customer support is not great
Setting up a lacrosse goal target doesn't have to beat you up.
Therefore, you need the Champion Lacrosse Goal Target, which never frustrates you during attachment.
This target is an excellent choice for all skill levels. If you are a beginner, this target will help you grow your aiming skills. Engage in drills in your backyard and make more precise shots with this target.
This lacrosse goal target comes with quick fasteners, which make it easy to set it up.
It has nine target spots, which enable you to take more shots for better precision. The mesh is made from durable material that withstands all the weather. This ensures that you can enjoy playing the game all year round.
Another fantastic feature is the quality of unbeatable shock absorbance. The dampened rebound surface enforces this. Therefore, you will be able to concentrate on the game as there will be less noise.
Forza Lacrosse Goal Target
Perfect for beginners and pros
Durable material
Easy to set up
Eight targets for shooting
There are complains about net tearing quite fast
The best lacrosse games do not happen with an average goal target.
The Forza Lacrosse Goal Target is all you need for an exceptional experience in lax. This goal target gives you new challenges, whether you are making ground shots or more complicated ones such as hits at the corner.
It will help you improve your aiming skills with perfectly placed targets.
Forza Lacrosse Goal Target is made from a blend of heavy-duty material, polyethylene & polypropylene. It is also reinforced with a hem that enhances durability.
Attaching the target takes a few seconds. The bungee ties enable this.
The goal also has eight targets where players test their different levels of difficulty.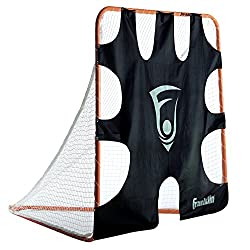 Franklin Lacrosse Goal Target
Great for all levels of players
Waterproof
High-quality material
Sturdy frames
The waterproofness could have been better
A lasting lacrosse goal target is a must-have for every lax player.
Franklin Lacrosse Goal Target Shooter is long-lasting and of great quality to ensure you enjoy every second of the game.
It is made from quality material, which includes a blend of nylon and cotton.
This goal target comes with nine pockets. These offer a good amount of challenge to beginners, intermediate players as well as experts.
The attachment process is quite easy as it is equipped with bungee fasteners.
Another thing that makes this goal target perfect is its waterproofness.
You can, therefore, use it even when the weather gets unfriendly for outdoor games.
Finally, this target fits the standard-sized lacrosse goals.
So, if you are looking forward to having an unforgettable time playing lacrosse, consider the Franklin Lacrosse Goal Target Shooter
Features to Consider When Buying Lacrosse Goal Targets
When you go shopping for products, there are various things that you need to consider.
The same applies while you are shopping for lacrosse goal targets.
Check the factors below to find out which considerations you should think of while buying a lacrosse goal target.
Durability
How stable is the rebounder? Does it last through all the weather?
Remember, a lacrosse target is not something you want to buy after every game, so ensure that the one you choose will last long enough.
Most of the high-quality brands go for more than five years without needing major repairs or complete replacement.
Portability
The best lacrosse goal target should be easy to transport. It is best if you chose a foldable target as it is away easy to carry around.
Another option is going for a lightweight one.
If you will be playing away from your backyard, you can imagine how difficult it can be to carry a heavy lacrosse goal set.
So always consider portability for occasions when you are away from home.
Material
Most people prefer steel, which stands at the best material. It is sturdy and can withstand all weather conditions without wearing out.
The material is also durable; thus, it will not need replacement after a few games.
Also, don't forget to inspect the material of the net. Check on the material that makes the rebounder.
It will determine how hard you will make your shots, so the more reliable the material, the better.
You won't be limited to soft hits only so you can unleash your full potential without fear of tearing the net.
Easy Setup
When you head out to have some fun, the last thing you want is to take forever setting up your game.
The good thing is most of the lacrosse goal targets are easy to attach.
They take even seconds to have them ready for use.
So when you go shopping for one, ensure you confirm how long it is likely to take you to set it up even when you are alone.
Budget
Plan your budget.
Once you determine how much you want to spend, check the specifications of all the lacrosse targets that are within the given price.
Purchase the one with the best features as it will provide you with a better experience.
Brand
While this is not an issue for many buyers, some might be specific to the brands they want.
Find out the best by checking reviews given by people who have bought from them before.
However, you do not have to restrict yourself because your favorite brand might miss some features that make the game more interesting.
It is better you be open to options so you can get the best out of your money.
Size
Ensure that you know the right size for a lacrosse goal target.
The regulations state that an ideal one should be 6×6. Therefore ensure yours doesn't run too small or too big.
The size also depends on how you plan to use the goal targets.
Storage
Find a lacrosse target that is easy to store after the game. Get one that has a storage bag, if possible.
However, you can buy it separately so you can have all the pieces in place after the game.
Also, foldable lacrosse goal targets are more comfortable to store flat.
So they stand out as the best choice when it comes to storage.
Conclusion
If you wish to play the game for fun or professionally, you need the right gadgets. This write-up has unleashed essential knowledge for lacrosse players. Shooting targets are the best tools to improve your accuracy and aim.
And the lacrosse goal targets listed above are among the best you will find in the market.
If you incorporate the buying guide while purchasing, you will undoubtedly get the best there is out there.
Once that is done, and you have the lacrosse goal target, get to the pitch, and play lacrosse like a pro. In addition to shooting, there are other helpful individual practices that take your skill to the next level.