Lacrosse is a high-intensity sport where depending on your position, your choice of arm guards and elbow pads differs. Especially as an attackman, consider yourself lucky if you haven't gotten slapped by an opponent's stick or gotten hit by a wayward shot catching your elbow. 
For that reason, players have to wear proper arm guards and elbow pads to avoid blows and severe injuries. 
Currently, there are three types of protective arm pads offered on the market:
Arm guards: Gear towards attackmen and attack middies
Arm pads: Gear towards middies and LSMs
Elbow pads: Gear towards defenders 
There's no better or worse. You simply want to look for the one that makes the most sense to you and your playing style. Hopefully, after reading this buying guide, you will have more clarity and understanding of the best options available and the differences/tradeoffs that come with them. 
Without further ado, let's jump in.
Read also: Best Lacrosse Helmets in 2022, Best Lacrosse Helmet Visors in 2022
Best Lacrosse Arm Guards and Elbow Pads To Buy
Best Attack Lacrosse Arm Guards
As an attackman, you want to look for maximum protection for dodging and withstanding heavy checks received in a game. Luckily arm guards are friends to the rescue with their bulkier and larger pads to cover from below your biceps to just a few inches above your gloves.
The arm guards are firm on the outside and padded on the inner side.
STX Cell 4 Arm Guards
| | |
| --- | --- |
| Size: Men's | Ratings: |
| Color: Black, White, Navy | ⭐⭐⭐⭐⭐ |
The first most popular arm guard option is the iconic and versatile STX Cell 4. Packing many advanced tech inside the arm pads, cell 4 focuses on comfortability and protection. It's fully customizable using a dual straps system so it gives attackmen lots of room for adjustment. 
They are designed to perfectly wrap around your arms so that they aren't intrusive when you go for a shot or scoop ground balls.
It features STX proprietary Geo-Flex II system that offers superior resistance to intense impacts.
The cap consists of sturdy plastic for maximum protection. Other than that, you'll feel dry and cool throughout the game thanks to its advanced breathable protection system that allows air to flow through the pad. 
Lastly, the interior consists of silicone material that ensures the padding stays in place without slipping.
So are there any drawbacks to these pads? Well, reading through many reviews and putting them on myself, I have not found a single deal-breaker about these pads other than the fact that they will run bigger for younger players since the fit is meant for adult players. 
Overall, STX Cell 4 is a very solid option, especially for attackmen.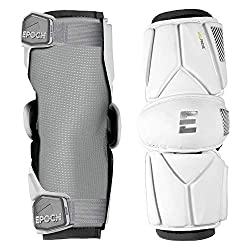 Epoch Integra Elite Arm Guards
| | |
| --- | --- |
| Size: Men's | Ratings: |
| Color: Black, White, Grey | ⭐⭐⭐⭐ |
Epoch Lacrosse arm guards are the game changers when it comes to protecting lacrosse players on the pitch.
They are made from superior technology that guarantees ultimate protection.
Their innovative 2-step molded multi-density foam, hard-shell cap and composite materials have collectively made these arm guards the best protective gears you can find. 
Besides maximum protection, Epoch also puts in a great effort making sure the fabrics are moisture-wicking to keep you cool and dry throughout the game. 
Unlike some arm guards that require the use of a special anti-slip gel to hold them in place, this remarkable guard has a unique locking mechanism that holds the pad in place.
In addition, you can adjust the size to suit your needs and they are compact with minimal stitching that boosts flexibility and movement.
One common feedback I have gathered from customers is the quality. A few customers have reported these arm guards can break and rip after a couple of games. 
STX Stallion 500 Arm Guards
| | |
| --- | --- |
| Size: Men's | Ratings: |
| Color: White, Navy, Red, Royal | ⭐⭐⭐⭐ |
If you were a big fan of STX Stallion 400, a widely successful and popular option among players, you will be pleasantly surprised with the most recent upgrade, STX Stallion 500. While maintaining all the great features from Stallion 400, STX made it more comfortable and breathable for players. 
They were able to achieve this by using a brand new HD2 foam that creates super lightweight yet durable material. At the same time, the new fabric is softer on the skin.
Immediately after picking them up and trying them on, I couldn't believe how light and comfortable they are almost as if you aren't wearing anything on the arms. 
This is a big advantage for offensive players who don't want to feel a heavyweight on their arms to affect their gameplay. 
This product is mostly for offensive players since the form helps in absorbing heavy impact.
The premium quality does come with a premium price, but from what I gathered and experienced, it's totally worth the price.
Best Middie Lacrosse Arm Pads
Arm pads are the median level in between arm guards and elbow pads in terms of coverage and protection. They are specifically created for middies as they don't require as extensive protection but enough to save them from potential injuries.
Arm pads are more comfortable due to their breathability and lighter weight.
Maverik M5 Arm Pads
| | |
| --- | --- |
| Size: Men's | Ratings: |
| Color: White | ⭐⭐⭐⭐⭐ |
One thing that stands out the most about Maverik M5 Arm Pads is the fact that they are super lightweight. 
Their minimal and sleek design helps to make sure every fabric of the material is put into good use. 
Slightly longer than most common arm pads, M5 extends the Anaform bicep and forearm pads to provide unmatched protection without sacrificing mobility. 
The interior features grip-zones that ensure the pads don't slip off your arms. At the same time, interior materials wick away moisture, thereby keeping you stay cool and dry throughout the game. 
When it comes to selecting arm pads, comfort is everything.
Maverik M5 gives you the confidence needed to win a game.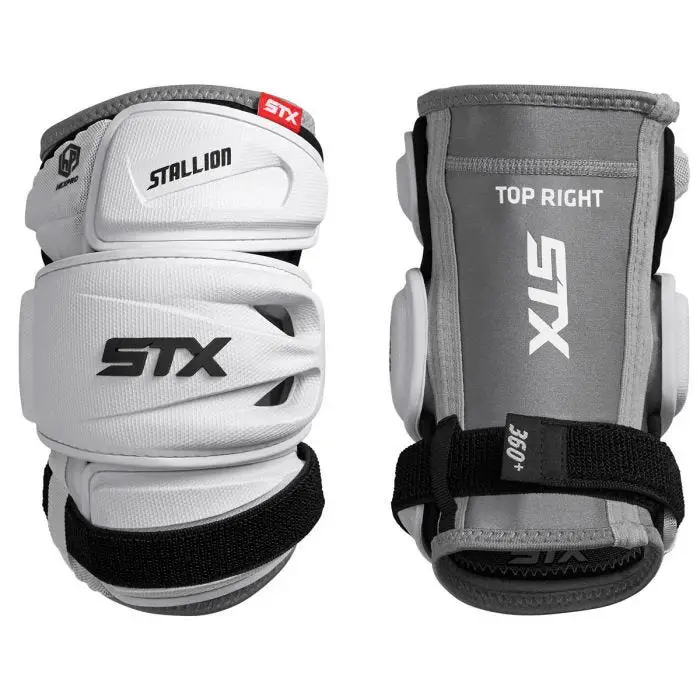 STX Stallion 500 Arm Pads
| | |
| --- | --- |
| Size: Men's | Ratings: |
| Color: Black, White, Royal, Red | ⭐⭐⭐⭐ |
A more streamlined and compact version of Stallion 500 Arm Guards, Stallion 500 Arm Pads share all the great features, such as upgraded materials, better flexibility in key areas and even the stylish color options that not many other brands offer. 
The design consists of straps that ensure adjustability, and this gives you options depending on your arm size.
The upgraded sleeve consists of a soft and breathable material that ensures your comfort and performance are consistent at a high level at all times. 
If you are a frequent buyer of STX's products, you know their products aren't cheap. Due to their premium quality and most advanced technology, you need to pay a hefty price for these arm pads.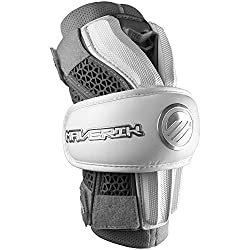 Maverik Rome Lacrosse Arm Pads
| | |
| --- | --- |
| Size: Men's | Ratings: |
| Color: White | ⭐⭐⭐⭐ |
The Maverik arm guard is yet another incredible product that protects your arms and offers maximum flexibility.
A big reason why I choose and like this product is the impressive stretchiness that comes with it. 
Most arm guards don't have stretching abilities. Due to their rigidity, lacrosse players with large arms can feel restrictions when going for a wide range of motions.
Featuring flex seam construction, the Maverik molds to the contours of your arms, thus ensuring optimal comfort and flexibility. The material also has moisture-wicking characteristics and thus will keep your arms dry.
One feedback I gathered here and there from customers is that it creates slippage over time as stitching loses elasticity.
Best Defense Lacrosse Elbow Pads
As defense players and LSMs don't require lots of arm protection, they often gravitate toward elbow pads which promote maximum mobility and flexibility. 
That said, as you will see in this section, elbow pads do provide some basic protection around your elbows since in lacrosse no one is free from physical impact.
Epoch Integra Elite Elbow Caps
| | |
| --- | --- |
| Size: Men's | Ratings: |
| Color: White, Grey, Black | ⭐⭐⭐⭐ |
The low-profile and simple design makes Epoch Integra Elite really lightweight on the arms and offers a good range of flexibility. 
To make the caps a little more protective and durable, they are slightly longer than average-sized elbow pads. Hence, these elbow pads are especially great for defensive players looking for extra protection around their arms. 
Yet by using Epoch's new form fitting compression sleeves, they are very flexible and allow comfortable and big movements.
The composite carbon material ensures the pads remain lightweight which is necessary for flexing and bending your arms.
One caveat that comes with these pads is that because they are slightly longer, the upper portion could cause some tightness around the bicep especially for bigger arms players.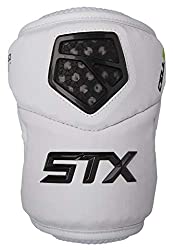 STX Cell 4 Elbow Pads
| | |
| --- | --- |
| Size: Men's | Ratings: |
| Color: White | ⭐⭐⭐⭐⭐ |
If you decided on Cell 4 but weren't sure if they also offer elbow pads, a more stripped down version of the arm guards, here you go!
Just like the arm guard version, this model has an equal amount of quality and details built-in.
The upgraded materials make the pad feel soft and lightweight without weighing you down in the middle of intense gameplay. 
25% more flexible than the previous version, these elbow pads feel like air sitting on your arms that offer best-in-class comfort and stretchiness. 
The breathable protection system offers ample ventilation to not only keep you cool and dry but also make sure your elbow pads stay on without slippage. 
Overall, cell 4 elbow pads are one of my favorite options in the elbow pads market.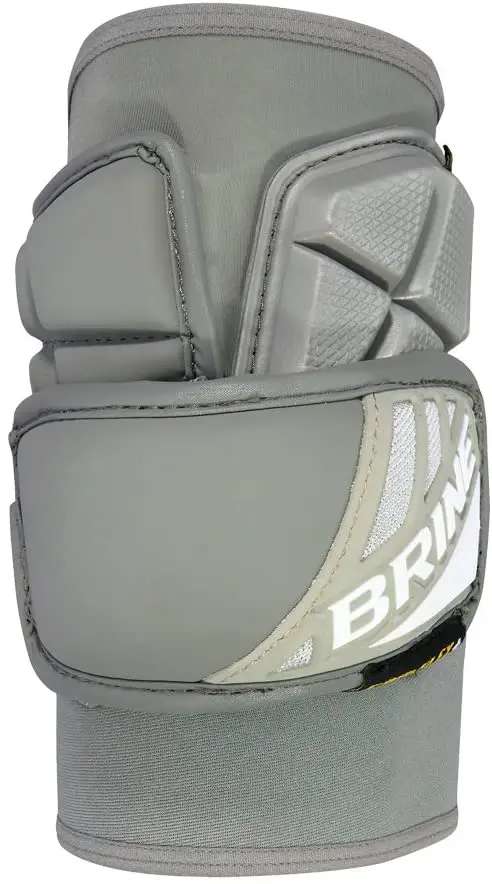 STX Cell 4 Elbow Pads
| | |
| --- | --- |
| Size: Men's | Ratings: |
| Color: White, Grey | ⭐⭐⭐⭐ |
If you are looking for a budgeted elbow pad option, look no further than Brin Clutch Elite elbow pads. Incorporating Brine's newest 3-piece GridFlex, these elbow pads are very flexible and comfortable. It gives you the freedom to complete range of motion. 
Unlike many brands, Brine Clutch has a unique design that offers minimal padding. If you are a defensive player who prefers the maximum freedom and ability on the field, you can't go wrong with them. 
The padding itself also features brand new Aeroshield foam for additional protection against heavy impact. 
The rather minimalist design does reduce the area of protection beyond your elbows. A big gap in between your protective gears does leave a large section of your arm exposed to impact.
Best Youth Lacrosse Arm Pads for Kids
When it comes to youth arm pads, there are a couple of good options to consider.
The main things to look for from youth arm pads are fit and protection. Keeping those qualities in mind, I present to you some of my favorite and top choices for young players.
Get the best youth and beginner lacrosse stick next
>> Best Lacrosse Sticks For Beginners and Youth Players In 2022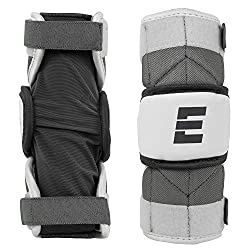 Epoch Integra Elite Elbow Caps
| | |
| --- | --- |
| Size: Youth's | Ratings: |
| Color: White | ⭐⭐⭐⭐⭐ |
One of the most popular youth arm pads, Epoch ID Jr. Youth is a perfect blend of flexibility and protection. Sturdy and high quality materials make them last for a long time, which is a great plus in my book since you can continue using the pair until you no longer fit and pass them down to your younger siblings!
Whether you are an attackman, middie or defender, these arm pads are up for the task. Because I also put a lot of emphasis on comfort in youth pads, these ones don't disappoint. Many parents happily report that they are very satisfied with how comfortable they are. 
All in all, Epoch ID Jr. Youth is definitely worth consideration, especially at a great price.
Warrior Youth Rabil NXT Arm Pad
| | |
| --- | --- |
| Size: Youth's | Ratings: |
| Color: White | ⭐⭐⭐⭐ |
The Warrior Youth arm pad is an excellent choice for small players looking to enjoy their game and upscale their skills.
The most outstanding feature is the straps that enable younger players to adjust easily and fully to their fit.
Flex mesh sleeves ensure these arm pads stay nicely on the arms and a plastic cap protects the elbow from slashes and impact energies. 
Something else to note is the beautiful design not only looks cool but blends nicely with the young player's lacrosse gear.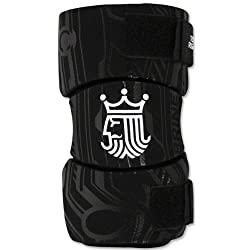 Brine Youth Uprising II Arm Pad
| | |
| --- | --- |
| Size: Youth's | Ratings: |
| Color: Black | ⭐⭐⭐⭐ |
Our last product for young players is the Brine Uprising II arm pad.
Without a doubt, Brine is a leader in designing superior-quality lacrosse gear. This model is an excellent choice for kids to enhance their games.
We are a fan of the design. They also take the trophy for being flexible and comfortable.
The elbows are fully protected. The protective layer has a cap in the interior that ensures comfort and boosts protection.
Lastly, they also come with straps that allow you to adjust, depending on the size of your kid's arms. This feature also improves comfort and provides maximum fit.
What Is the Difference Between Lacrosse Elbow Pads, Arm Pads, And Arm Guards?
As we briefly touched on in the previous section, understanding the difference is the single most important factor when buying an arm guard. 
Let's go into more detail to explain the pros and cons of each.
Arm Guard
An arm guard has a shell on the outer side and a padded interior.
It protects your arm from above the elbow to just above your wrist. Compared to arm pads and elbow pads, arm guards offer a bit less mobility as a tradeoff. 
Because low quality arm guards often cause discomfort around the bicep during play when doing a wide and quick range of motions, the fit and sizing are crucial.
Hence, I highly recommend you try on different options before making a purchase.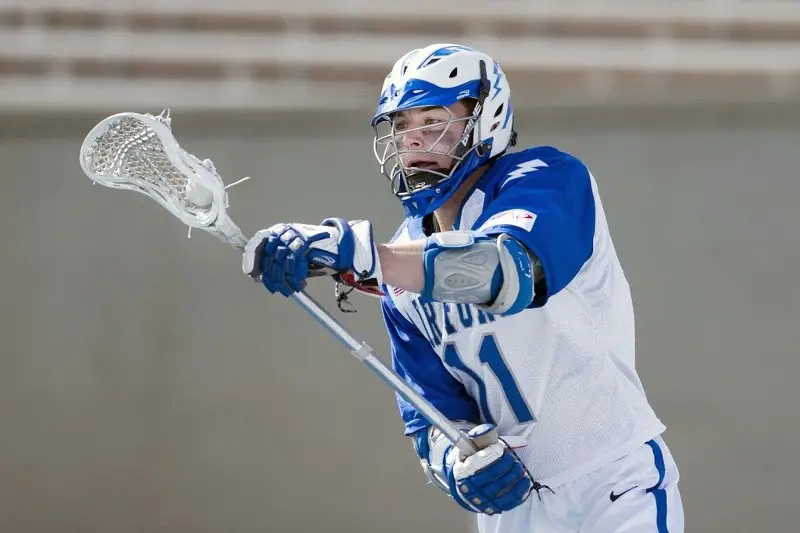 Arm Pad
An arm pad will cover the area above your elbow and the forearm though it doesn't have an outer shell.
With this, you will get well-balanced protection with mobility. For offensive players who favor free movement in making maneuvers, these arm pads are great at balancing the two. 
This pad is also suitable for children and women as they face less intensity on the field.
Elbow Pad
A lacrosse elbow pad is made for a defensive player as well as a middie who is less checked.
It consists of a thin plastic cap to cover your elbow bone. Also, there are some models with a soft pad that will cover 6 – 8 inches around the elbow joint.
When wearing an elbow pad, your motion isn't restricted. That said, less padding creates a decent gap between the elbow pad and the glove, leaving the forearm exposed to potential injuries.
Looking for a nice pair of gloves as well?
Read also: Best lacrosse gloves in 2022
How To Choose A Lacrosse Arm Guard
When shopping for an arm guard or elbow pad, there are several things to take into account. 
Comfortable Fit
Lacrosse arm pads come in different sizes. It's essential to pick a suitable size that covers your arm from the mid-bicep to the forearm comfortably.
Misfit arm guards can become intrusive so a good fit is definitely the no.1 thing you want to make sure of.
Durability
No one wants to buy a piece of equipment or gear that breaks easily. The same goes for arm guards. To best avoid crappy and low-quality arm guards, customer review is your friend. I draw a lot of invaluable information about the longevity and durability of a product from customer reviews that a product page wouldn't have included otherwise.
Get into the habit of checking customer reviews as it not only reveals potential hiccups but also reduces your chance of getting a bad product.
Cost
Speaking of saving yourself from wasting money on low-quality products, the cost is a key factor to consider as well. 
High quality arm guards are expensive given the premium protection and mobility. However, it's better to buy a long-lasting arm guard that doesn't wear and tear constantly than a cheaper arm guard that breaks down once every couple of games. 
There is some element of truth to the belief, the higher the price the better the quality. But again, you want to read customer reviews to be fully convinced.
Weight
A good arm guard uses lightweight material and breathable fabric. Because as benign as sweat seems, a bulky and soaking wet arm guard could hinder your movements, limit your flexibility, and affect your performance.
Another great perk is that a lightweight and sleek arm pad fits in your gear bag for easy travel.
Conclusion
If you clicked on this page looking for an answer, I hope this guide answered your question, even better, helped you decide on the best arm guard for yourself or your kid. 
As always, let me know in the comments which one you ended up buying. Also, feel free to ask away any questions.
Effective in 2022, you also need to buy shoulder pads that meet the 2022 NOCSAE ND2000 standards on NCAA and NFHS levels:
>> Click here to learn more best shoulder pads you'd buy