Choosing a lacrosse stick can be a bit overwhelming task, especially for beginners.
Moreover, the task can get even more challenging if you're a female player looking to buy a good women's lacrosse stick.
There are just not enough options to choose from or guidance to help you choose what's right for you.
That's why I made this guide, which will help you choose the best lacrosse stick that fits your needs. I will start reviewing top lax sticks for all levels of female players in all positions then move on to explain a few fundamentals that you should understand about lacrosse sticks.
For separate heads and shafts, you can learn more about them here and here.
Best Attack Lacrosse Sticks For Women In 2022
To make your purchase decision more streamlined, I divide the sections based on your playing positions. From the most advanced to more budget options, you are able to select the stick that fits your preference and needs the most. 
Let's start with the best sticks that I recommend for women's lacrosse attackers.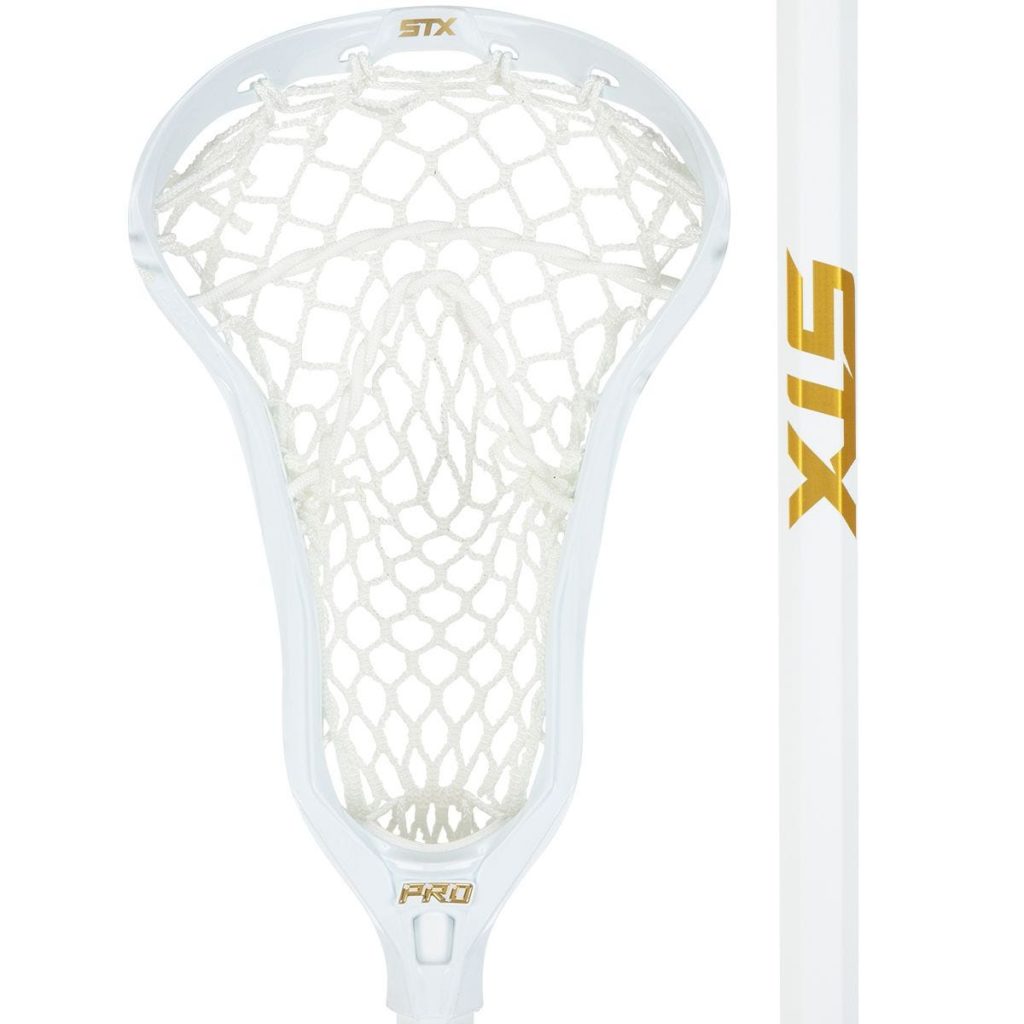 STX Crux Pro Elite Complete Stick
| | |
| --- | --- |
| #1 Best 2022 Option | Colors: Black, White |
| Release date: 2021 | Ratings: |
| Head, Shaft: STX Crux Pro | ⭐⭐⭐⭐⭐ |
If you happened to read any of the men's lacrosse guides, you would know I am a big fan of STX products. I was really pleased to see STX has put great effort and attention into making highly advanced and quality women's sticks. 
Crux Pro is the newest release from STX that reshaped the whole industry in terms of design, face shape, lightweight and durability. This is the best women's complete stick in 2022 for elite and college-level players. 
It features multiple STX patented technologies such as EnduraForm to endure different temperatures, DropRail to maximize ball retention and Speed Scoop to pick up ground balls. 
It also has the lightest head ever created for women's sticks, less than 100 grams. Overall this is the best and most tech-enabled lacrosse stick for advanced level players in any position.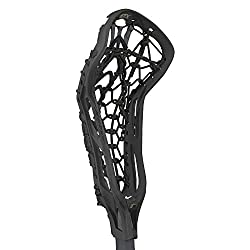 STX Crux 600 Complete Stick
| | |
| --- | --- |
| #1 Most Popular Option | Colors: Black, White |
| Release date: 2018 | Ratings: |
| Head, Shaft: STX Crux Pro | ⭐⭐⭐⭐⭐ |
STX Crux has been the most popular and long running line for all elite women's lacrosse. The newest iteration of 2021 has further upgraded its functionality and ability to assist the best women players on the field. 
This simple looking stick comes with a unique launch pocket that gives pro players excellent ball control. The chevrons on the head also flex out so as to give a closer grip on the ball. This effectively eliminates instances where the ball drops off often when on the go.
Featuring a 10 degree-technology on the head as well as on the handle, this stick is flexible and guaranteed to ensure that you get the ball inside the sweet spot as easily as possible.
Other notable features on the Crux 600 include the speed scoop that provides top string control, as well as easy ground ball pickup. And DropRail technology is excellent for boosting shot and passing accuracy as well as providing additional snap.
If you have been using Crux 500, time for an upgrade that won't disappoint.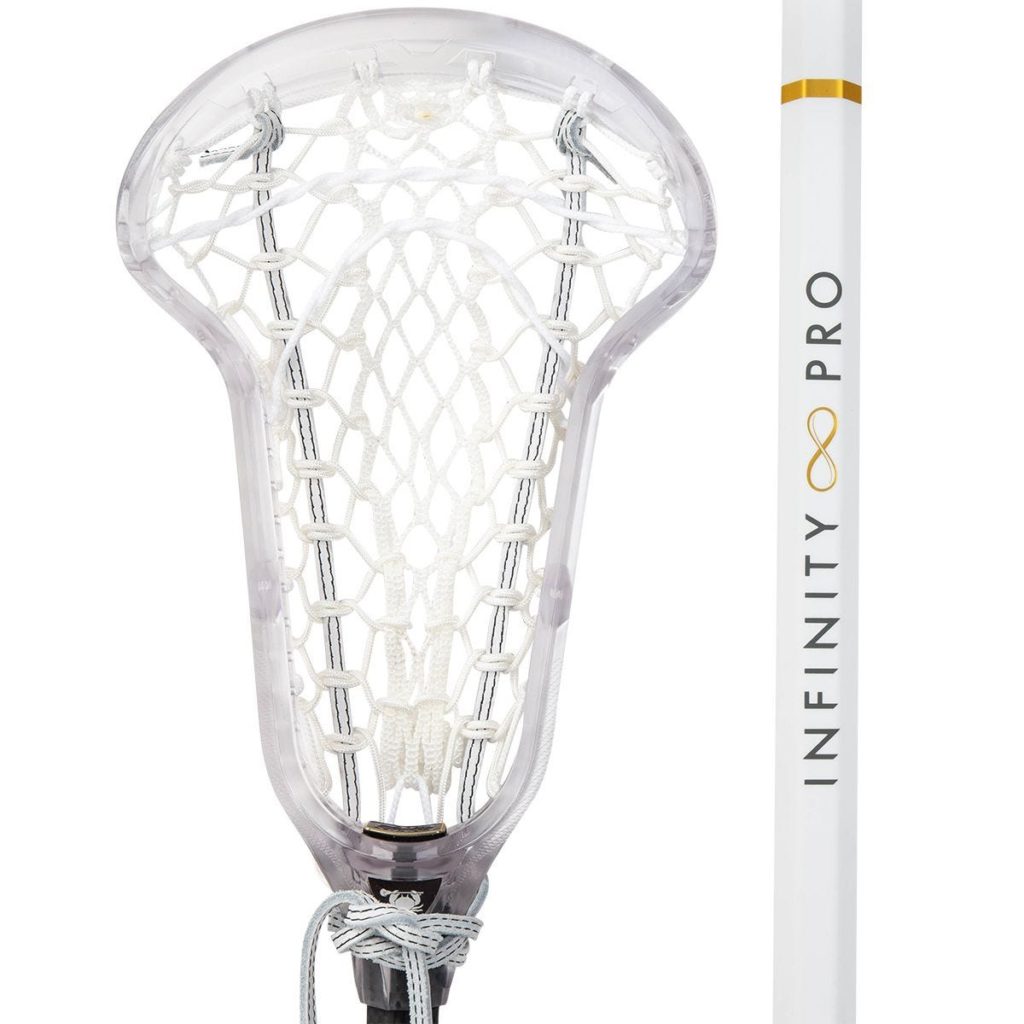 ECD Infinity Pro Complete Stick
| | |
| --- | --- |
| #1 Best Pre-Strung Option | Colors: Black, White |
| Release date: 2021 | Ratings: |
| Head, Shaft: ECD Infinity Pro | ⭐⭐⭐⭐ |
The most recent upgrade from Infinity Elite, ECD Infinity Pro Stick has made many great changes that will continue to benefit players in 2022.
Right off the bat, Infinity Pro now features a new head that is Diamond plastic carrying a 10% lighter weight than the previous head. A lightweight stick definitely helps women players as it drastically improves the speed and power of their shots.
Since ECD is known for its mesh and stringing, you will find the stringing done on this head to be really high quality. The pocket is strung to give players more ball retention and hold which is what I love the most about this stick.
Lastly, the carbon fiber shaft is lightweight as well as durable and strong. Really recommend this shaft, especially for players who enjoy ECD stringing.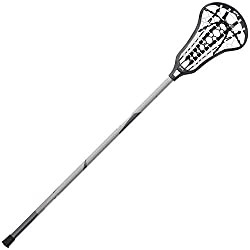 STX Crux 400 Complete Stick
| | |
| --- | --- |
| #1 Best For Beginner Option | Colors: Black, White, Red, Blue |
| Release date: 2018 | Ratings: |
| Head, Shaft: STX Crux 4, 7075 alloy | ⭐⭐⭐⭐ |
STX is at it again with the STX Lacrosse Women's Crux 400 that is specially designed for the beginner attack player.
The designers of this stick understand that a beginner needs a stick that is both simple and easy to use. This is exactly what you get with the Crux 400.
This strung stick comes with an STX precision pocket that enhances precision and ball-handling abilities. An aggressive sidewall design is primed for strength while still maintaining a lightweight nature.
This combined with the flexible scoop for easy ground ball picking makes the Crux 400 one of the best precision sticks out there for attacking beginners.
Best Women's Lacrosse Sticks For Midfield (Middies)
There are a few pretty special sticks that provide an excellent user experience for women laxers. These three complete sticks below all have their own apparent strengths and are insanely popular among the lacrosse community.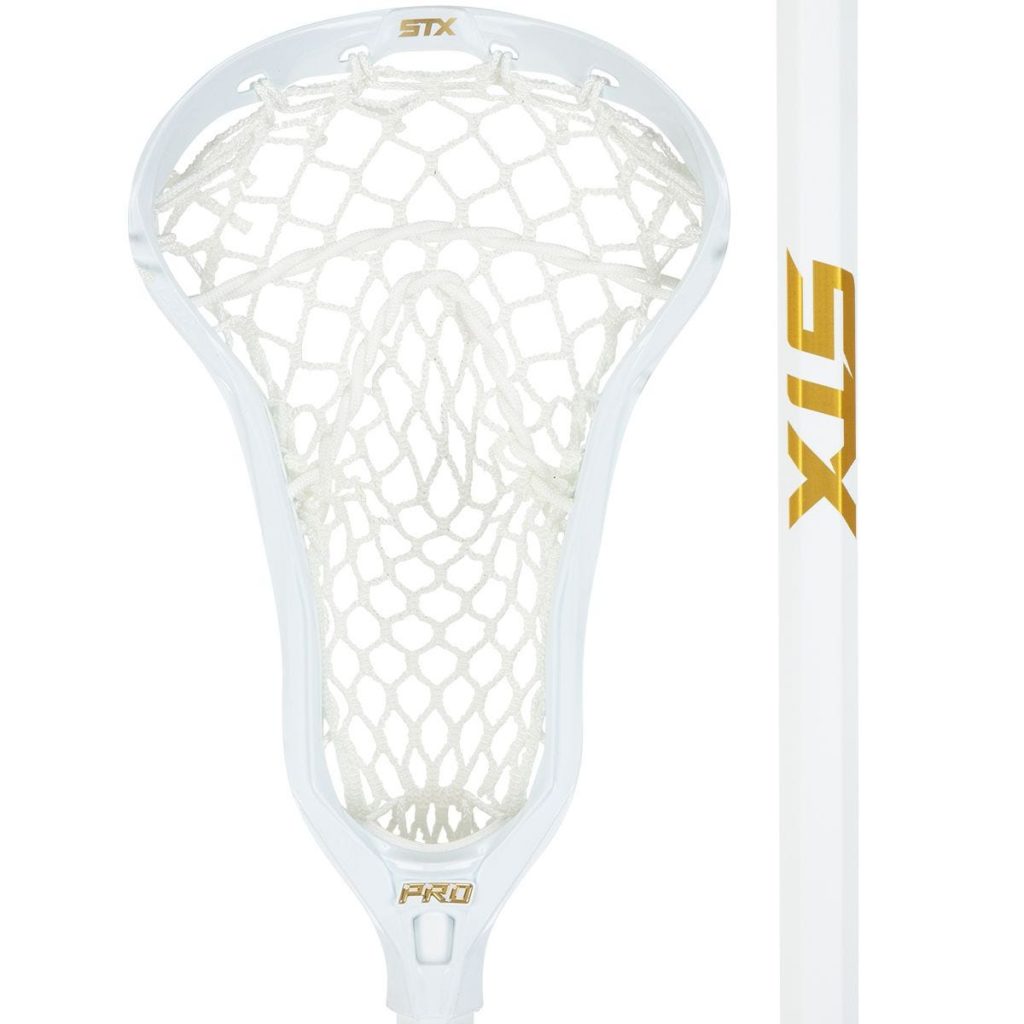 STX Exult Pro Elite Complete Stick
| | |
| --- | --- |
| #1 Most Versatile Option | Colors: Black, White |
| Release date: 2021 | Ratings: |
| Head, Shaft: STX Exult Pro | ⭐⭐⭐⭐⭐ |
STX iconic Exult line is the no.1 choice for most women lacrosse midfielders. This stick takes pride in its versatility as midfielders are involved in every part of the field whether it's passing the ball to attackers or scooping ground balls for a turnover opportunity. 
It's also one of the lightest sticks STX has created to give midfielders the speed and agility they need without sacrificing their durability and strength. As we are now familiar with STX patented technologies, Exult Pro has also adopted Speed Schoop and DropRail. 
Another noticeable design feature is the so-called shoulders towards the top of the head to help dominate at the draw. In addition, the Exult Pro shaft is made with 3D GRIP technology for the best and most secure gripping. 
Overall, this is a great midfielder stick without any obvious downsides.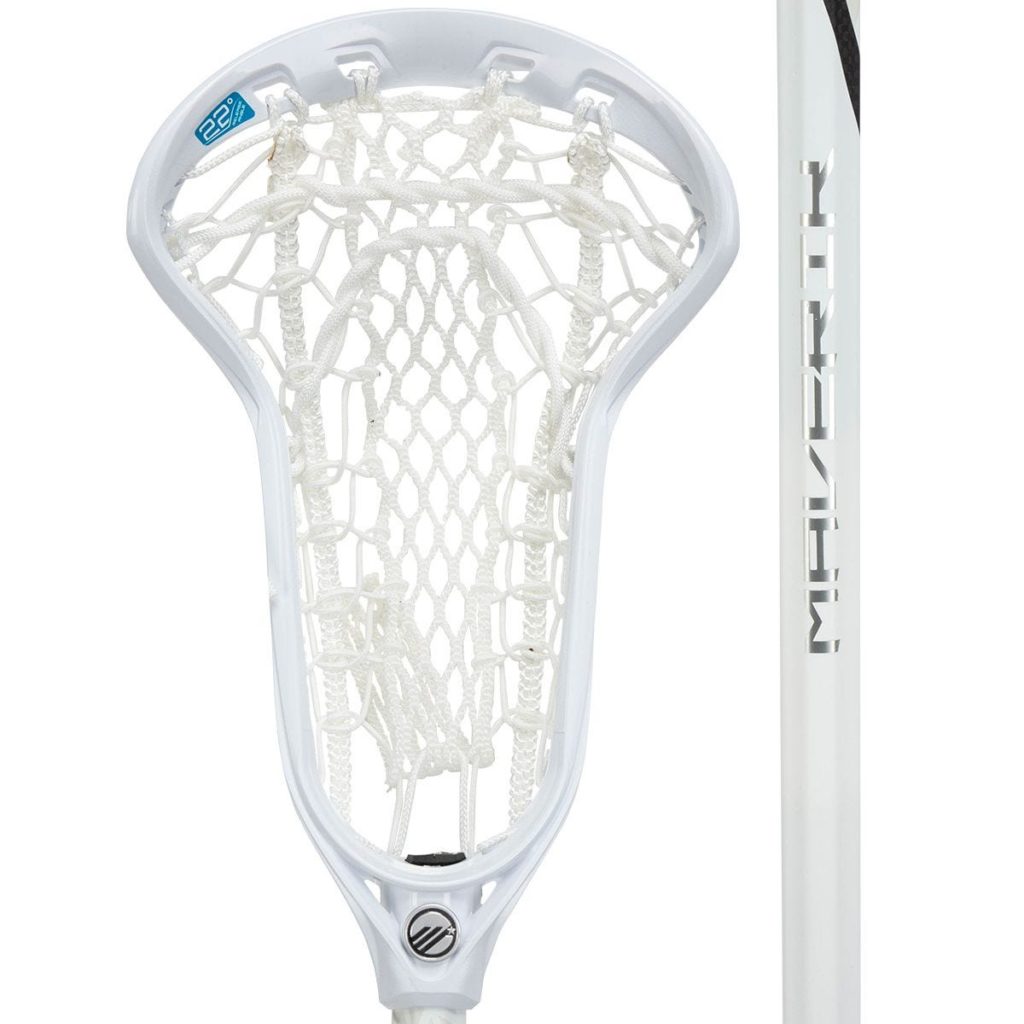 Maverik Ascent Plus Complete Stick
| | |
| --- | --- |
| #1 Best Midfield 2022 Option | Colors: Black, White, Yellow |
| Release date: 2021 | Ratings: |
| Head, Shaft: Maverik Ascent + | ⭐⭐⭐⭐⭐ |
As Maverik ventured into women's lacrosse, it has started to make many exciting women products such as the Ascen Plus complete stick released in 2021. This head has the perfect design for a midfielder with a tight face shape, sharp release angle and enhanced stiffness.
22-degree release angle creates maximum offset and ball control for midfielders who look for powerful outside shots. Also features a brand new soft-touch grip finish that promotes the best gripping experience. 
If you are a midfielder looking for a specific middie stick, Maverik Ascent Plus should be a solid option to consider.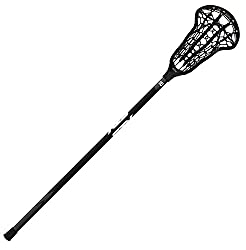 STX Exult 600 Complete Stick
| | |
| --- | --- |
| #1 Best Budget Option | Colors: Black, White |
| Release date: 2018 | Ratings: |
| Head, Shaft: STX Exult 6 | ⭐⭐⭐⭐ |
As a midfield Lacrosse player, one should always go for a light shaft that is well primed for aggressive maneuvers.
This is especially important so that you'll be able to tussle and steal the ball from the opposing player in midfield.
The EXULT 600 comes with an aggressive scoop angle which helps the player maintain passing accuracy as well as more whipping power while passing the ball.
This same scoop is also flexible thereby facilitating easy picking of ground balls in no time.
This stick also features stiff sidewalls for added stability and control as well as a unique Runway pocket that has an overlapping string system that ensures that the ball stays inside as long as you want it.
Best Women's Lacrosse Sticks For Defense
In this section, I'll talk about two of my all-time favorite sticks that were made especially for defensive players in lacrosse.
Let's get right to it.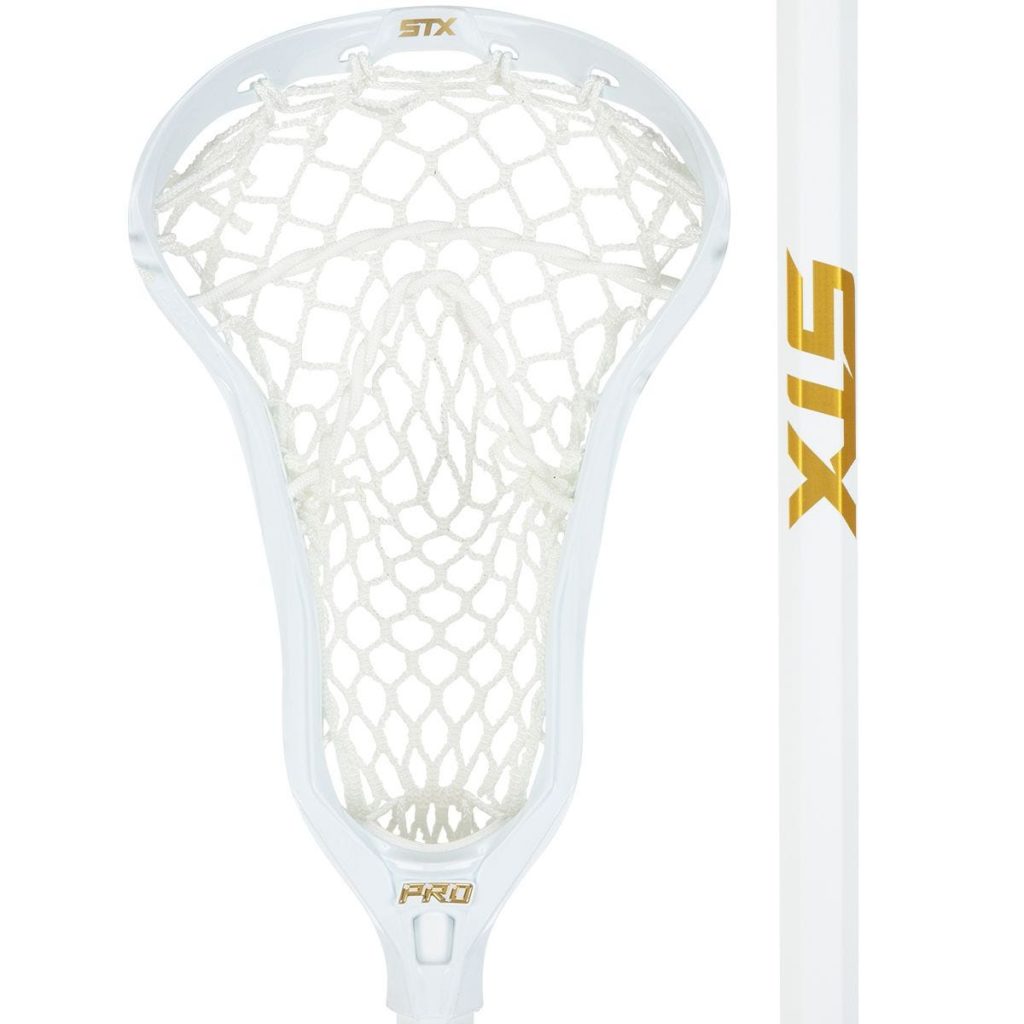 StringKing Complete 2 Pro Defense Stick
| | |
| --- | --- |
| #1 Best Defense Option | Colors: Black, White |
| Release date: 2018 | Ratings: |
| Head, Shaft: Complete 2 Pro | ⭐⭐⭐⭐⭐ |
StringKing is well known for its quality products when it comes to lacrosse complete sticks. They did an amazing job with this advanced and durable stick that is designed for women players that play in the defense.
From versatile mid pocket with Type 4 mesh to wide face shape, StringKing Complete 2 Pro is designed and built with defensive players in mind. 
The stick comes with durable nylon strings that are immune to traditional wear and tear. Also with a pocket that is both stiff and has strategic grip points to guide the ball.
Overall the Complete 2 Pro is very stiff and tough that gives defenders the confidence to throw checks and disrupt offensive players' passes.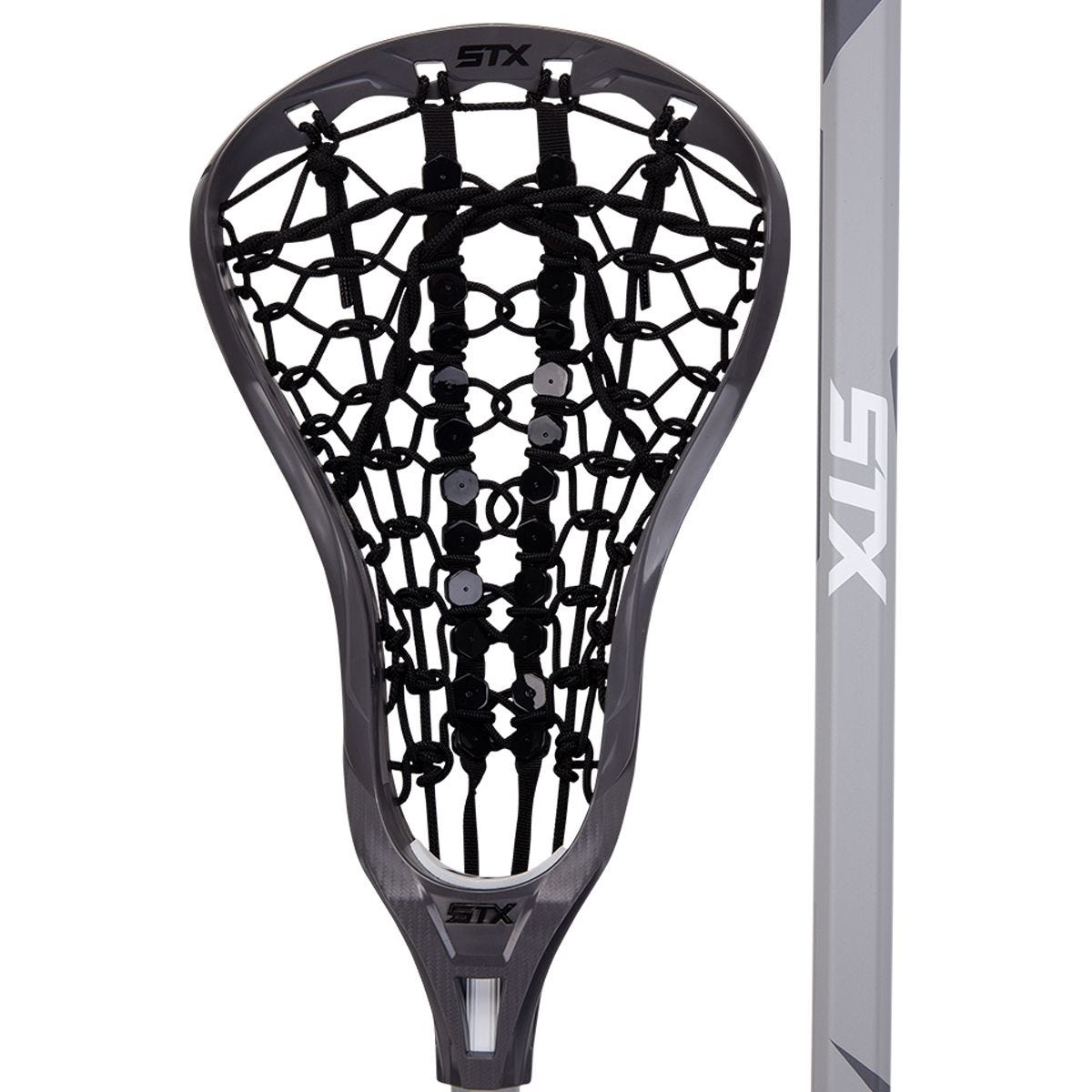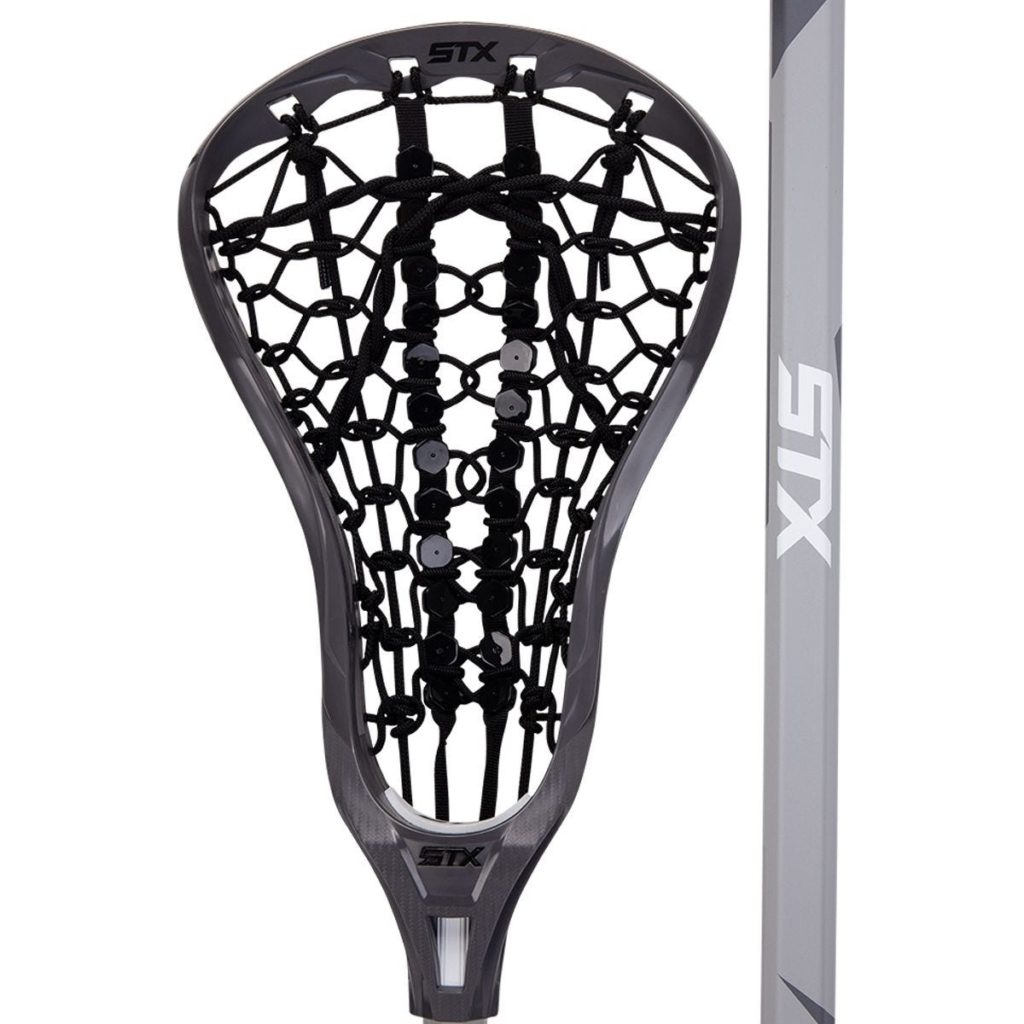 STX Fortress 300 Complete Stick
| | |
| --- | --- |
| #1 Best Budget Option | Colors: Black, White, Navy, Grey |
| Release date: 2015 | Ratings: |
| Head, Shaft: STX Fortress 300, 7075 alloy | ⭐⭐⭐⭐ |
Another great women's stick for defensive players is the STX Fortress 300. This stick features a strong and stiff design that is sturdy and easy to use by any player no matter how good you are.
The patented Runway pocket allows the two center runners to flex out and hug the ball better while in play thereby improving performance.
The icing on the cake has got to be the string Lock technology that allows one to set their preferred pocket size so as to avoid bagging.
Combine this with the long face for much more powerful passes and shots and you get a really formidable stick. In short, this stick is an excellent choice for female lax defenders.
Best Lacrosse Sticks For Girls (Young Female Players)
As an addition to this guide, I wanted to include two great sticks that are made especially for girls under the age of 14 to help them learn the basics of lacrosse and develop their skills at a young age.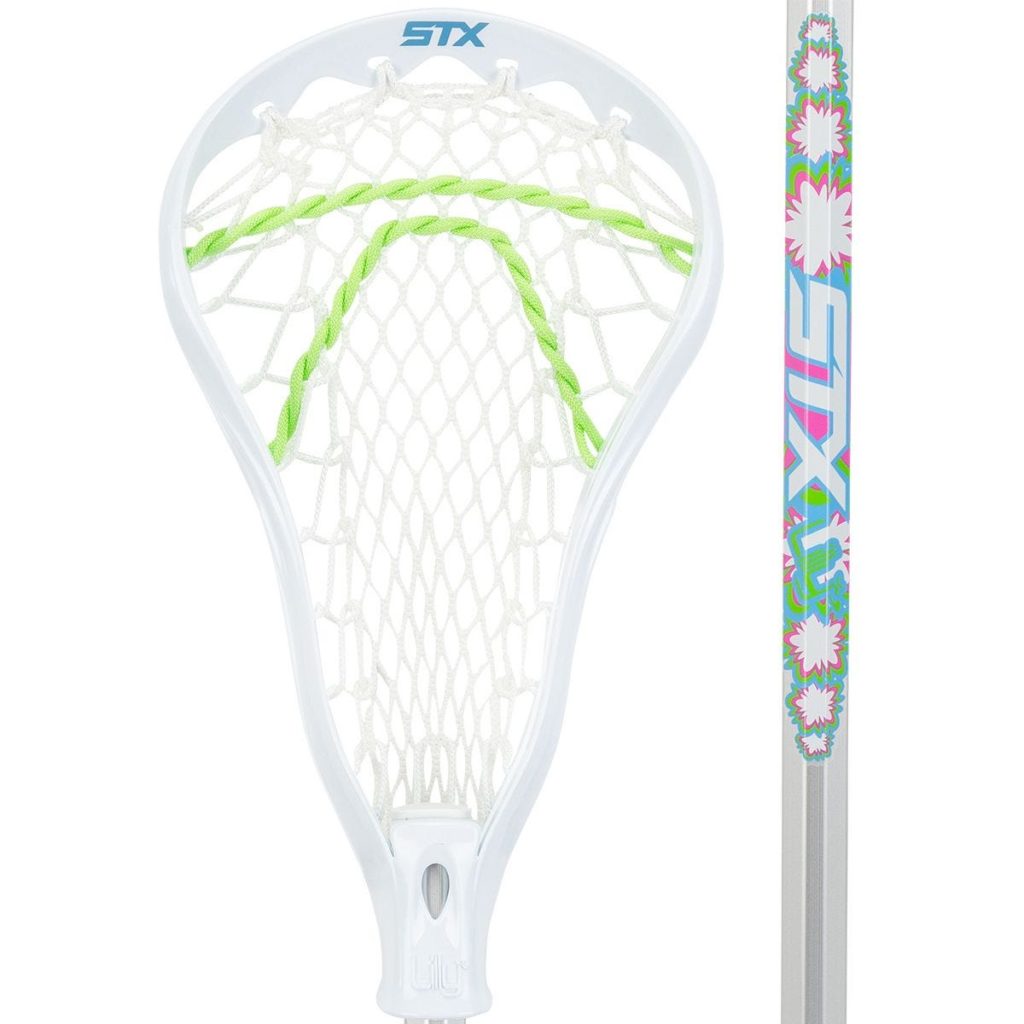 STX Lilly Beginner Lacrosse Stick
| | |
| --- | --- |
| #1 Best Beginner Option | Colors: Lime |
| Release date: 2018 | Ratings: |
| Head, Shaft: Lilly Complete Stick | ⭐⭐⭐⭐ |
STX Lilly is specially designed for young female players under 5" tall majority of whom fall under the age of 14.
Let not this description faze you, the Lily packs enough firepower and top of the range features that are capable of challenging Lacrosse sticks meant for fully grown women.
With an overall length of 36 inches as well as a wide face and a flat style scoop, the Lily is ideal for entry-level players and youth players under 14. 
It also features lower sidewalls for a deeper pocket that facilitates the easy carrying of the ball while also making it easier to catch and throw the ball around.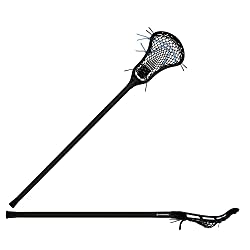 StringKing Junior Youth Lacrosse Stick
| | |
| --- | --- |
| #1 Best Simple Option | Colors: Black |
| Release date: 2021 | Ratings: |
| Head, Shaft: Legend, A type | ⭐⭐⭐⭐ |
What I love about this stick is its simple and straightforward design, which makes it a perfect lacrosse stick to learn lacrosse as a beginner. 
As a pre-strung head, the product comes with almost everything that is already done for you. So all you need to do is to start having fun and throwing a lacrosse ball with it. It's also really light but durable so that you don't need to constantly worry about your head breaking when you need to focus on developing the skills.
The wide face shape also helps with catching, a mid pocket that provides good control and a comfortable ball release. Overall, this stick will for sure make the learning process easier and less frustrating for youth players.
How To Choose The Right Women's Lacrosse Stick
Since a lacrosse stick is made of two main parts: the head and the shaft, I'll discuss each part separately to explain the elements and features that you need to pay attention to before making your decision.
I'll start with the head.
What To Look For In A Women's Lacrosse Head
Strung or Unstrung Pocket
The pocket refers to the place where the ball resides during play and is located at the base of the head. Lacrosse sticks come with either unstrung or strung pockets depending on your preference.
As you can see above, many renowned lacrosse brands make elite and advanced complete sticks for women lacrosse players. Therefore, you can also opt for a complete stick even when competing at an advanced level of competition. 
In terms of price, a complete stick is also cheaper than buying a head and shaft separately. Additionally, because women's heads vary in offsets, buying a complete stick saves you the hassle of matching the head with the right shaft. 
If you are a very experienced player and prefer to string your own head, unstrung heads are ]also a good option for players who like customizing their pockets according to preference.
Women's heads are getting lighter as a lightweight head makes it easy to shoot, pass, dodge and sprint. Brands such as ECD and STX continuously explore cutting-edge technology to help make heads even lighter and at the same time more durable. 
So you want to check what kind of plastic the head is made of as this is a no.1 indicator of a good quality head.
The Angle of Scoop (Offset)
The scoop refers to the top portion of the head that players utilize for pulling balls off the ground while the angle of scoop refers to the angle that the scoop makes relative to the ground. Great and aggressive offensive heads with a sharp angle towards the scoop create a deep pocket and secure the ball inside the pocket.
Similarly, an extreme scoop angle makes it easier to scoop up balls and offers a quicker release while passing.
This is the part of the Lacrosse stick that holds the strings that make up the pocket. Sidewalls usually range from extremely flexible to stiff thereby affecting the head's strength and stiffness.
Attackers mostly prefer stiff sidewalls while defenders mostly will go with much more flexible ones that help in performing a great job at groundwork.
Another important aspect of the sidewall is the offset which refers to the gradual decrease of the sidewalls as they approach the stringing.
A good offset places the scoop behind the handler's line thereby improving ball retention capabilities. Depending on whether you choose the traditional pockets or mesh pockets, you want to look for a head with many stringing holes so you can string different styles of pockets. As mesh pockets are easier to maintain, I often recommend beginner/intermediate players choose a mesh pocket over a traditional pocket (leather + strings).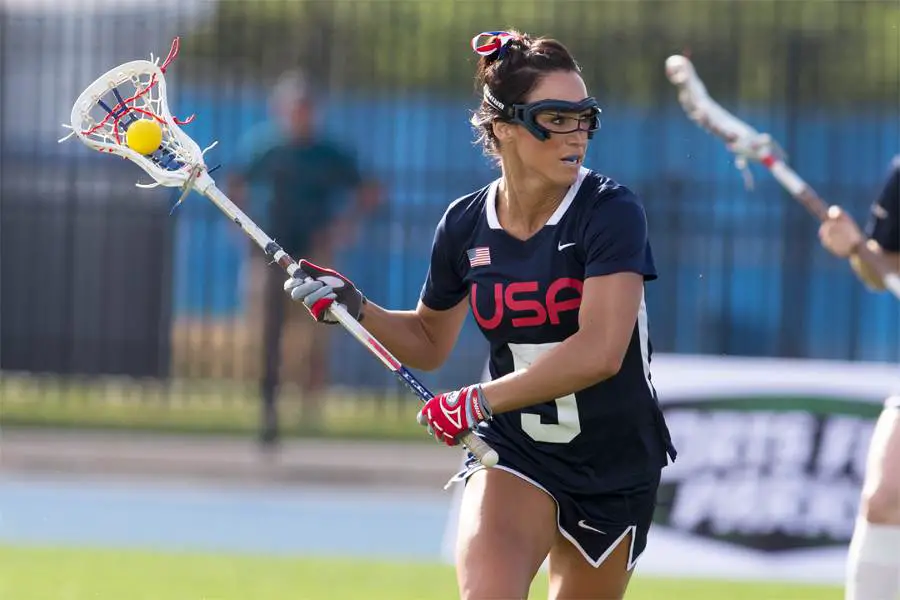 Choosing the Right Women's Lacrosse Shaft
As comparing different complete sticks, you should always be keen to check out the kind of material used in a shaft. Due to the nature of the game most players prefer a shaft that is both lightweight and strong.
Most lacrosse shafts are constructed with materials such as aluminum alloy, titanium, composite, scandium or carbon fiber. 
All these materials have different features with aluminum being the lightest while scandium being the strongest but the most expensive. Given the recent rise of carbon fiber shafts, you will see more complete sticks feature carbon fiber shafts for their good flex profile.
Always go for a shaft that is flexible when handling the ball in order to boost your performance.
Shafts that are bent at an angle of 10 degrees are way better than straight ones since they offer a better feel on the ball.
This is very useful, especially for women beginners that want to learn the basics of the game.
The Differences Between Women's lacrosse sticks and Men's Lacrosse Sticks
In lacrosse, the stick is the most fundamental part of the game and without it, the game cannot be played. The stick is used to shoot at opponent goalies, defend against onslaughts, make saves and to check opponents.
In tandem with the serious differences that characterize the women's and men's game, the sticks used in each game are also different in the following ways:
In the women's game, the stick has one size range for every position except that of the goalie as opposed to the men's game where different players are required to use sticks of different sizes.
The head in women's sticks features a shallower sidewall as compared to that of their men counterparts.
A women's head is also stringed together much more tightly than those of men thereby creating a shallower pocket. This makes ball handling quite difficult.
Women's stick features the traditional stringing as compared to the men's stick which features mesh netting. This makes for a soft pocket that facilitates holding the ball in spite of constant checking for women.
The head used by women has a smaller diameter than that of men.
These differences in the stick between women's lacrosse and men's lacrosse are due to the difference in game's rules which requires different specifications for the equipment used in play.
Conclusion
If before reading this post, you found yourself hesitating which stick to get for yourself, I hope this post has cleared your confusion and helped you figure out which stick is the best one for you. 
To a large degree, choosing the best women's complete stick is no different than choosing men's. After all good materials can be used in any stick. 
If there's any additional question, feel free to drop me a question in the comment below. Also let me know what stick you end up buying.
Additional Resources